Photography Mitchell Sams
JW Anderson's AW20 show was an exploration of restraint versus excess
The designer looked to the decadence of the 20s and 80s for his masterclass in silhouette
|
18 February 2020, 12:48pm
Photography Mitchell Sams
More than anything, the JW Anderson AW20 show was a collection of outstanding, interesting, fantastic clothes. It was, the Jonathan Anderson said, mainly about "focusing on the architecture of the silhouette." With the designer's twisted new juxtapositions in formal dressing, Jonathan explained that he was looking into "the iconography of fashion" and how we can find new expressions within it.

So, for example, Kaia Gerber wore a black coat that seemed to billow across the body, part snug, chic, black wool, part wild expanse of shoulder and collar. More dramatically, a shawl collar coat took on fantastic propositions, the collar stretching way down over the shoulders, then rippling back out towards the feet.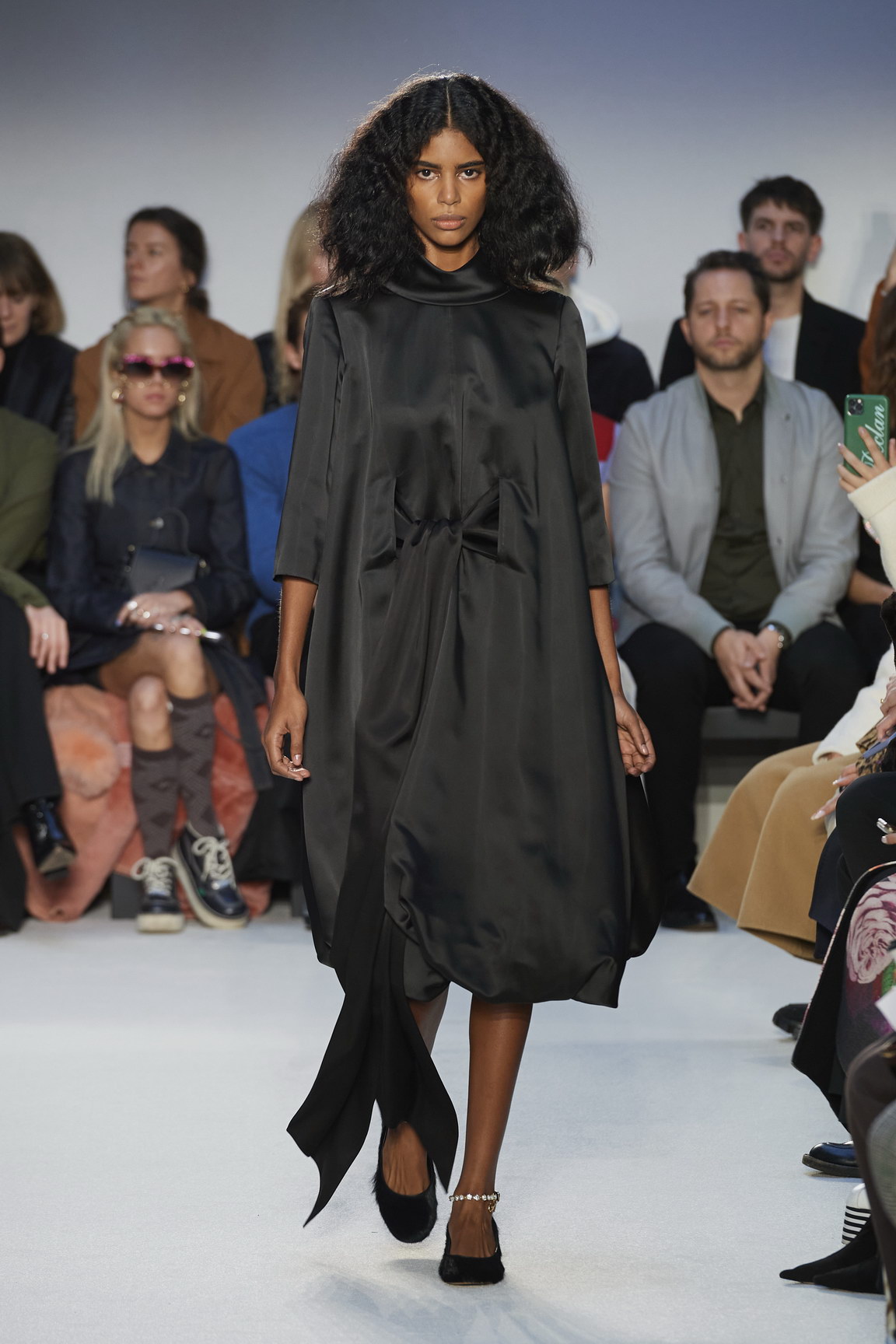 Abandoning the terraced seating of his last few seasons in London, Jonathan tightly packed guests in snaking rows around his Bloomsbury venue. It was "a forest of bodies" he explained, "that the models had to snake through." In the aforementioned exploration of the architecture of silhouette, it was about how the body -- what contains it, how it can move through spaces, occupy and change. How can a model enter a show venue and compete with it, walking through a room of strangers staring at her?
To do this he looked to both the 20s and 80s, moments of decadence, excess and joy that pressaged a great fall; "moment of nouveau chic," he said, "when everything resurged and rebounded." It rooted itself in the colour black, set against sequins, ruffles, beiges, bright blues, and finding tension between class and exuberance.
A lot of the inspiration came from the studio, Jonathan said, "the collection revealing itself as we worked." They revisited old fabrics and pieces lying around, reworking ideas, textures, and shapes the studio had explored before, finding new inspiration in them. "It was about moments of excess, it was, I think, really optimistic." And it was optimism, figured, primarily, through the joy of fashion