London Fashion Week is going gender-neutral and digital
To be held in June, the city's forthcoming menswear and womenswear showcases will be merged on a virtual platform.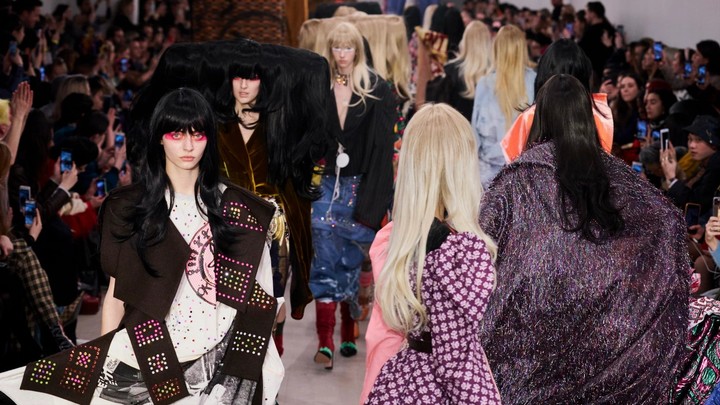 Photography Mitchell Sams
The pandemic-induced lockdown has not been kind to the fashion industry. With supply chains across the world ground to a halt and fashion weeks from Paris to Seoul called off, the rudimentary means by which business is typically conducted have been rudely interrupted. Still, testing times call for innovative thinking -- when the going gets tough, the tough get going, right?
In both Tokyo and Shanghai, for example, we saw fashion week turn to local digital platforms, with livestreamed runways and virtual showrooms. In London, questions regarding what form the forthcoming fashion weeks will take have proliferated since the cancellation of London Fashion Week Men's physical iteration in June was announced. Now, those questions have an answer.
Today, the British Fashion Council has announced that it will be merging its womenswear and menswear showcases into a gender-neutral digital platform. Running from June 12th throughout the time period of what would have been LFWM, the platform will be open to both trade and general public audiences, significantly democratising access to the typically exclusive event.
"It is essential to look at the future and the opportunity to change, collaborate and innovate," read a statement by Caroline Rush, the BFC's Chief Executive. "The current pandemic is leading us all to reflect more poignantly on the society we live in and how we want to live our lives and build businesses when we get through this. By creating a cultural fashion week platform, we are adapting digital innovation to best fit our needs today and something to build on as a global showcase for the future. Designers will be able to share their stories, and for those that have them, their collections, with a wider global community."
Given the short gap between the AW20 womenswear shows held this February and the showcase's June dates, as well as the logistical issues currently faced across London's fashion community, storytelling will lie at the heart of the new format. Designers will communicate with audiences through interviews, podcasts, designer diaries, webinars and digital showrooms, allowing designers to sell directly to the public, as well as for retailers to place orders for their SS21 collections.