Vintage Gucci jewellery and LUAR's new bag: What's in Fashion?
Your one-stop-shop for this week's fashion news to know.
|
26 November 2021, 5:54pm
Images courtesy of Gucci
Hello, my dears! Here we are, just seven days on from when we saw each other last, and my, how much has happened! From charitable initiatives by Harley Weir and Marcus Rashford for Burberry, to the announcement of the Woolmark Prize finalists and JW Anderson's move to Milan, we're bringing you a host of impeccably chic tidbits to be thankful for. But wait, there's more! On today's menu, we've also got fresh news from the house of Gucci and an interview with the designer behind New York's new it-bag. We do spoil you, don't we! Here's what's in fashion.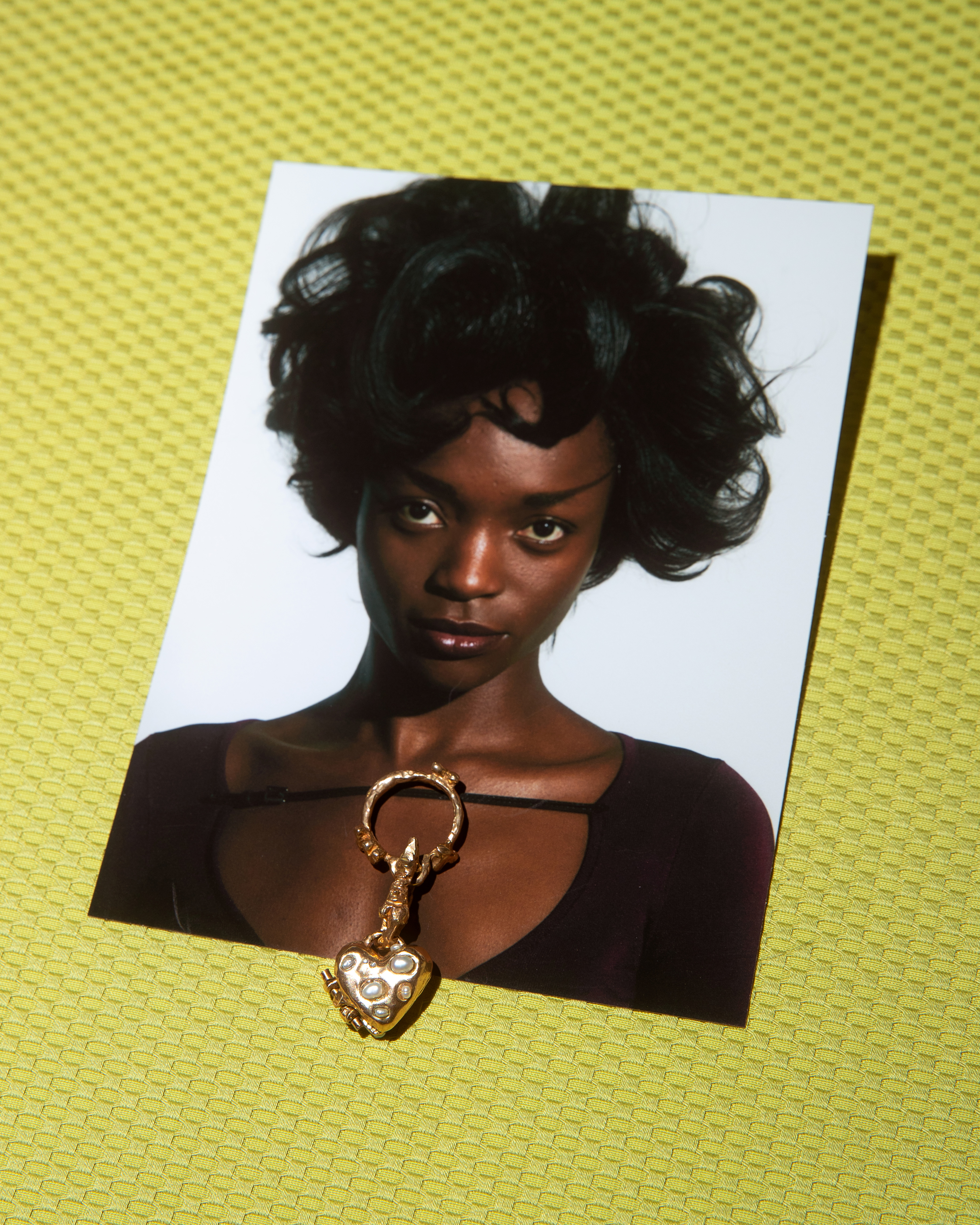 Gucci Vault expands to jewellery
Back in September, Gucci launched Gucci Vault, a pioneering online concept store that platformed and championed the work of some of the most exciting rising fashion talents working today. Now, the platform has expanded its remit to include jewellery, stocking bling from 12 vanguard makers: ​​Seb Brown, Mondo Mondo, Bernard James, Bleue Burnham, Charlotte Chesnais, Georgia Kemball, Martine Ali, Rebekah Kosonen Bide, Fraser Hamilton, Castro Smith, Tétier, and Elie Top. That's not all, though! Alongside the edit of young jewellery designers, the Florentine house will also be offering a selection of unique pre-owned vintage pieces, hand-picked by Alessandro Michele and the house's team of archivists. Consider this yet another reason to go Gaga for Gucci! MS
And the Woolmark Prize winner is…
…well, it's a bit early for that, but we can share the names of the fantastically talented designers in the running for the 2022 edition of one of fashion's biggest and best prizes. Following in the footsteps of designers like Richard Malone and Matty Bovan (who took home both of the prize's top gongs this year) are: Ahluwalia, EGONLAB, Jordan Dalah, MMUSOMAXWELL, Peter Do, Rui and Saul Nash. In keeping with previous years, each has been awarded an AU$60k grant to design a merino wool capsule in line with the theme of this year's prize: 'Play'. As ever, the yet-to-be-announced panel of judges will be assessing the sustainability, transparency, and supply chain credentials of the designers. This year, though, they've been encouraged to explore "the idea of experimentation as the truest route to textile innovation for change". Given the reputation for out-of-the-box fashion thinking that this crop has, keep your eyes trained here for something special. MS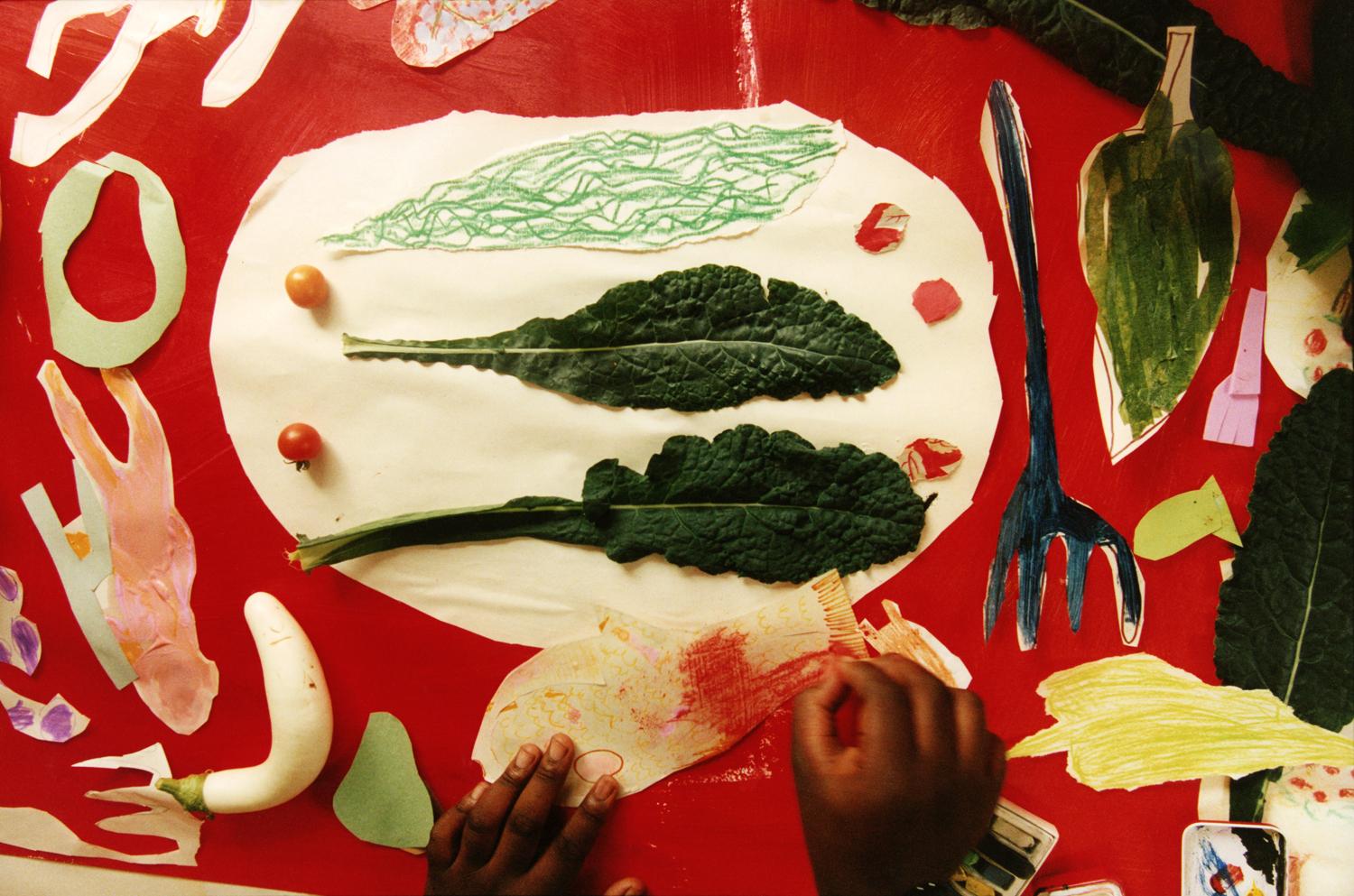 Harley Weir is making the arts accessible
As we all know, governments the world over never seem to understand, let alone properly fund, the arts. From fashion to music to photography, it's the creativity within these fields that provided invaluable outlets for many of us growing up, and still do to this day! In response to the UK government's prioritising of STEM subjects over the arts in schools, renowned photographer and artist Harley Weir and art therapist Cressida Brotherstone have set up GIVE ME SPACE, hosting inclusive and accessible creative workshops in London for young people who don't necessarily have access to art. Their exclusion from opportunities in the creative arts may have been because of financial or cultural barriers, limitations in the education system or a lack of specialised support, but Harley and Cressida wish to take the focus away from results and instead emphasise art's ability to heal, regulate and build self-esteem. With sessions on clothes and furniture design, filmmaking, animation, graphics, photography and ceramics and more, hopefully young people in the programme can discover new creative ways to express themselves and, as Harley herself puts it, give kids "in this world of control, iPhones and paranoia a space to make a mess and form an understanding of life in their own unique way." TG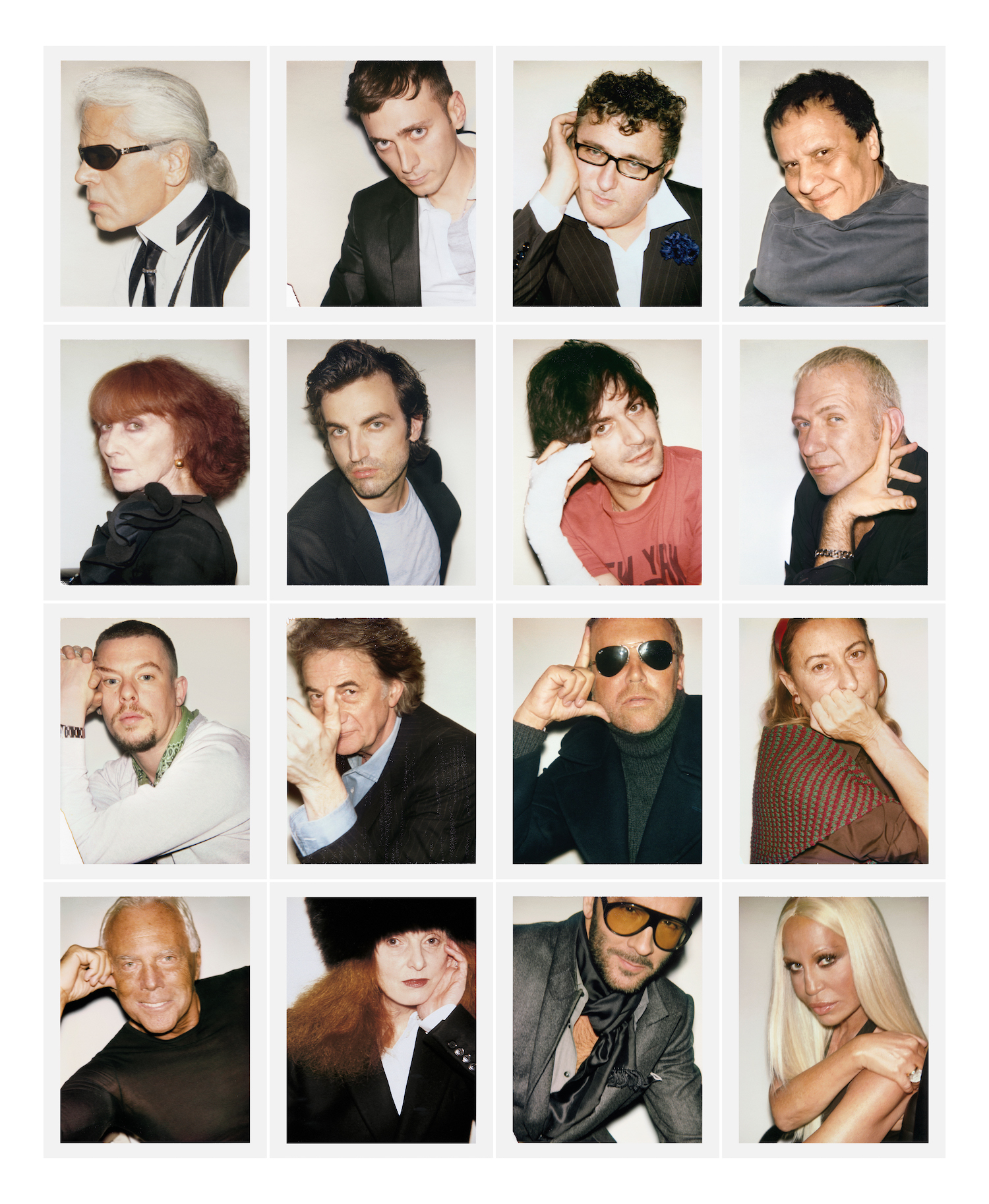 Galerie Gmurzynska's new exhibition covers all things Ezra Petronio
Is there anything Ezra Petronio can't do?!? The Parisian art director, photographer, creative, founder of Self Service magazine and beauty brand La Bouche Rouge has had a stunning career, and it's about to be all showcased in his first-ever gallery exhibition. The two-part show will focus on how he's used the polaroid to document the major shifts within the arts and fashion landscape over the last three decades, as well as portraits of some of the most influential cultural figures of these times. Spread across Galerie Gmurzynska's Paradeplatz and Talstrasse locations, both in Zurich, one room uses over 120 portraits to make you feel like you're surrounded by the world's leading cultural thinkers and creators. The other hosts an exploration of the analogue textures and pictorial qualities that make up Ezra's photographic techniques and bring his work to life. Alongside the exhibition is a deep dive interview with the man himself by curator Charlotte Cotton, in which Ezra imparts all the wondrous knowledge and experience he's gained over his illustrious career so far. If you're in Zurich between now and 22 February 2022, pop over to Talstrasse 37 and Paradeplatz 2, to learn more about the work one of fashion's most influential voices. TG
Les Girls Les Boys have released their first-ever knitwear range
Maybe it's that sexy eggshell fleece Adam Driver wears in House of Gucci, or the 25th anniversary of that iconic opening scene in Scream where Drew Barrymore wears a seriously cute and comfy 90s fit, but we're currently all obsessing over luxe cable knits right now. Joining in on the knitwear love is boundaryless fashion brand Les Girls Les Boys who are releasing an eight-piece capsule collection of winter wear. Available in forest green and inky navy, the line comprises fitted jumpers, lingerie-style bra tops, high-waisted briefs and wide-leg trousers, and a casual jumpsuit, each in bed-to-street ready cable-knit style. "I wanted to capture the essence of the late 80s and early 90s where girls would wear the most comfortable knits paired with punky Dr Martens, guys would look amazing in chunky knitted dresses, and everyone was truly wearing whatever they wanted while feeling comfortable, luxurious, and still stylish all at once." said LGLB creative director and founder Serena Rees. Whether your December plans involve cosying up with popcorn and a horror movie, or ski trips with Lady Gaga, your new knit wardrobe is available to buy from lesgirlslesboys.com from Tuesday 30 November. TG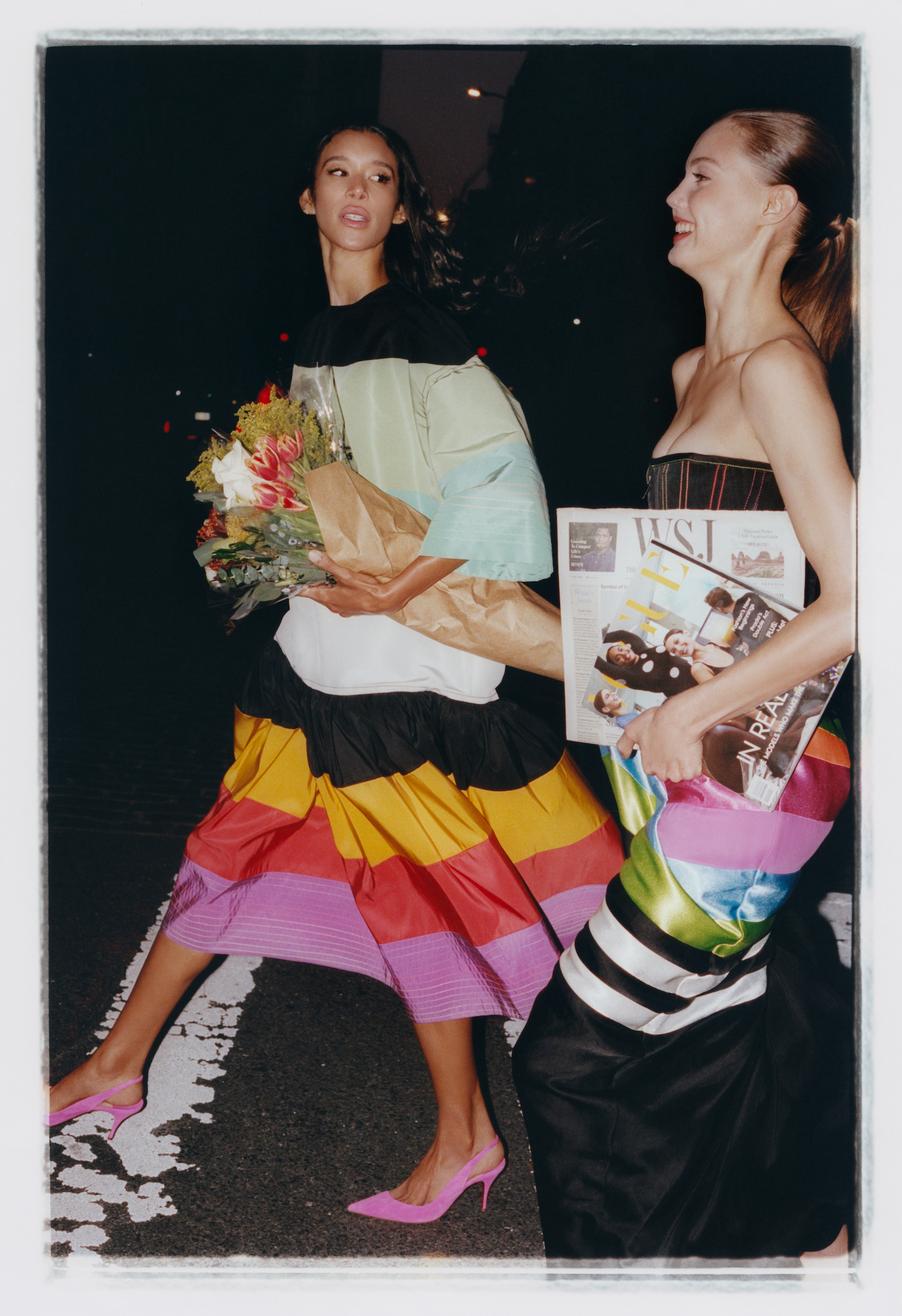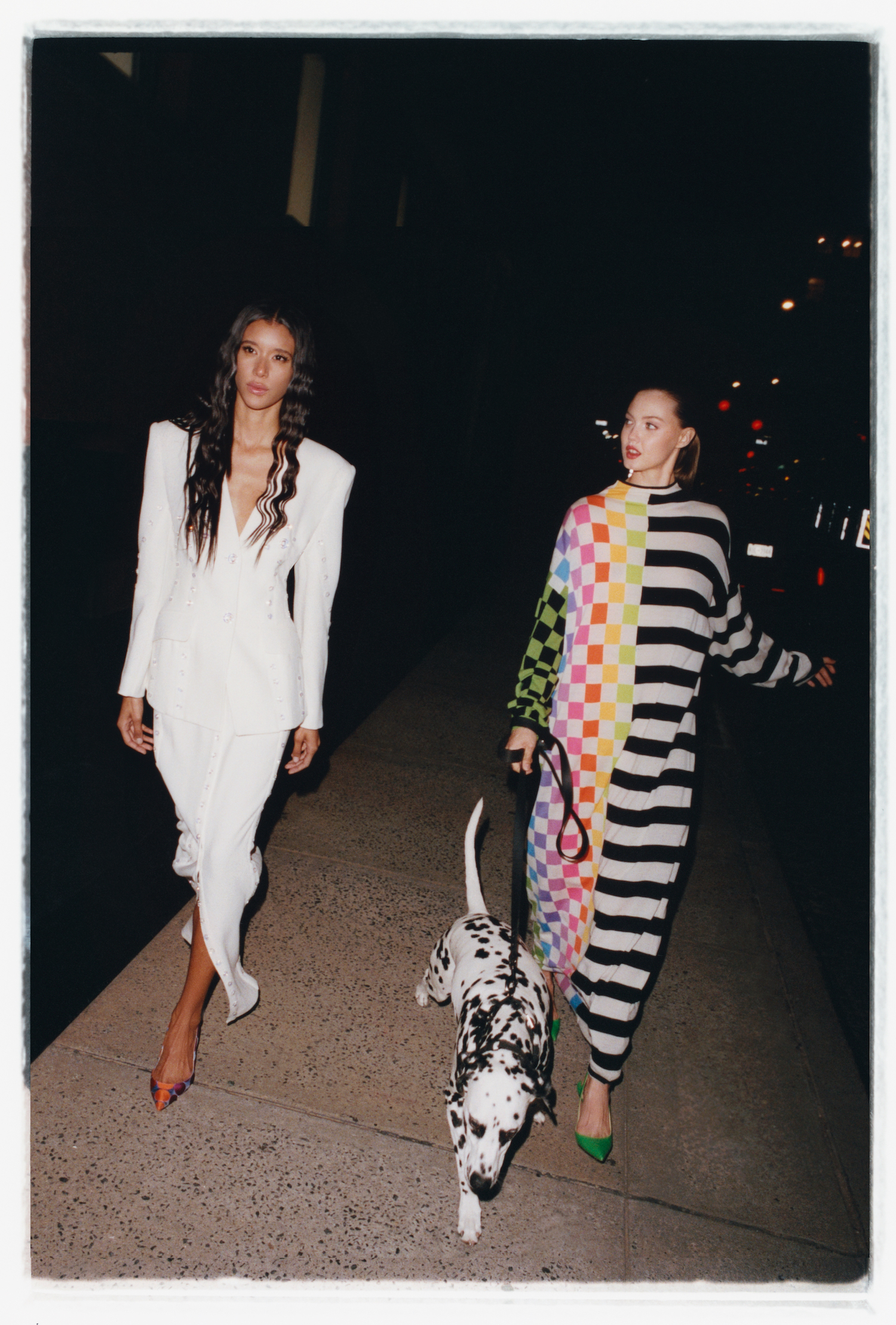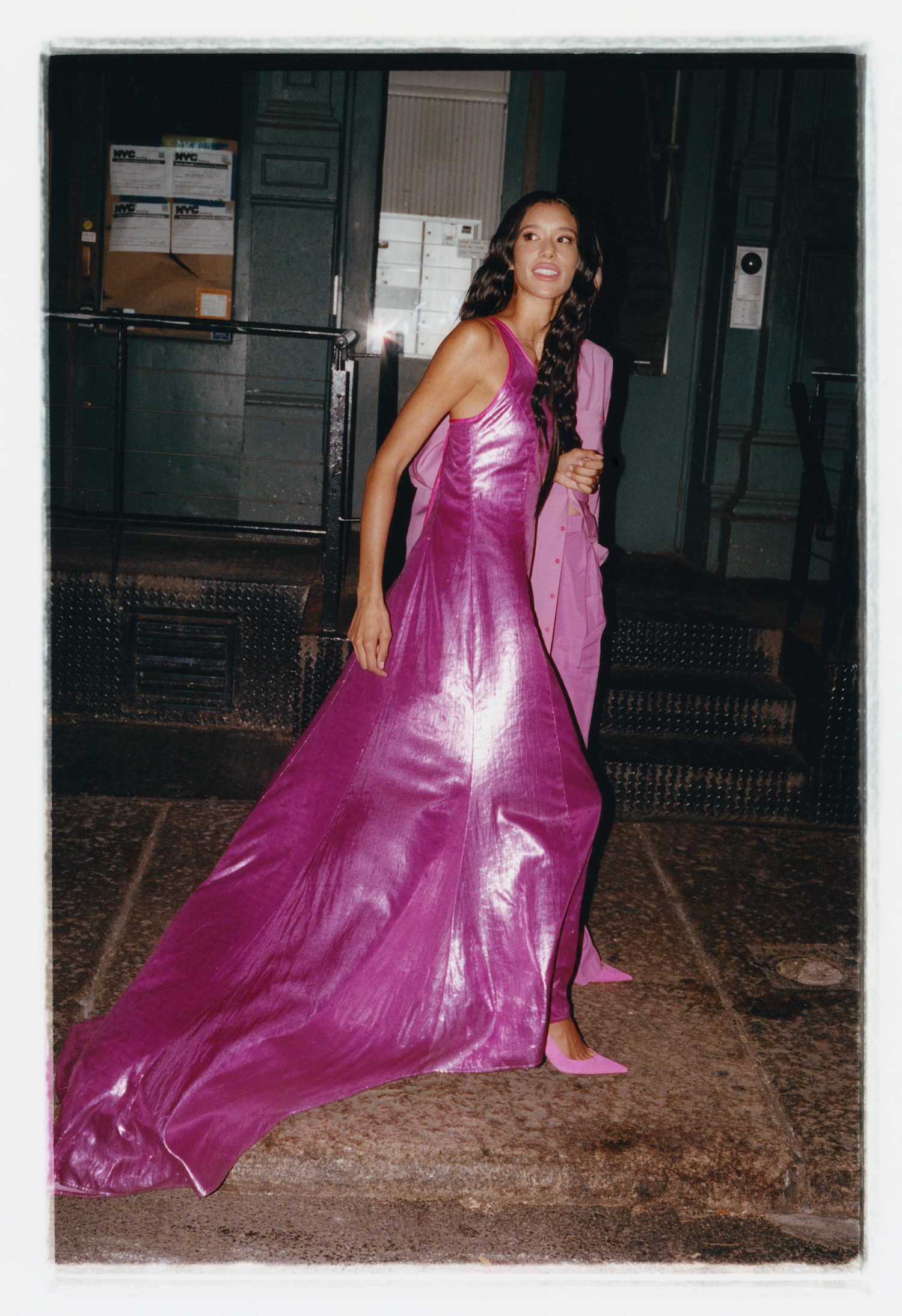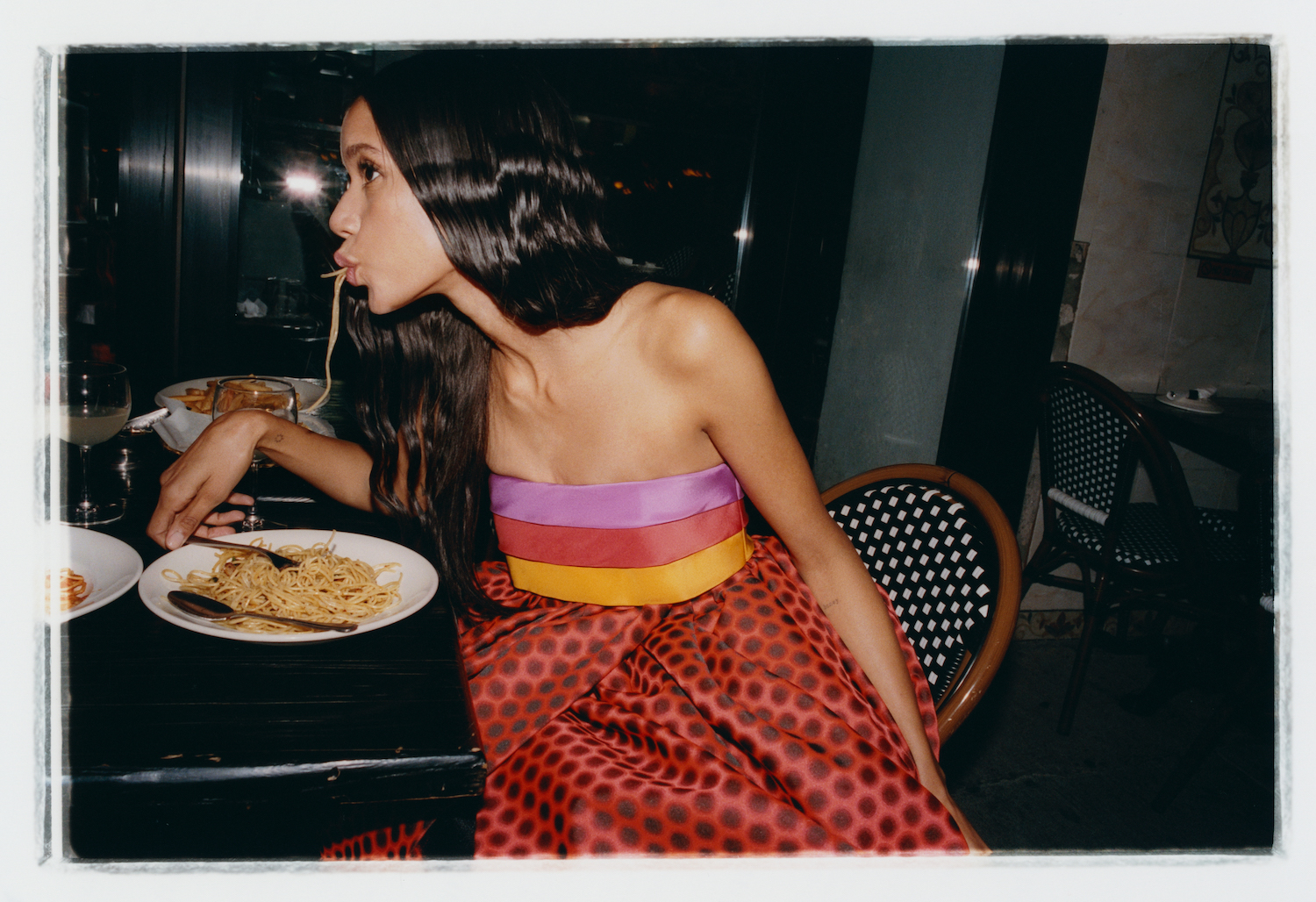 See Christopher John Rogers colourful clothes in everyday contexts
"There's a lot of conversation about how CJR conjures up fantasy and drama for our customers, but I want to be quite declarative about the fact that we make real clothes for real people, and not just imaginary muses, or photoshoots," says Christopher John Rogers. And if the swathes of people you see posting their poppy CJR fits all over the worldwide web weren't proof enough, then here's the New York label's new campaign shot by Alexander Saldrigas. Starring Lindsey Wixson and Dilone, it shows the two gal pals enjoying a casual evening out. From strolling down the street to stopping for a late-night bite, the aim of the campaign was to "show these fabulous clothes actually being worn -- whether walking the dog before an event, picking up flowers after work, running to a special function, driving you and your lover in your own car, or eating late night pasta at your favorite spot in Little Italy," Christopher says. "This campaign highlights the versatility and pragmatism of the brand and the clothes in a refreshingly low-key way." Consider us convinced! MS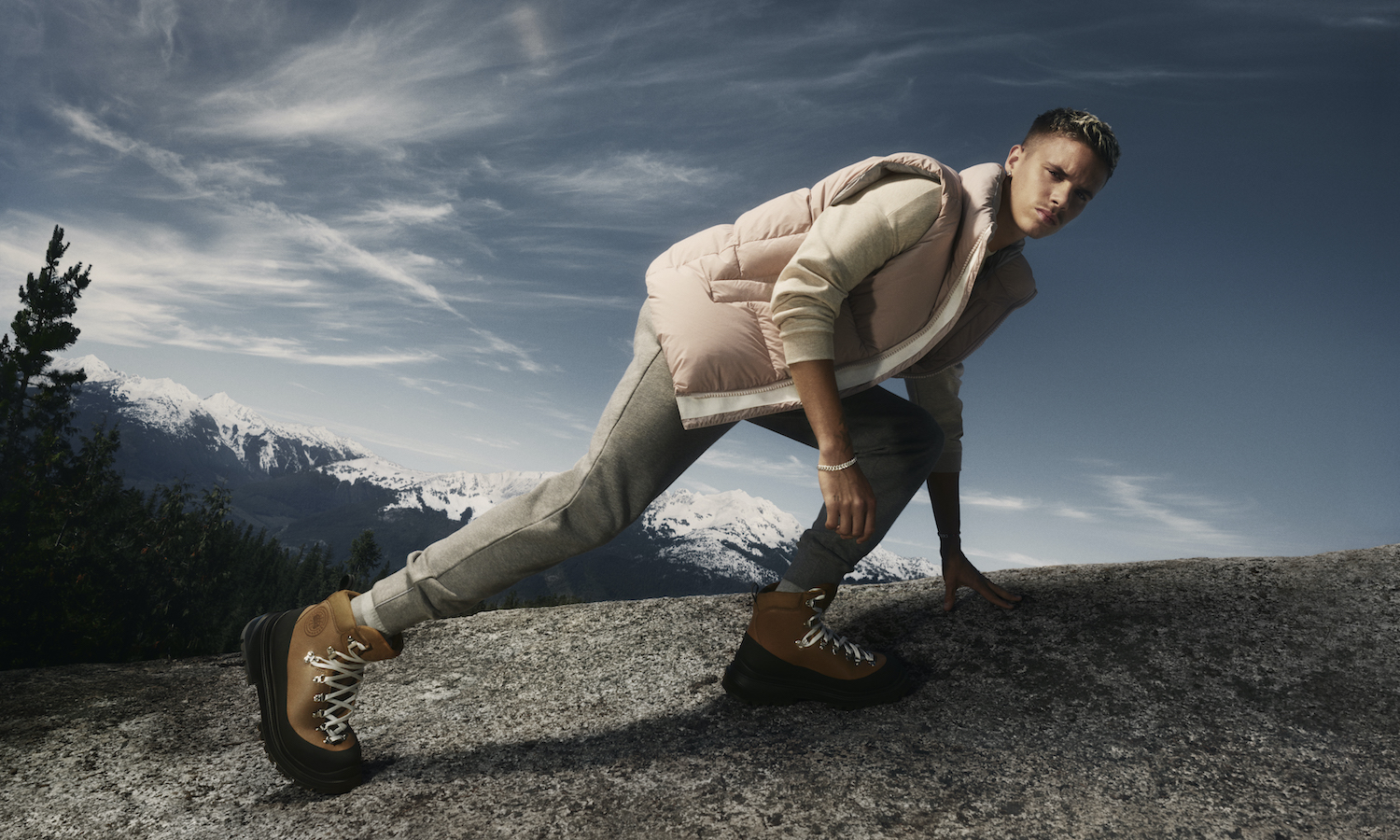 Romeo Beckham showcases Canada Goose's new snow booties
Thanksgiving has passed and we're truly in the depths of winter now, girls. Time to don those fluffy overcoats and invest in a pair of chic snow boots. Here to help you with the latter is luxury performance and lifestyle brand Canada Goose with their new footwear collection, modelled on none other than teen footballer Romeo Beckham, artist Sarain Fox, and indigenous leader and former NHL player Jordin Tootoo. There's the tall futuristic Snow Mantra boot, available in white and black and made from Tundra Tech nylon and insulated leathers, and then there's the ankle-height, cabin-style Journey boots, designed with a unique rubber seal around the edge to protect the shoes from both water and rock while hiking. The two unisex styles of course also follow Canada Goose's pledge to be both innovative and sustainable. If you need a new pair of booties this cold season, you can purchase one of these chic performance shoes in Canada Goose stores or online, or at other select retailers, now. TG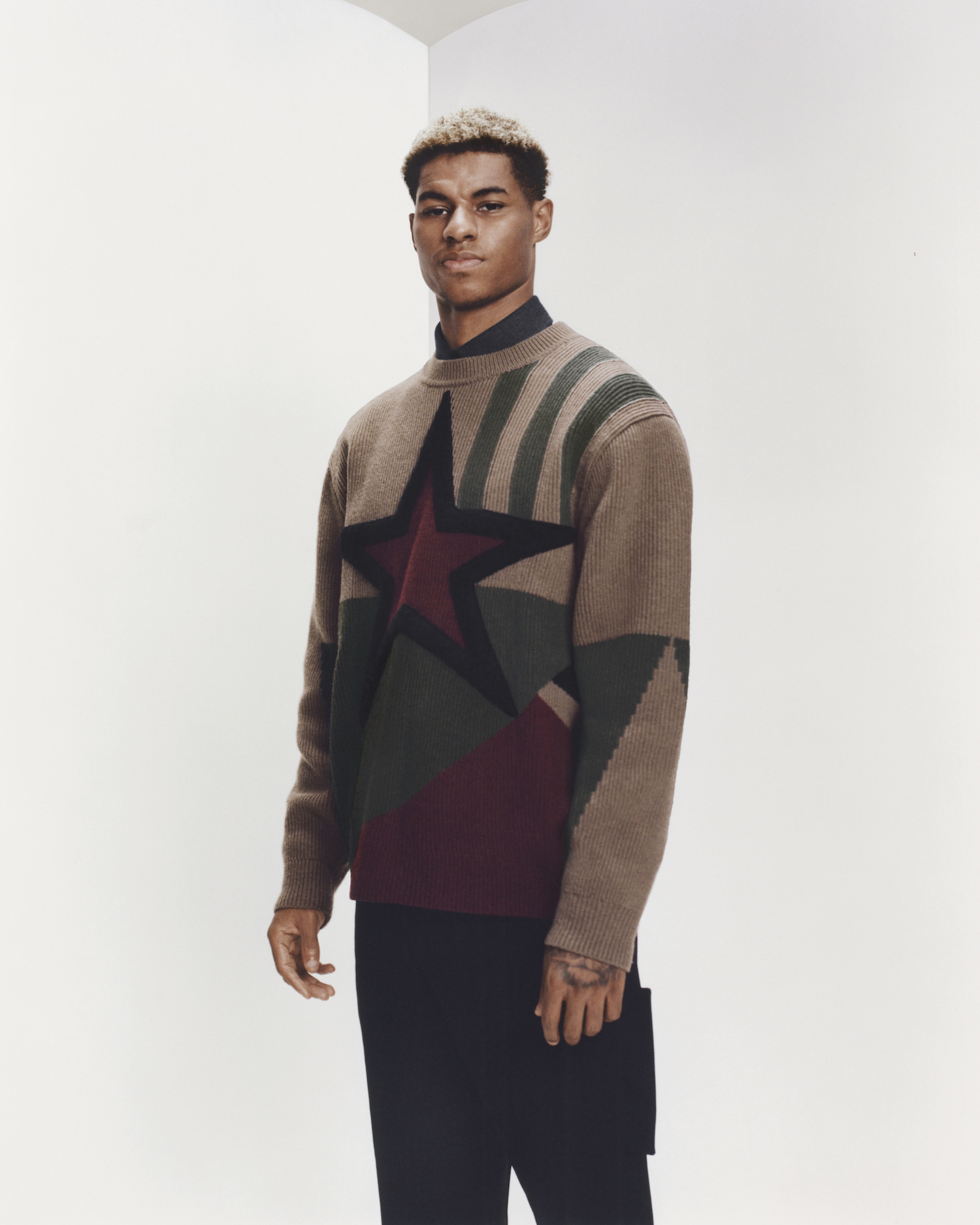 Burberry reminds us why we all adore Marcus Rashford
Good guy footballer Marcus Rashford MBE is once again making the country a better place for its most in-need young people, once again with the support of Burberry! Yes, the iconic British heritage brand and Marcus have unveiled their new charitable initiative to provide access to literature for young people by enhancing library spaces and creating safe, creative environments for them to thrive. Burberry will fund the transformation of library spaces in 10 schools across Manchester, Yorkshire and London, donating 8,000 award-winning books that speak to a diversity of experiences and backgrounds. Then, the Marcus Rashford Book Club will be set up at each school, a space designed by Marcus to be an escape and place of peace and serenity. "In this library you can be anybody and anything you want to be. There are no right or wrong answers here. No judgement. Just you and your imagination", Marcus said in a beautiful, heartwarming letter to the students at the schools. "I didn't start reading properly until I was 17 years old. I don't want that for you… Reading is my peace. My escape. And it can be yours too." TG
Raul Lopez on the Ana, the it-bag you need NOW
A good bag is often a major breadwinner for a brand, as examples from Louis Vuitton's Speedy to Telfar's tote well prove. Over the past few weeks, a new, totally major bit of arm candy has arrived on the scene – the Ana bag from New York-based label LUAR. If you need any convincing of just how fab it is, just head over to the brand's Instagram, where you'll see candid snaps of living legends like Judge Judy and Tilda Swinton seen out and about with the exaggerated top-handled tote, and comments from Cher desperate to get her hands on one – talk about icons only! To get to the bottom of what the buzz is all about, here's LUAR's founder and creative director, Raul Lopez, to tell you himself.
Hi Raul! Happy Thanksgiving! So, tell us how did the Ana come about?
Well, I've actually had this bag idea for a couple years now, but have just been waiting for the right moment to launch it. It also really means a lot to me -- it's named after my grandmothers on both sides, and my mum is from a long lineage of Anas! The mod handle feels really 50s, which nods to the era of my grandmothers, and then the 80s-90s briefcase-esque body nods to my mum and her sisters. I also wanted to create something that was super accessible, but with a luxury construction. But I also wanted to make a bag that you could build your look around – something you could take and do what you want with – style it up!
And what sparked the idea for the Instagram campaign?
Well, everyone who knows me calls me granny so I obviously love the grannies -- I always think they have the best style. So we decided to create these surreal images of these women carrying the bag, where it's like -- is it real or not? And who knows? All you need to know is that it looks good on them, and it looks good on everyone.
How do Judge Judy and Tilda Swinton embody the Ana?
Well, I love boss bitches! They've all pioneered their own lanes. Tilda's there for the art and fashion girls, and as an actress, she has her thing on smash. And then Judge Judy's a gay icon and cultural phenomenon in America. And she's a bit like me -- she's sassy, she's witty, she's quick!
Who's next?
I can't tell you that! But the next one is going to be really good -- trust me!