Adam Sandler and the Safdie Brothers are reuniting for another movie
'2 Uncut 2 Gems: Reloaded' was once a pipe dream; now, the movie gods' next collaboration is confirmed. Could Timothée Chalamet join the cast?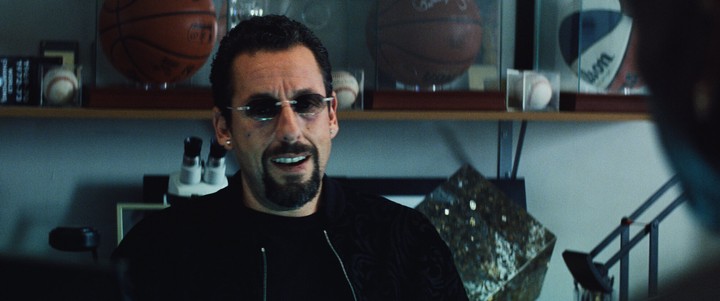 It's been three years since the Safdie Brothers blessed us with Uncut Gems, the Adam Sandler-starring, nerve-shredding New York movie thriller that became the jewel (pun intended) in A24's crown. Fast forward to 2022 and the team behind it, Adam included, have been pretty quiet on the movie front since; Julia Fox is the only one waving the Uncah Jamz flag. But fear not! Those desperate to see these minds meet again will be glad to hear another collaboration between the Safdie Brothers and Sandler is definitely on the way.
Though rumours of a forthcoming Safdie project have been swirling since Uncut Gems debuted, we've had nothing solid on the movie front until now. Speaking exclusively to Entertainment Weekly, Adam Sandler said that he was "going to do another movie with the Safdie brothers", but stopped short of sharing any close details about the project.
"They're working hard on it," Adam continued, calling their work ethic "bananas".
"They're always working, always writing, always thinking," he said. "I don't know what I can tell you, but it's gonna be very exciting. It's different. But I don't want them to ever say, 'What the hell did you tell him that for?' So I'll just let them [do the talking]."
The collaboration was first alluded to in a piece run by Indiewire, which unpacked the tumultuous process actors undertake to toe the line between high-budget and high-brow filmmaking. In it was a short tidbit that stated Josh and Benny Safdie were supposedly working on a new project with Adam Sandler as the lead. It also pointed out that two New York actors in particular were pushing their agents hard to work with the Safdie's in future too: our fave Timothée Chalamet and SNL star Pete Davidson.
In the meantime, Benny has been acting, appearing in Licorice Pizza and the forthcoming Obi Wan Kenobi series on Disney+. Just before the pandemic, the duo announced they'd be working on a television series, which finally seems to be taking off.
The scripted comedy series The Curse, set to air on Showtime and starring Emma Stone alongside Benny, follows a couple trying to conceive a child while acting together in a "problematic" HGTV show. It's yet to start shooting but the bigwigs at Showtime have already called it "a groundbreaking satire that is both unexpected and deeply human".

Of course, for the Safdie Brothers' next movie to be a sequel to Uncut Gems starring Adam Sandler would be difficult for, er, obvious reasons, but the mere idea of us getting something in a similar spiritual vein is enough for us to get excited.