The PUMA x AMI collab has just dropped
The sportswear giant and Parisian label have created a collection for SS22 all about family (AKA fAMIly).
Successful collaboration requires two points of view and one shared goal. It isn't always an easy balance to strike, but it can sometimes work in the most unexpected places. For PUMA, a sportswear behemoth, and AMI, an independent Parisien label, it wasn't hard to find this shared perspective in their distinct offerings. For SS22, the PUMA x AMI collection ties together the disparate strands of both brand identities to create something that is street-ready… with a certain je ne sais quoi.
At the core of this collection is the idea of family (or fAMIly as its affectionately referred to). The two labels set out to celebrate community and the importance of building strong relationships with the people around you, be it a chosen family, an individual or a community around you. "The partnership with AMI was a no-brainer," says Adam Petrick, Global Director of Marketing for PUMA. "Their name literally means 'friend', and that's what PUMA is all about – a community, a family." Adam goes on to describe the pride in working with AMI founder Alexandre Mattiussi and bring his sensibility to PUMA. "We are exceptionally pleased to be able to partner with a creative mind in Alexandre that truly understands the elevation of classic sportswear silhouettes, as well as the creation of community through a positive message."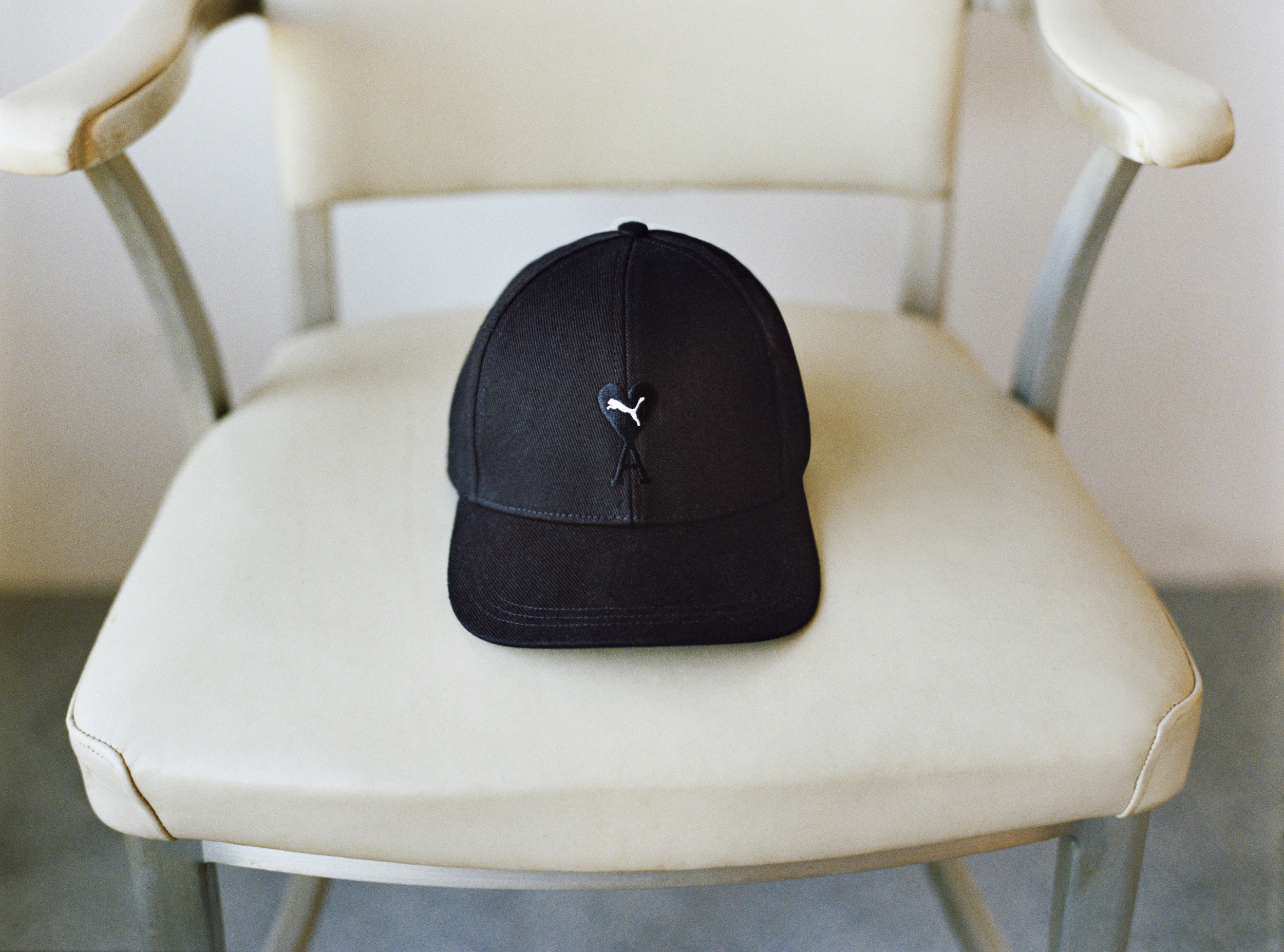 Taking the theme to heart literally (look no further than the melded logo of both brands – "I'm very proud of the way we mixed the logos together, I think that the result is very impactful and that while this is a gift for us at AMI, it's a gift for PUMA too," Alexandre says) simple pieces take inspiration from the happiness that comes with communion between yourself and loved ones. So what does this look like? The goal for both labels was to replicate what it might feel like to wear a tailored Saville row suit through innovative sportswear design. Minimalistic branding, contrasting blocks of neutral and bold colours, and premium materials on T-shirts, polos, jackets, hoodies, shorts, crews, pants, and bras. PUMA's classic footwear silhouettes – the Slipstream Lo, SuedeCrepe, and the newly released Suede Mayu (as spotted in i-D) – all appear. Accessories-wise, there are also bucket hats and shoulder bags. Above all, this partnership plays to the energy of PUMA and the elegance of AMI, creating something youthful, current and wearable that nods to the changing nature of the world outside.
Donning the collection for its campaign, shot by i-D contributor Eddie Wrey, is boyfriend and girlfriend Romeo Beckham and Mia Regan. "What I love the most about them is their energy and their individual style," Alexandre adds. "That and they are clearly in love. Romeo and Mia embody very well the spirit of the collection."
The PUMA x AMI Collection will be available exclusively in AMI stores starting March 16th, and globally March 19th on PUMA.com, PUMA stores, amiparis.com and selected retailers. Watch the video here.