Images courtesy of Balenciaga and Telfar.
Balenciaga hits Bond Street and Telfar x Eastpak: What's In Fashion?
Your one-stop-show for this week's fashion news to know.
Images courtesy of Balenciaga and Telfar.
Hello gorgeous gorgeous girlies! After a couple skipped weeks on account of fashion month, and last week's edition dedicated to how you can help Ukraine's fashion community, we're back to our regular programming. For this week's chock-a-block buffet of fab fashion news, we're bringing you everything from the latest on Balenciaga's brand new London home, Manolo Blahnik's iconic link-up with none other than Birkenstock, a covert Telfar collab, and…. well, so much more more. We don't want to spoil your appetites, though, so read on to find out what! Here's what's in fashion.
Manolo Blahnik and Birkenstock. Name a more chaotic duo, we'll wait…
The only way the deranged Sex and the City spin off show, And Just Like That, could get any more chaotic is if Carrie Bradshaw, a renowned lover of designer Manolo Blahnik, turned up in season two wearing the Spanish designer's new collaboration shoe with Birkenstock. Yes, the sandal often considered "the ugly Jesus shoe" has been yassified, coming in svelte hot pink, midnight blue and sleek black leather offerings and adorned by oversized silver buckles covered in crystals. We live! "Mr Blahnik has always been a fan of Birkenstock, wearing the styles as the only alternative to his own designs for many years," said a press release from the brand. Fair enough, king – we're into it! You can check out the most surprising collab of the year (well, so far!) now online here! TG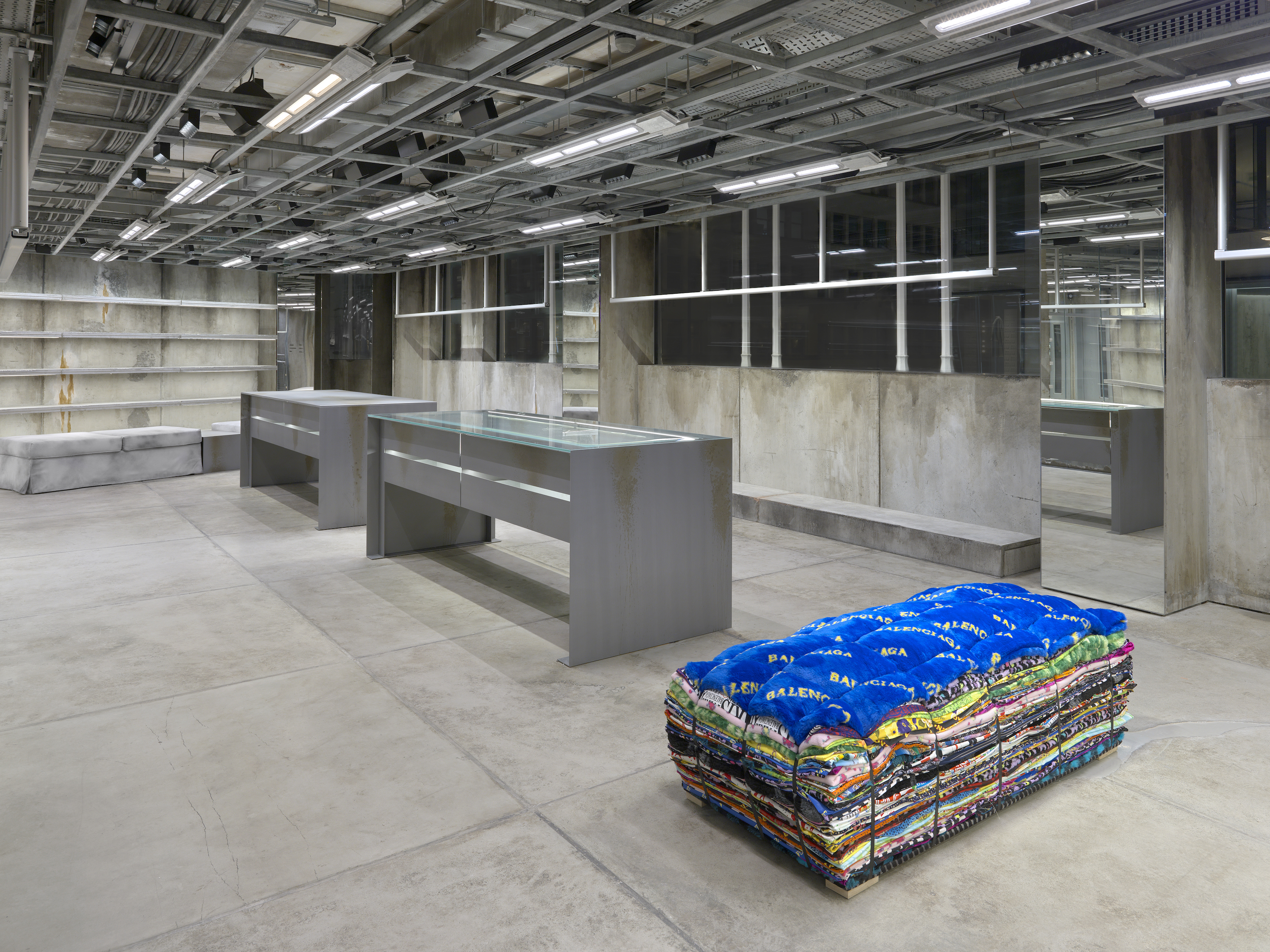 Balenciaga (finally!) lands on Bond Street
As you of course all know, London's long-since established hub for luxury shopping is New Bond Street — a Golden Mile hosting some of the most lavish flagship stores of the world's most coveted fashion and jewellery houses. For too long, however, there has been a notable exception: Balenciaga. With standalone location on nearby Mount Street and Sloane Street in Knightsbridge, the omission of Demna's culture-defining vision on the tony Mayfair street has been a glaring one. Thankfully, though, tomorrow those wrongs shall be put to right with the grand opening of the fashion house's gigantic flagship at the corner of New Bond Street and Conduit Street – just across the way from Miu Miu, Burberry and Hermès. Set across three stories, it's Balenciaga's largest store in Europe, offering the full range of Demna and the gang's product offer: accessories, footwear, menswear, womenswear, kidswear – the lot! It's also the second of the brand's London stores – the first being Sloane Street – to feature the recently introduced Raw Architecture concept, by which an atmosphere characterised by a sense of wear and the passing of time is elicited through exposed concrete, faux rust and even arftully placed patches of mud! Think techno bunker, but on Bond Street. Keen to learn more about the Balenciaga-ification of the world before heading down to the new store tomorrow? Well, here you go! MS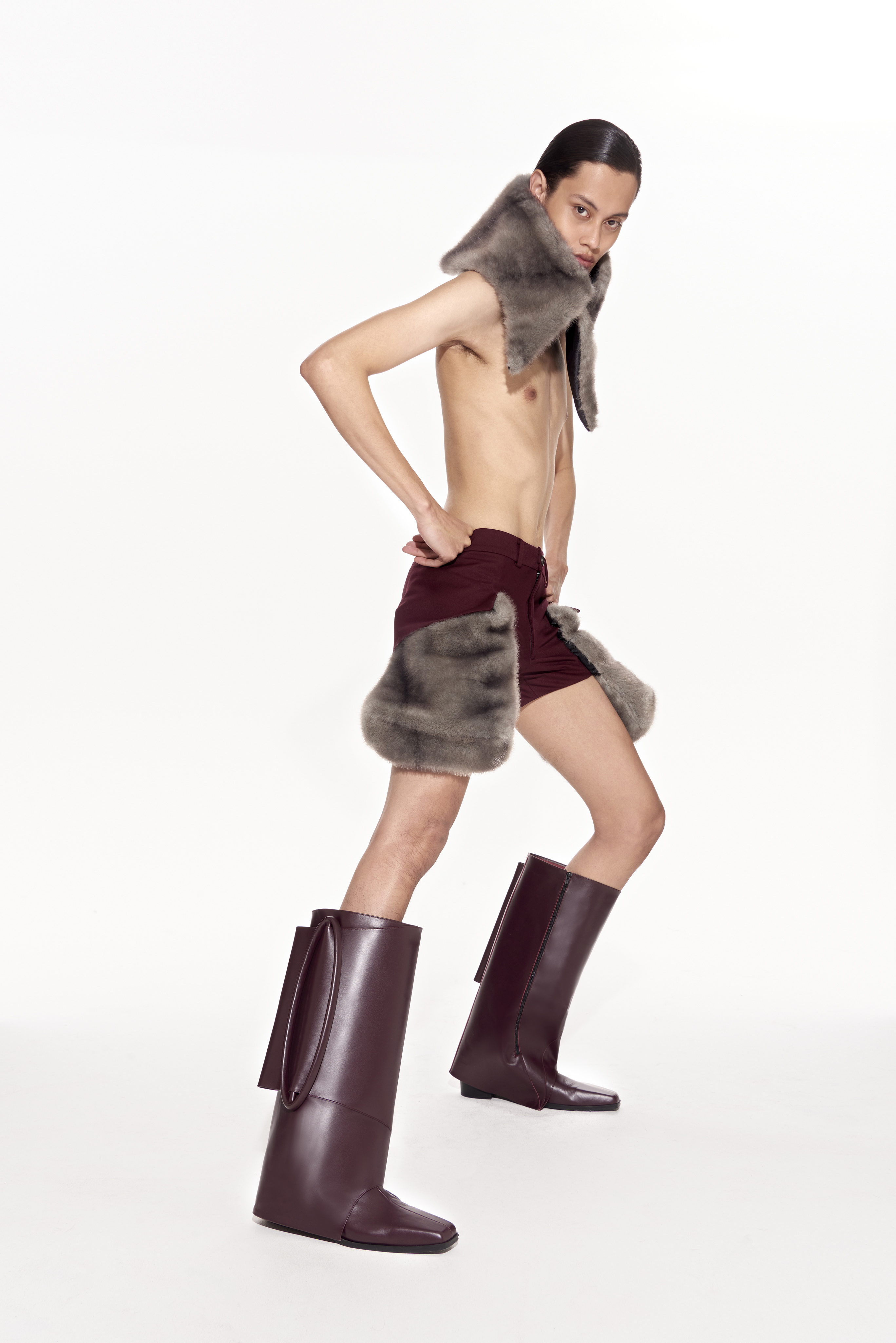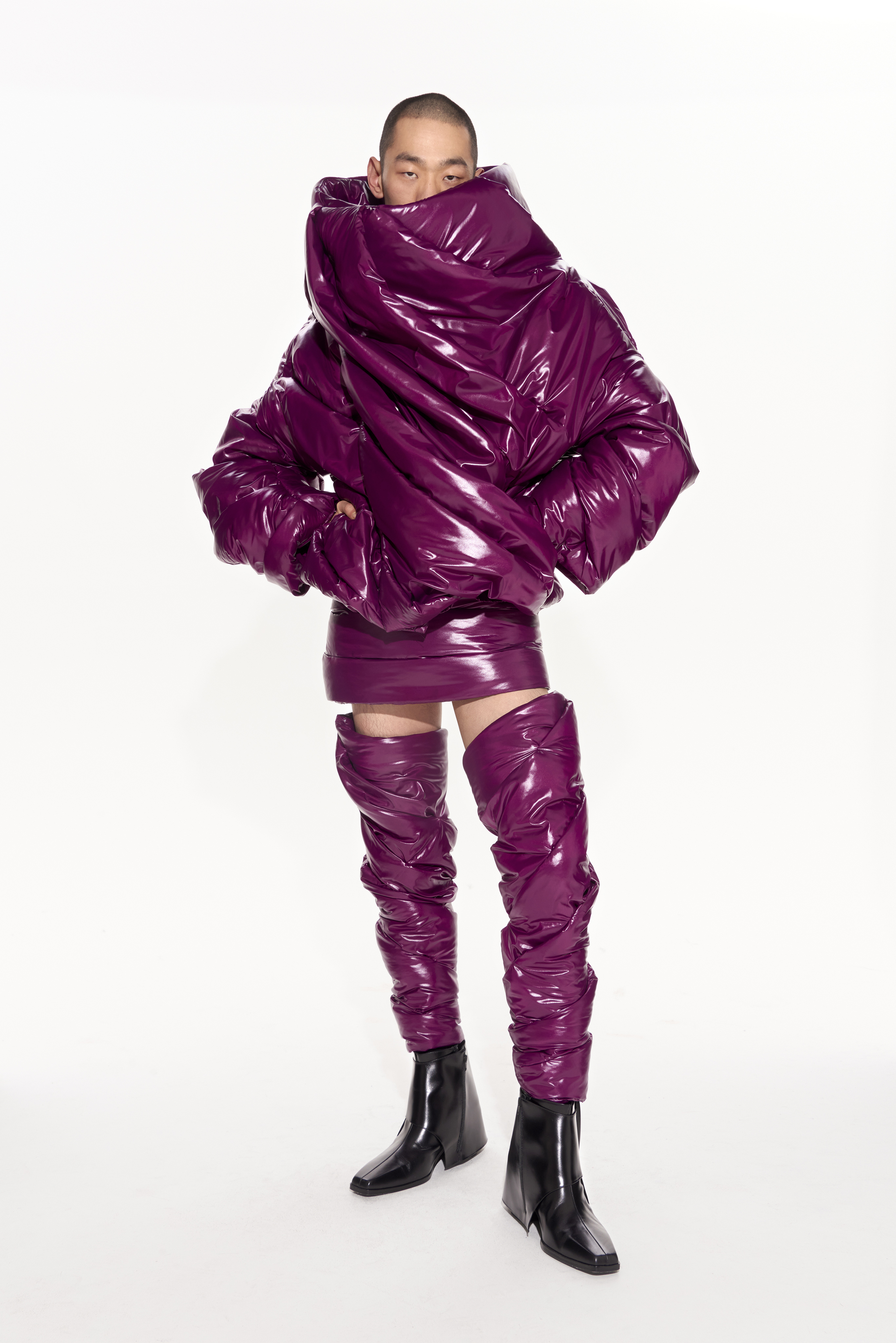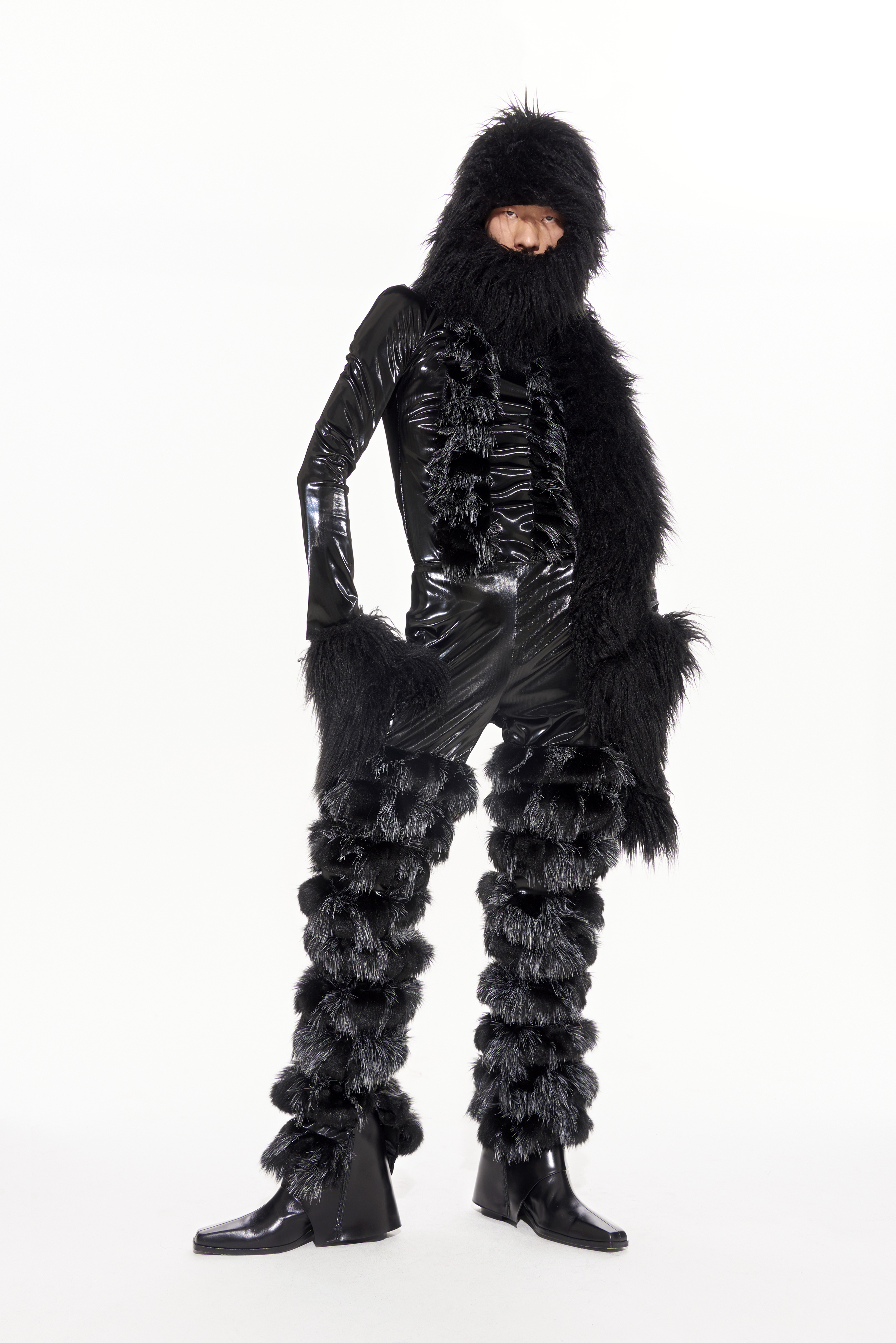 GOOMHEO delivers an ice-cool AW22 collection
Though GOOMHEO first came to prominence as a 'menswear' designer, such strict categorisation has always felt a little too strict for the LVMH Prize semifinalists work. With its overtly sexy tight lycra drapes, tailored rigour, scooping cuts, and flutters of crepe and chiffon, it's always given off the impression that the characters that Goom designs for exist beyond the parameters of binary gender. Nowhere has that made itself felt more strongly than in her fifth collection, "Infinite Glacier", the London-based designer's offering for AW22. Building on the designer's language of sensual contrasts, gossamer organza trousers are seen next to tailored jackets reminiscent of the sort worn by Japanese schoolboys, and slick nylon bubble miniskirts are worn by anyone who takes a shine to them. This season also sees Goom branch out into new fabrics and texture – a form fitting tank dress is constructed with a band of faux fur at the midriff, with a similar fabric used for gigantic reversed floofy pockets on a miniskirt and a pair of wool trousers. And elsewhere, cowl neck coats are crafted in black and aubergine quilted fabric, with torsos exhibiting Goom's signature tornado-like draping technique. One to watch, lovies! MS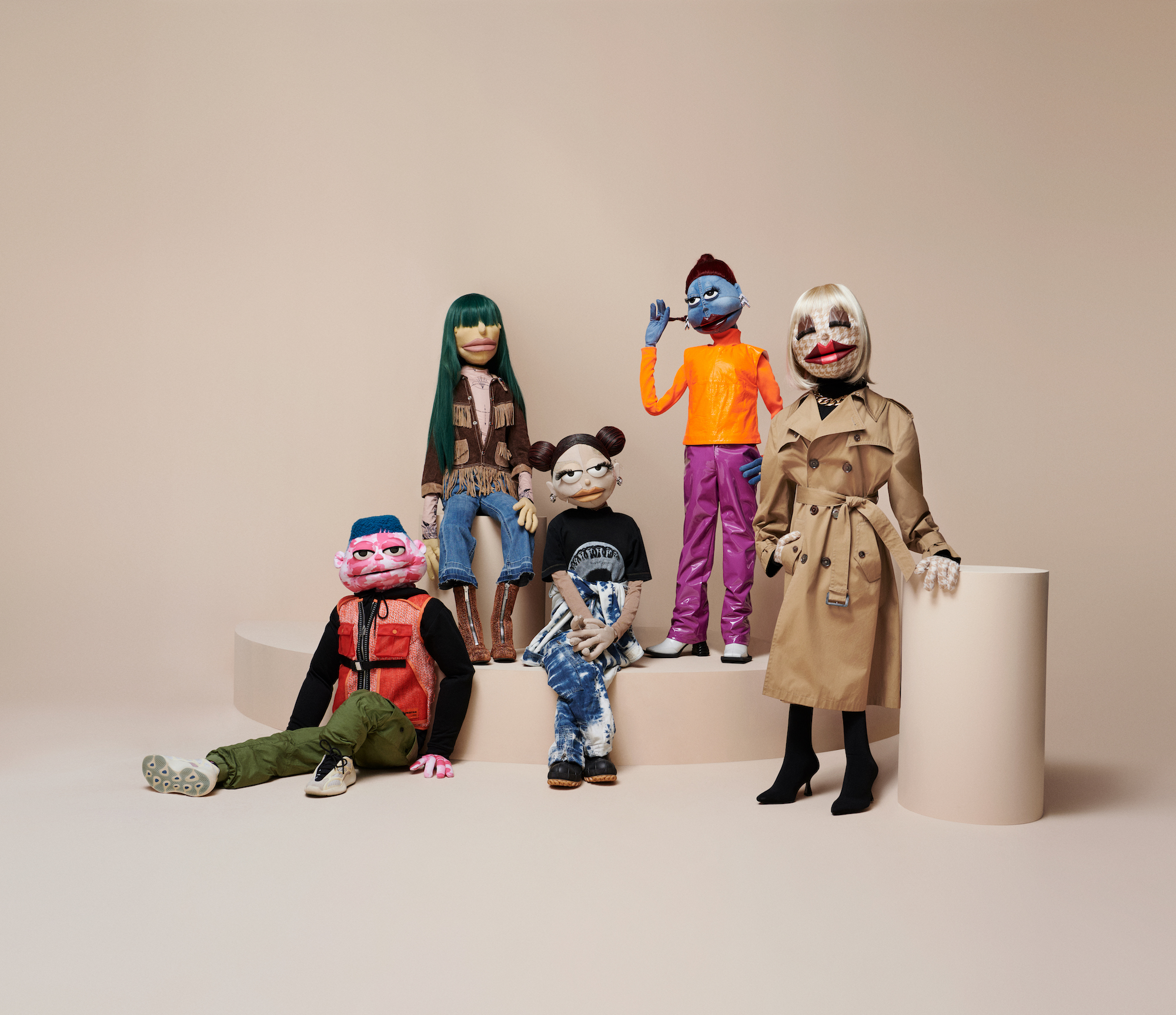 Meet The Collective, Vestiaire's preloved fashionista puppets
Vestiaire Collective, the trusted fashion resale community that holds stunning finds from the biggest and best designers, has had a rebrand and they've brought along – or should we say sewn together – some new faces for their next chapter called "Long Live Fashion!". The posse of puppets made from secondhand garments are dubbed The Collective and while that may sound like they're a nefarious cult of hackers (tbf maybe they are, we don't know what they get up to in their spare time), they're actually a cute group of friends who each represent a reason why pre-loved clothing is the future. Tag yourself! I'm the fringe queen, Hunter, a vintage-shopping-connoisseur who loves the search for a good preloved garment as much as the piece itself. There's also Lady Green, the Gen Z icon whose style inspo is Billie Eilish and knows fashion's future is circular, and business-savvy Rich, a massive Kanye stan who knows how to get the best items at the best prices and wears puffer jackets all year round. Then there's Drops, a collab girl who spends her life refreshing the Hypebeast homepage, and Miss Classique, a boujie timeless icon who only wears fashion's front row brand's classic staples of yesteryear, and is likely secretly a dominatrix on the side of being a CEO of a marketing company. Tbh, we wish we were her. TG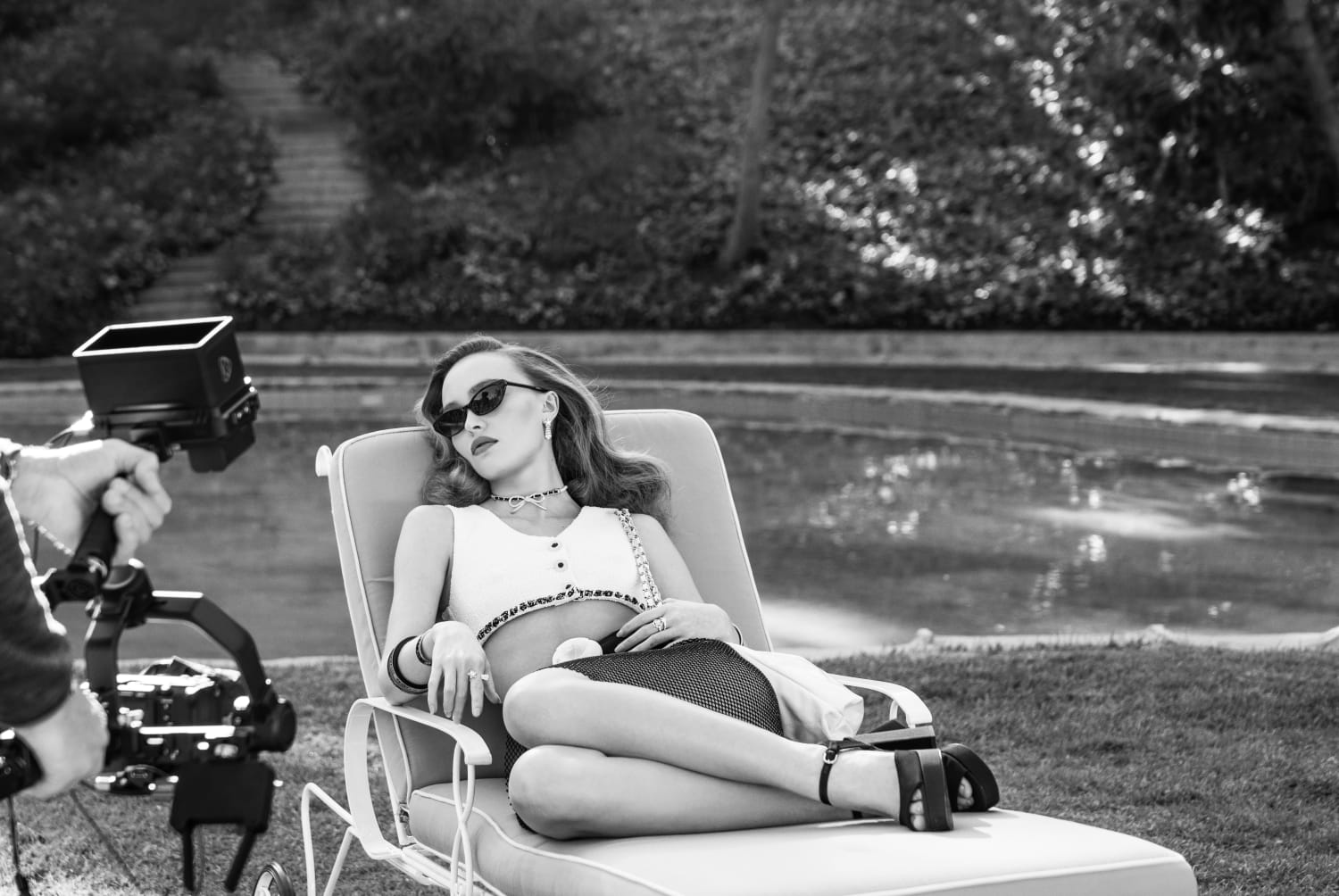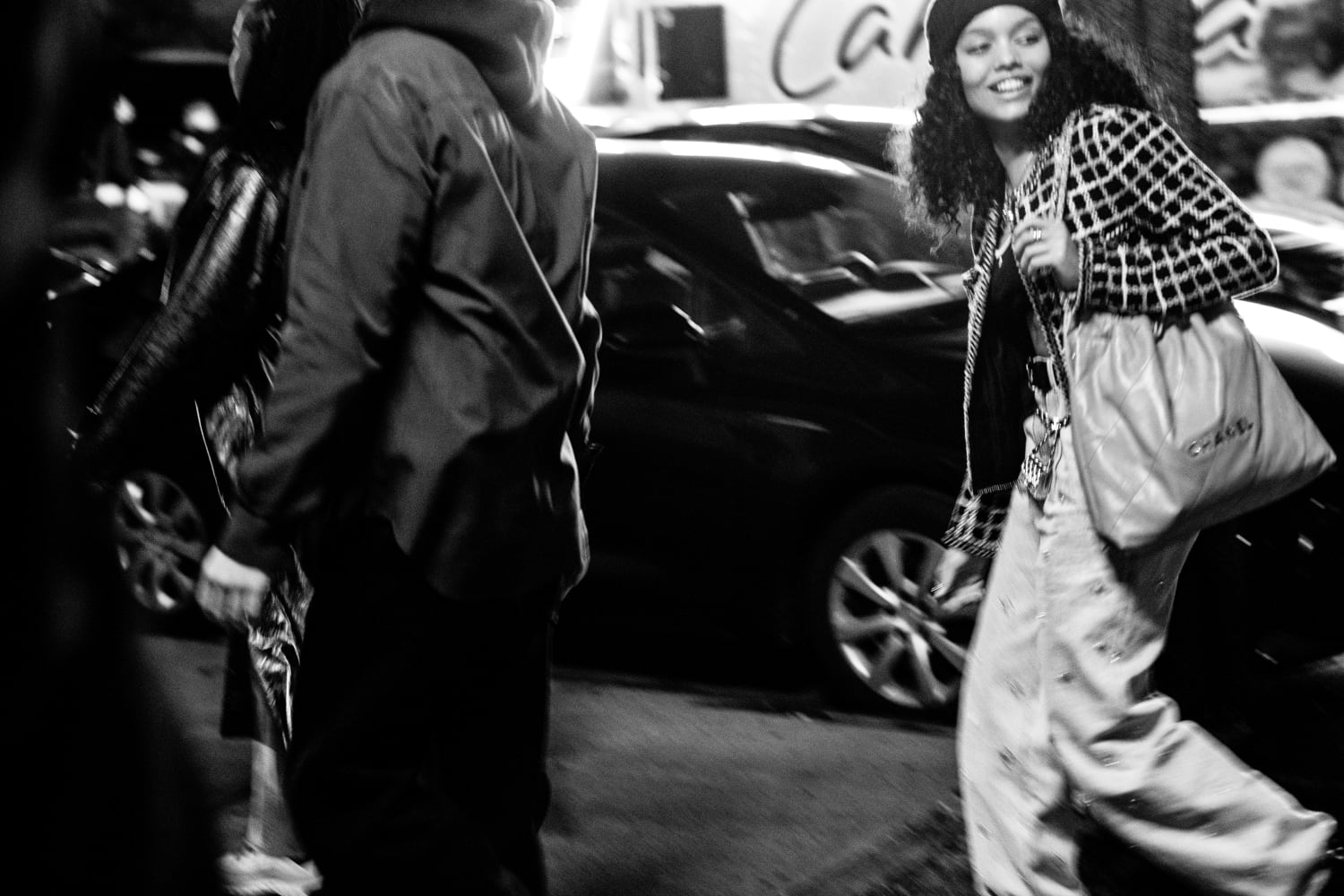 Chanel's new campaign takes you into the lives of three young stars
Granted, it doesn't take much to have us coveting a new Chanel bag, but Virginie Viard and the gang have sure as hell managed to spark our desires with their latest campaign. Shot by Inez & Vinoodh, and starring the divine Lily-Rose Depp, Margaret Qualley and Whitney Peak, the newly launched image series for the Maison's 22 bag – which debuted during its SS22 show – sees the young starlets sporting the roomy, chain-handled, quilted leather tote. With each image offering a window into their respective lives, the campaign depicts each in a light they're rarely seen in. "We were given the opportunity to create three completely different stories with three completely different women and set out to create three stories that would show a lesser known side of each woman," Inez & Vinoodh say. "Researching and diving into their worlds was very inspiring for us." Keen to discover their worlds further? Stay tuned for a series of films dropping from April 6th! MS
Valentino's new campaign ditches models and celebs for authors and poets
What's that famous quote? A room without books is like a wardrobe without a Valentino Garavani platform pump? Something like that. Anyway, in their new fashion campaign, entitled Valentino: The Narratives II, the Italian brand has not a picture, an outfit or a model in sight – well except the words of Emily Ratajkowski. Instead, the entire campaign is composed of insights on love by some of the world's leading literary icons. From the writer of the hottest peach sex scene in history, Call Me By Your Name novelist André Aciman, to The Vanishing Half author Brit Bennett, young writer Fatima Farheen Mirza, Evening (2007) screenwriter Michael Cunningham, poet Murathan Mungan and many others. It's a unique way of selling a fashion collection – one that speaks to its essence and draws in people with its themes rather than the designs themselves. We're especially invested in Douglas Coupland's short story. We need to know what happens next! Did their ex ever receive their letter?? TG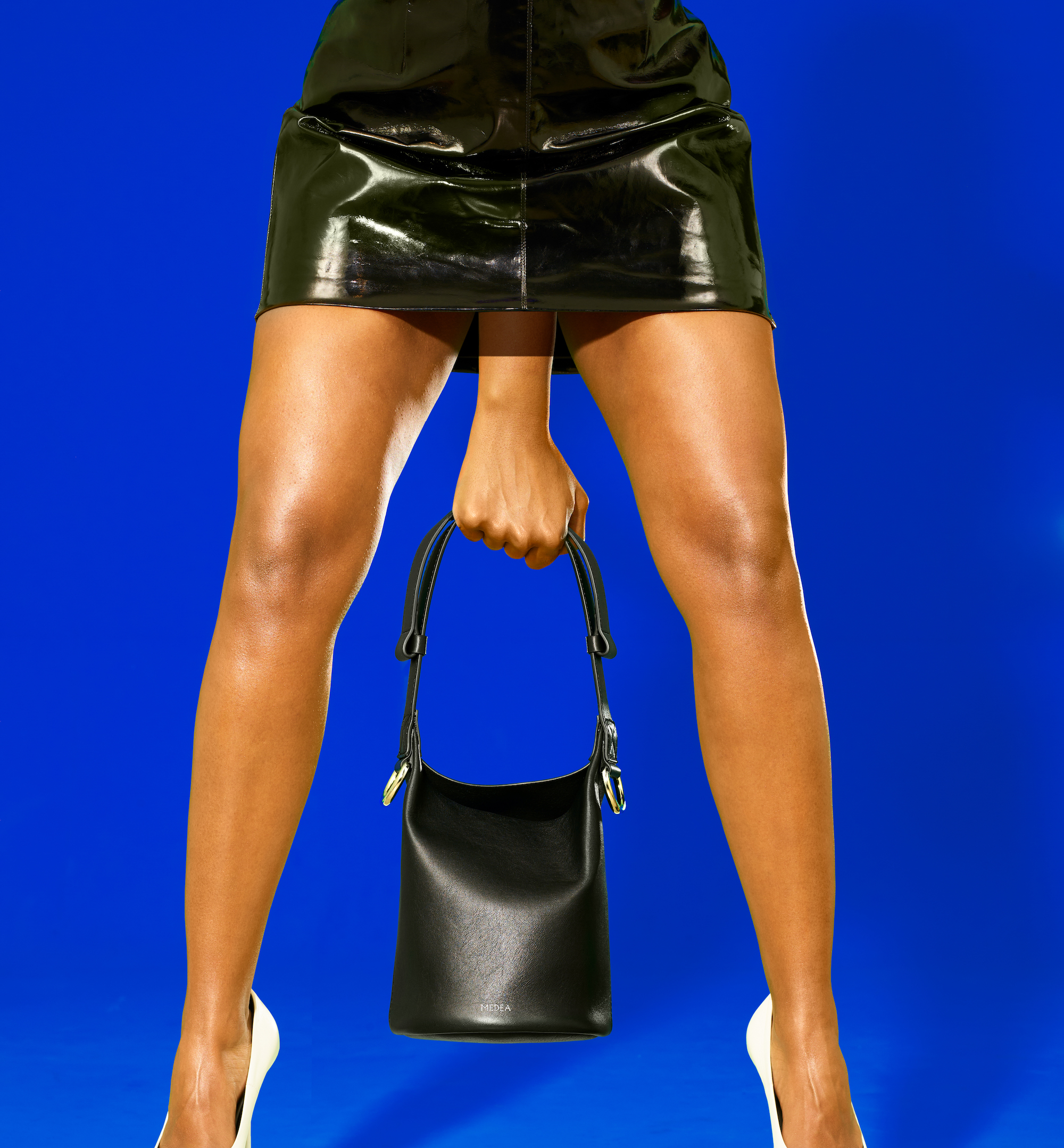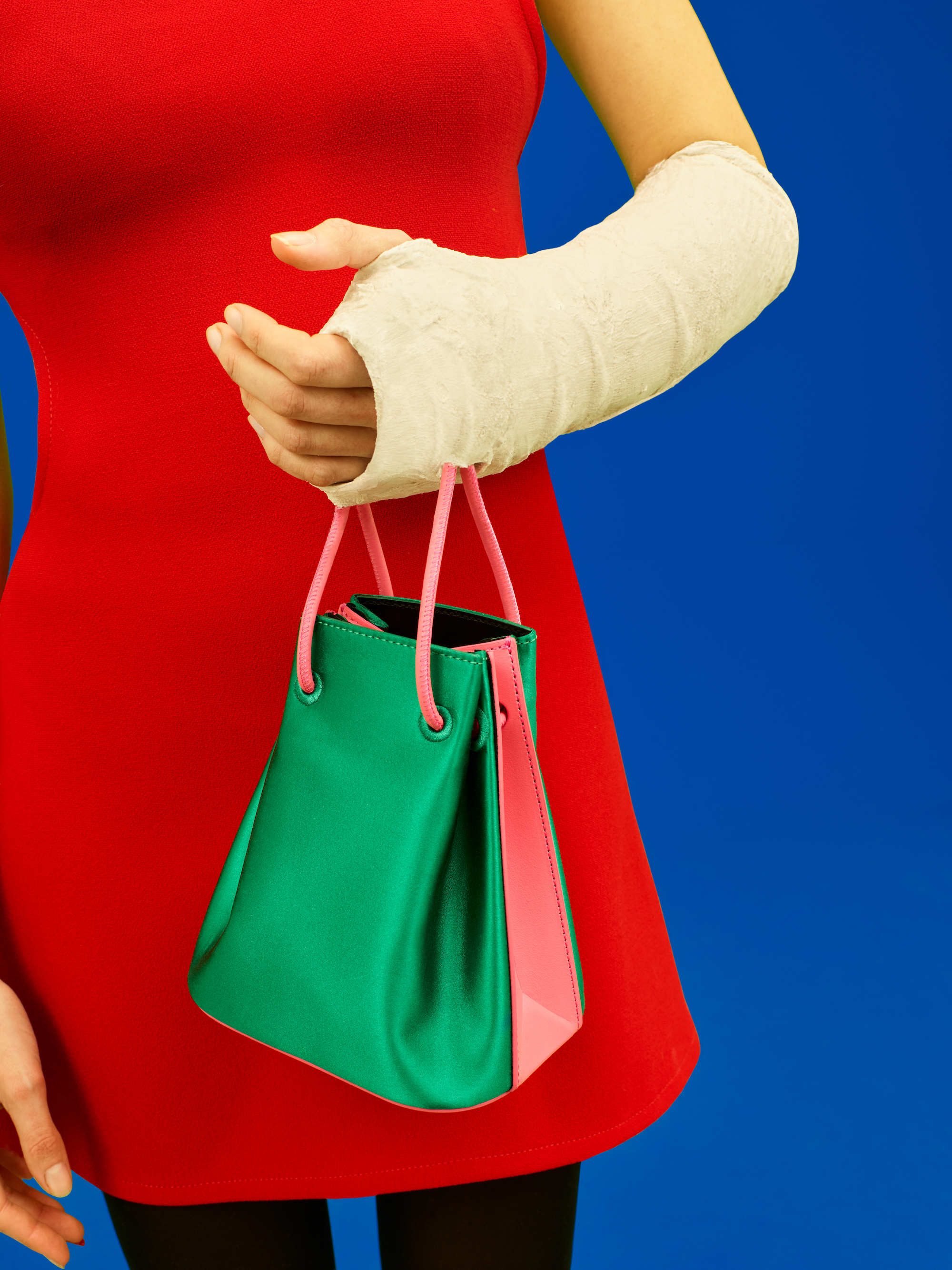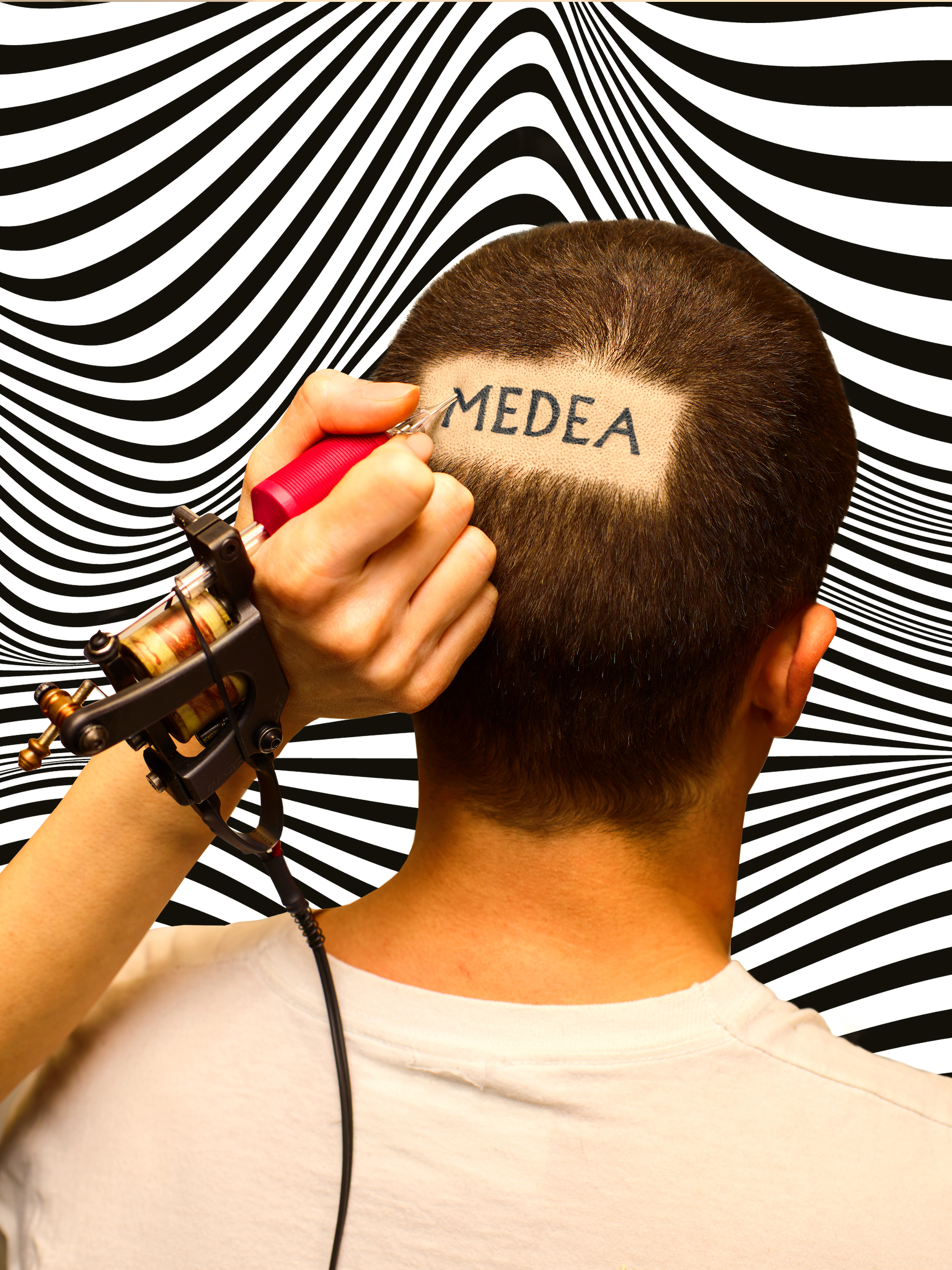 Medea teams up with Toiletpaper for its AW22 campaign
Let it be said here – few luxury leather goods brands do quirk quite like Medea. Indeed, while the products put out by the Milanese accessories label – headed up by twins Camilla and Giulia Venturini – typically exhibit classic shapes and traditional making techniques, the contexts in which they're placed – often campaigns created in collaboration with members of their close creative community – err towards the joyfully eccentric. Their AW22 campaign is no exception. This season, rather than opt for a classic photoseries, the twin sisters paired up with Maurizio Catellan – yes, the artist who taped a banana to a wall – to create MEDEALAND, a one-off 40-page edition of the contemporary artist's publication, TOILETPAPER. A surreally ironic riff on the presentation of luxury objects in print, it features desert landscapes populated by bag-sniffing ostriches, bags frozen in blocks of ice, and even smash-and-grab moments attesting to the grail status of MEDEA's classic silhouettes. All the more reason to get one for yourself – now! MS
Alaïa's sold out Le Coeur bag is back!
Attention Alaïa girlies, attention: If you missed it the first time, the Le Coeur bag has been restocked! After selling out completely, the swinging heart-shaped bag with a fun, cheery vibe that is available in a sultry deep red, sexy leopard print and kinky leather black is back. A chaotically-hyper epileptic-fit-of-an-announcement-video gives you the energy boost you need to go grab these sexy offerings in-store or online before they inevitably sell out again. And who knows if they'll be back for a third time! TG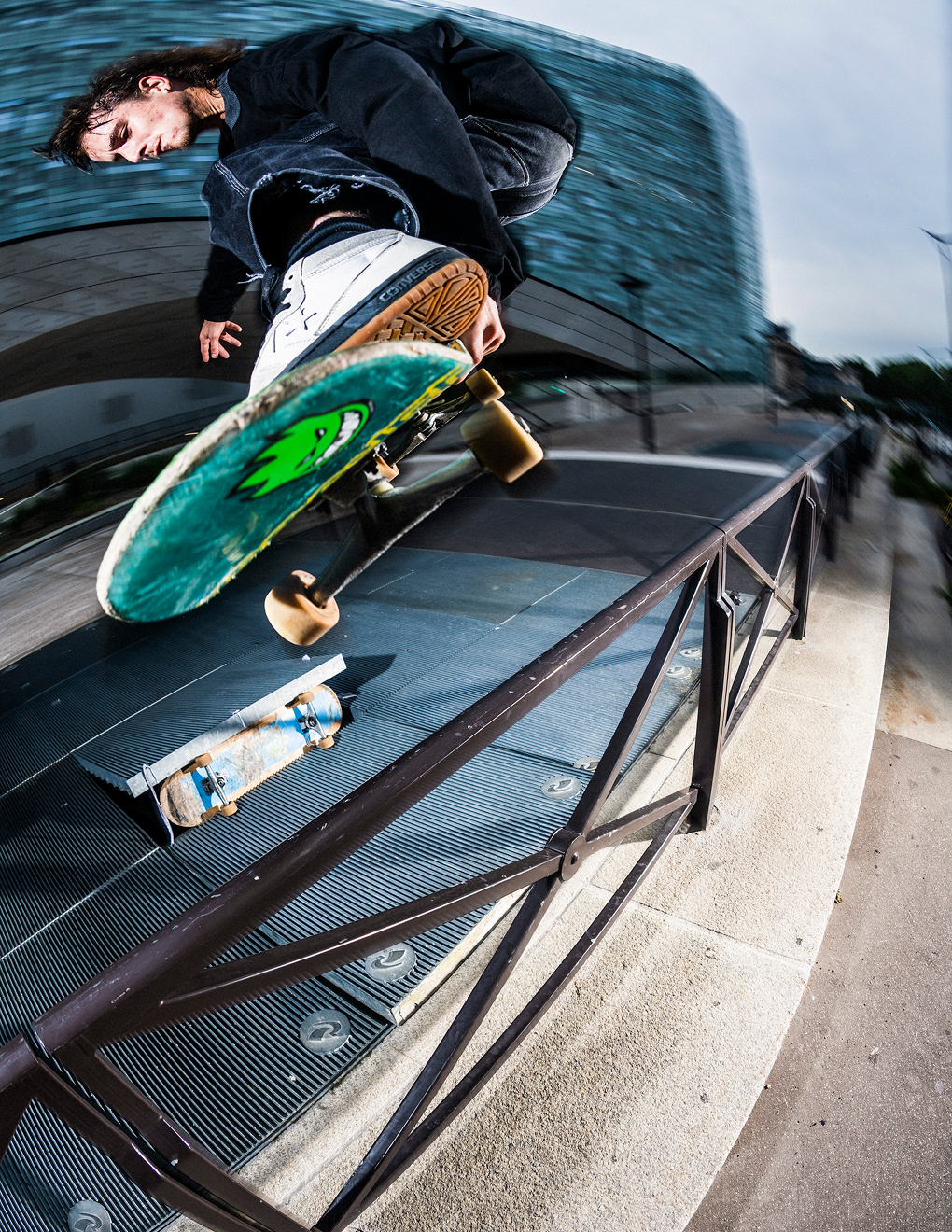 Carhartt WIP have got something for the gamers and for the skaters
Whoever said comics aren't chic has clearly not seen the new Balenciaga-fied bisexual Batman movie. Bringing together the worlds of pop art and fashion is Carhartt WIP who collaborated on an exhibition with the sci-fi comic magazine 2000 AD called PRO-GRESS, that explores "the legacy of the galaxy's greatest comic" with pieces from renowned artists Ed Davis, Oliver Payne, Mudwig, Leomi Sadler, Skatething, Gasius, Will Sweeney, Ancco, Hans Berger, and Liv Preston that include a space-age gun sculpture, y2k game boy artifacts, trippy alien paintings and robotic action toys. Pretty cool! If you were less of a sit-inside-gaming child and more of a go-outside-and-play child, then Carhartt WIP also has another release that might be up your street – their collaboration with Converse CONS on a new skate shoe! With a white body, black detailing and orange sole to the low One Star Ox Pro, and the mid Fast Break Ox Pro trainers, you can purchase them online and in select retailers from 31 March. In the meantime, the PRO-GRESS exhibition will be running everyday from 12pm-6pm at 70 Clerkenwell Road 25 March to 10 April. TG
Dior are bringing silky scarves back for spring
The sun is finally out but there's a March chill still in the air and that can only mean one thing: it's light scarf season, girlies! Time to find a colourful, thin piece of fabric to drape loosely around your neck and accessorise with blackout sunglasses and chain necklaces like you're a hungover Cali girl. Luckily for you, Christian Dior have an array of silky scarves from the SS22 collection. In bright neon tones with contrasting prints and intricate nature-inspired designs these scarves are just fun! One butterfly-adorned offering is particularly fitting for the time of year or, alternatively, there's some more exotic lion and zebra designs. A video from the French house also shows the delicate process of the stunning prints being made and the savoir-faire Dior has become renowned for. Quick, go check them out before the weather turns awful again! TG
Telfar's Eastpak collab is finally here!
It's official – Telfar is dropping a collaboration with Eastpak! What does it entail? Well, while we'd love to share more info on what will be included in the crossover capsule, we unfortunately can't – as we don't actually know! In the latest clever turn from the brand, they've announced the drop of a 4-piece capsule with the iconic backpack brand, with a blind pre-order launching today. Granted, it's quite the leap of faith to take, but if previous collabs – such as those with UGG or Moose Knuckles – are anything to go by, it looks like it'll be one worth taking. MS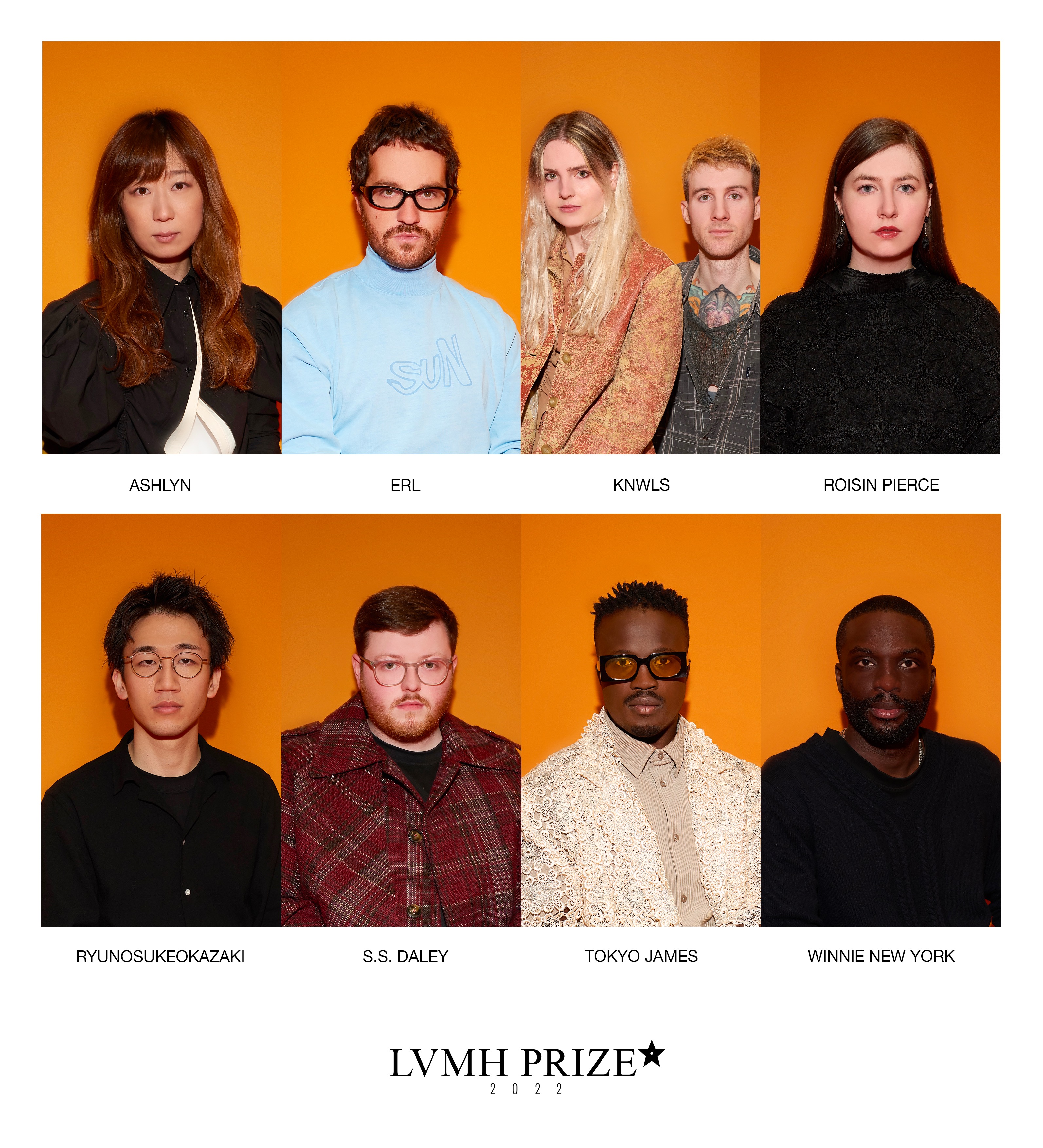 These are the LVMH Prize 2022 finalists
It feels like just yesterday that we were excitedly announcing the 20 nominees of this year's LVMH Prize, but just a couple weeks on from the semi-finalists showcase during Paris Fashion Week, that number has now been whittled down to eight finalists. Battling it out for one of fashion's most prestigious awards are a truly deserving cohort of some of the most exciting, innovative independent designers working today – and, as you'll know if you're a regular here, some our total faves! Hailing from across the world – from Canada to Nigeria, Ireland to Japan – they are: Ashlyn, ERL, KNWLS, Roisin Pierce, RYUNOSUKEOKAZAKI, S.S. Daley, Tokyo James and Winnie New York. Good luck to you all – you're all winners in our eyes! MS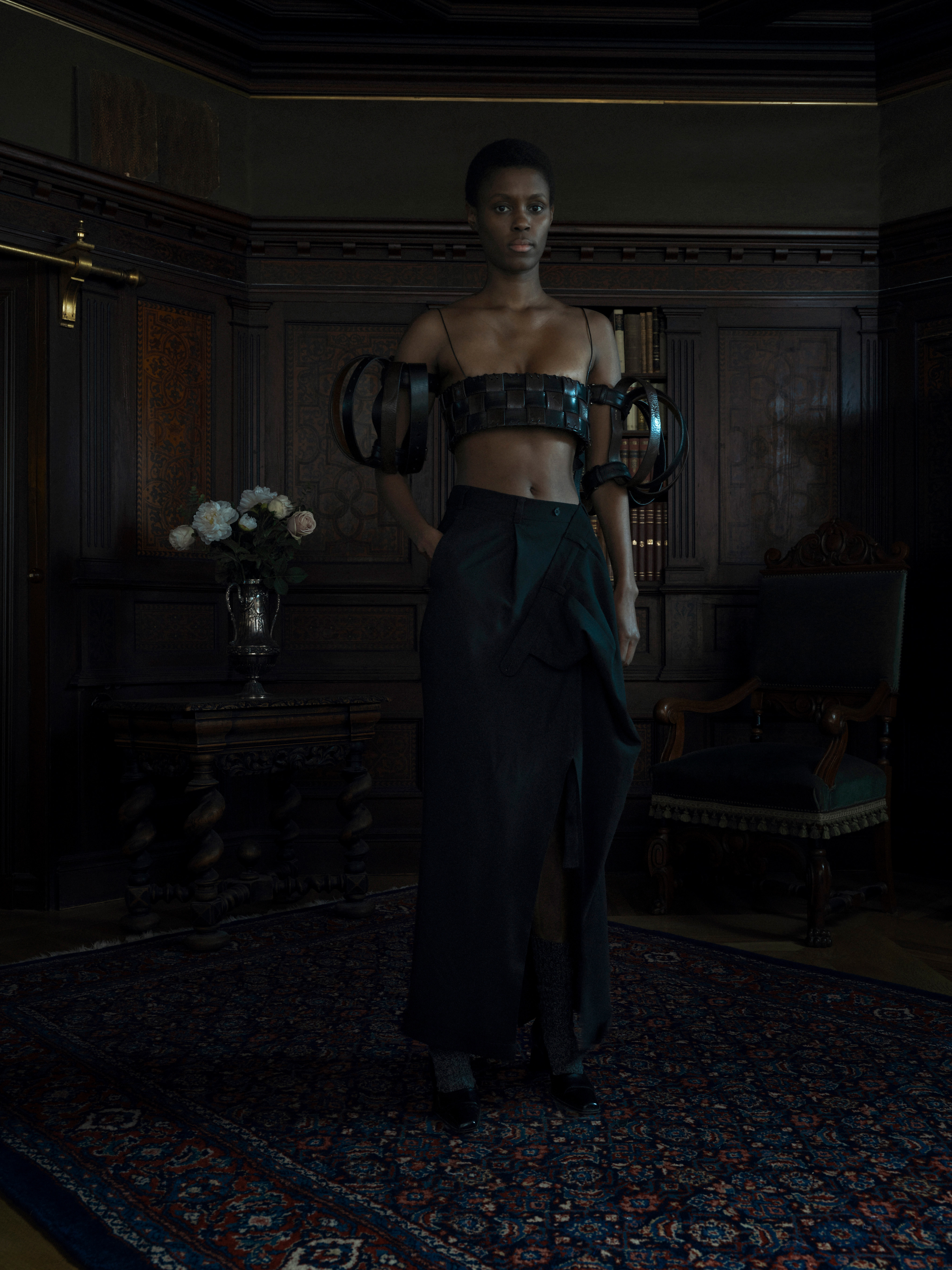 Meet Hodakova, the label expanding the horizons of upcycling
If ever you hear anyone argue that designing sustainably negatively impacts on creativity, please point them towards Ellen Hodakova Larsson. A supremo upcycler, the young Swedish designer has made it her mission to find innovative ways of extending the life cycles of garments and objects that others may think obsolete – think a dress made up of myriad watches, or workwear trousers cobbled together into a hulking gown. "Conventional Collection 112203", the designer's latest body of work comprising a whopping 39 looks, easily comprises the designer's most accomplished offering to date. Here, she discussed the thought process behind its making, and her quest for creating timeless clothes. MS
What's behind the title, 'Conventional Collection 112203'? It is mainly my way of telling the story of the whole concept behind Hodakova. The business model consists of conventional clothing put through conversive process, with old traditions transformed into new ones.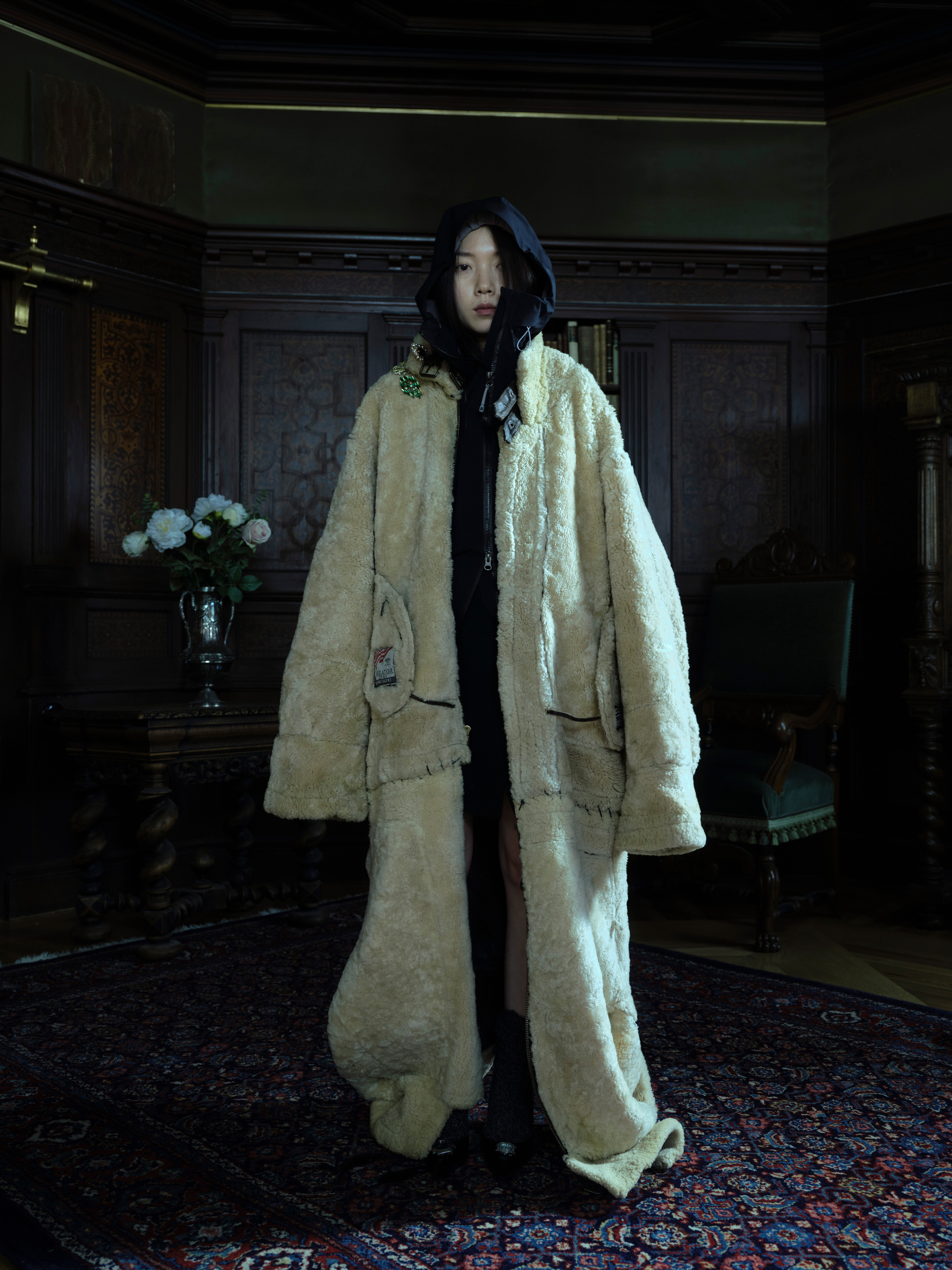 **How would you introduce the collection? What was its jumping off point?
**I´ve been asking myself the question of how I will run a company that can sustain itself over time, and part of that Is understanding how people will invest over the next decade. I want to understand what 'timeless' means – and what it will continue to mean – and make that part of the creation of the stories I'm telling today. For example, the relationship between the present and the past is what resulted in the timeless dress made of watches.
The conversion of the old into the new is a cornerstone of your practice. Tell us about some of the most unique examples of how you've extended the life of pre-existing garments this season? As an extension of our last collection, this season's maxi pant dresses are made from old hospital work pants, belts are crafted into new shapes, and analogue watches become a dress.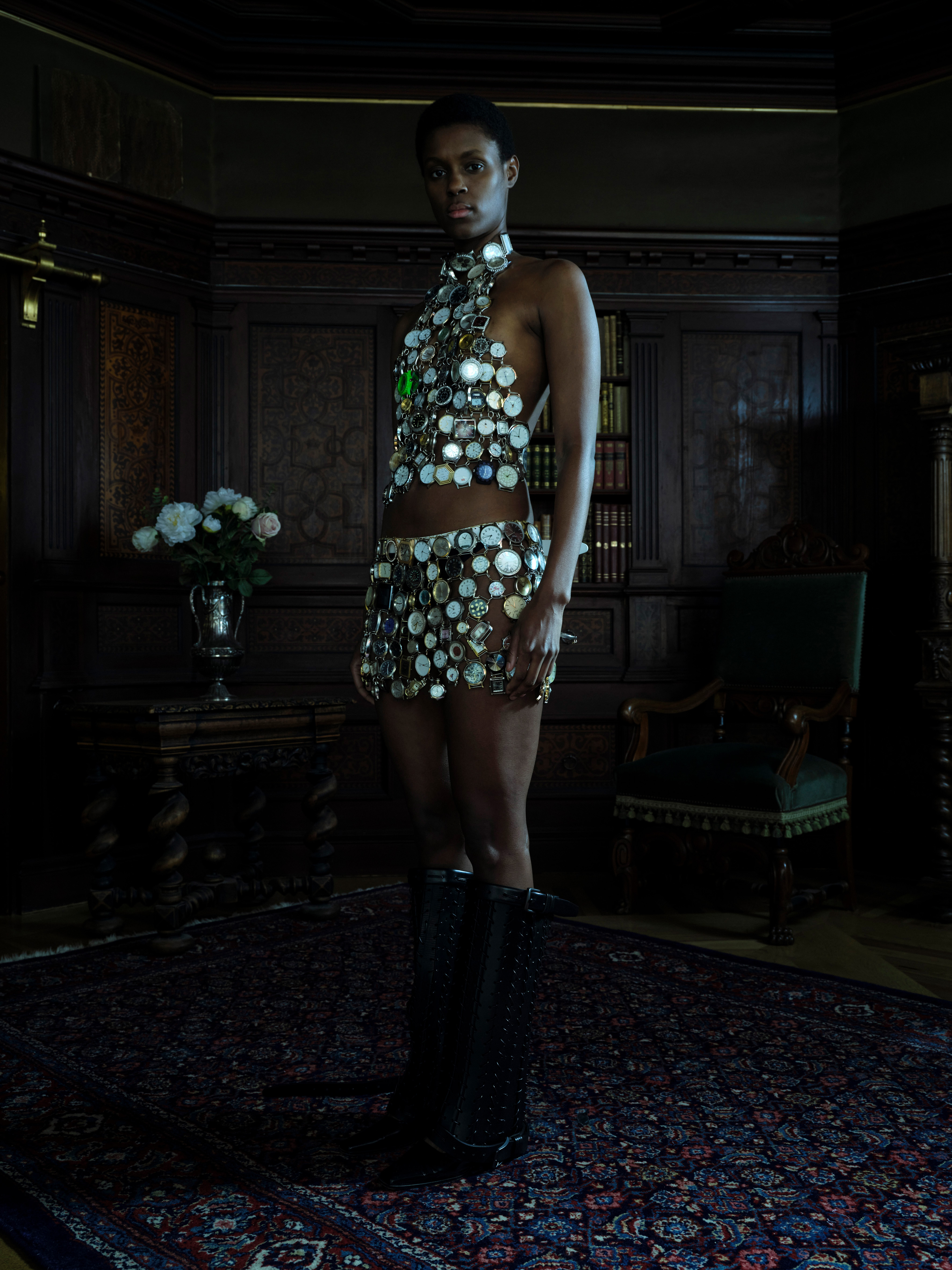 Was there an overall mood or silhouette that you wanted to propose this season? If so, what was it and why? I tend to like architectural shapes and composition of contrasts, so the combination between textures and techniques, surfaces and silhouettes is part of my all year mood.
What do you hope people are able to take away from the collection? I hope people continue to be curious about what they look at, and want to see the purpose of layers and tactility.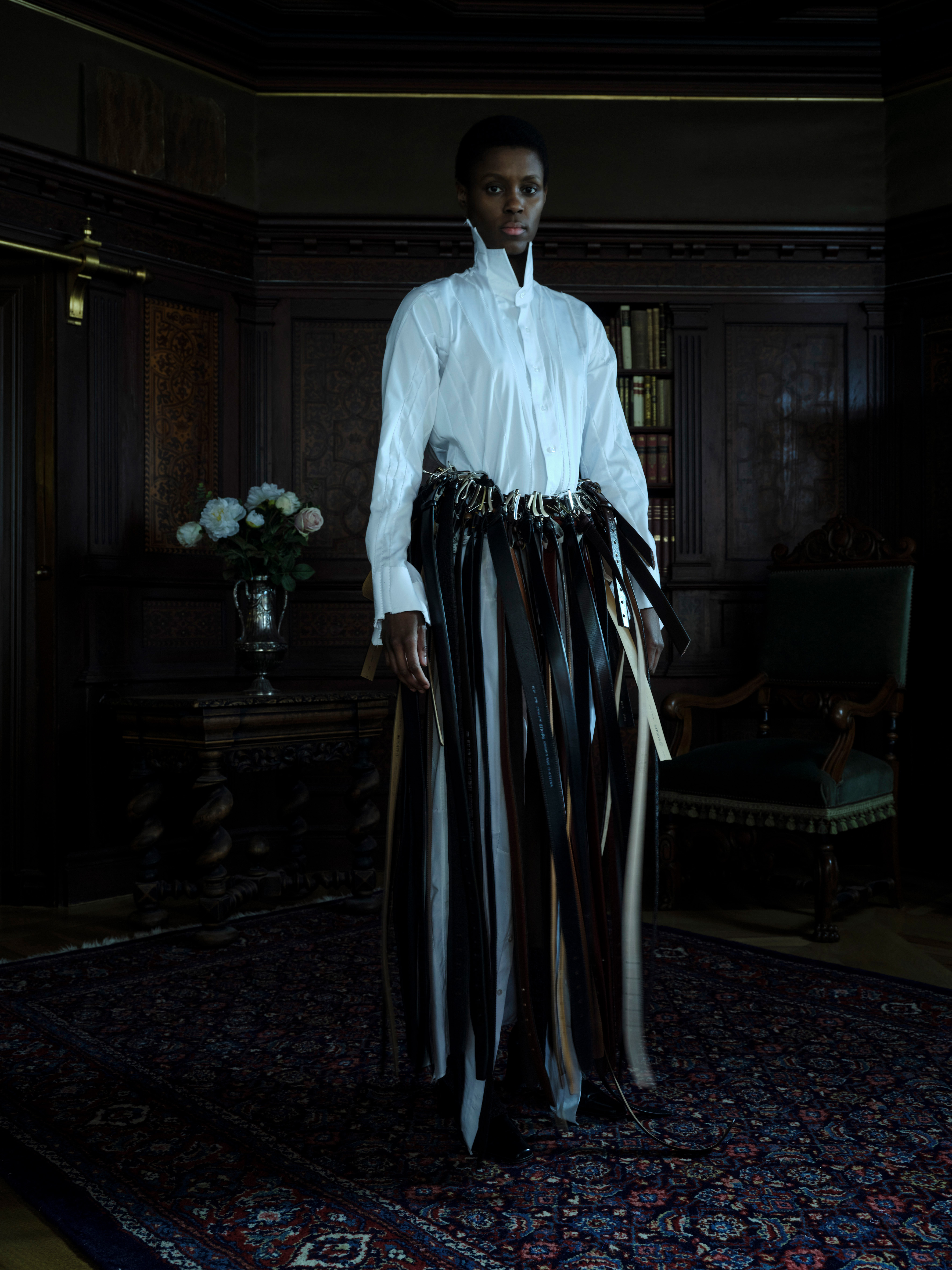 Tagged: