Photo by Jim Smeal/Ron Galella Collection via Getty Images and Ron Galella, Ltd./Ron Galella Collection via Getty Images
7 of Neve Campbell's most iconic outfits
The 90s scream queen was also the queen of corsets.
Photo by Jim Smeal/Ron Galella Collection via Getty Images and Ron Galella, Ltd./Ron Galella Collection via Getty Images
Neve Campbell is the Scream Queen. The successor to a legacy passed down by actresses including Jamie Lee Curtis and Signourney Weaver, Neve (and her counterpart, Sidney Prescott) has secured her reputation as modern horror's foremost final girl, fronting the Scream franchise for the last 20 years and counting. In addition to starring in five Scream sequels (count them… five!), Neve's also taken roles in some of the era's spookier cult classics: the brooding Bonnie Harper in The Craft and outcast Suzie Marie Toller in erotic thriller Wild Things. Of course, as the reigning queen of 90s horror, Neve's 90s wardrobe ran ultra-gothic — and even a touch regal — in slip dresses, brocade styles, Marie Antoinette curls, powdered make-up and more corsets than Scream sequels. Here, to celebrate the release of Scream 5 (2022), we take a look back at some of Neve's most iconic outfits.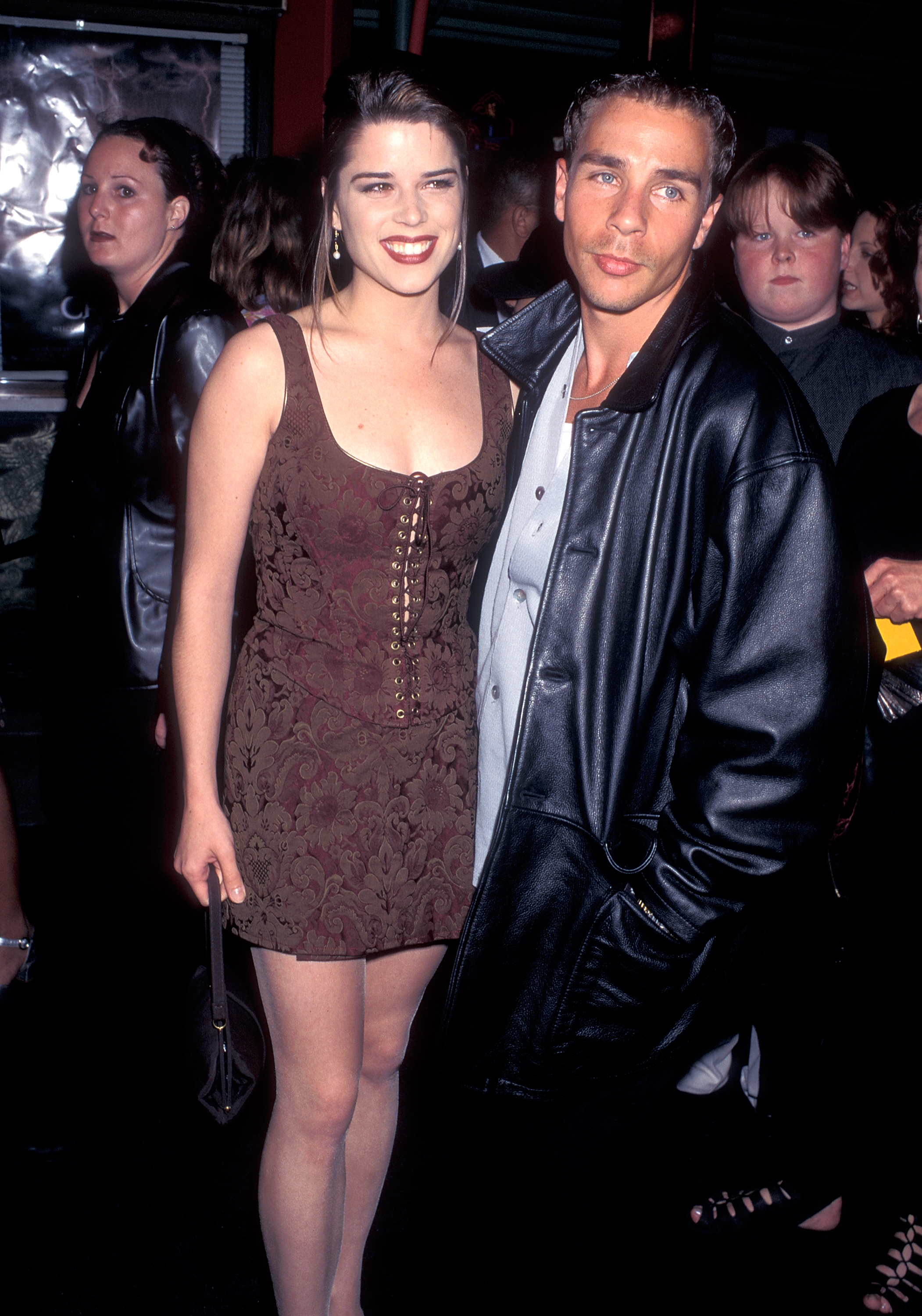 At The Craft premiere, 1996
In early 1996, Neve Campbell kicked off her career in horror with a supporting role in supernatural teen flick The Craft. In the film, Neve plays Bonnie Harper, one fourth of a coven of high-school outcasts-turned-witches. While The Craft received mixed reviews at the time of its release, the flick went on to become a cult classic, particularly for its grungey-gothic fashions: tennis skirts, thigh-high socks, floral maxi dresses and rosary necklaces. Here, to the film's premiere, Neve wears a corseted brocade mini that wouldn't look out of place in the coven's covetable wardrobe.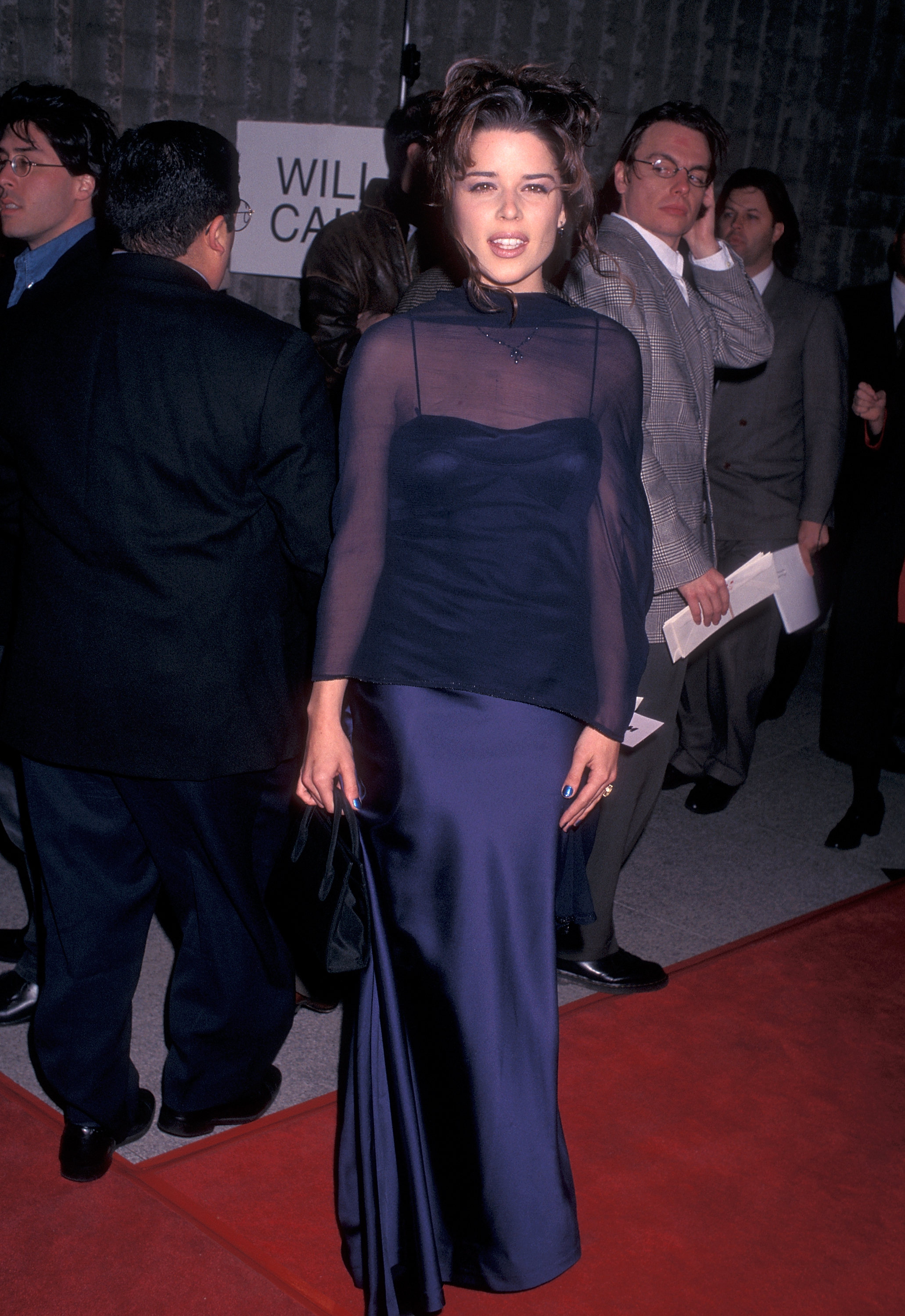 At the Scream premiere, 1996
Not eight months after the release of The Craft, Wes Craven's Scream hit theatres to critical acclaim. With its biting satire and all-star cast, Scream became the de facto horror film of the decade. And, as Sidney Prescott, the film's protagonist and final girl, Neve became the genre's presiding ingenue. Here, to the film's premiere, the star wears an appropriately gothic slip dress and chiffon shawl.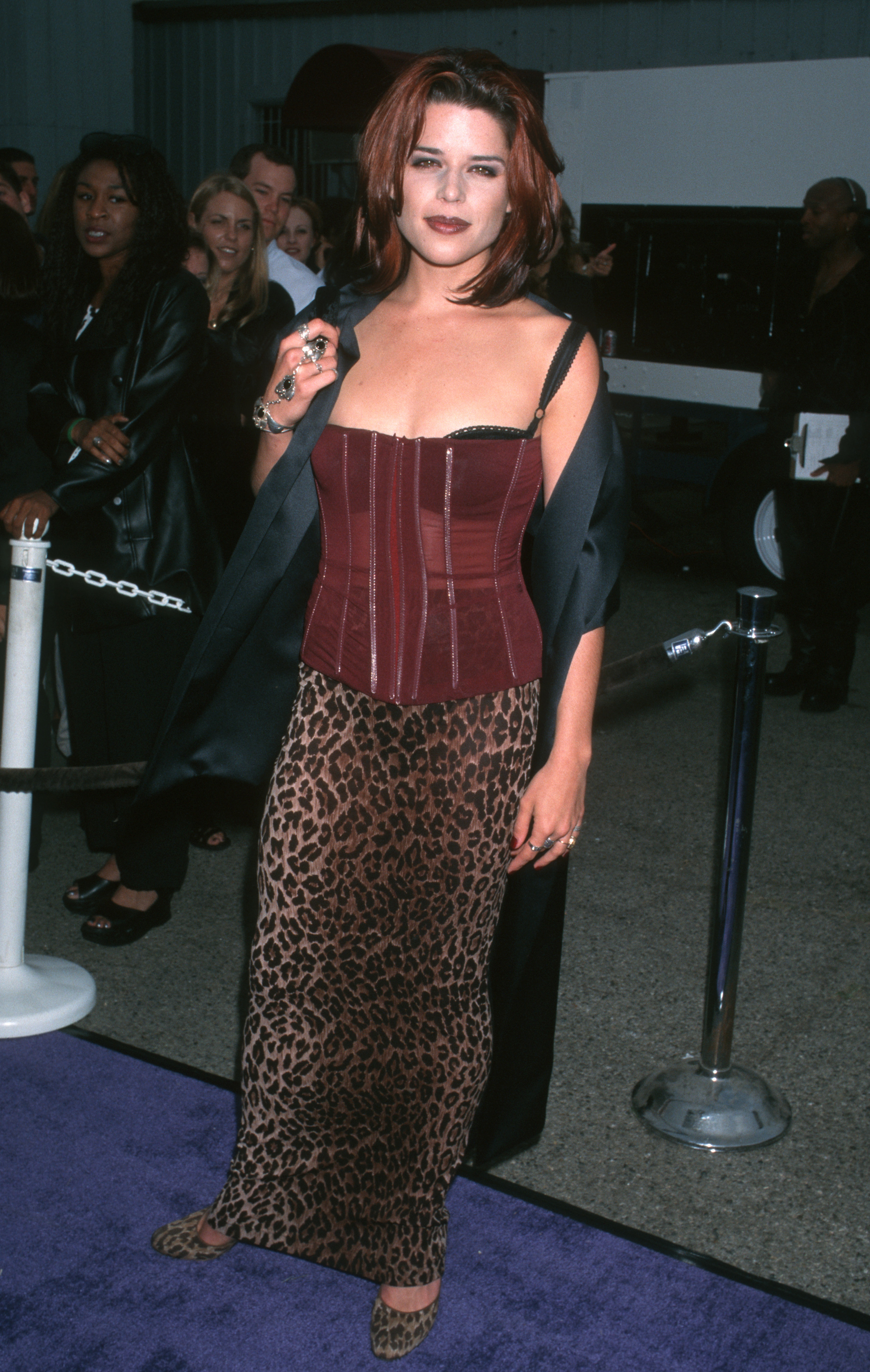 At the MTV Movie Awards, 1997
Corset #2. To the MTV Movie Awards (where Scream scooped Best Movie, obviously), the actress paired this sheer number with a leopard maxi skirt and matching auburn hair.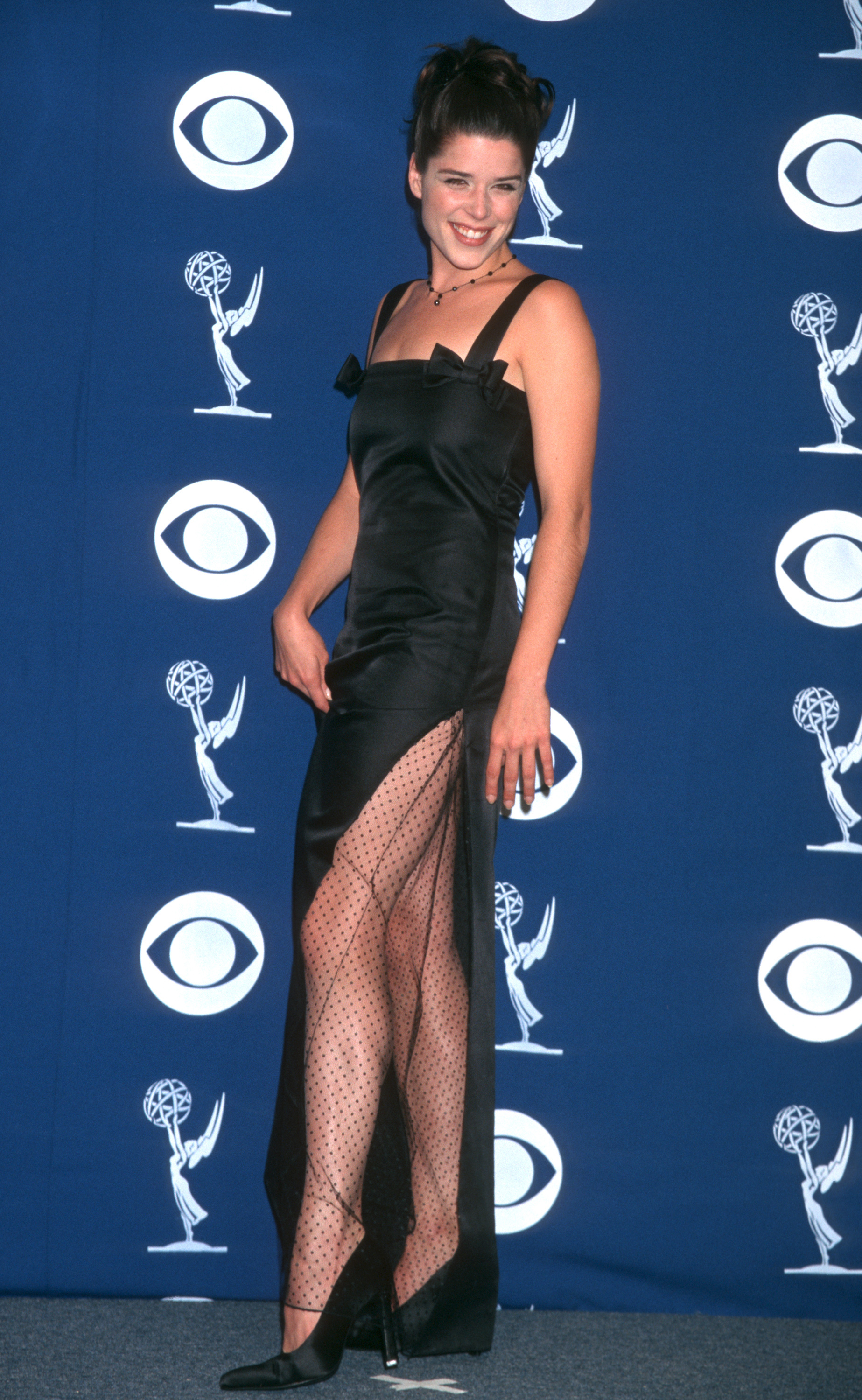 At the Emmy Awards, 1997
Spooky and… sweet? Following Scream's success, Neve attended the 1997 Emmy Awards wearing a gown befitting of her teen-scream-queen status: a satin column gown bedecked in bows, tulle and a slit up to there.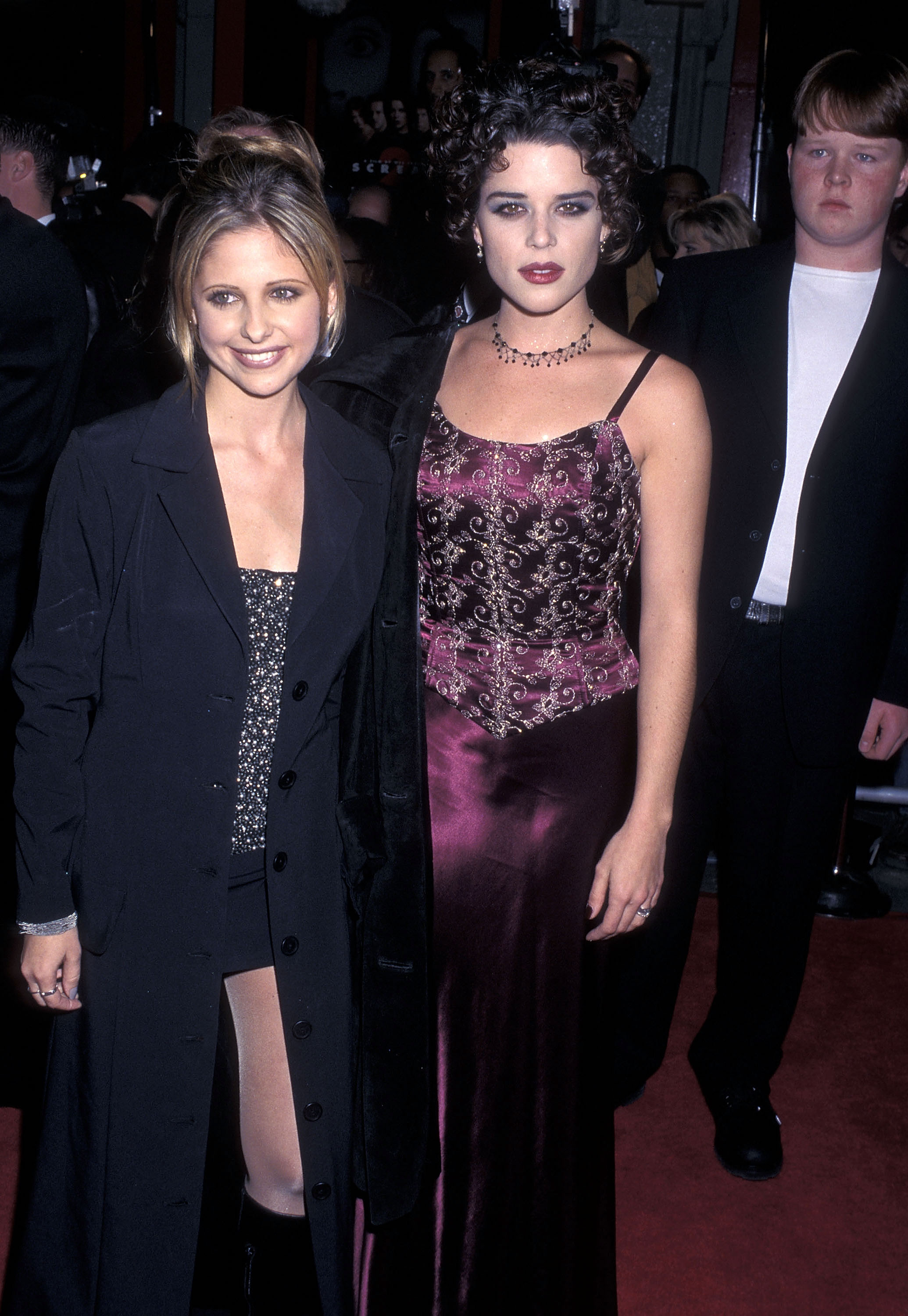 At the Scream 2 premiere, 1997
Neve reprised her role as Sidney in 1997's Scream 2. The sequel, which was released not even a year after its predecessor, served as a take-down of horrible horror sequels, without becoming one itself. Scream 2 garnered as much — if not more — critical acclaim as the original, and lead Neve to win her first MTV Movie Award. Here, the actress attends the movie's premiere with Sarah Michelle Gellar in yet another corset. This time, she paired the look with towering Marie Antoinette-esque curls, face powder and a devastating crimson lip.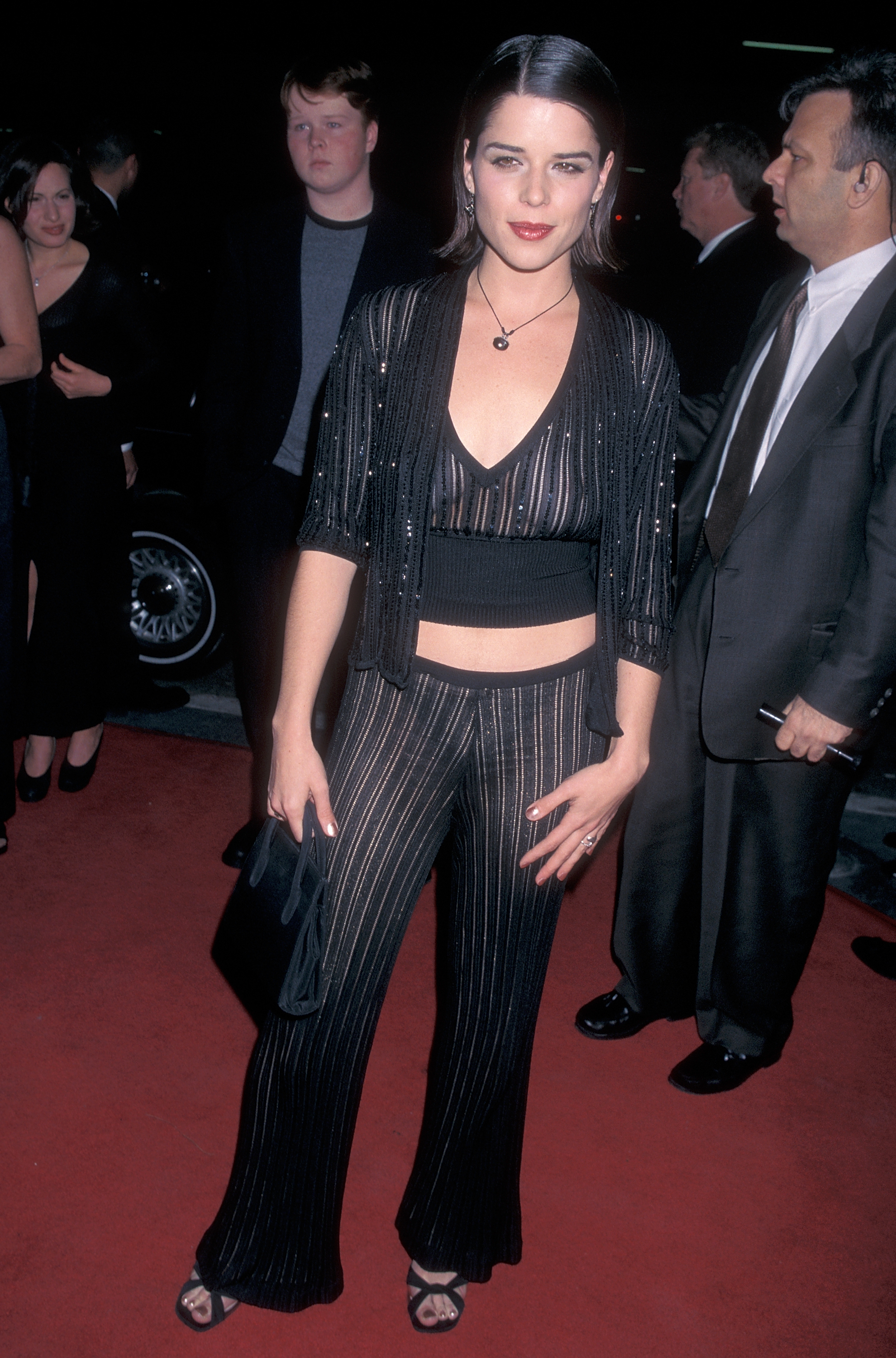 At the Wild Things premiere, 1998
In 1998, Neve pivoted away from true horror with erotic thriller Wild Things. At the film's premiere, Neve stepped out on the red carpet in a naked knit set that merged two of the decade's raciest trends — the naked dress and sexy knitwear — into one iconic look.
At a Party of Five party, 1998
Before Neve was Sidney Prescott, she was Julia Salinger. In 1994, Neve was cast in TV drama Party of Five, starring as 15-year old Julia alongside an ensemble cast including Matthew Fox and Jennifer Love Hewitt. The critically-acclaimed small-screen series ran for five years, pulling the plug in 2000 after Neve left to pursue a career on the big screen. We're glad she did. Here, to a Party of Five cast party, the actress wears this list's fourth and final corset paired with pedal-pushers, Mary Janes and a leather coat. In all-black, it's a perfectly 90s, perfectly spooky look befitting of the decade's favourite final girl.