Photo by Dave Benett/Getty Images, Barry King/WireImage, Ke.Mazur/WireImage, and Harold Cunningham/WireImage
A guide to Kate Moss' style evolution
Despite its many transformations — staunch minimalism to 70s decadence — the supermodel's style remains thoroughly her own.
Photo by Dave Benett/Getty Images, Barry King/WireImage, Ke.Mazur/WireImage, and Harold Cunningham/WireImage
In a 2012 Vogue video, a few of Kate Moss' closest collaborators heap praise upon the model. "She has this energy that's really, really compelling. This energy around the way in which she approaches anything," says stylist Camilla Nickerson. "She puts clothes on in a way that no one else does and they suddenly come alive." Photographer Mario Sorrenti adds, "Kate's always had her own style but it's personal, it's not adopted from anywhere." Indeed, Kate has become the 21st century's foremost supermodel based solely upon her singular-ness, especially within an industry that once revelled in conventionality. Kate possesses a certain je-ne-sais-quoi quality. A strange combination of scrappiness, realness, glamour and approachability that photographs like a dream.
Within the fashion industry, Kate was the face of the 90s heroin chic aesthetic, the controversial "waif" look. Off the runways and the pages of magazines, however, the super became a style icon in her own right. Throughout the rest of the 90s, Kate embodied a bohemian minimalism, a style philosophy that was attractive for its devil-may-care glamour: no-frills naked dresses, simple tank tops, leather jackets, smart suiting and immaculate charity shop finds. Into the 00s, the super became a household name, defining the era's festival style (causing Hunter rain boots to sell out in the process) and rockstar girlfriend dressing. Since, she's been a stalwart champion of the skinny jean and of the party dress, in its many iterations. No matter the decade, Kate's style is always fresh because it's always thoroughly and truly Kate. Here, on the occasion of the super's birthday, we take a look back at how Kate's style has evolved from the 90s 'til now.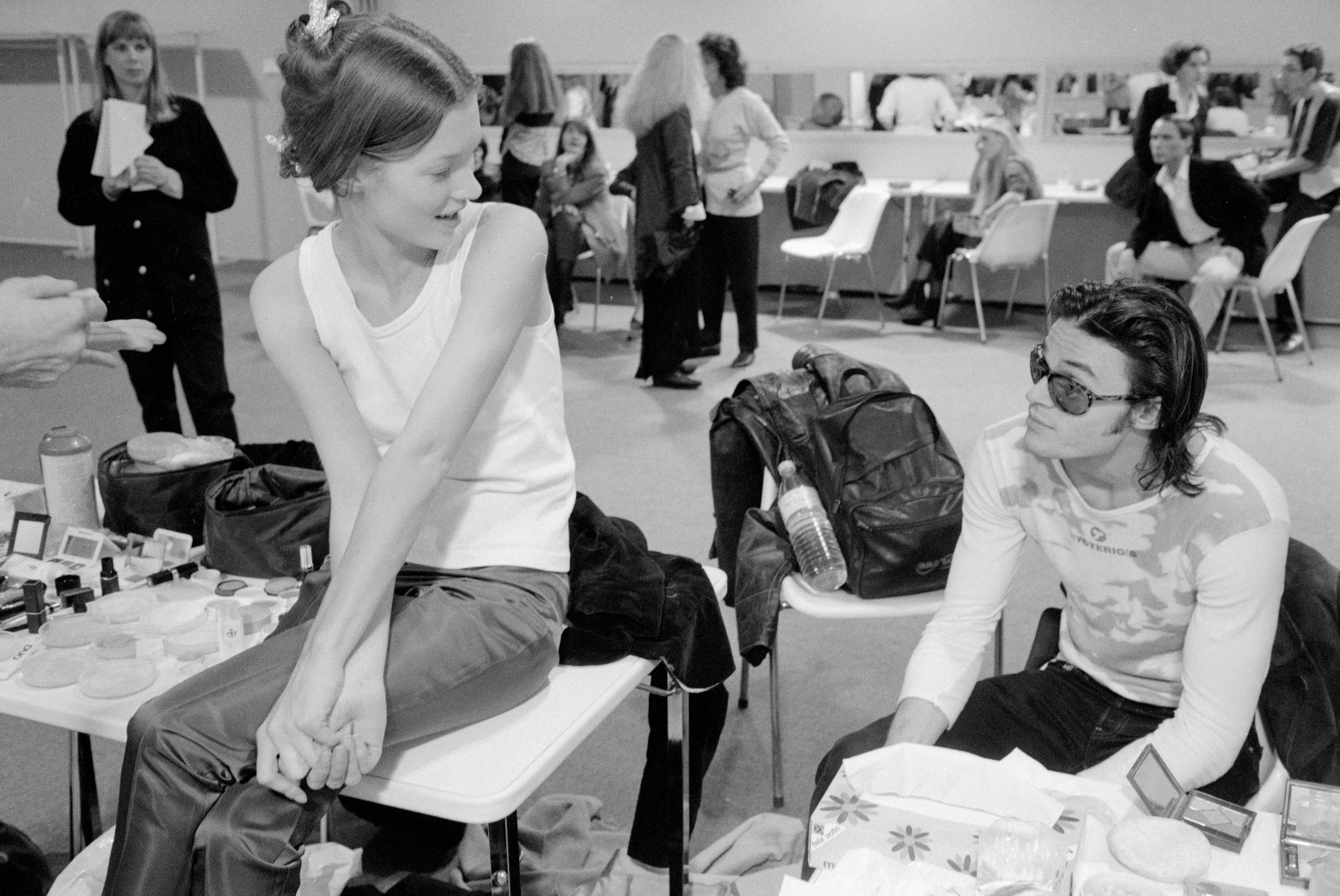 Backstage at Paris Fashion Week, 1991
Kate Moss was scouted in 1988 at JFK Airport by Storm Management founder Sarah Doukas. From the late 80s to early 90s, Kate appeared in the pages of The Face and walked the runways of labels from Chanel to Donna Karan. However, it wasn't until 1993 that the model's career went supernova. That year, designer Calvin Klein sent Kate and then-boyfriend Mario Sorrenti to the British Virgin Islands to shoot what would become the label's iconic Obsession campaign. Shot in sparse grayscale, the series of emotive portraits embodied the decade's emerging minimalist aesthetic. According to Mario, stylist Brana Wolf provided the duo with just a small bag of clothes for the shoot. "I think it had a couple of swimsuits in it, a black little dress and a tank top. That's it," he told W Magazine in 2017. "What we requested were the things that Kate was wearing all the time anyway." It tracks. Backstage photos and paparazzi snaps from the era show Kate in a pared-back wardrobe of itsy-bitsy tanks, slip dresses and adidas Gazelle sneakers. Here, she's photographed at Paris Fashion Week with Mario wearing one of her favoured early-90s tanks.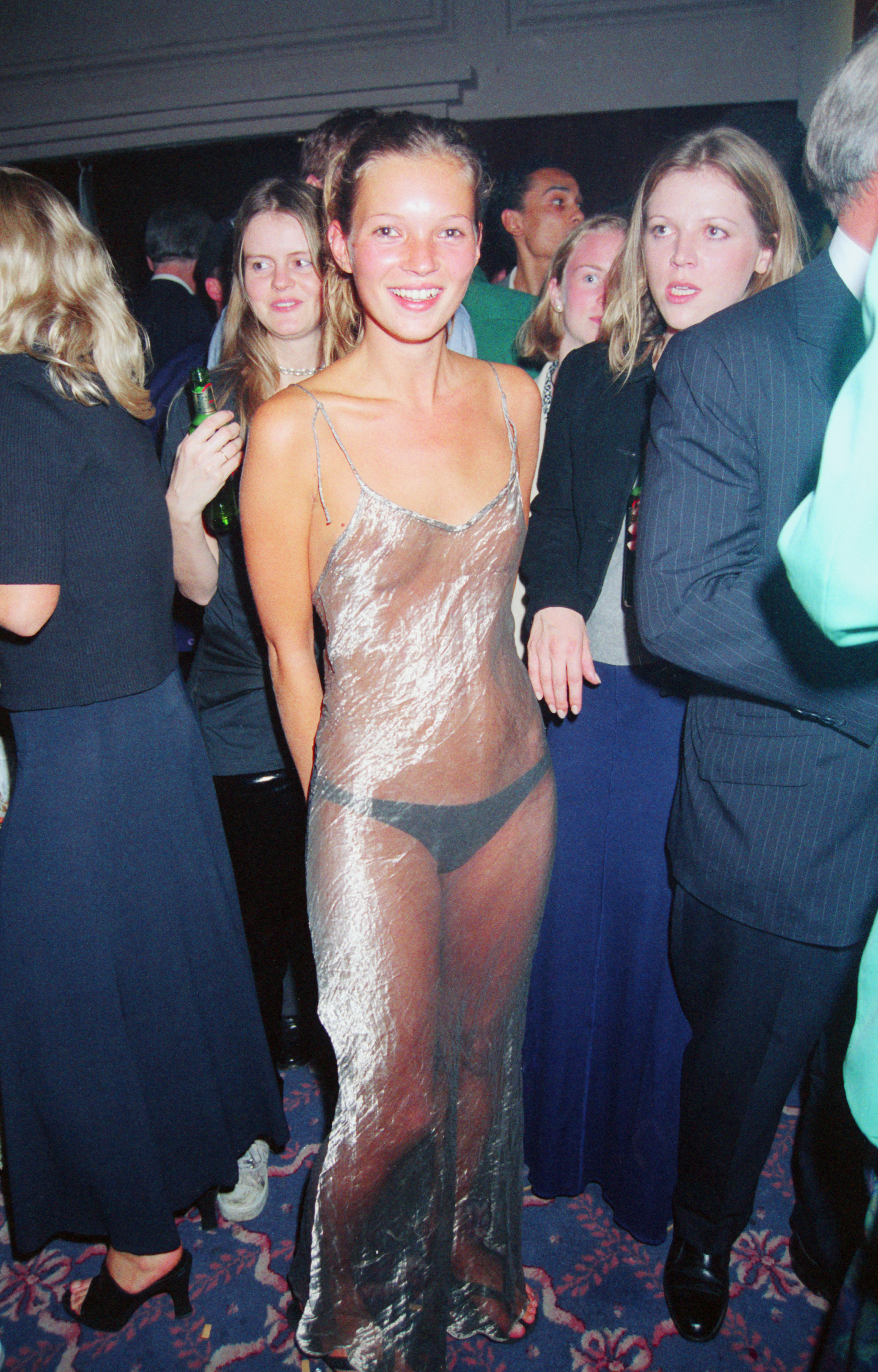 At an Elite Models party, 1993
By now, this sheer slip needs no introduction. It's the naked dress that made Kate a fashion icon. The now-iconic Liza Bruce dress had been pulled for an editorial and was meant to be returned to the designer the following day. But not before Kate would don it to an Elite Models party, eternalizing it within the annals of style for decades to come. According to Kate, herself, this quintessential naked dress moment wasn't always intended to be so 'naked'. In 2020, she told Vogue, "It was the first time I really got papped. I had no idea why everyone was so excited — in the darkness of Corinne's Soho flat the dress was not see-through!" Regardless, this dress inaugurated the reign of the slip, with Kate leading the trend's charge in beige satin, black velvet and beyond.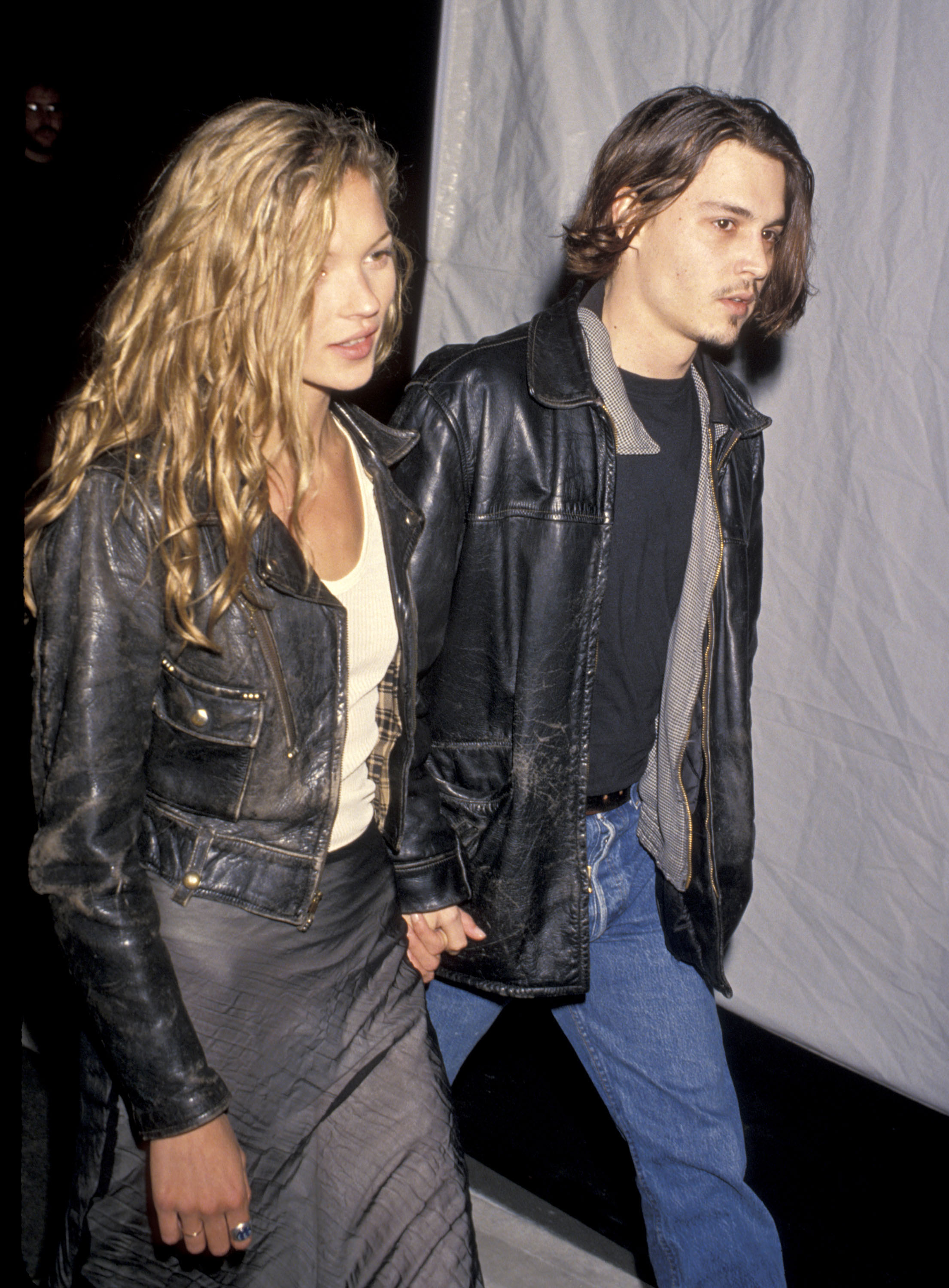 With Johnny Depp, 1994
In 1994, Kate began dating Hollywood actor Johnny Depp. At the outset of their relationship, the model's style shifted, ever so slightly, to match her new beau's bad-boy image. During this time, Kate began accessorizing her slips and tanks with an abundance of leather biker jackets, similar to those worn by Johnny. Although she and Johnny broke up by the end of the 90s, Kate has maintained her penchant for the leather-y toppers well into the 2020s.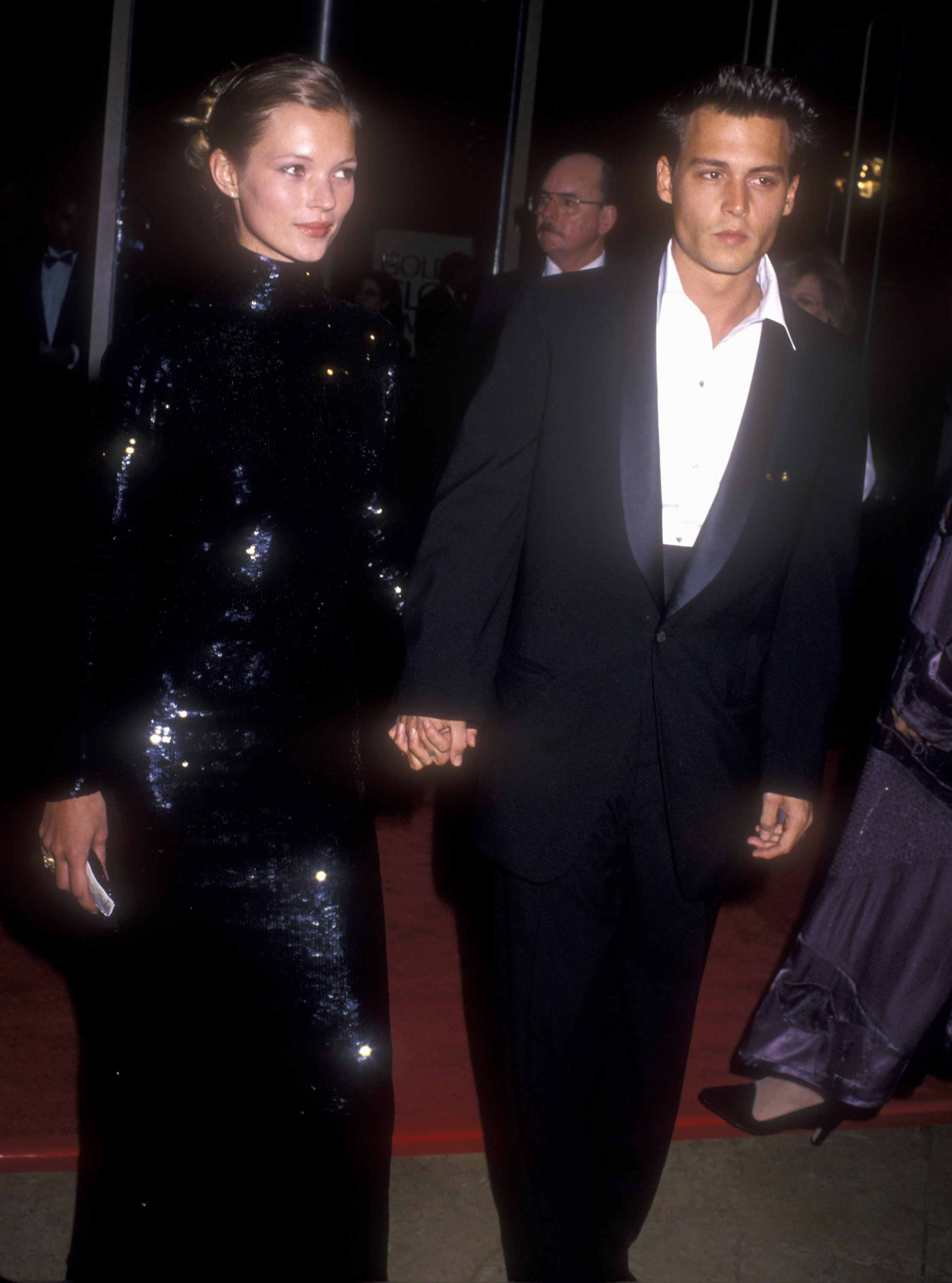 At the Golden Globes, 1995
A high-profile romance with an A-list actor always entails Hollywood events: awards shows, film premieres and benefit galas. During her romance with Johnny, Kate put her own minimalist spin on red carpet glamour in velvet coats and feathered pencil dresses that spoke to a low-key opulence. To the 1995 Golden Globes, Kate wore this stunning sequinned gown, a vintage piece purchased from Western Costumes in Los Angeles and gifted to the model by Johnny, himself. In 2016, Kate told costume designer Rebecca Hale that the gown is one of her all-time favourite pieces. So much so, that she re-wore it to the 1998 CFDA Awards, just months after her and Johnny broke up.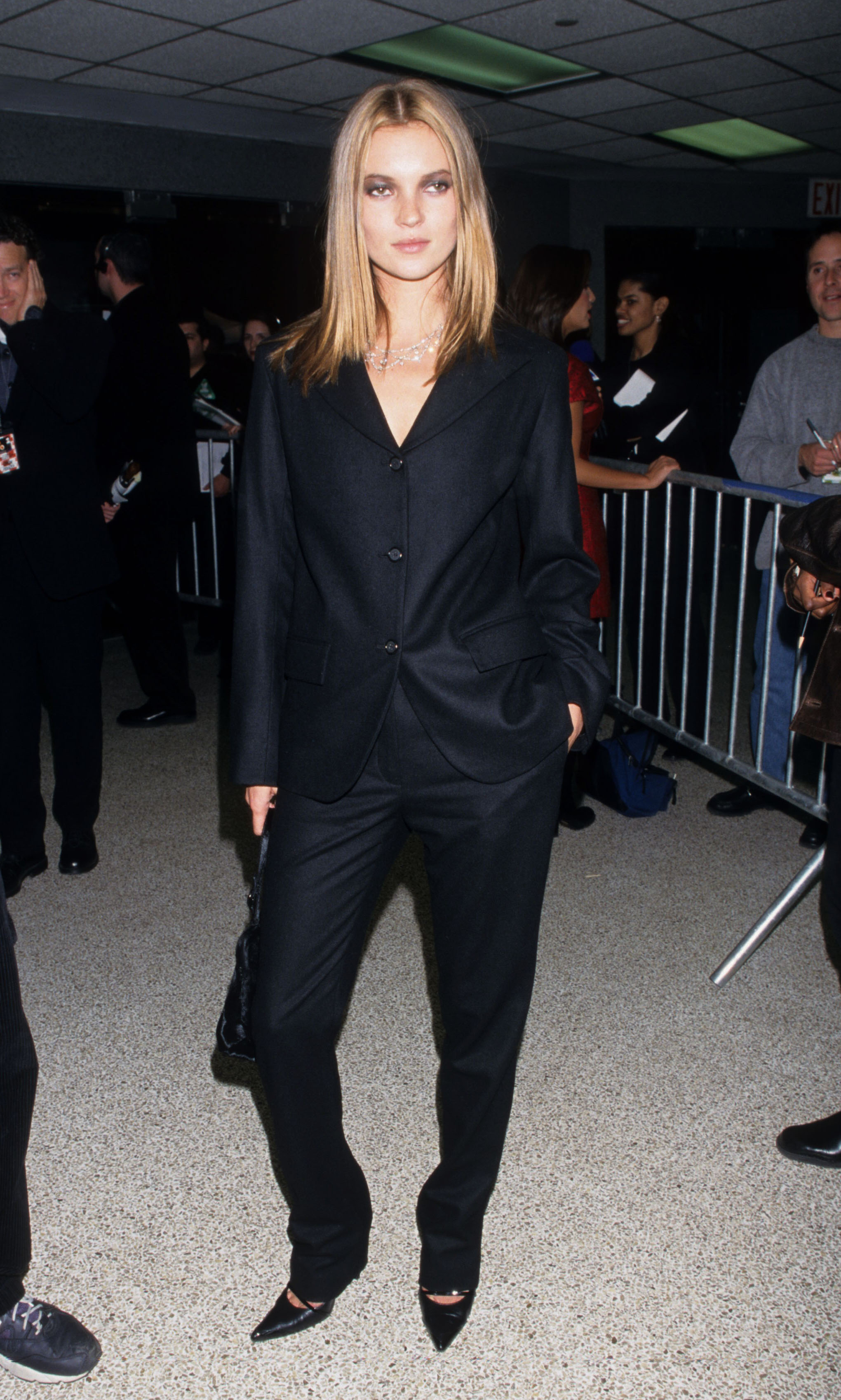 At the VH1 Fashion Awards, 1997
By 1997, Kate's red carpet style was entirely no frills. Out were the feathers, sequins and velvet, in were the sweaters, bustiers and pencil dresses, tailored to minimalist perfection. Here, the model wears a very Prada-esque three-button suit to the VH1 Fashion Awards. We'd like to think that Kate's new, pared-back look had something to do with her newfound friendship with one of the decade's staunchest minimalists, none other than Gwyneth Paltrow.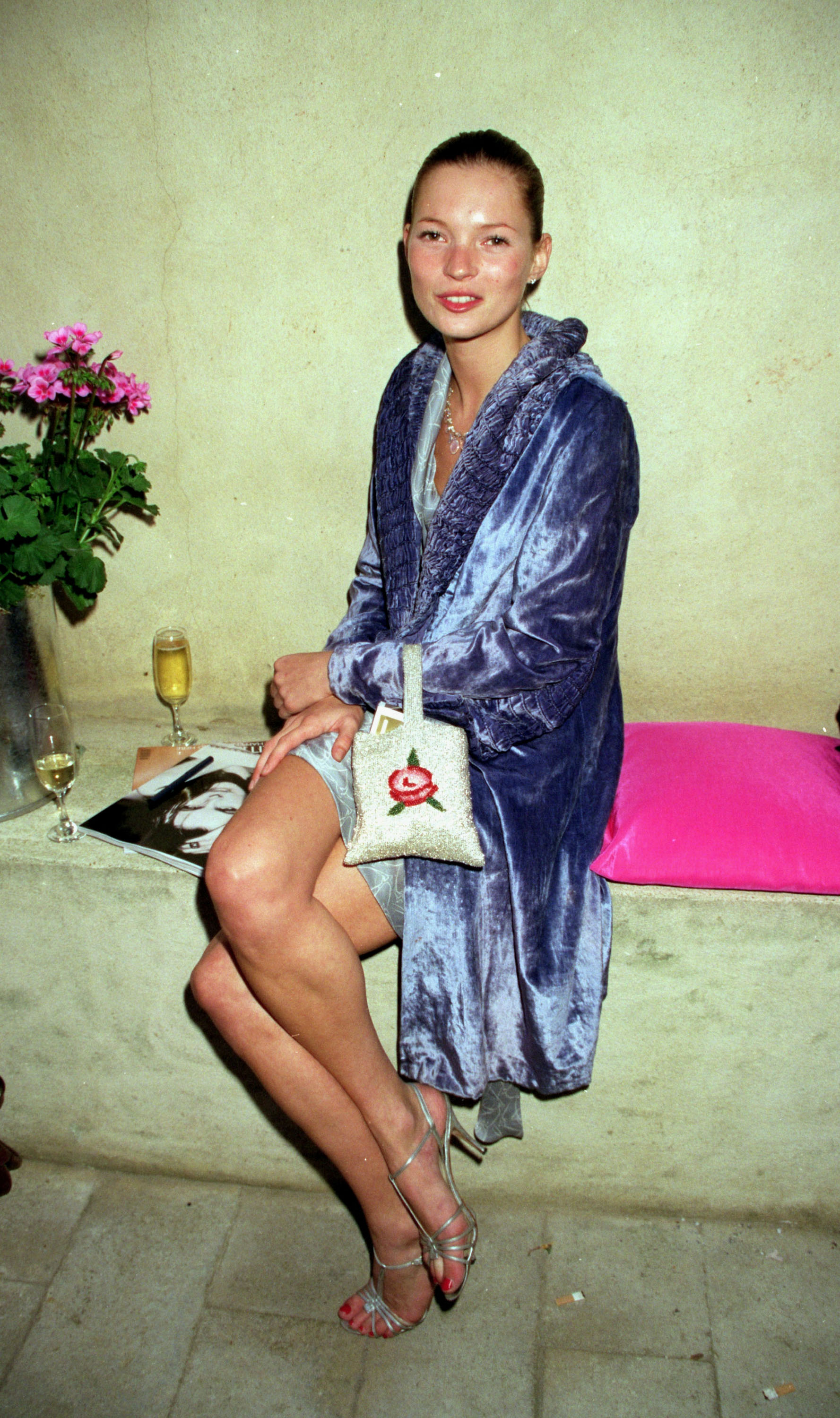 At a Vogue Party in London, 1998
In 1998, however, even the staunchest of minimalists couldn't resist the pull of Voyage London. Throughout the 90s, the cult London label specialized in fun, eccentric apparel: effervescent dresses crafted from jacquards and paisleys, flirty lace cardigans and this lilac velvet coat, worn by Kate to a party in London.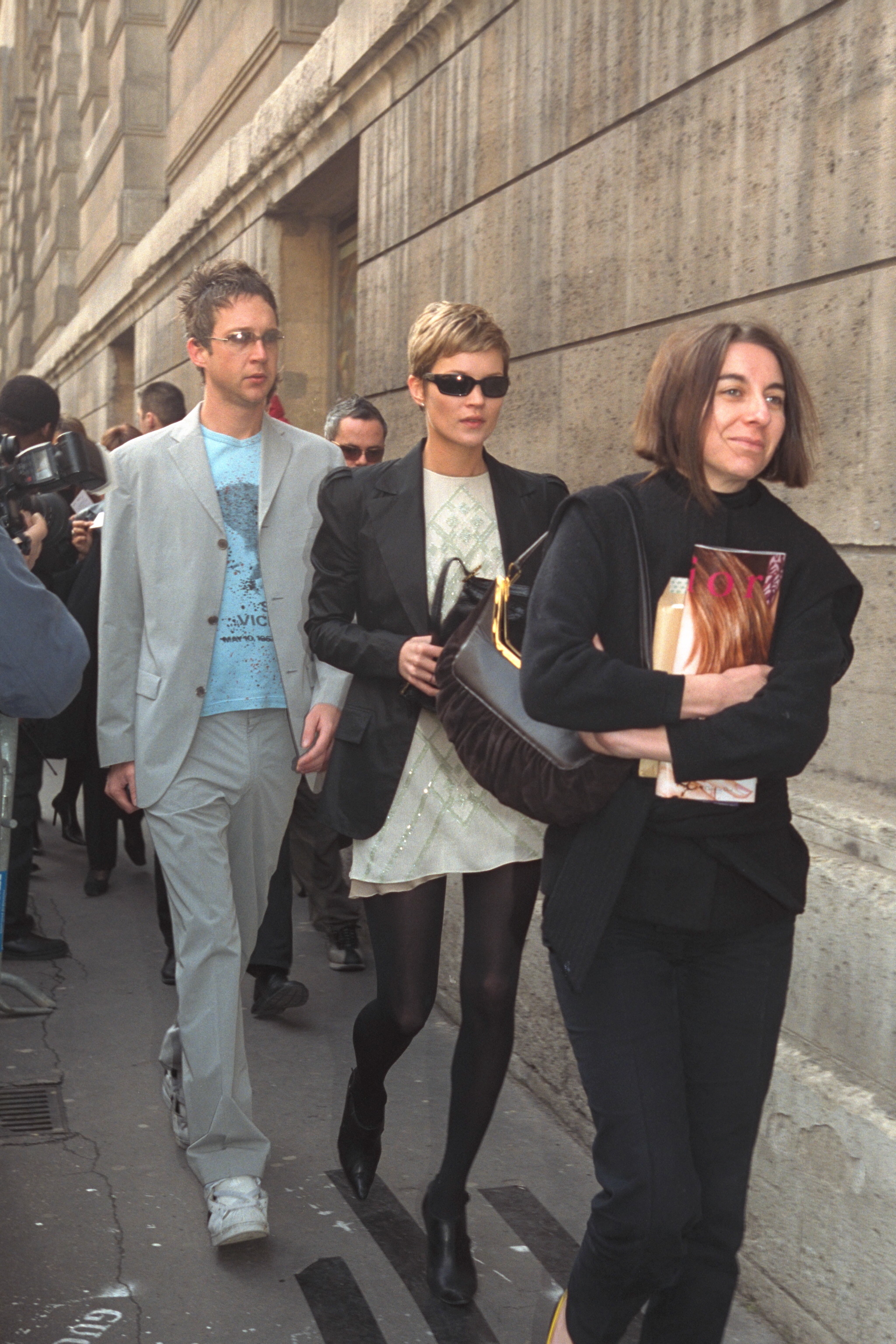 At Paris Fashion Week, 2001
In 2001, Kate chopped her lengths into a pixie and went full Edie Sedgwick. We'd seen inklings of the super's penchant for 60s style before, but never like this. Kate's nu-Mod look entailed Paco Rabanne-esque frocks, fur coats, vintage shift dresses and, of course, Edie's signature chandelier earrings.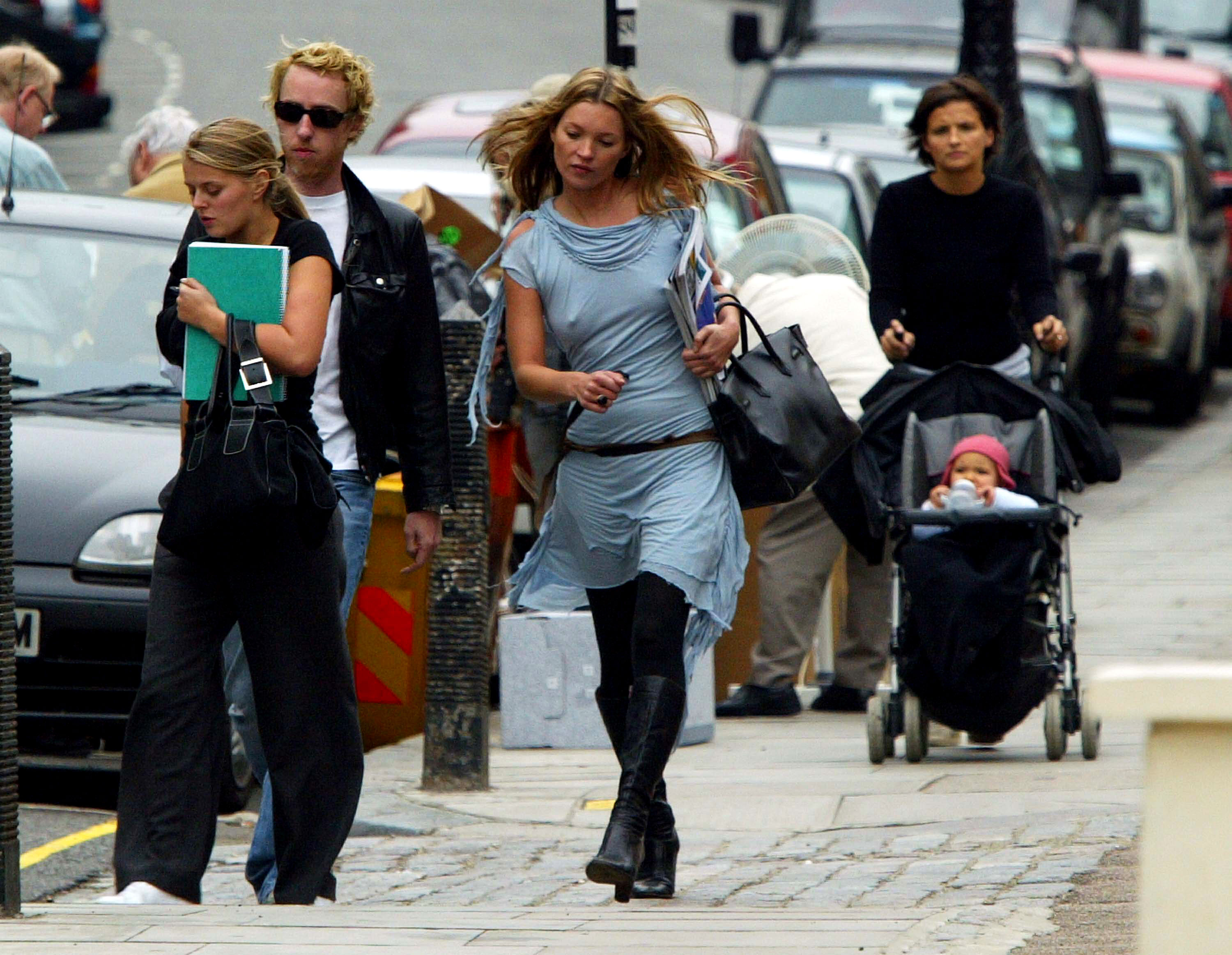 In London, 2003
While Britney and Paris were wearing Juicy and Moschino, Kate was wearing Balenciaga. At the turn-of-the-millennium, the supermodel developed an affinity for the Parisian house and its fledgling creative director, Nicolas Ghesquière — specifically, for its slinky, sexy and slashed-up jersey dresses. Kate walked for the house for its SS01 season, and, in 2002, she wore one of Ghesquière's SS02 frocks to a party for Mario Testino. The look was captured in one ever-iconic candid snap, cigarette in mouth, fur coat in hand. Here, a year later, she wears an archival piece from the label's FW00 collection. Beyond the house's dresses, Kate was also an early proponent of Balenciaga's Motorcycle bag, the it-bag amongst the era's in-the-know A-listers.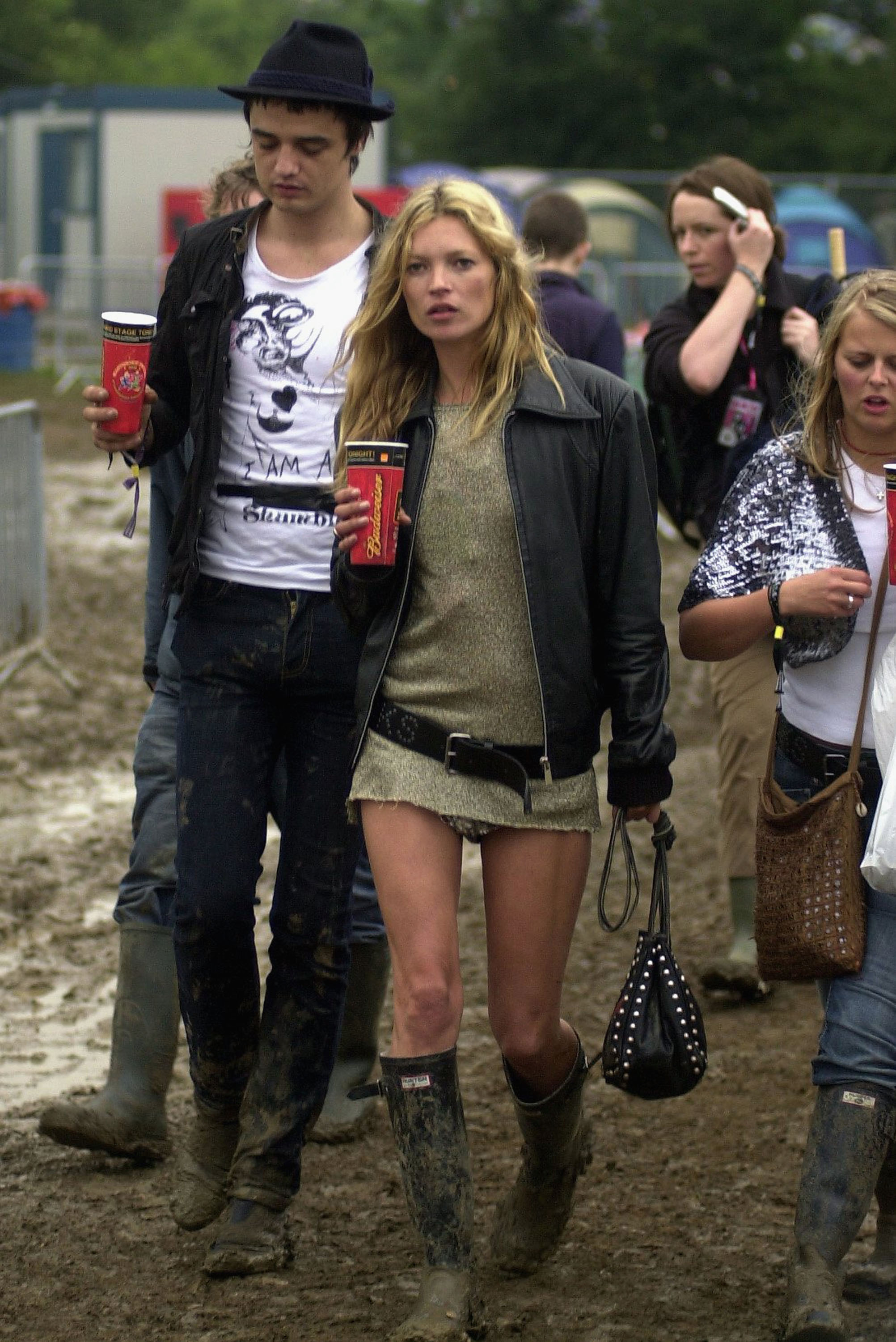 At Glastonbury, 2005
Kate is the queen of Glastonbury style. From 2003 to 2005, during which time she was dating Libertines front-man Pete Doherty, the super pioneered the festival's de facto look in low-slung belts, micro-mini dresses, hotpants and, of course, one infamous pair of Hunter rain boots. Borrowing from her rock-boyfriend's wardrobe, Kate brought her festival look to the streets of London in military jackets, skinny scarves and tiny vests.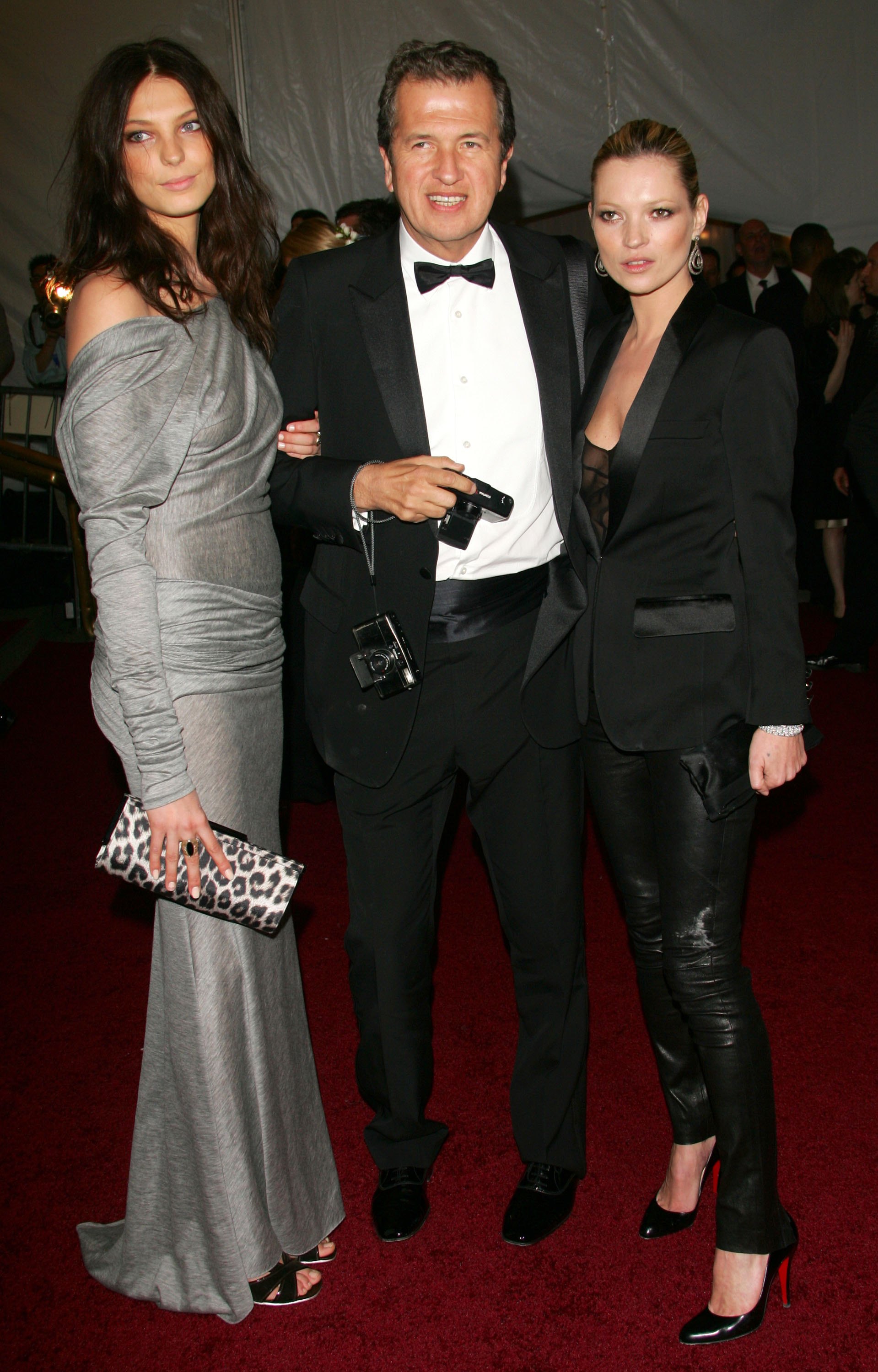 At the Met Gala, 2006
Kate has been a devotee to the skinny jean since 2004. Back then, she wore them tucked into massive boots. In the late 00s, she leveled up, pairing them with Louboutin heels on the red carpet, as seen here, in leather, at the Met Gala of all places. By the 2010s, the look had become Kate's street style signature. While fashion mags have claimed that the skinny jean is going extinct, for Kate, the look is eternal.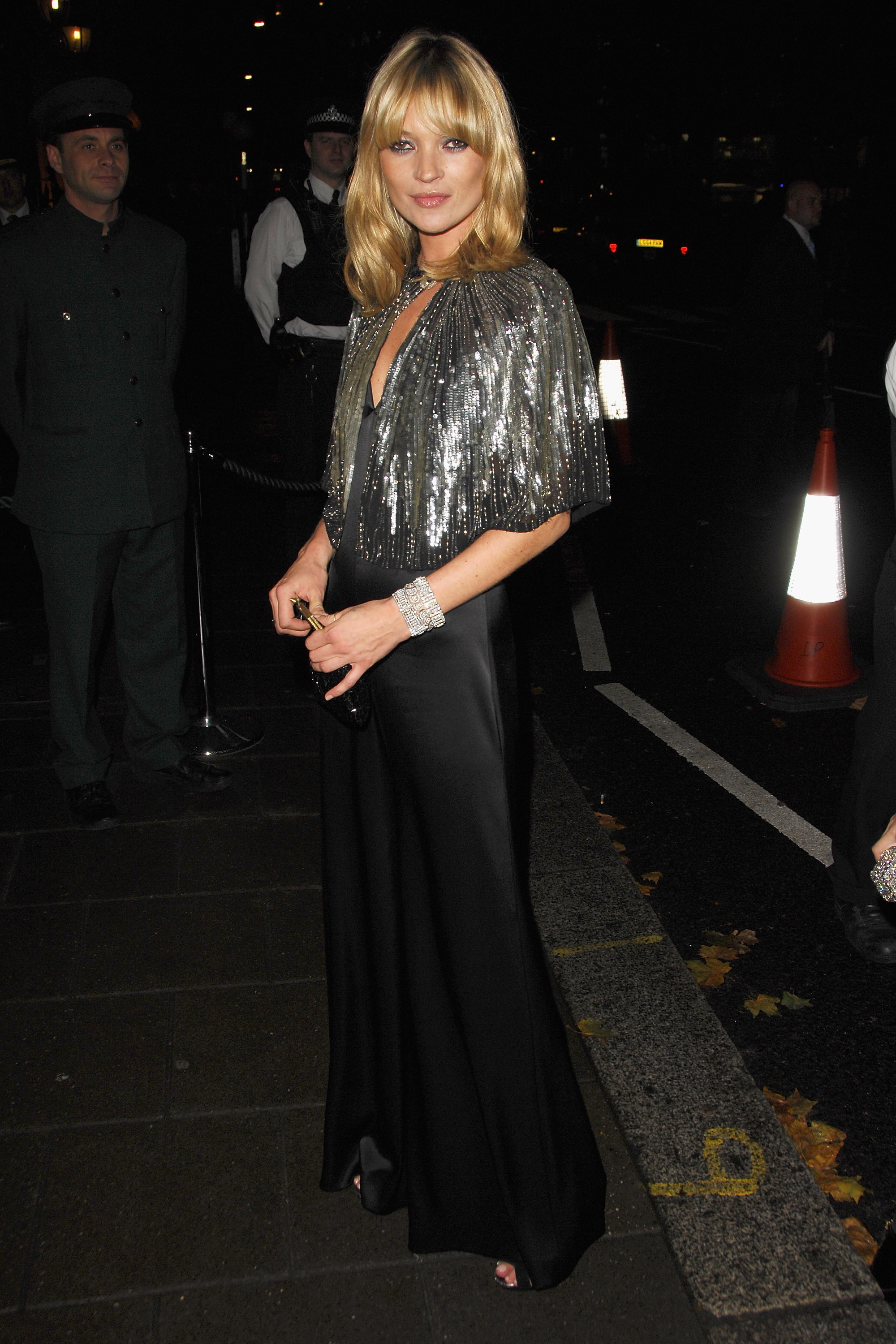 At the launch of her Topshop Collection, 2007
Save for the skinny jean, nothing embodied Kate's late-00s style like the LVD (that's "little vintage dress.") From vernissages to magazine parties, Kate took to the red carpet in gowns that ran the gamut of 20th century fashion, from 20s flapper and 30s bias cuts to 40s lamé and 60s shifts.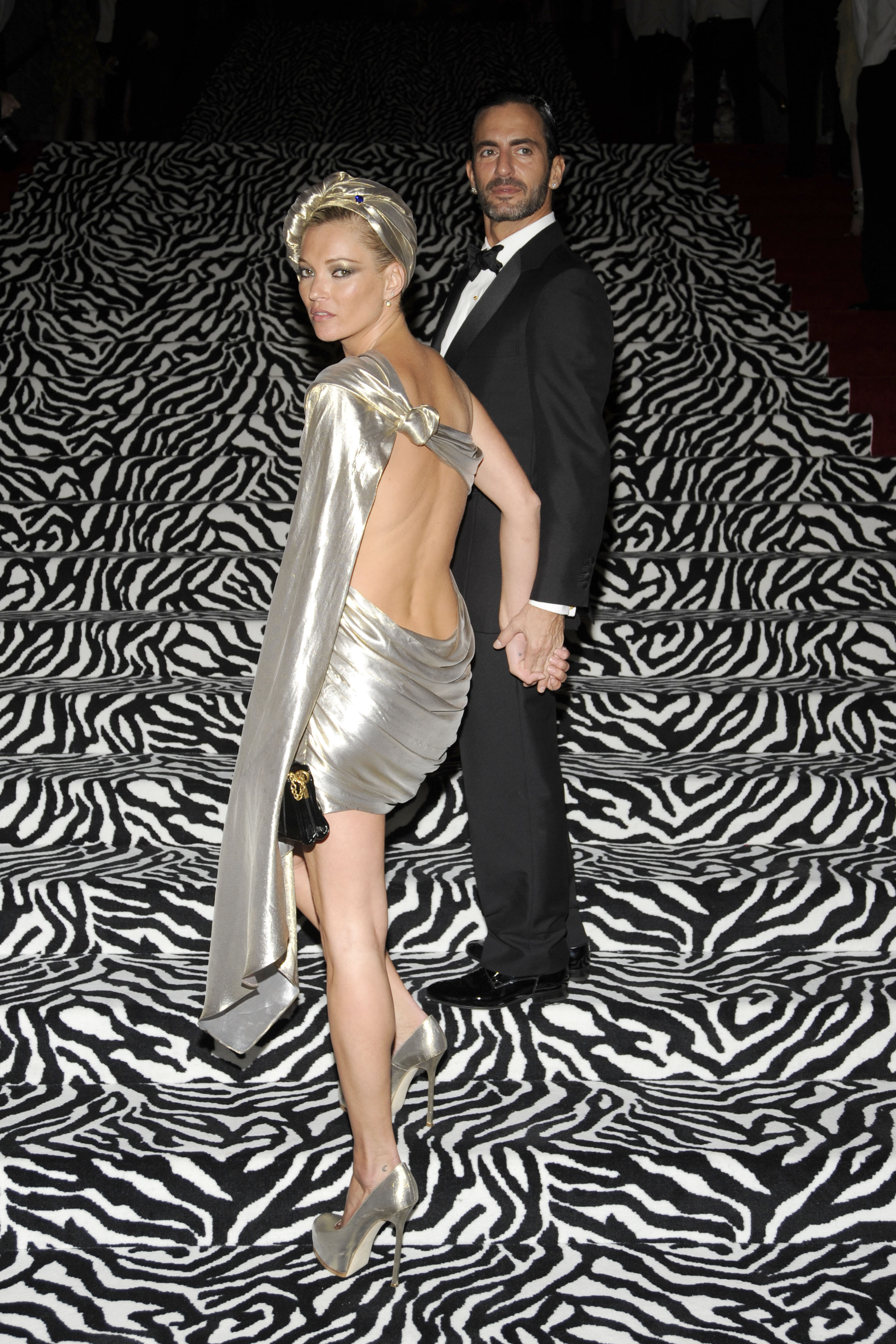 At the Met Gala, 2009
For Kate, the turn-of-the-2010s was all about the party dress and pump combo: a bustier dress to fête AnOther Magazine, a Balmain number to a launch party, a single-shoulder frock and Loboutins to a vernissage. Here, Kate tops off her party-girl era with in Grecian-inspired Marc Jacobs mini, with platforms to match.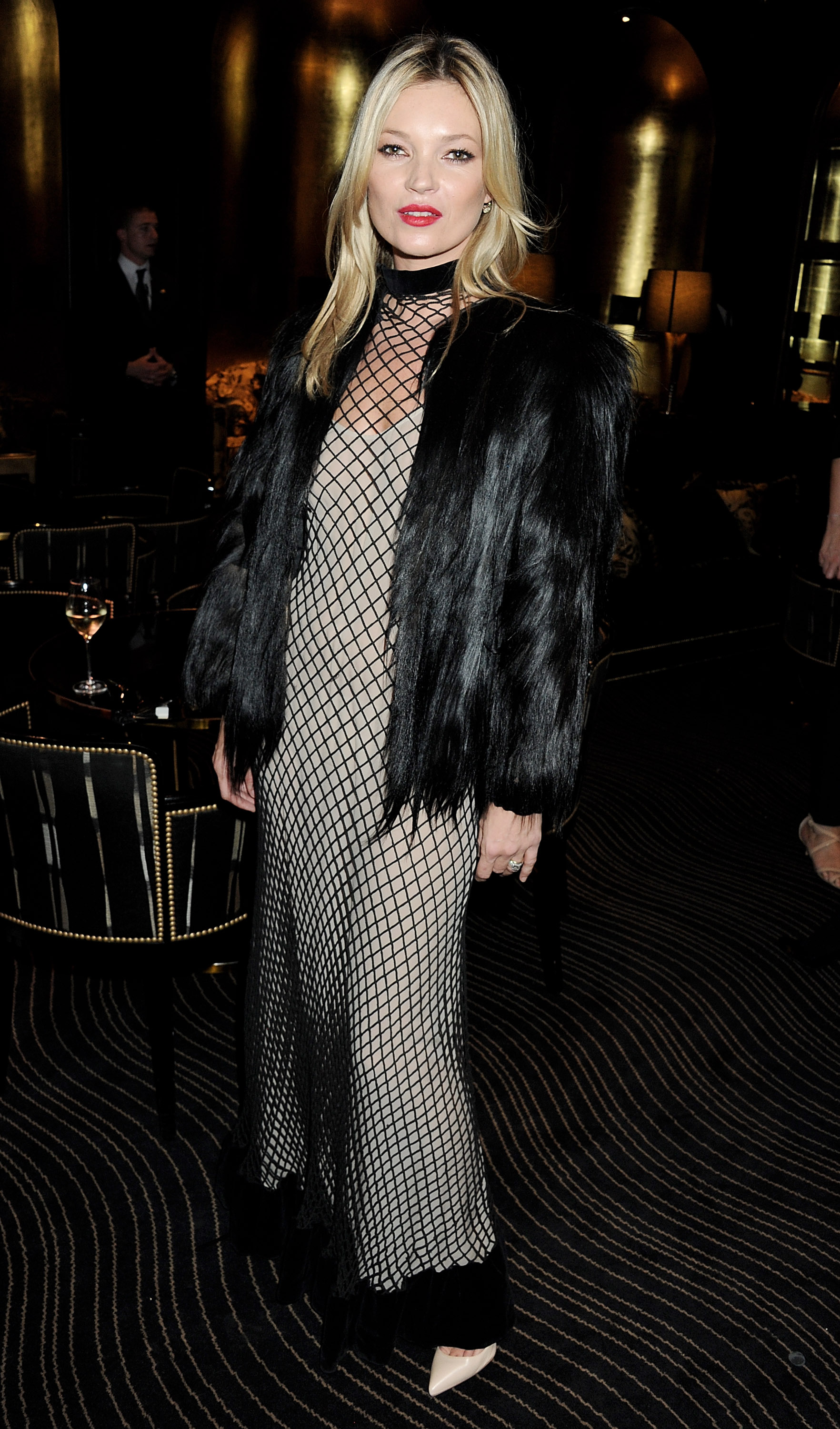 At the British Fashion Awards, 2011
For better or for worse, Kate's early-2010s style was all about the fur topper. From coats to jackets and everything in-between, Kate wore these furry pieces with skinny jeans as well as she did with red carpet gowns. Here, at the 2011 British Fashion Awards, Kate pairs one of her most-worn jackets with a floor-length fishnet dress. Fans may remember that the super also wore this dress to Riccardo Tisci's 40th birthday bash, this time over a pair of bright green underwear.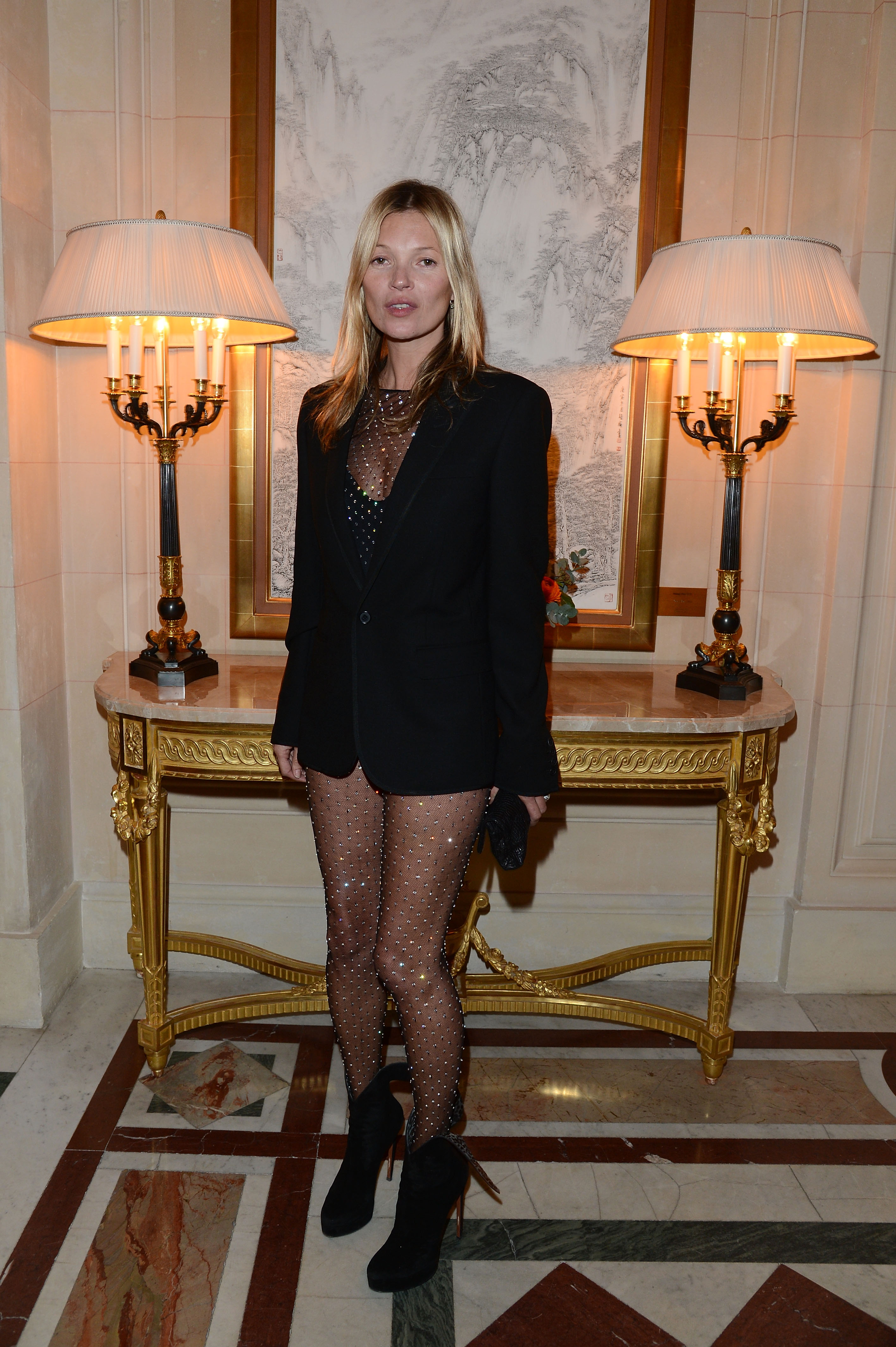 At a CR Fashion Book party, 2013
In the mid-2010s, Kate pivoted towards tailored glamour: skinny suiting, pencil dresses and "le smoking" blazers all in the super's favoured all-black palette.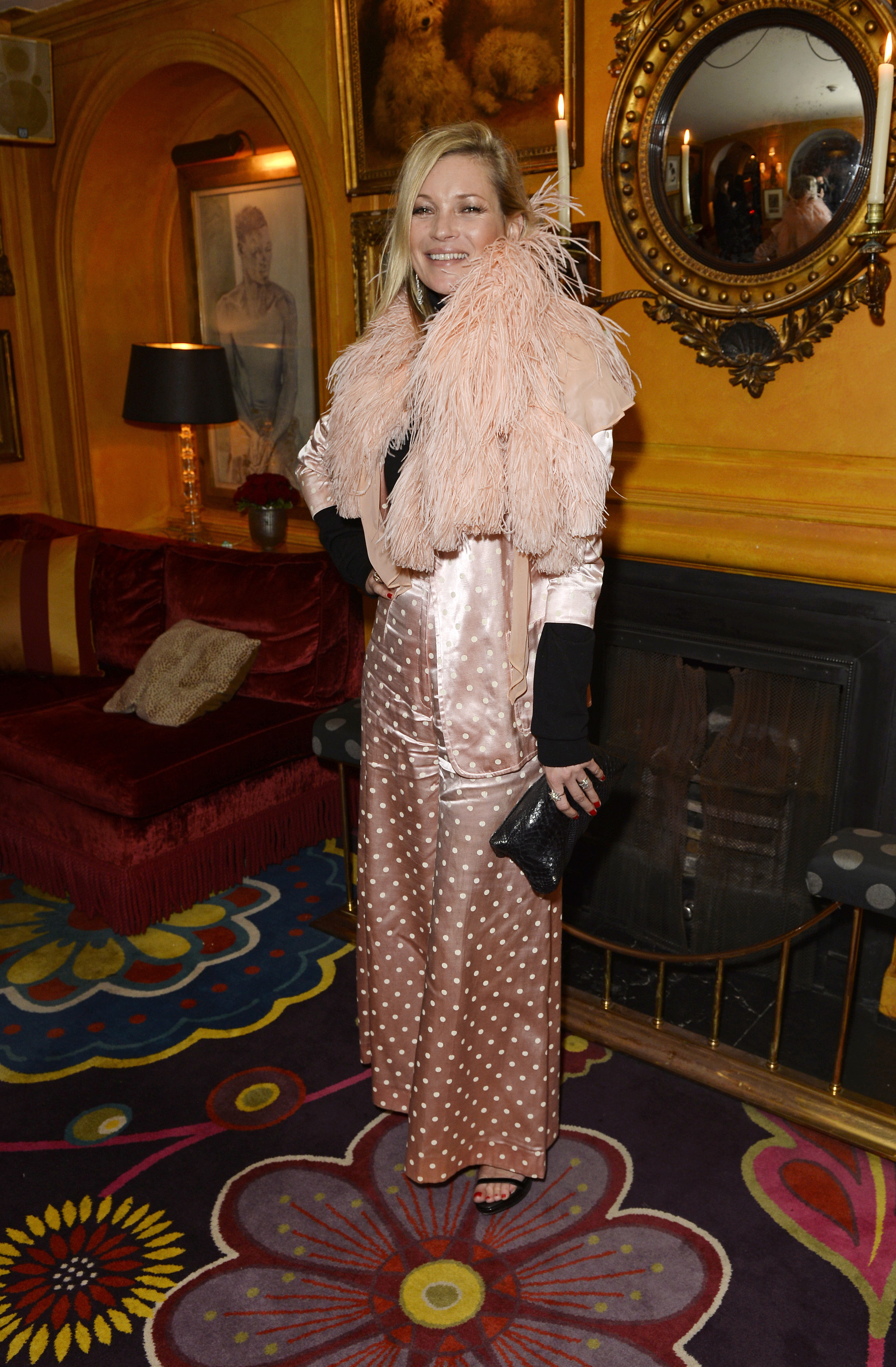 At a film premiere, 2014
Sartorially, Kate's known for her all-black palette. In 2014, however, she began experimenting with colour and pattern in a big way: devastating red gowns, 70s florals and shocks of electric green. Here, she wears a blush of pink and a puff of feathers to a 2014 film premiere.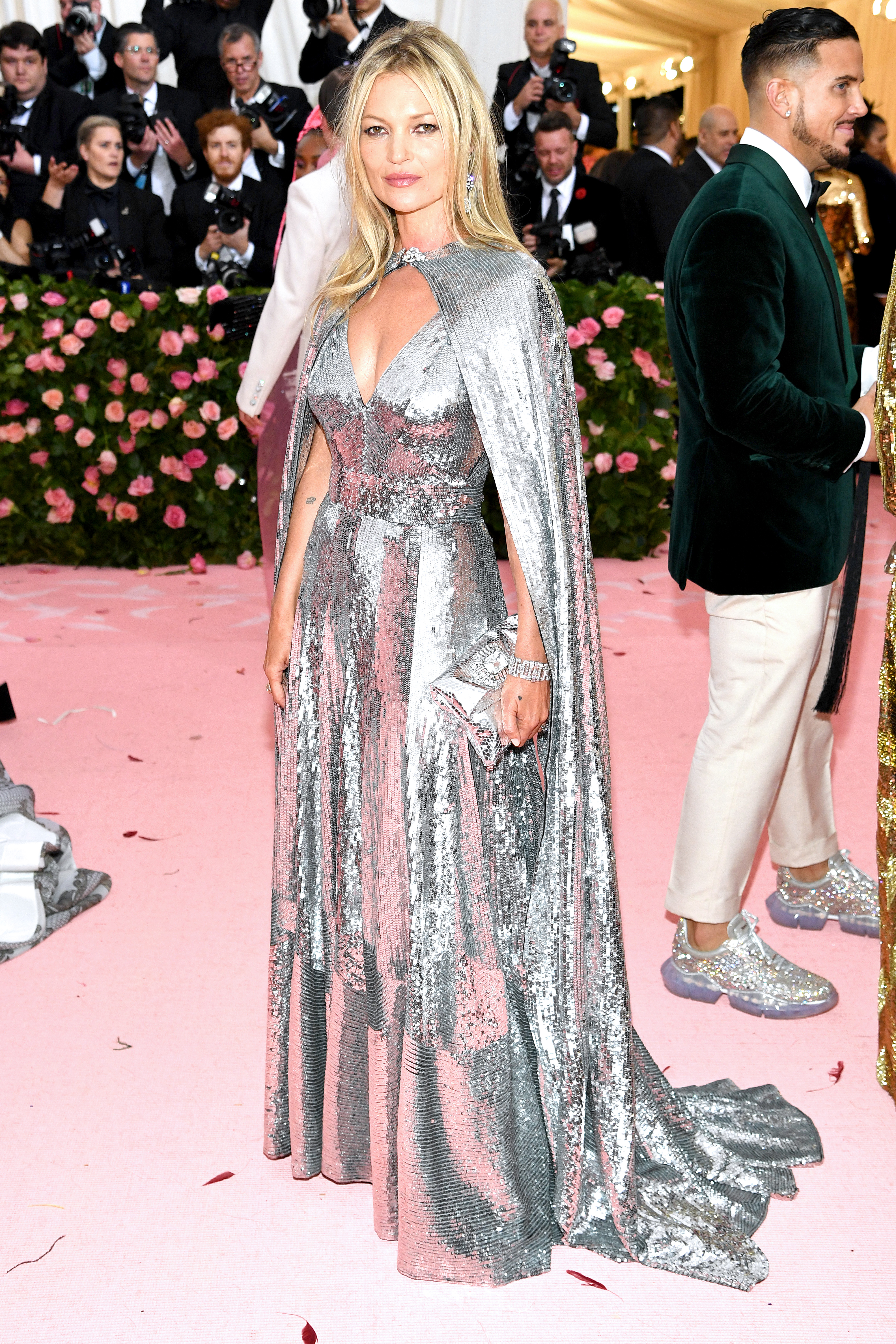 At the Met Gala, 2019
Kate was on a major 70s bent from 2017 to 2019. Between those years, the super's eclectic wardrobe took in velvet, leather fringe, kimonos, paisley, fedoras, trench coats, capes, capelets and more capes. Kate's 70s era culminated at the 2019 Met Gala, where the super wore a sequinned, caped gown that wouldn't look out of place on the Studio 54 dance floor.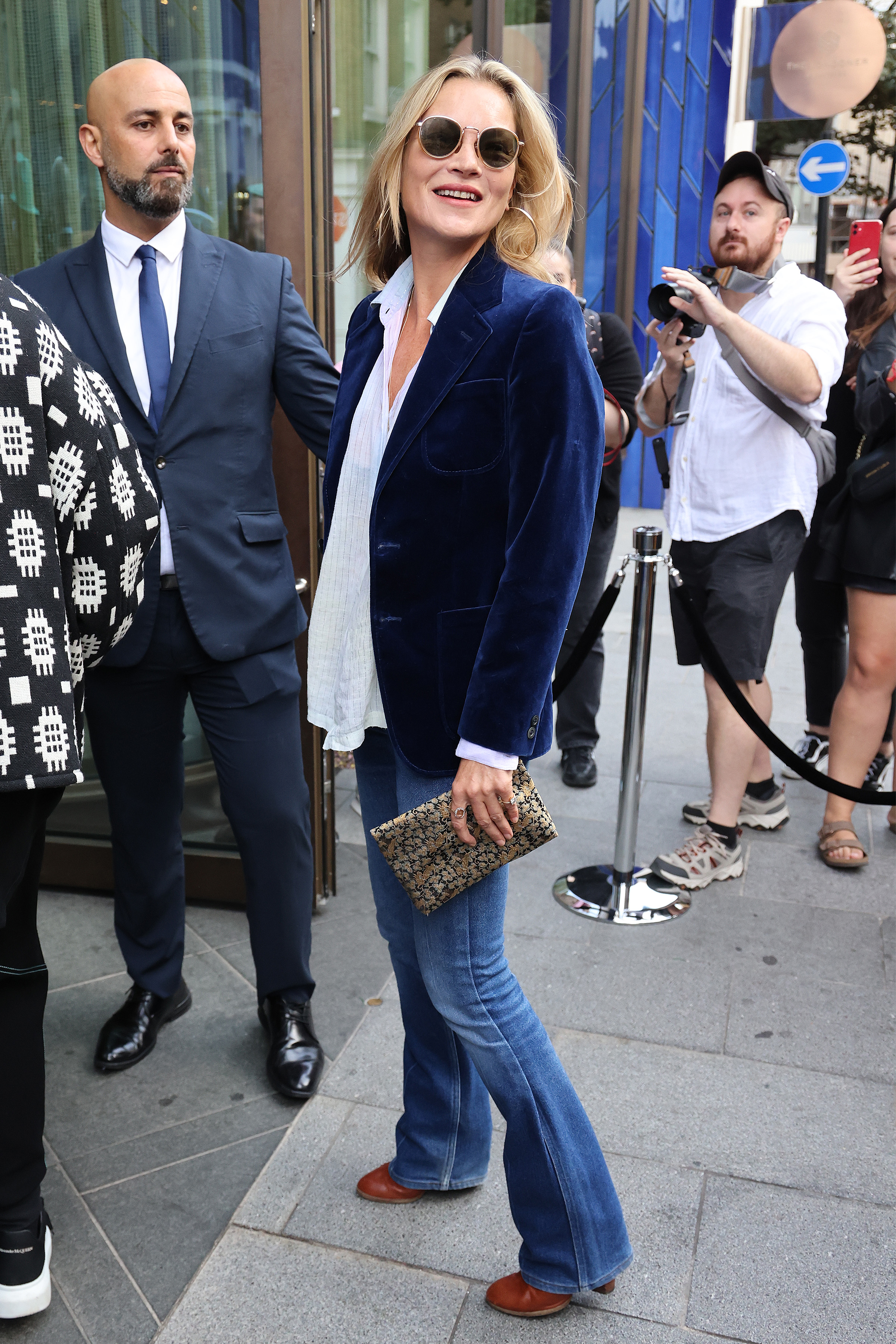 At London Fashion Week, 2021
Since the late 2020s, Kate's maintained 70s flair, albeit in a more low-key way. Think undone pussy-bow blouses, velvet flares, prairie dresses and bell-bottom denim: staples all reminiscent of a certain era of rock star dressing. In other words, larger-than-life basics suited to the world's most famous supermodel.
Follow i-D on Instagram and TikTok for more style evolution.