Images courtesy of Jean Paul Gaultier
Jean Paul Gaultier x sacai's AW21 couture collaboration was the perfect fit
For the French house's first presentation since its founder's retirement, Chitose Abe revisited its most iconic moments through her hybridised lens.
Images courtesy of Jean Paul Gaultier
sacai is a label known for taking two seemingly disparate items of clothing and splicing them together to create artfully hybridised garments. It's all about duality and juxtaposition, so it made sense that Chitose Abe, the designer behind the Tokyo-based label, would be the perfect fit for collaborations. After pairing up with Kim Jones over at Dior just a couple weeks ago, yesterday, she presented the fruits of an even more adventurous exercise in hybridity, fusing the world of sacai with that of Jean Paul Gaultier, fashion's eternal enfant terrible. Though the two designers don't speak the same language — perhaps in more ways than one — it began with a conversation in Jean Paul's kitchen, where the legendary designer asked Chitose if she would like to guest-design a couture collection for his house. She said yes immediately, of course.
Jean Paul famously staged his last show in Paris in 2019, but has since turned his ateliers into a platform for other designers to come in and guest-design Gaultier couture, if you will. Not only is that a clever business decision, and perhaps the most advanced form of collaboration fashion has seen, but it's also a great opportunity for a new audience to rediscover the JPG archives — and see them through new sets of eyes. The chance to be able to work on haute couture in Paris with a dedicated team of craftspeople at their disposal is one that any designer would jump at. For an industry veteran like Jean Paul, though, the decision demonstrates a refreshing sense of generosity and genuine excitement in passing the baton and giving free reign to a new generation.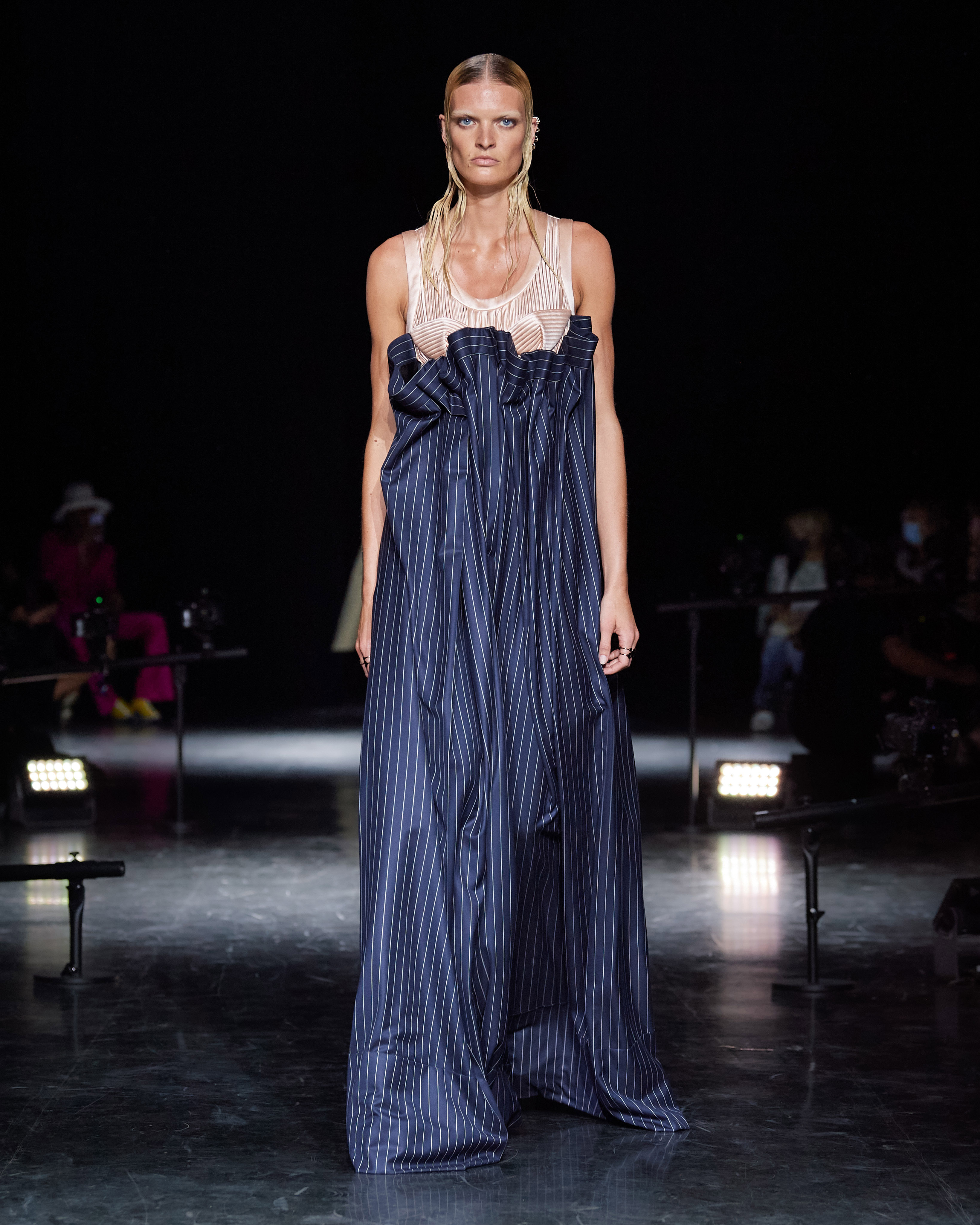 The resulting collection wasn't huge — it was 30 or so looks — but even within a tighter lineup, there was a sense of true experimentation that hasn't been seen in couture since, well, Jean Paul was designing it. Couture, after all, is a laboratory for fashion in its purest form, and this was Chitose revisiting her Gaultier, the looks that inspired her as a young woman in the 80s, the era of JPG's headline-grabbing conical bras and fantastical shows. She did so with respect and excitement, almost like a kid in a candy shop. There were elements of Gaultier classics — the blush-pink satin corsetry, the tattoo prints, the utilitarian couture, and Exec Realness pinstripe suiting, the tartan, the punk pins, the Breton stripes — and it was all given a sacai twist, resulting in silhouettes resembling old-school couture shapes, built up through different garments spliced together and layered over puffs of tulle.
Working with the couture ateliers and its unparalleled petites mains, Chitose explained that she was able to do things that she would never have been able to otherwise, like create tiered layers of tartan chiffon or ornate embroidery, which upon closer inspection, consisted of gold safety pins. She was able to recreate styles from the JPG archives, like the AW94 Mongolian-inspired collection (the one that Björk modelled on the catwalk), which she revisited and twisted by appliquéing the iconic JPG logo to leather and reworking with faux fur. To finish, the cobalt boiler suits so famously worn by the man himself were transformed into couture gowns, the first a bias-cut silk slip with the heavy-duty cotton sleeves tied at the waist, the last a bustled boiler suit with those infamous cone bustiers.
Fashion may have peaked in its saturation of collabs, but here was a perfect example of how it can be sincere and harmonious. A couture collaboration, if you will, perfectly fitted to a T.