11 of the best new video games to play this fall
Get through the garbage weather with the return of Pokémon and soothing games about the spirit world.
|
20 September 2021, 11:07am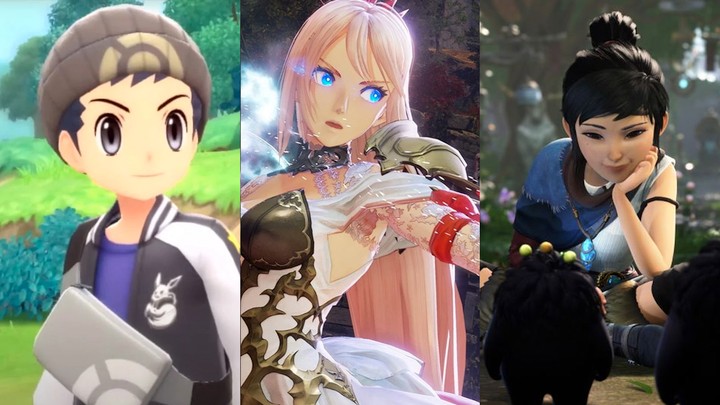 Images via Nintendo/Bandai Namco/Ember Lab
So far, 2021 hasn't been a classic year for video games. While the new generation of consoles launched at the tail-end of 2020, there have been very few blockbuster new releases since. Nothing has captured the cultural zeitgeist quite like Animal Crossing: New Horizons (our lockdown staple) did, or garnered as much controversy or acclaim as The Last of Us: Part II.

Sure, there have been a few brilliant releases, most notably Returnal and Ratchet and Clank: Rift Apart, the memeable Resident Evil: Village and Mass Effect: Legendary Edition, in which the team from the spaceship SSV Normandy got a 4K facelift. But as with almost everything, the pandemic has hit the gaming industry hard, forcing developers, publishers and studios to push many release dates back.
However, the year is not over yet, and as we begin the build up towards Christmas (seriously, how?) there's a whole slate of games set to come out that have the potential to turn this rather lacklustre year around. Here's everything you should be playing for the rest of 2021.

1. Tales of Arise
Platforms: PC, PS4/PS5, Xbox One, Xbox Series S/X
Release date: 10 September 2021
The latest addition in the 26-year-old Tales… series, this action RPG sees players take on the role of Alphen, an iron-mask-wearing amnesiac slave who can't feel pain and who may just be the key to salvation for an entire enslaved world. Central to the game is Alphen's relationship with Shionne (a member of the race who have enslaved Alphen's people), and together they must work to overthrow evil. Plot-wise, it's fairly standard JRPG territory, although Tales of Arise does touch on some pertinent themes, including the violent effects of colonialism on indigenous peoples. Throw in some incredibly fun combat and you're on to a winner.
2. Deathloop
Platforms: PC, PS5
Release date: 14 September 2021
From the brains at Arkane Studios (known for Wolfenstein and Bioshock 2), Deathloop is already a contender for game of the year if the reviews are anything to go by. Set on an island trapped in an eternal time loop, players take control of Colt Vahn, a hitman who has to take down the eight architects of the loop in order to free the island and himself. Trying to stop him, though, is Julianna, who will go to extreme lengths to prevent Colt from succeeding. In a similar fashion to the Souls games, Julianna can be controlled by other players via multiplayer, while the game's repeated loops serve up an innovative hybrid of Metroidvania and roguelite gameplay.


3. Kena: Bridge of Spirits
Platforms: PC, PS4/PS5
Release date: 21 September 2021
You shouldn't have to sink 40 hours or more into every game you play. Thankfully, indie developers Ember Lab agree, with their debut title Kena: Bridge of Spirits sitting at around the 10 hour mark. You play as Kena, a spirit guide who helps those who have died move on to the afterlife. We don't know much else about the plot, but with the almost Pixar-style animation and those adorable little black blobs called Rot (responsible for decomposition, apparently) it looks like it could be a very cute way to escape from the mundanity of the real world.


4. Alan Wake Remastered
Platforms: PC, PS4/PS5, Xbox One, Xbox Series S/X
Release date: 5 October
One of the gems from the Xbox 360 era gets a fresh lick of paint and all the current generation bells and whistles. With echoes of David Lynch, this action thriller sees you playing as Alan Wake, a writer whose grip on reality begins to slip as events from his latest novel begin to come to life while he investigates the disappearance of his wife.

5. Far Cry 6
Platforms: PC, PS4/PS5, Xbox One, Xbox Series S/X, Google Stadia
Release date: 7 October 2021
Set on the fictional Caribbean island of Yara, in Far Cry 6 you play as Dani Rojas, a guerrilla fighter working to overthrow the island's dictator, "El Presidente" Antón Castillo. While early previews don't appear to show much deviation from the tried-and-tested Far Cry formula, there appears to be enough new twists and characters here — including Chorizo, a sausage dog who will distract enemies for you, and some rather whimsical looking weapons — that you'll get hooked.


6. Metroid Dread
Platforms: Nintendo Switch
Release date: 8 October 2021
It's been 15 years in the making. Finally, for the first time in nearly two decades, we have another 2D, side-scrolling Metroid game. According to producer Yoshio Sakamoto, Dread will close out the main Metroid arc and reveal the fate of its protagonist Samus Aran. There is also the addition of stealth elements to the gameplay, where you'll have to avoid suspected enemies, as well as the return of some of the components first introduced in 2017's Metroid: Samus Returns.


7. Forza Horizon 5
Platforms: PC, Xbox One, Xbox Series S/X
Release date: 5 November 2021
Xbox players have been patiently waiting for their big exclusives, but finally, with Forza Horizon 5, it's over. From the gameplay we've seen so far, this car racing game looks stunning, and developers Playground Games have promised that it will offer up more than its predecessors, including a beefed up campaign dubbed 'Horizon Story.' Prepare for so much more than fast cars.
8. The Elder Scrolls V: Skyrim Anniversary Edition
Platforms: PC, PS4/PS5, Xbox One, Xbox Series S/X
Release date: 11 November 2021
Given that it's celebrating its 10th anniversary this year, there was no way that Todd Howard and the team at Bethesda wouldn't re-release Skyrim (again). This new anniversary edition is essentially 2016's Special Edition, with a few added "next-gen" features that will take advantage of the PS5 and the Xbox Series S/X hardware (expect better loading times, high frame rates and maybe even some ray tracing). Sure, you've played it 10 times before, but can you ever really complete Skyrim?
9. Pokémon: Brilliant Diamond and Shining Pearl
Platforms: Nintendo Switch
Release date: 19 November 2021
While we all wait for 2022's Pokémon Legends: Arceus, the team at Game Freak have kindly put together tidy remakes of Nintendo DS classics Pokémon Diamond and Pearl. Return to the Sinnoh region, complete with better graphics, better animations and even some new features, such as character customisation and the Grand Underground, an evolution of the Underground feature from the original games.
10. Halo Infinite
Platforms: PC, Xbox One, Xbox Series S/X
Release date: 8 December 2021
After its release date was pushed back by a whole year following that now infamous gameplay reveal, the latest instalment in the Halo franchise is nearly upon us and, after some necessary tweaking, it looks like it's going to be a banger. Not only will the multiplayer be free-to-play, but developer 343 Studios has added in loads of new features and gameplay mechanics, including a futuristic looking grappling hook, new weapons and a thrilling semi-open world campaign featuring series protagonist Master Chief.
11. Cyberpunk 2077 and The Witcher 3 (Next Gen versions)
Platforms: PC, PS5, Xbox Series S/X
Release date: TBC
Sure, both of these games are already out on last generation hardware and PC, and sure, Cyberpunk 2077 might still be a bit of a mess, but that could all change with the next generation upgrades that are, supposedly, coming this year. Whether this will make up for any alleged cut content remains to be seen, but it's bound to look pretty and run smoothly. If it also proves to be messy, you can always dive back into the world of The Witcher instead, which is also being given a next generation upgrade to boost frame rates, loading and graphics. Both are also free for existing owners of each game.
Tagged: