It's official: Timothée Chalamet will play hot Willy Wonka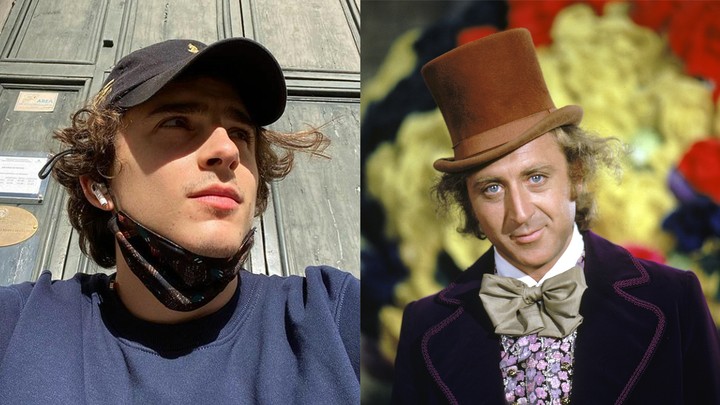 Images via Instagram/Warner Bros
Timothée Chalamet is set to star as Willy Wonka in a Joker-style origin movie by Warner Bros, according to Deadline. The news, which has been circulating for almost a year unconfirmed, was finally revealed this morning alongside a brief outline as to what plot the movie will follow.
Rather than being a straightforward retelling of the Charlie and the Chocolate Factory novel — as was largely the case with both the 1970s adaptation and the 2005 Tim Burton retelling — Wonka will take us back in time, following its younger protagonist through the years leading up to him becoming a world-renowned chocolatier.
What's more, the movie's producers clearly saw his Lil Timmy Tim videos from his time at LaGuardia High: he's expected to sing and dance too. Insiders told Deadline that he'd been the top choice for some time, but the demands for him to prep for a role like this, paired with his busy schedule, meant they were waiting for his time to free up before he jumped into filming.
The movie has been a rumoured project for some years now, with everybody from Ezra Miller to Donald Glover loosely attached to the lead role, but this is the most concrete casting news we've had to date. In terms of crew, Paul King will bring both a warm and zany quality to it as director and co-writer (the British filmmaker has directed Paddington and The Mighty Boosh in the past), while American screenwriter Simon Rich has also developed the script. Simon has a comedy background too, having written for Saturday Night Live for the past few years.
Little is known about the movie beyond these details, only that Warner Bros are gunning for a summer 2023 release. Wonka is in pre-production right now, but with his Bob Dylan project on hold and a relatively free shooting schedule beyond his Luca Guadagnino cannibal flick, it could be something that gets shot later in 2021 or early next year. The Old Vic recently revealed that they wouldn't be able to reschedule his West End debut 4000 Miles until summer 2022 -- there must be something big standing in the way of that, right?
Either way, Wonka is set to be his second tentpole feature as a lead star following his casting in Dune. That's set to arrive in cinemas this fall, preceded (we hope) by The French Dispatch. All in all, an exciting few years lined up for our king Timothée Chalamet.
Tagged: