Here's how you can make loads of money off YouTube's TikTok-style Shorts
The video streaming service is giving away $10k every month to users with the most popular and engaging content.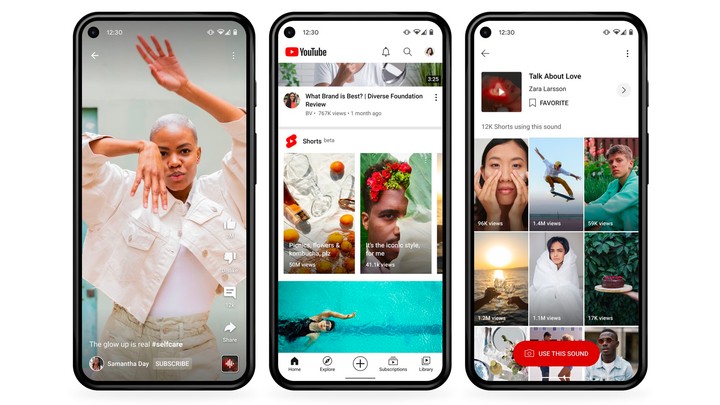 Image via YouTube
Tech companies are, inevitably, always trying to replicate each other. And although last night we said goodbye, albeit hornily, to Twitter's Fleets (their answer to Instagram Stories, which was Instagram's answer to Snapchat); today YouTube have shared more information about their new TikTok-inspired function.
Aptly named Shorts, the mobile-based short video platform has put aside a fund of $100 million dedicated to rewarding the most popular content on the platform throughout the next year. Depending on a video's engagement, its views and the location of its audience, starting from this week users could find themselves awarded a monthly payout of anywhere between $100 to $10k (!)
There are some rules though. It seems YouTube are intent on making Shorts a direct competitor to TikTok, and have learnt from the eerily similar Instagram Reels, where users often tend to upload the same content they already made for TikTok. As a result, in order to be eligible for the monthly payout, successful videos must be original content made specifically for Shorts.
The platform has at least developed features to make video creation on the platform more exciting and unique though. Most notably, users will be able to sample sounds from the billions of videos across the YouTube archive and can also directly link to a music video or song.
The reward system, sadly, is only temporary, but it will be later replaced with a "long-term, scalable monetization program", YouTube's chief product officer Neal Mohan told The Decoder. It marks a major difference from YouTube's normal video content which follows an ad-based revenue system (the more times a video and its ads are viewed, the more money the creator makes). Instead, Shorts will reportedly forgo ads altogether.
Currently available in ten countries — including the US, UK, India and Brazil — with more places planned to be added soon, the reward system is open to all users making original content for the platform so go secure that YouTube coin!
Tagged: