Photo by Ian West/PA Images via Getty Images, Jeff Spicer/Getty Images for MTV, Kevin Mazur/Getty Images for The Recording Academy and Neil Mockford/GC Images
A guide to Dua Lipa's style evolution
From Paco Rabanne chain mail to Mugler catsuits, Dua's been serving a pop fantasy wardrobe since her debut.
Photo by Ian West/PA Images via Getty Images, Jeff Spicer/Getty Images for MTV, Kevin Mazur/Getty Images for The Recording Academy and Neil Mockford/GC Images
Since debuting with "New Rules" and her self-titled album in 2017, singer Dua Lipa's been serving a whole-package pop fantasy, spanning music (catchy nu-disco bops), performance (expansive videos and elaborate concerts), and, of course, wardrobe. Always larger-than-life, but never over-the-top, Dua's style indulges in the whimsy and play inherent to the pop star persona, while carefully treading the line between costume and current trends. Think avant-garde gems from Paco Rabanne and Christopher Kane; vintage grails from 90s Versace and Tom Ford's Gucci; and zeitgeist-y pieces from Marine Serre and Mugler. And while Dua's look has transformed across years and eras (think "One Kiss'" tracksuits to the period wardrobe of "Demeanor"), there are some things that are just pure Dua. Like the diamante, chainmail and choker necklaces she's been wearing since her debut. Here, we take a look back at how Dua's style has evolved across half a decade, from "Hotter Than Hell" to "Cold Heart." This is Dua Lipa's style evolution.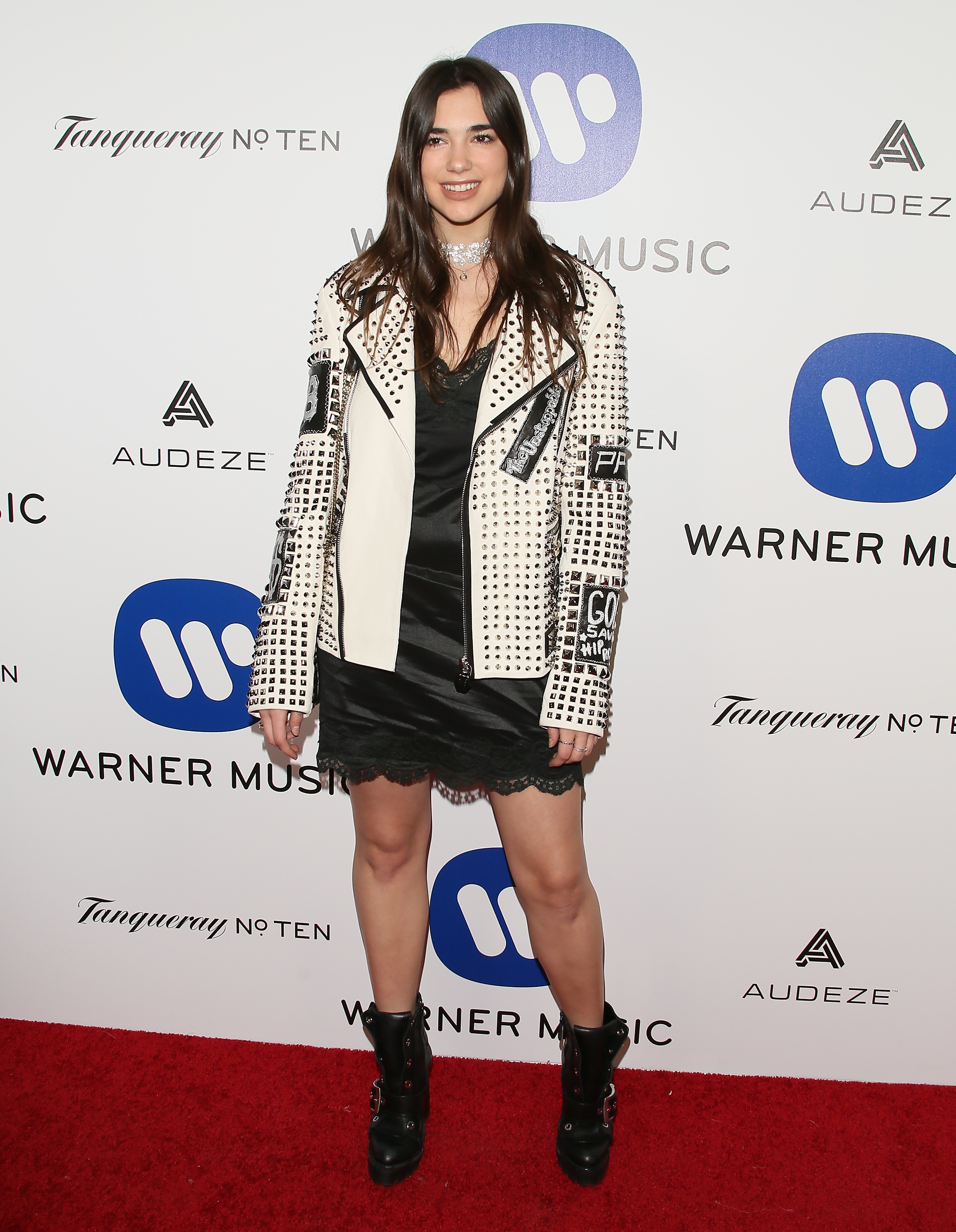 At a pre-Grammy Awards party, 2016
Dua Lipa got her start in music as a teenager, by uploading original songs and covers to Soundcloud and YouTube. In 2014, Dua officially signed with a record label and began recording the tracks that would make up her debut album. Dua's early-career sound — exemplified by singles like "Hotter Than Hell" and "Last Dance" — incorporated elements of tropical house and anthemic dance pop. Dua's early-career style mirrored the youthful mood of her music, taking shape across a series of glamorous but "edgy" looks. Think chain-dripped leather gowns, hardware-embellished leather miniskirts, sparkly mini dresses, leather jackets and slip dresses, frequently paired with a choker necklace in either leather or diamante.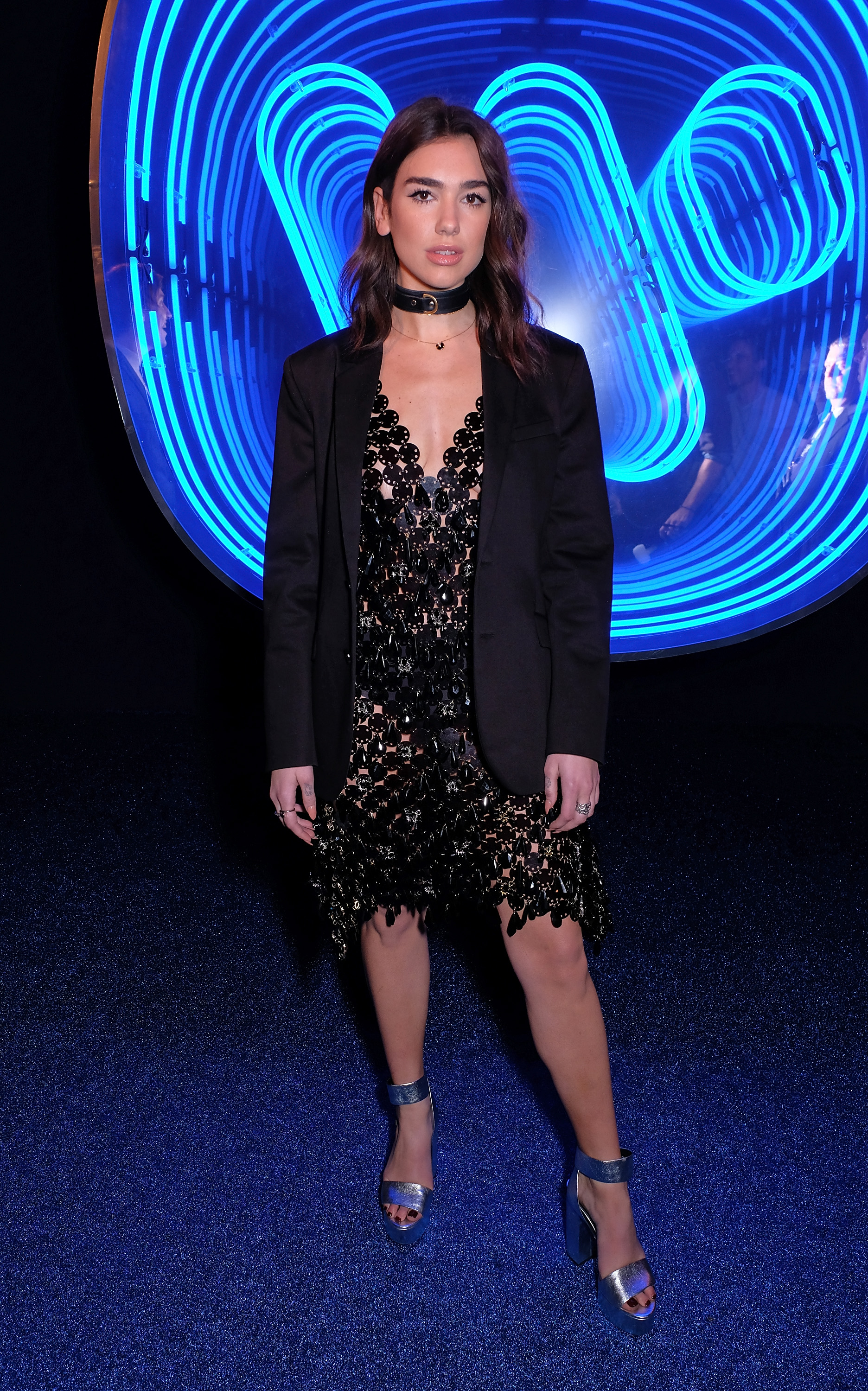 At the Brit Awards after party, 2017
In 2017, Dua released her long-anticipated first album. The album maintained the same electronic, tropical house sound as its lead-up singles. However, its roll-out saw Dua's signature look evolve, becoming more polished, more haute and more suited to a fully-fledged pop star and burgeoning 'it' girl. To fashion weeks from New York to London, Dua wore cut-out mini dresses and chainmail sets. To the Brit Awards — where she was nominated for the Award for Rising Star — and its afterparty, the singer wore sleek black suiting and a Paco Rabanne dress, paired with her perennial choker, of course.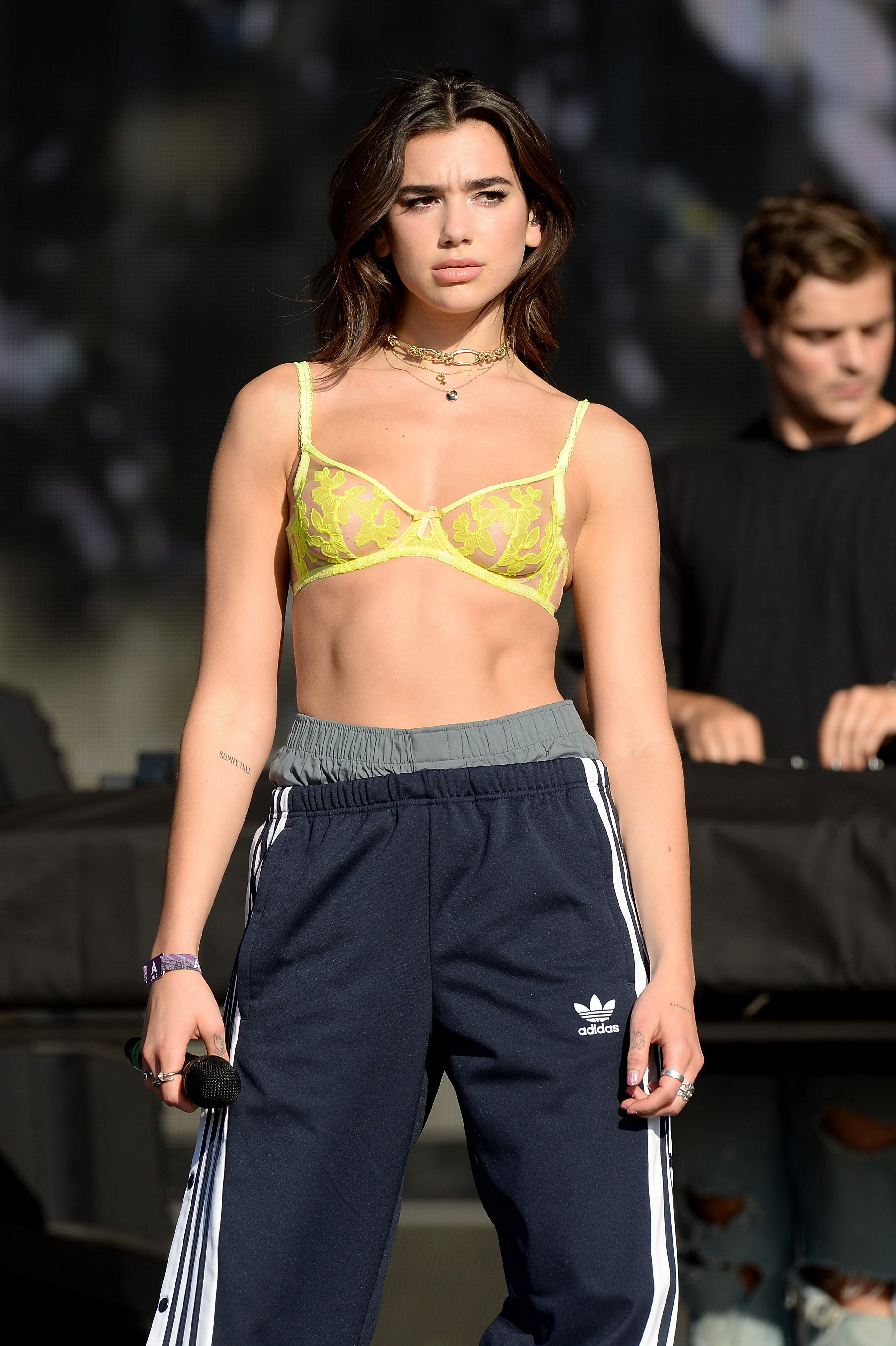 At British Summer Time Hyde Park, 2017
For the 2017 festival circuit, Dua's stage uniform was a tried-and-true bra-and-track pants combination. Perfectly heat-proof and dance-proof, this look took Dua from Glastonbury (where she wore bubblegum pink mesh) to Benicassim (blue satin and lace) and Hyde Park, pictured here. Into the 2018 season, Dua gave her go-to festival look a streetwear update with bleached denim bustiers, Hawaiian shirts, sequin bras and cargo pants. And beyond the festival grounds, Dua revisited the look during her iconic 2018 AMAs performance.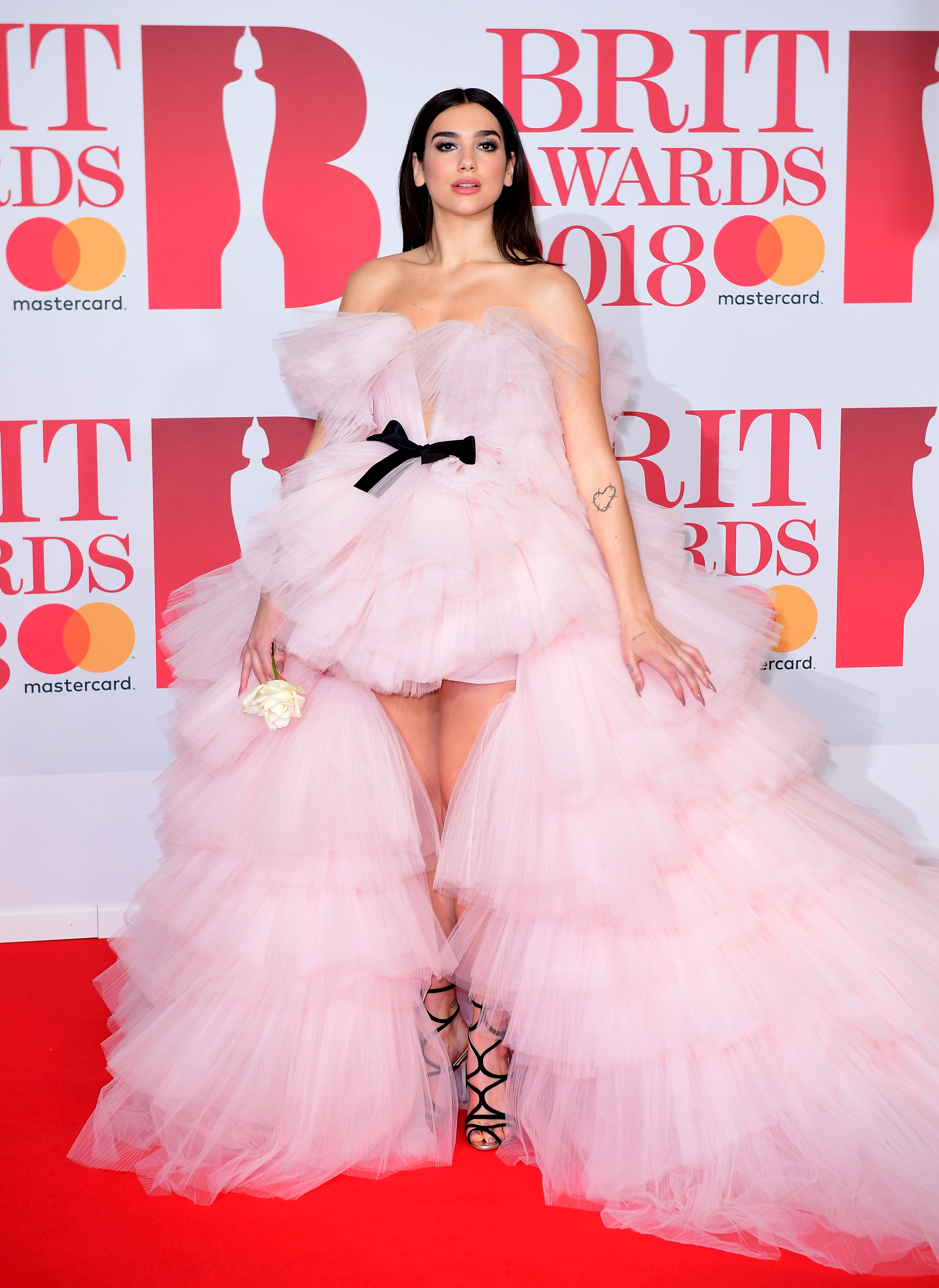 At the Brit Awards, 2018
Following its 2017 release, "New Rules" became Dua's first number one hit and one of 2017's Songs of the Summer. Just as viral that summer, the single's music video featured some instantly-memeable choreography and impressive camera work alongside a wardrobe of Versace shirts, pastel hues and silk robes. The clip's powdered palette and luxe boudoir vibe no doubt inspired Dua's 2018 awards show looks. To the year's Billboard Music Awards, the singer wore satin robe-inspired looks, both on the red carpet and on stage. At the Brit Awards, earlier that year, Dua walked the red carpet in a massive pink tulle gown that harkened back to the "New Rules" look.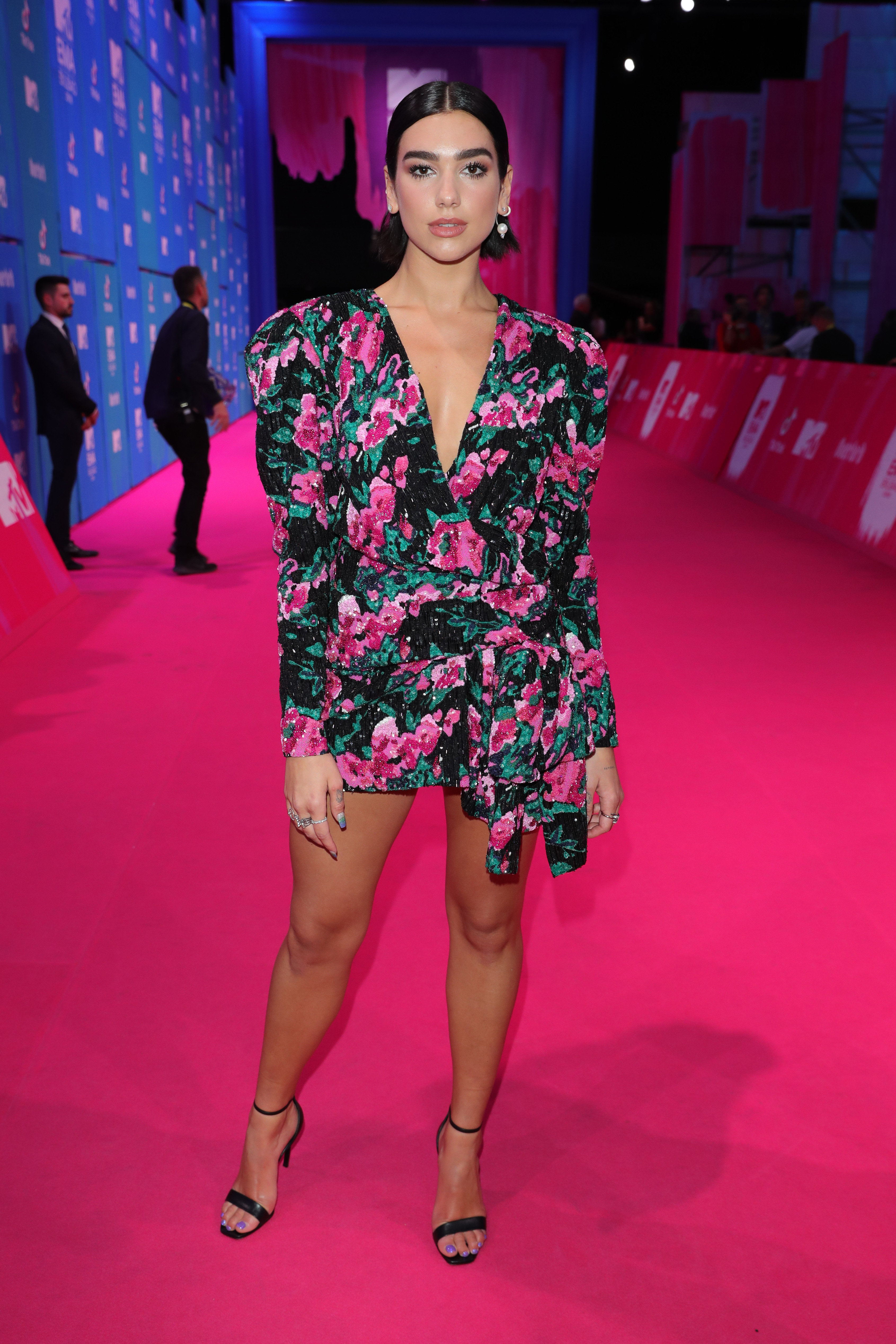 At the MTV EMAs, 2018
At the end of 2018, Dua went full-on 80s — that is, sartorially, at least. The singer dove head-first into the nostalgic trend with spot-on era colour combinations (like sky blue, hot pink and optic white), colourblocked sequins, metallic purple eyeshadow, ruffled cocktail dresses, and pleather corsets.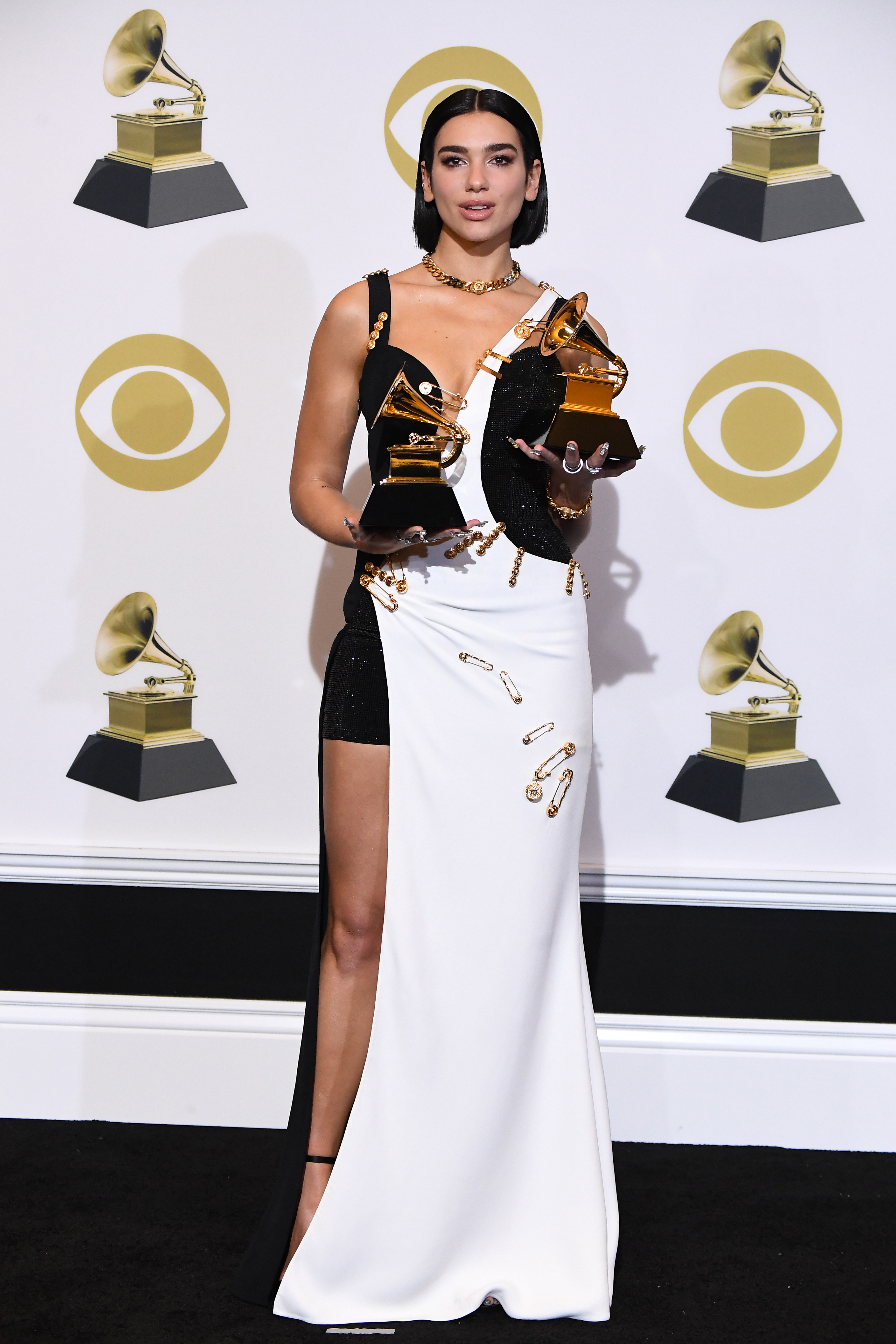 At the Grammy Awards, 2019
In 2019, Dua contributed "Swan Song" to the soundtrack of action flick Alita: Battle Angel. The movie's cyberpunk aesthetic definitely inspired Dua's early 2019 look. In the single's music video, Dua wanders a post-apocalyptic landscape wearing a chain-link dress and loads of chain jewelry. Drawing from the clip's heavy-metal look, Dua wore a series of hardware-embellished looks — including this Versace safety pin dress — to the Grammys and the film's premiere.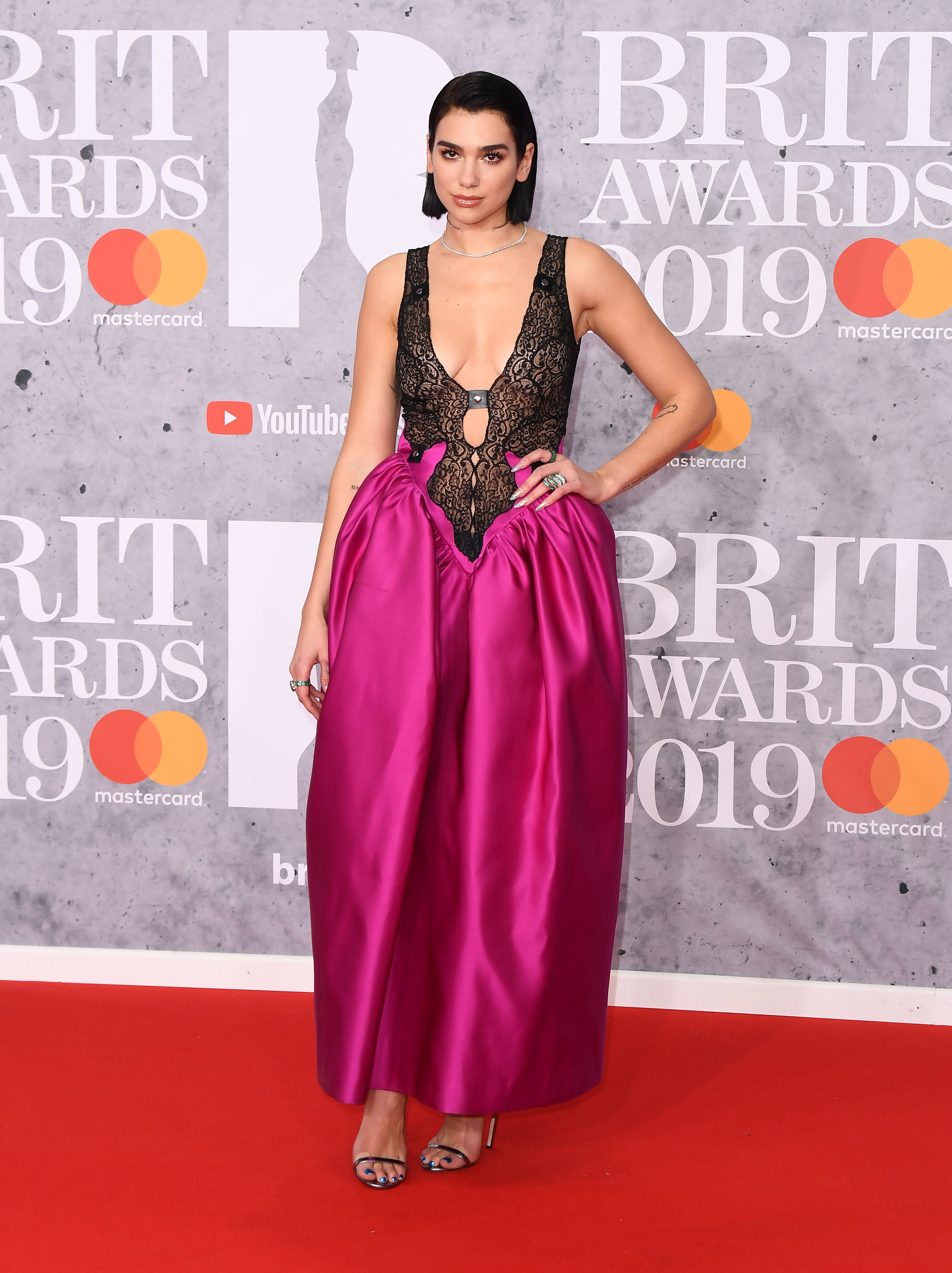 At the Brit Awards, 2019
After a short stint in punk-inflected glam, Dua pivoted to much more colourful, eclectic red carpet fare. To the 2019 Global Awards, the singer sported an intergalactic-patterned look; to the Cannes red carpet, a red feathered gown; and, here, to the Brit Awards, a quirky lace-y number by Christopher Kane. The eccentric energy of these early-2019 looks culminated at the year's Met Gala. Coincidentally (or, perhaps, not so much), the night's theme was "camp"; Dua wore a billowing Versace number, printed with a psychedelic spin on the house's hallmark baroque pattern.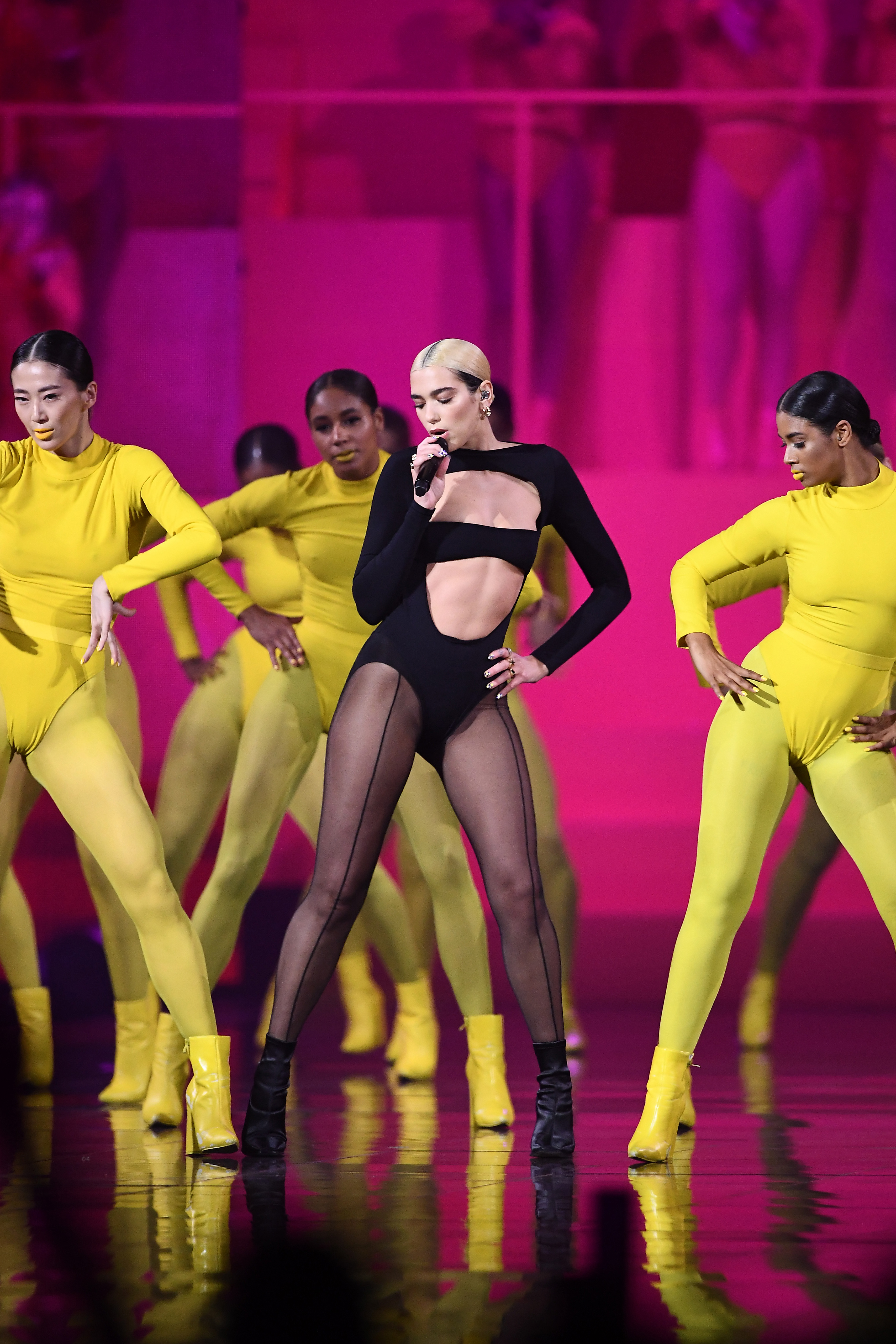 At the MTV EMAs, 2019
Enter the era of Future Nostalgia. Before dropping the sophomore album, Dua released its lead single "Don't Start Now" in 2019, kicking off the beginning of a micro-era marked by cut-out bodysuits and corsetry. Alongside a plethora of strappy Versace bustiers (and a Dion Lee corset, for good measure!), Dua's most memorable "Don't Start Now" look is the black Mugler bodysuit worn for her MTV EMAs performance. A seminal moment not only for the Mugler bodysuit, itself, but for Dua Lipa and her rising star.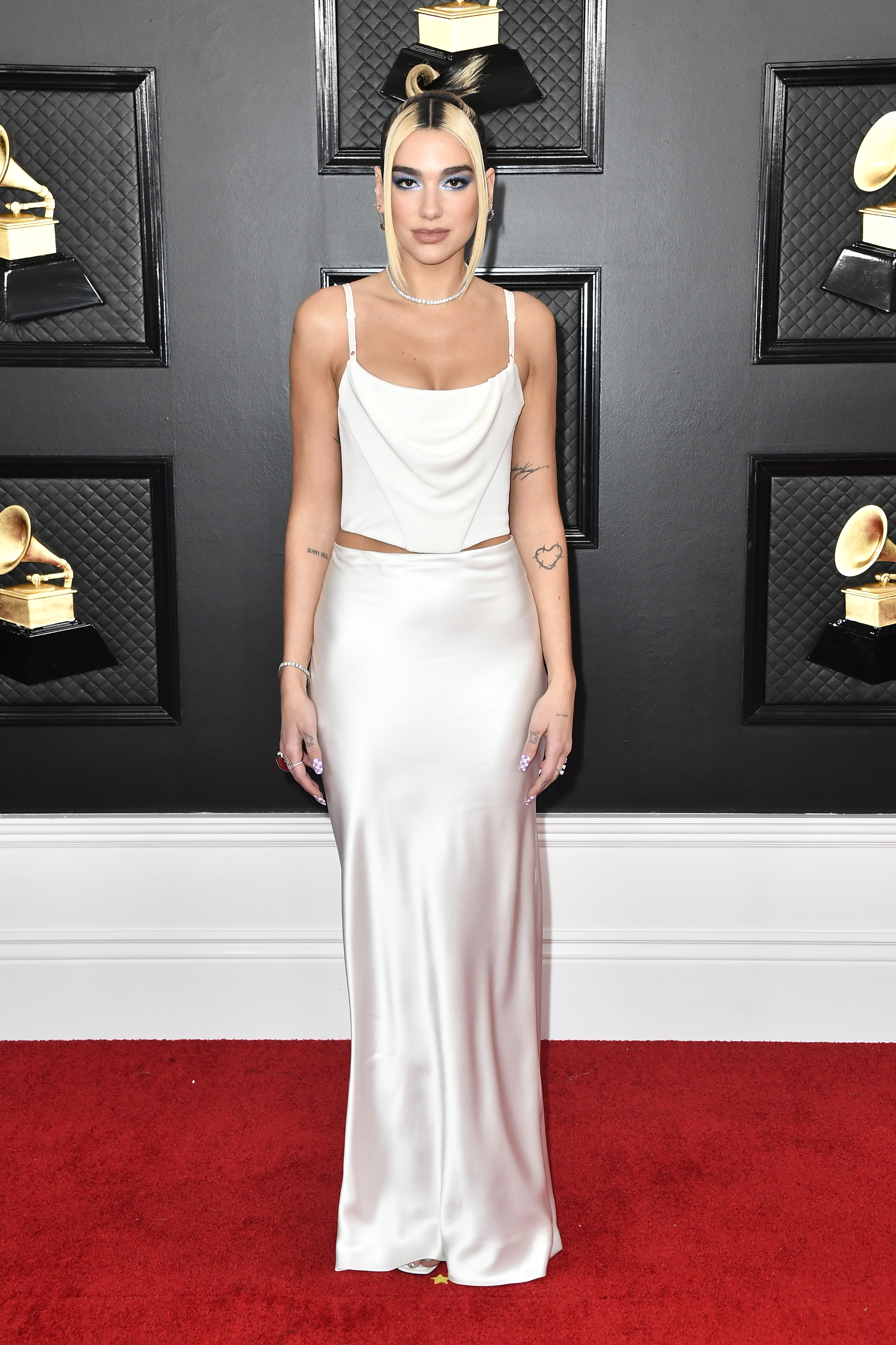 At the Grammy Awards, 2020
If the look of "Don't Start Now" captured a future-nostalgic version of the 80s, then the "Physical" music video squarely embodied the 90s in a series of effortless singlets and straight cut jeans. Dua channelled the video's minimalist styling in her three Grammys looks: a leather suit from Peter Do, and two Alexander Wang slip sets, one white and one black (for the after party, of course.)
At the American Music Awards, 2020
Dua Lipa's history with Versace dates back to her "New Rules" era. Over the years, the singer's relationship with the Italian house has spanned its iconic patterned silks, safety pins dresses and leather harnesses. It's the Versace diamante dress, however, that's remained a stalwart in Dua's wardrobe across eras. The singer first sported the vintage style to the MNET Asian Music Awards in 2019 and on Jimmy Fallon, while supporting the release of "Don't Start Now." The following year, a turquoise iteration of the look, seen here at the AMAs, became the centrepiece of Dua's "Levitating" era. In 2021, the singer revisited the look via Versace's iconic "butterfly gown", worn to the year's Grammy Awards.
In NYC, 2020
While Dua's late-2020 red carpet style drew inspiration from "Levitating", the singer's off-duty look took from "Prisoners", released just one month later. In the single's music video, Dua and Miley Cyrus star as blood-thirsty rockers, Dua dressed in a black, strappy Tom Ford Gucci number. Channeling her "Prisoners" character, Dua spent the latter half of the year dressed in garb by none other than 2020's king of sexy-and-strappy looks, Dion Lee. Dua's most memorable Lee look is this lace-up set, which was infamously papped while the singer was out-and-about in NYC.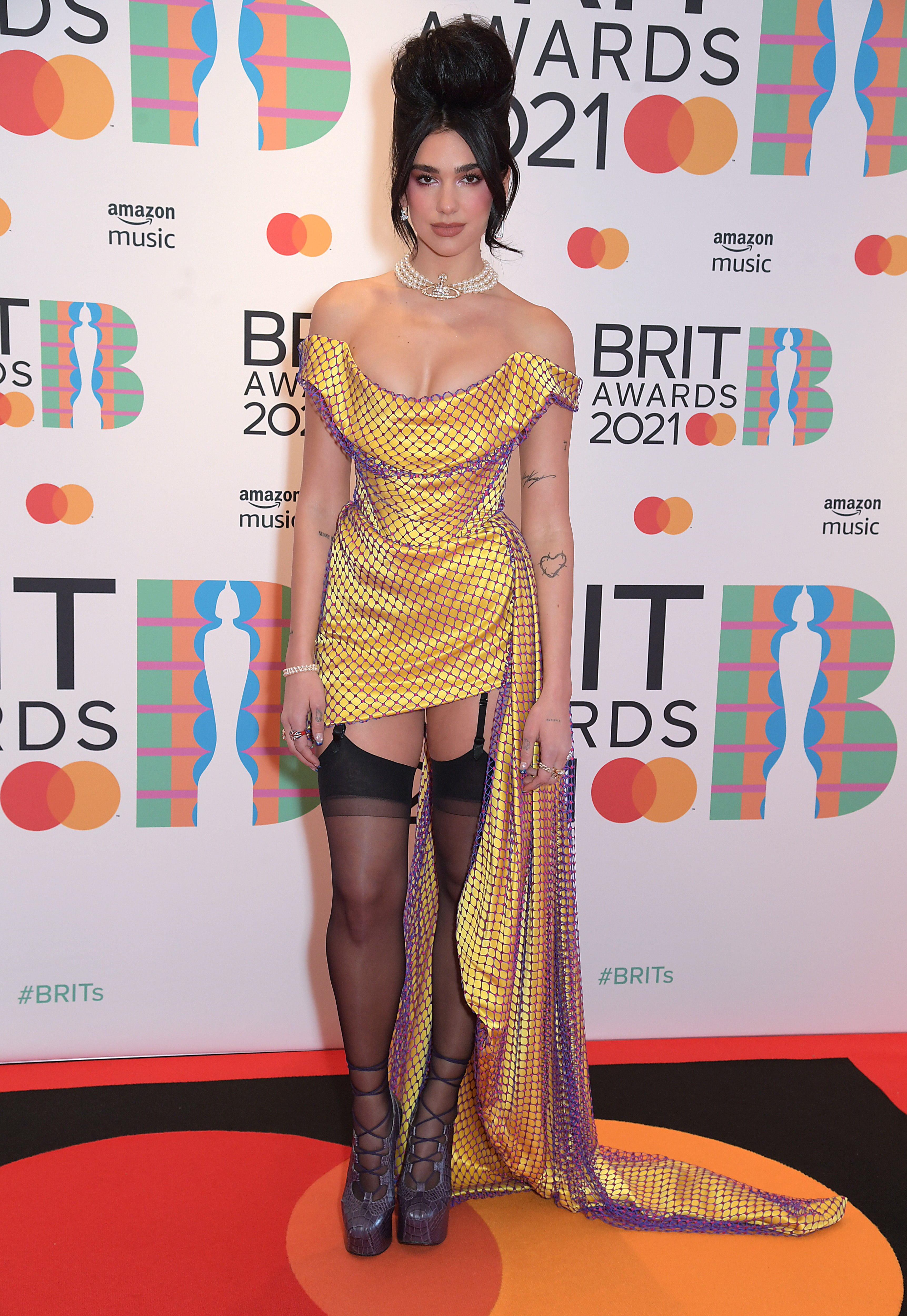 At the Brit Awards, 2021
For the 2021 Brits, the London-born singer celebrated Britishness with an Anglomania-inflected look by none other than Vivienne Westwood. Dua's red carpet minidress, designed by Andreas Kronthaler, was both a nod to both the label's vintage corset styles and its roots in British traditional garb. The heritage-inspired outfit also gave us a small glimpse of Dua's "Demeanour" era and its period wardrobe.
Summer street style, 2021
Into 2021, Dua's been enjoying post-vax summer to the fullest — all in some of the season's most covetable trends. Think sexy crochet, slinky jersey dresses, tennis sets, tons of swimwear and Y2K-inspired looks galore, seen here in snakeskin denim and a very 2000s chiffon tie top. A series of looks perfectly suited to Summer 2021, and to today's most trend-setting pop star.