5 indie movies with immaculate summer vibes
From enchanting 80s rom-coms to A24 road trip epics, there's an arthouse film cure for every kind of summertime sadness.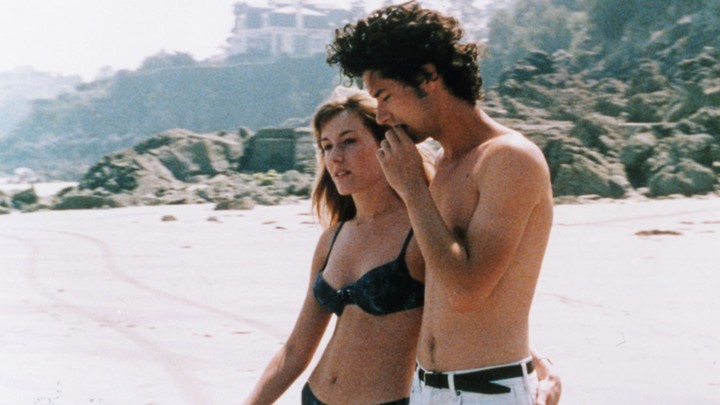 Still from Éric Rohmer's A Summer's Tale
The perfect summer movie is an elusive beast. It's an objectively beautiful season, yes, but only so many filmmakers have been able to do it justice. It's no easy feat to bottle the feeling of slipping into a cold convenience store on a hot day; the taste of sea salt on your skin as it mingles with a lick of ice cream, or watching sunlight dance through the leaves of a tree.
Luca Guadagnino's Call Me By Your Name did it well: the 2017 film captured a tense coming-of-age romance unfolding across sunny countryside excursions and still, blue evenings in Crema, Italy. But have you seen A Bigger Splash, its 2015 predecessor?
With the summer's current offerings being as they are (bloated blockbusters and animated nightmares) we've put together a list of movies that are actually worthy of the season. Featuring beachside romances, magic sweets, and Anders Danielsen Lie, here are five films with just immaculate summer vibes.

Pauline at the Beach (Éric Rohmer, 1983)
Let's get one thing straight — when it comes to curating the perfect summer vibe in a movie, Éric Rohmer is king. A Summer's Tale may be the more obvious choice from his filmography, but don't sleep on Pauline, the iconic third instalment of the French filmmaker's Comédies and Proverbes series. In it, the blonde and beautiful Marion (Arielle Dombasle) is getting divorced and going on holiday. Staying on the coast of Normandy with her 15-year-old niece Pauline (Amanda Langlet), Marion soon runs into an ex-lover, and romantic seaside hijinks ensue. You can stream it now on BFI Player.

Celine and Julie Go Boating (Jacques Rivette, 1974)
A classic tale of girl-meets-girl in a Parisian park. Julie is reading a book of magic spells when sees Celine walk past, and decides to follow the breadcrumb trail of items she leaves behind her. In the U-Haul lesbian tradition, the librarian and the magician (respectively) move in together almost immediately, "sharing the same flat, bed, fiancé, clothes, identity and imagination", eating psychotropic candy and embarking on a trippy, time-bending adventure. This weird and wonderful cult film only became legally streamable in recent years, and you can occasionally catch 35mm screenings of it in arthouse cinemas, like London's ICA.

American Honey (Andrea Arnold, 2016)
Andrea Arnold's most recent fictional feature follows an Oklahoma teenager with a difficult, abusive family life. Sasha Lane (cast after the director spotted her on spring break in Florida) plays our fiery protagonist Star, who soon falls in with a group of door-to-door salesmen set on exploring the American Midwest and, well, getting on it. Sure it's rough at times, but there's a reason it won the Jury Prize upon its premiere at Cannes: American Honey is an intoxicating road movie about a hot, hard-partying summer nonetheless. And, if you like, you can stream it via YouTube.

Bergman Island (Mia Hansen-Løve, 2021)
Vicky Krieps. That's it, that's the recommendation. Director Mia Hansen-Løve follows a rich cinematic tradition of films about the impact of Ingmar Bergman. In this melancholy love story set across the sunlit backdrops of Fårö island, a couple of American filmmakers take inspiration from their idyll landscape to make a movie; in it, Vicky's character Chris codedly shakes loose a few painful truths about her relationship. Watch the story unfold today on MUBI.

A Bigger Splash (Luca Guadagnino, 2015)
Tilda Swinton stars as a globally-renowned rock singer (as she should) on holiday in Italy with her boyfriend, before her vacation is rudely interrupted by the appearance of an ex and his daughter (Dakota Johnson). The film is the second in Guadagnino's Desire trilogy, the third of which is Call Me By Your Name. Poolside bickering, midnight dancing, and shirtless Ralph Fiennes, all to be seen on BFI Player? Sign us up.
Tagged: