The young London label preserving Northern fashion heritage
Offering elegantly deconstructed womenswear staples from deadstock fabrics from Northern English mills, Talia Byre shows how clothes from yesterday can be reinterpreted, worn today, and passed down tomorrow.
Photography Sirui Ma.
Talia Lipkin-Connor hadn't planned to launch Talia Byre, her semi-namesake label, straight after graduating from the Central Saint Martins Fashion MA. Like many of her class of 2020 comrades, she'd considered applying for jobs in the industry -- something she'd have been in good stead for, with experience at Paul Smith and Alexander McQueen already under her belt -- before maybe turning her attention to her independent practice a little later down the line. As we all by now know, though, the last six months haven't paid much mind to any intentions we had at the start of the year. "Everything just stopped, obviously," she says, speaking of the freeze in hiring and freelance work that quickly set in the moment the pandemic struck.
At her family home in Manchester during lockdown, Talia found herself deeply contemplating the role that her family's sartorial legacy has played in shaping the designer she's become — especially after a number of her family's oldest members passed away in the early days of the pandemic. "It really threw me, because I'm so heavily inspired by older generations of my family," she says. "They owned Lucinda Byre, a luxury ladieswear shop in Liverpool open from the 60s to the late 80s, which had its own lines but also stocked loads of independent designers in the UK." The name of Talia's newly launched label is a conscious homage to it. "All the family worked there, and all the garments that I reference or wear myself will probably have been worn by all these women in the family. Now, the generation that was in the midst of that was suddenly gone."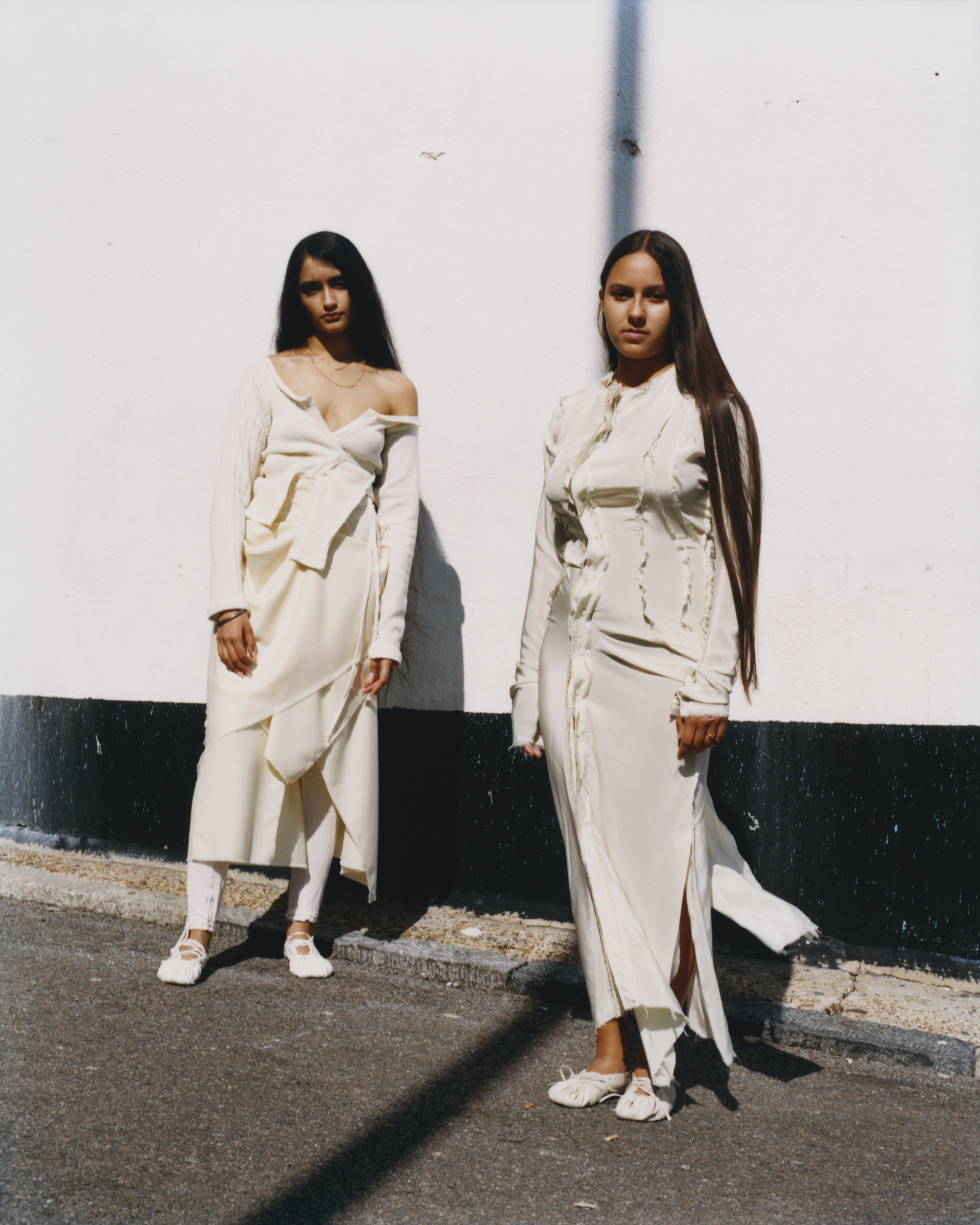 This realisation — that she was the only member of her family's younger generation that had "the tools to really keep it going" — is where the label began. This invocation of family history, however, goes back further than this season. For her CSM MA graduate collection — a capsule of artfully disproportionate womenswear staples in bright, tactile wools — the starting point was a skirt that had been passed down four generations. On seeing her collection parade down the runway, Talia's mother was quick to point out how deeply the work on show resonated with the clothes that the older members of her family once wore.
That shouldn't be taken to say, however, the Talia Byre wardrobe is at all antiquated or overly nostalgic. Rather, they speak of the reassurance that a proud heritage offers, placing it effortlessly in contemporary contexts, as her campaign imagery shot by Sirui Ma demonstrates. "It's very much about pushing it forward," she says, going to explain how the heart of her work is something altogether more universal and timeless than any one particular family history. "It's about elegance, whatever that can be defined as."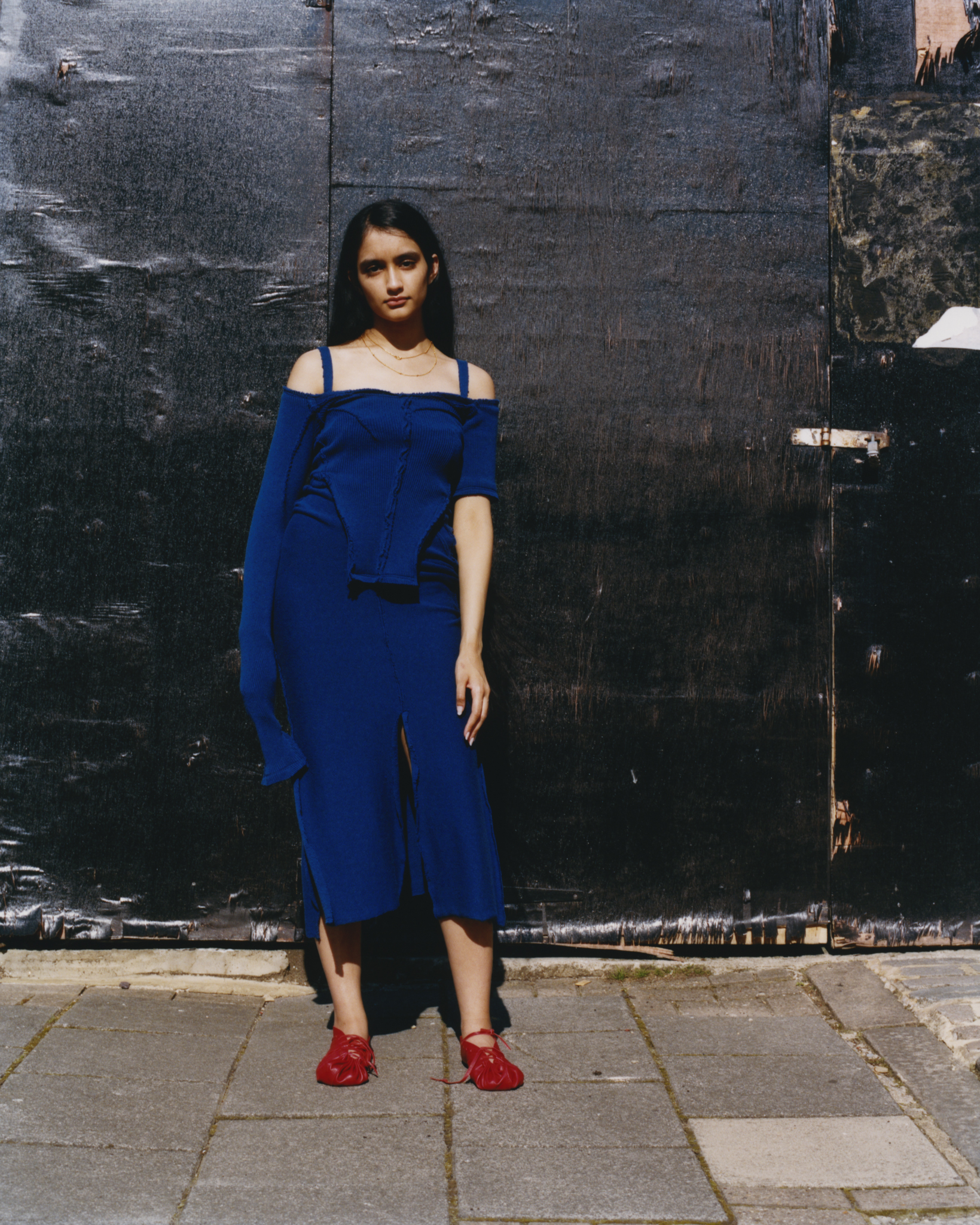 In Talia's SS21 collection, this translates to a subtly deconstructed, hand-wrought approach to cosy, wearable clothes — think button-down dresses in walnut and ivory crepe de chine, frayed at the collar, and with exposed seams detailing the very process of their making; daintily-strapped bustier tops knitted from hand-dyed deadstock wool yarn. Though we can attest that each piece is new, there's a sense of comfort and warmth unlike the fresh-off-the-hanger crispness we're so used to seeing in the shops. "I just find it a bit more real and realistic," she says of her way of working, "and when you put a piece on, it feels warmer, more loving. You're not afraid to actually live in it. If you put a hole in it, sew it up -- or send it back! I'd love for someone to send it back and be like, 'Can you fix this?' That's my ultimate dream!"
The importance placed on longevity extends beyond her own work. Talia is also keen to ensure that her practice plays some part in sustaining the storied fabric mills found across the North of England. Upon the discovery of some forgotten bolts of woolen tailoring fabric in the back of her grandma's wardrobe over lockdown, Talia made it her mission to see it revived. "I called the mill in Huddersfield to see if they were still going, and since then I've been in discussions with them about potentially remaking this cloth," she says. "So much work has gone into these relationships with all the mills, and I think it's so important to show that they're still alive and kicking."
That Talia Byre is imbued with a heartfelt history is evident on first glance at the clothes — what makes the young label so striking, though, is the immediate sense they convey that they're made with a long happy future in mind. "The most cherished pieces in my wardrobe are the ones that have been passed down to me, and I think that to inherit something is the ultimate luxury," Talia says. "I just find it so special, something worth cherishing. And that's what clothes are about for me -- a feeling of love and the act of passing it down."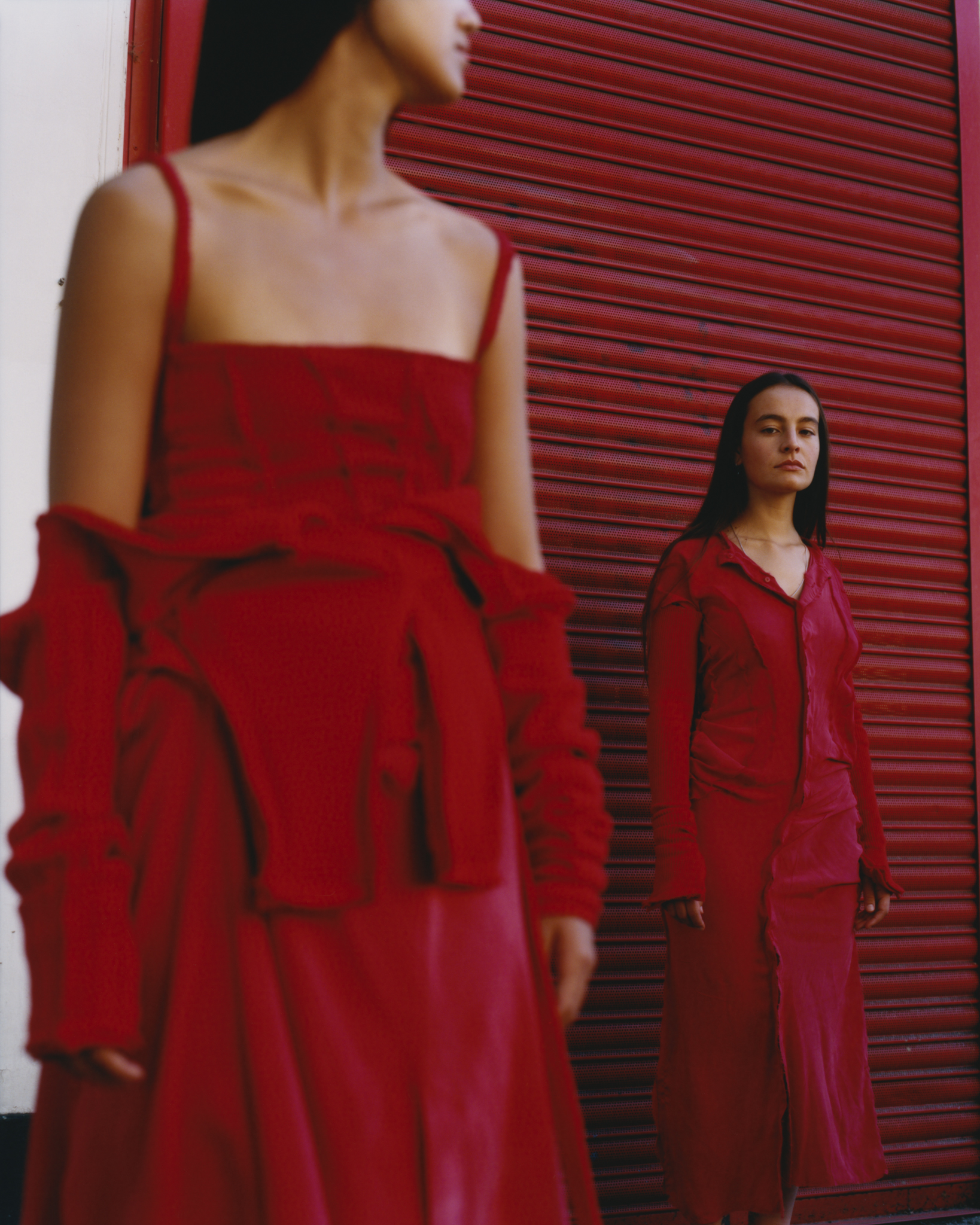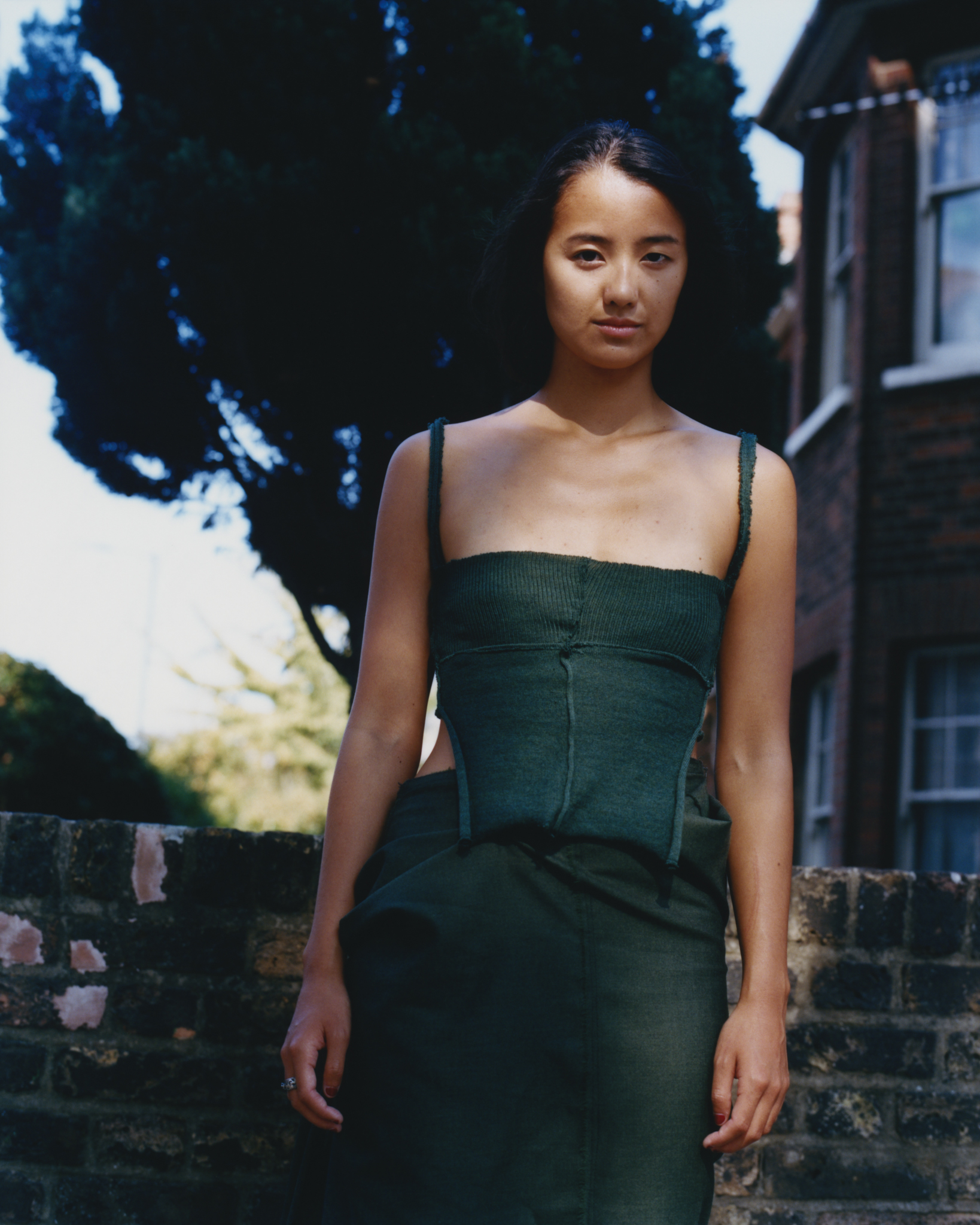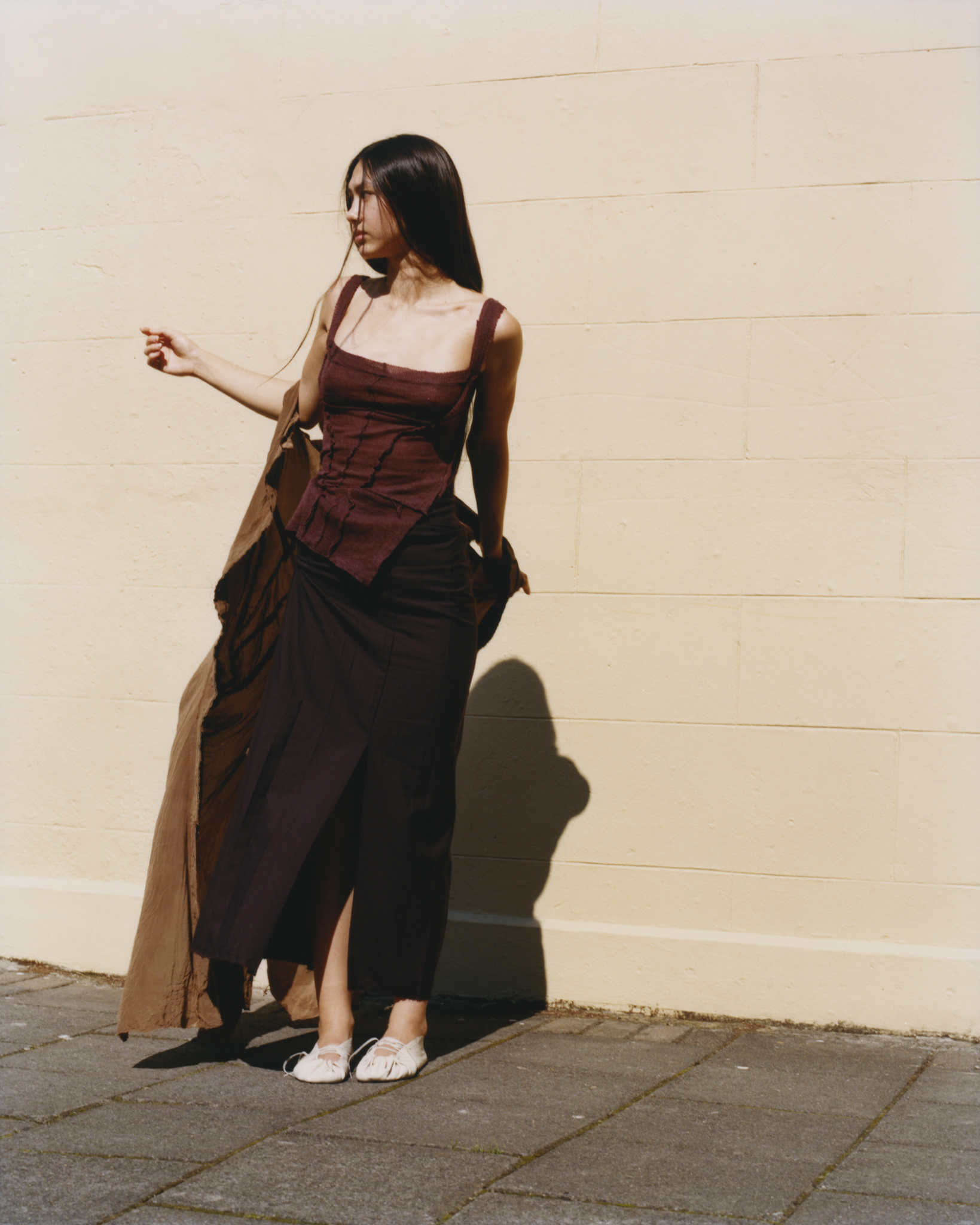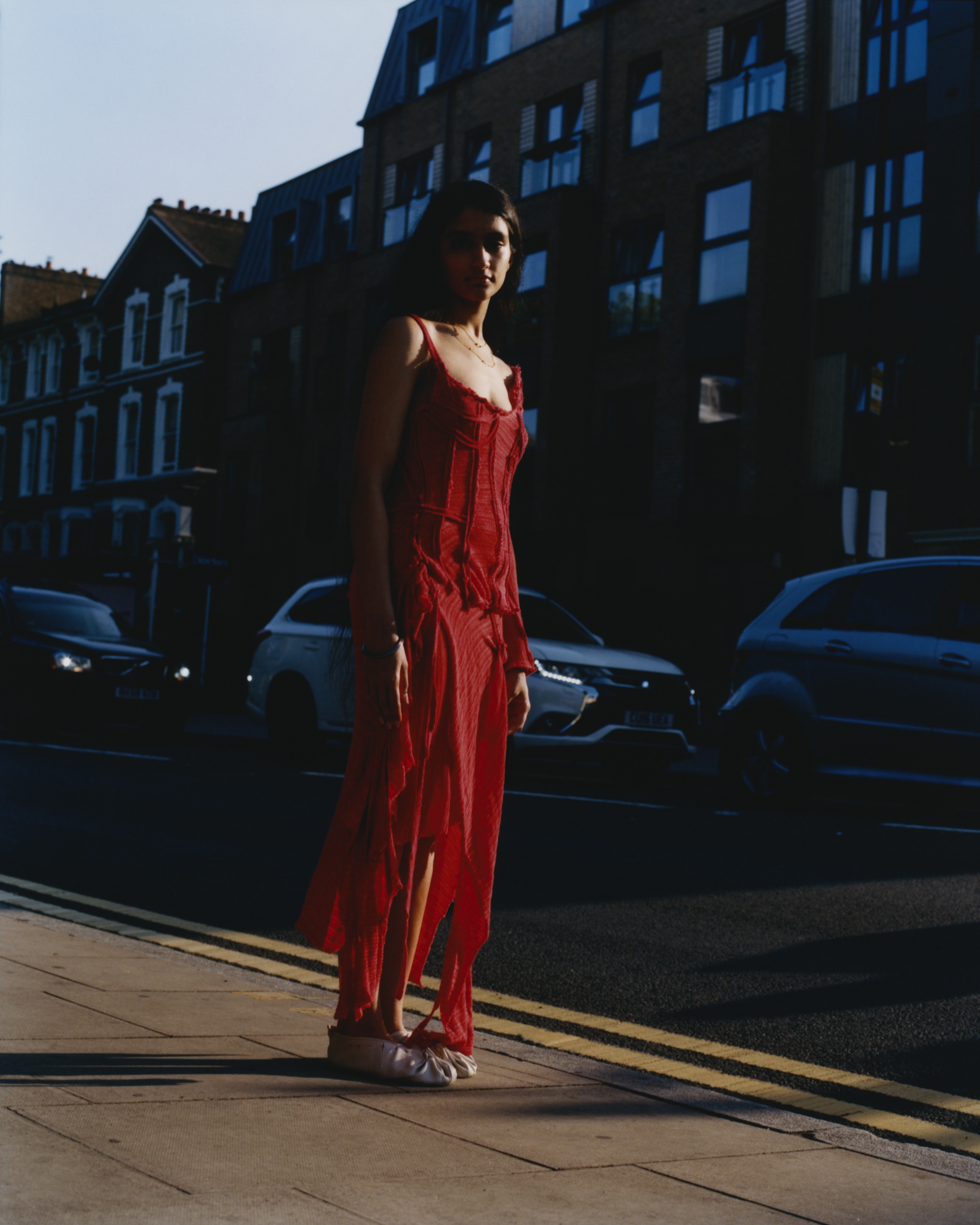 Credits
---
Photography Sirui Ma
Styling Katie Burnett
All images courtesy Talia Byre.
Tagged: