Photography Xavier Mas. Art Direction Jasmine Raznahan. Courtesy of Samuel Guì Yang
Samuel Guì Yang is the label bridging London and Shanghai through romance
As ethereal as it is well-made, this is what intercultural fashion dialogue looks like at its best.
Photography Xavier Mas. Art Direction Jasmine Raznahan. Courtesy of Samuel Guì Yang
If you're trying to figure out why the images above, taken from Samuel Guì Yang's SS21 campaign, trigger a flush of feelings of romance, here's your answer: romance is, in a very literal sense, exactly what keeps the brand alive. Part of a club that counts the co-creative directors behind Marques'Almeida and Charlotte Knowles among its members, Samuel Guì Yang and Erik Litzén are another two young London-based fashion designers who have not only partnered up at work, but in life, too.
The pair first met at Central Saint Martins, where they were both students on the school's prestigious MA programme. By the time they graduated in 2015, they were comfortably shacked up, though the intention wasn't to extend their relationship to the studio -- not at first, anyway. While Samuel founded his eponymous label, Erik headed to J.W Anderson, where he stayed for two years. Still, the combined factors of being in a committed relationship and, you know, both being designers, resulted in Erik formally joining the team "without us really noticing… it happened quite seamlessly". According to official records though, it was sometime in 2017.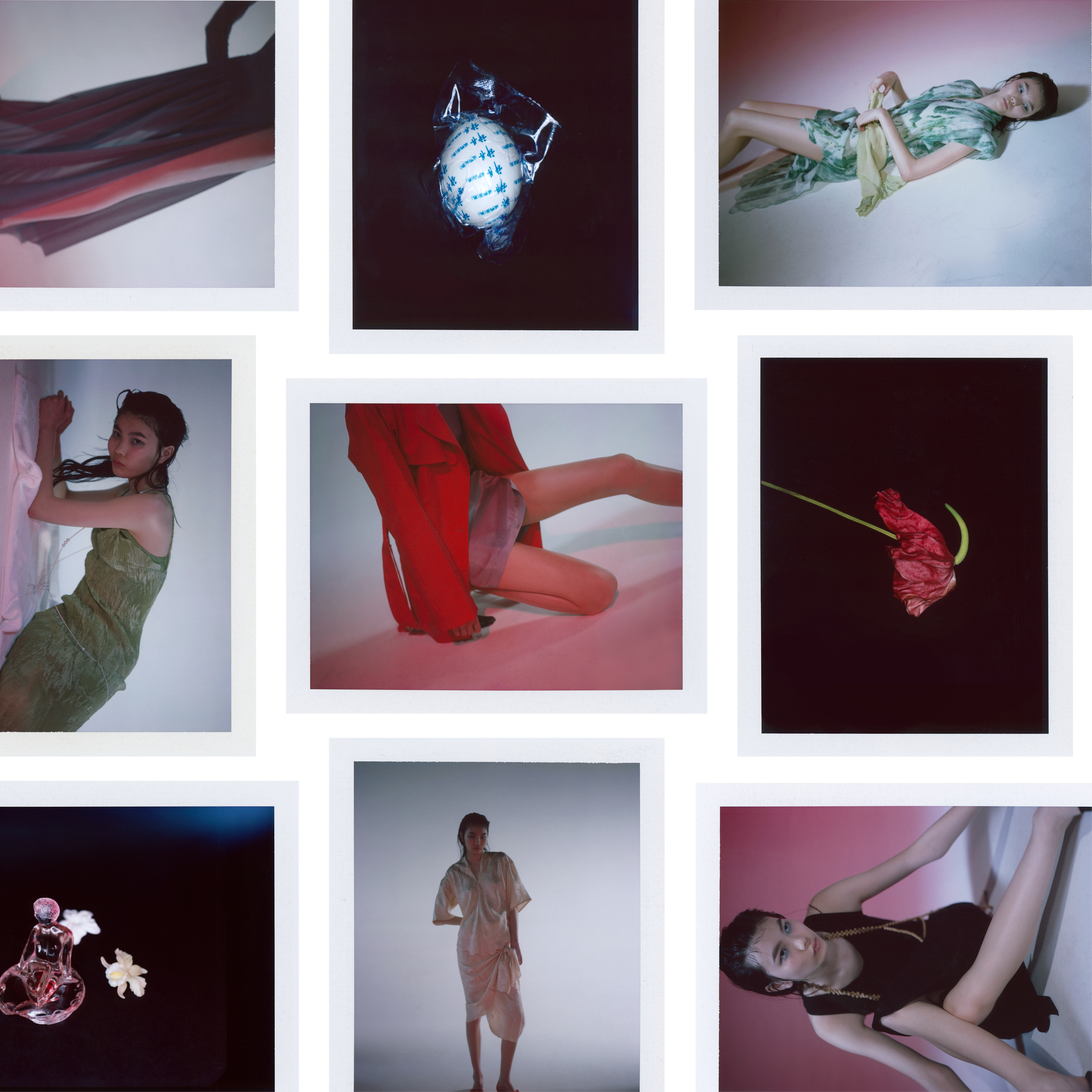 Looking at the work of any creative duo, you often find yourself trying to figure what each brings to the pattern-cutting table, so to speak -- the games of 'Spot the Raf-/Miuccia-isms' we've all played in the wake of their first two Prada shows are cases in point. Given the rich sense of contrast that informs Samuel Guì Yang, the urge to give in to that same temptation is strong. Who's responsible for the fastidious pattern-cutting, and whose hand guided those swoon-worthy satin drapes? Who opted for the moss-green fuzzy felt, and who argued in favour of the quiet severity of tailoring wools? Indeed, there are differences to pick up on.
For one thing, there are their formative backgrounds -- Samuel studied womenswear, while Erik focussed on menswear. Another obvious one: Samuel originally hails from Shenzhen, Erik from Stockholm. It would be easy, then, to draw the rather blunt conclusion that Erik brings a "pragmatic Swedish menswear background and Samuel comes with something which is a bit more mystical, free and creative, but that would be a bit of a simplified version of it all," the former says, brushing over the nuance and complexity that gives their work its worth.
"You can imagine how many discussions we have internally -- and not just about clothing or fashion, but also about where we're from, what our points of view are on politics, our countries and cultures. We're not afraid to highlight those differences, but we also want to embrace them and merge them together," Samuel says. "And it's pointless to always be pointing out how we differ," Erik follows up. "From the beginning, we've always said that we would rather focus on our similarities and the points where we meet." An example, he continues, being a mutual "fascination with something more nostalgic, or slightly romantic, that stretches outside of fashion as well."
Testament to this shared obsession is the brand's AW20 campaign, "Spellbound", a series of five cinematic vignettes in which model and muse Chen Xue sings translated Chinese proverbs, dressed in the collection's wrap coats, hourglass jackets and mandarin collared dresses. Created with their longstanding team of collaborators -- art director Jasmine Raznahan, stylist Lyson Marchessault and photographer Xavier Mas -- it speaks volumes of the pair's desire to create work with roots that stretch deep below the surface. Their garments imply an ample "body of research into a woman, a creative character, or a character we've found from the past that we find inspiring," even if the point of reference may not be immediately familiar.
After such a poignant first foray into moving image, which in fact predates the post-pandemic tide of fashion films we're still swimming though, you'd probably expect that they'd go bigger and bolder for SS21, given the medium's now all the rage. Samuel and Erik, though, decided to do just the opposite, retreating from the realm of digital presentation entirely. For "On Bath", a gentle meditation on ancient southern Chinese rituals and customs around bathing, they opted to put together an "intimate experience" that resonated beyond the screen. "We were really specific about looking into the idea of intimacy, and translating that through the way we presented," Samuel says, "so we created a precious little box that was intended as a reflection on the current situation, where everything is so digitalised." In each of the 100 limited-edition boxes, sent out to friends and family of the brand, recipients found a lovingly curated selection of Polaroids that capture the collection, along with ambient still-life pictures and poetry written by Erik's sister on the spiritual experience of bathing.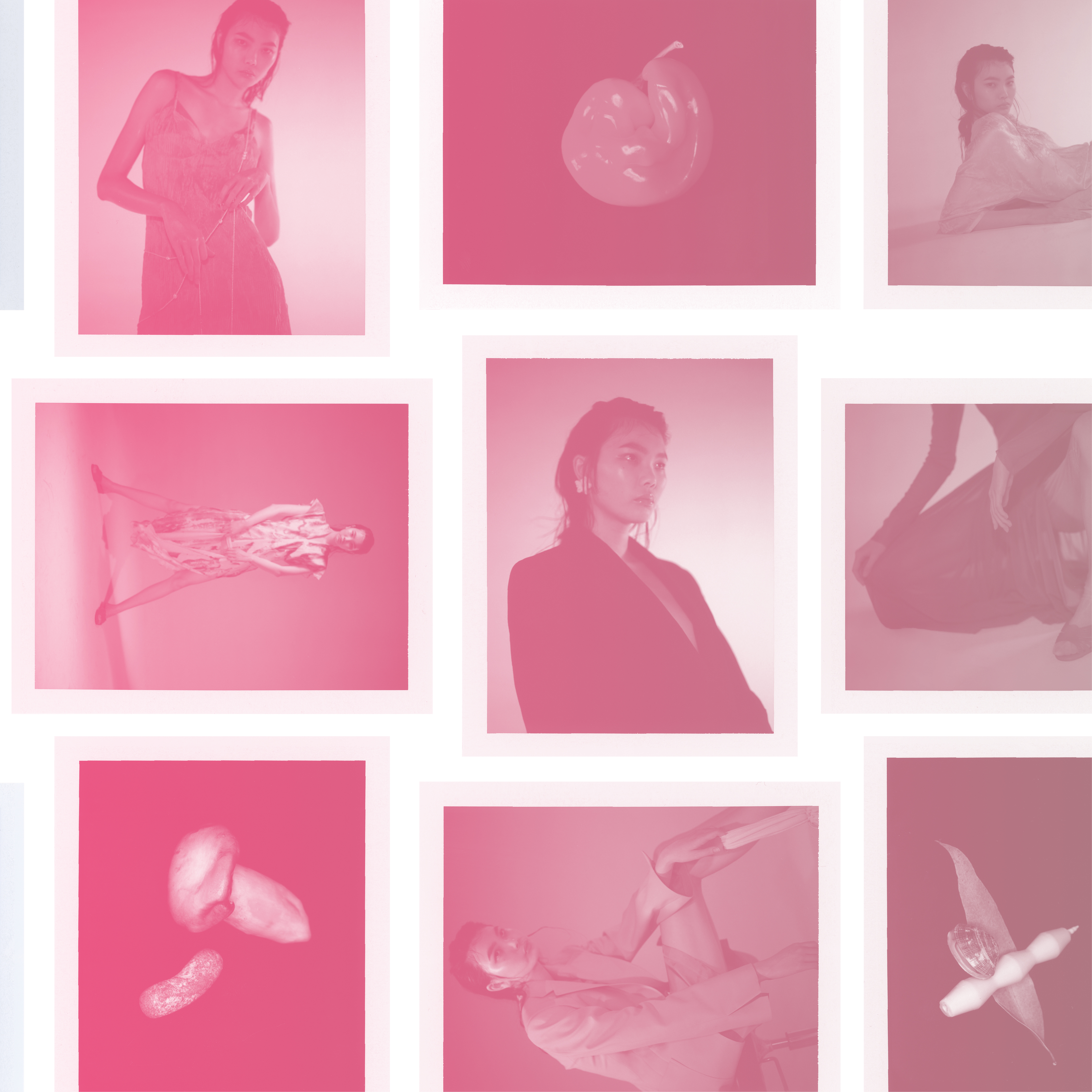 Breaking with convention out of a desire to pursue more natural, human ways of communicating their message has long been at the heart of Samuel Guì Yang. Despite being based in Seven Sisters, for example, their work generally passes under the radar of the young-designer-hungry London fashion press circuit. That is, however, a conscious choice on Samuel and Erik's part -- it's only recently that they've begun to publicly use their faces to represent the brand, previously preferring to let the work do the talking -- a strategy that seems to have done the trick, given that they made the semi-final of last year's LVMH Prize.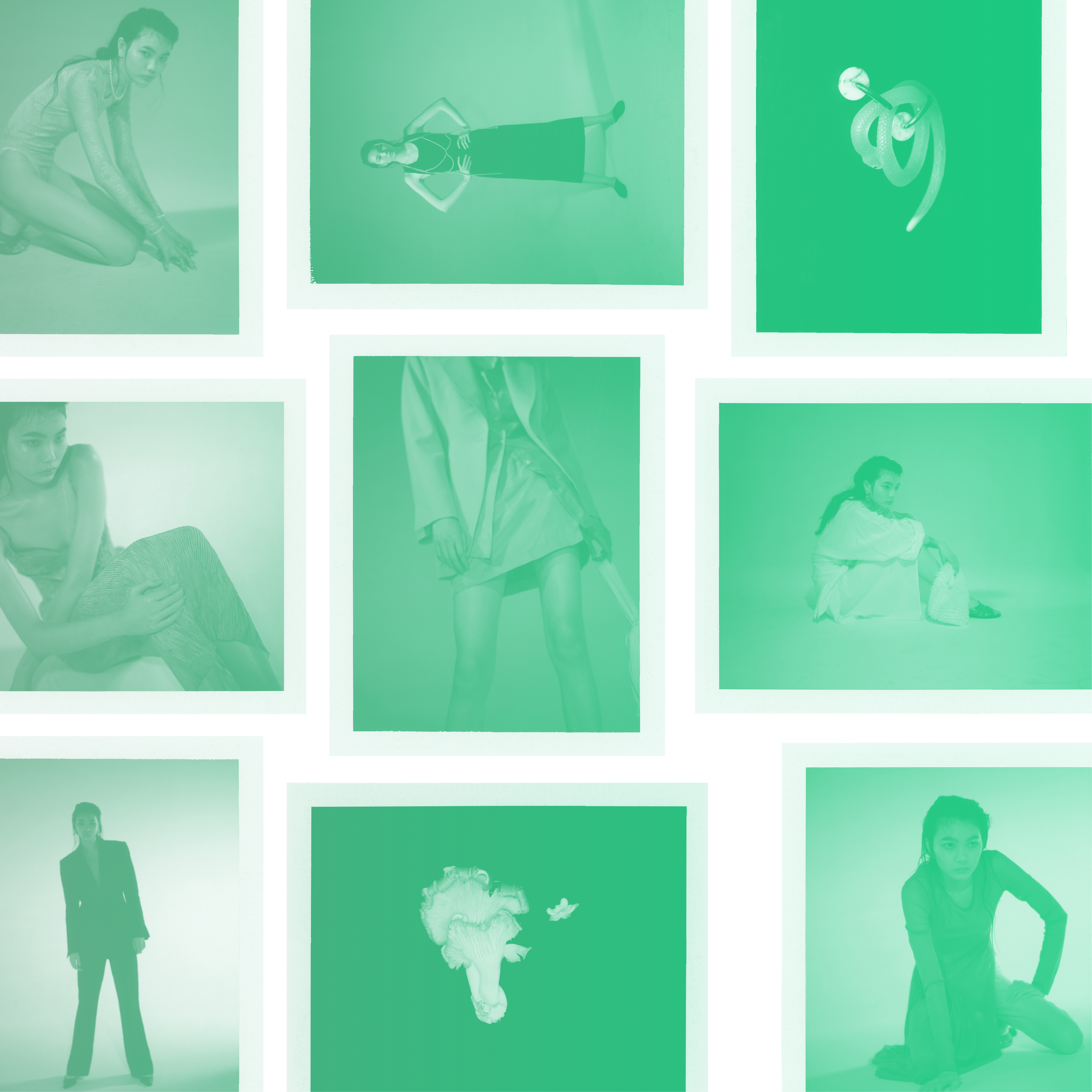 There's also the fact that they choose to show on the Shanghai schedule, a decision motivated by a will to focus on communicating directly with their largest customer base on the ground. "At the beginning, people asked us how a brand based in The UK should reach China," Erik reflects, noting the increasingly feverish desire of Western brands, big and small, to access Chinese customers and, to put it frankly, their wallets. "The answer to that is pretty easy, though. If you want to engage with a customer somewhere, you need to make sure that your message is created for them firsthand. It's an interesting time in fashion, as I feel like people are starting to understand that fashion exists outside of London, Paris, Milan and New York -- and it has for a long time. It's not just about Western ideas of fashion any more."
"I don't want to make clear distinctions between Chinese and non-Chinese, Asian or non-Asian," Samuel says, "but we are stepping into a moment where fashion can be more honest, more truthful when it comes to what people consume, what they can feel and resonate with. Maybe, in the beginning, we felt that there was a need to create a language that touched at the base of Chinese identity, so that young Chinese customers, as well as the young generation who grew up outside of China, could find something that speaks to their identity." But, as they've gone on to discover, such is the strength of their work's resonance that it transcends any single cultural context. It's in this respect that Samuel Guì Yang is such a powerful tribute to what sustained intercultural dialogue in fashion looks like at its best: deliciously complex and always so much greater than the sum of its parts.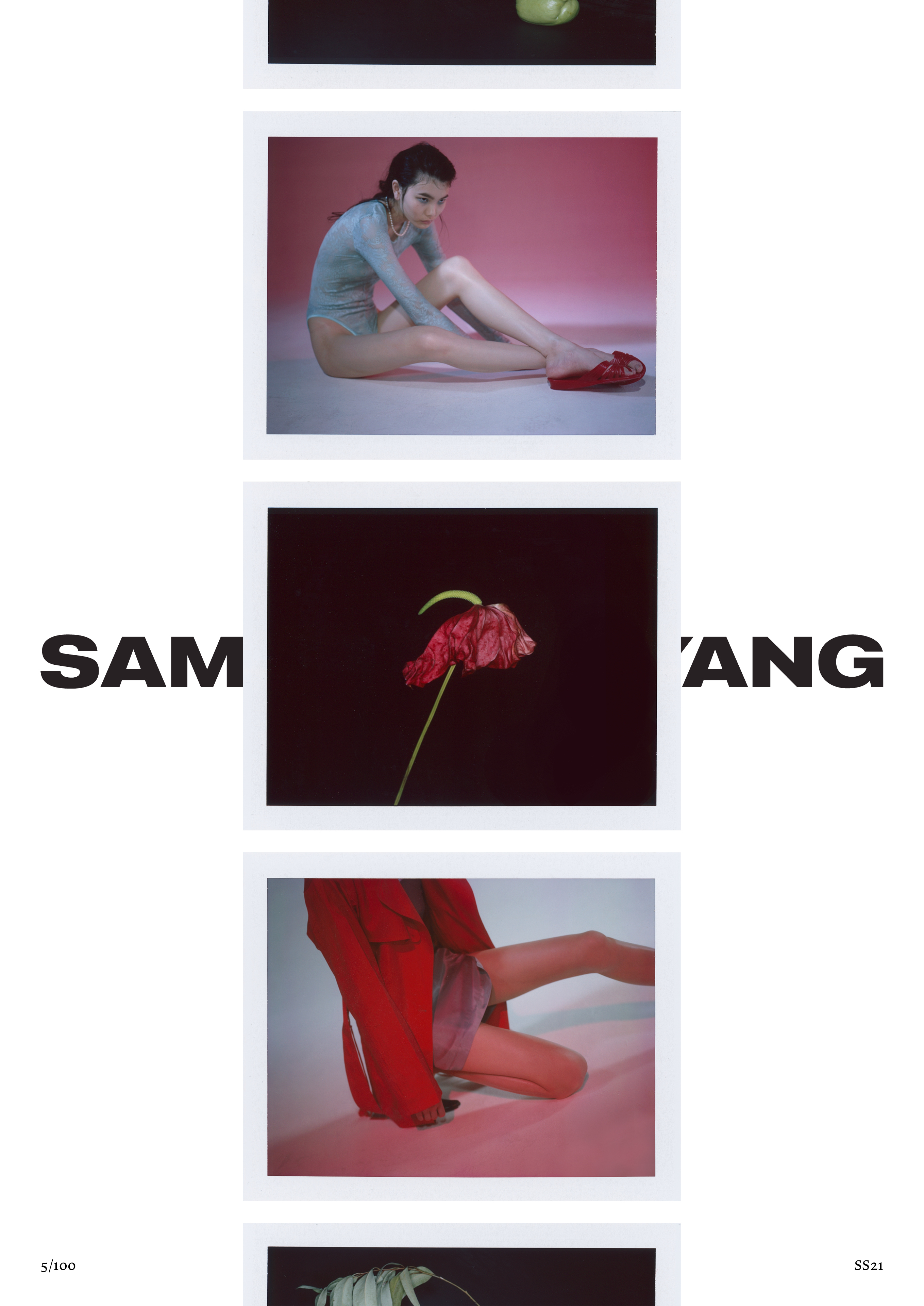 Credits
---
All images courtesy of Samuel Guì Yang
Photography Xavier Mas
Art Direction Jasmine Raznahan
Styling Lyson Marchessault