Art courtesy of Alina Zamanova.
Alina Zamanova's surreal, alien-like paintings celebrate all body types
The Ukrainian artist explores social perceptions of beauty and what it means to embrace discomfort and insecurity in your own skin.
|
16 November 2020, 10:00am
Art courtesy of Alina Zamanova.
As little kids it can feel like the whole world is our oyster. This is something Alina Zamanova, a 27-year old Ukranian-born painter, felt deeply as a young child. Growing up in Kiev, her mother encouraged her to experiment with all kinds of things, including art, dance and English. But as she grew older, an inner critic started to set in and she began to criticize herself intensely, especially her body. That gnawing, internal voice is something many of us can relate to and it's also now a key element in Alina's work as a painter — something she refers to as "ugliness."
Over the past five years, the artist has collaborated with various fashion designers through her paintings, which capture the deep anguish we must process in order to accept ourselves fully. For Alina, who previously studied fashion illustration at the London College of Fashion and interned at Alexander McQueen, on the other side of that tedious journey is finding beauty and grace.
On November 14, Alina will showcase her work in an exhibition titled "Inside Me" at Gillian Jason in London. Now being presented virtually, due to the second lockdown in London, the exhibition features Alina's gestural paintings of distorted female figures. Their body parts outsized and splayed across canvas, with an almost alien-like presence. The show was originally intended to be a collaboration between Alina and Australian lingerie designer Michaela Stark, whose designs also contort the body and examine the female figure, celebrating it in all its forms. With the ongoing pandemic and the difficulty in presenting Michaela's garments online, the two creatives had to part ways. Michaela's work, however, still serves as immense inspiration to Alina.
Here, i-D spoke with Alina about her biggest inspirations and how she turned her inner critic into her number one muse, all with the help of a paint brush and some acrylic paint.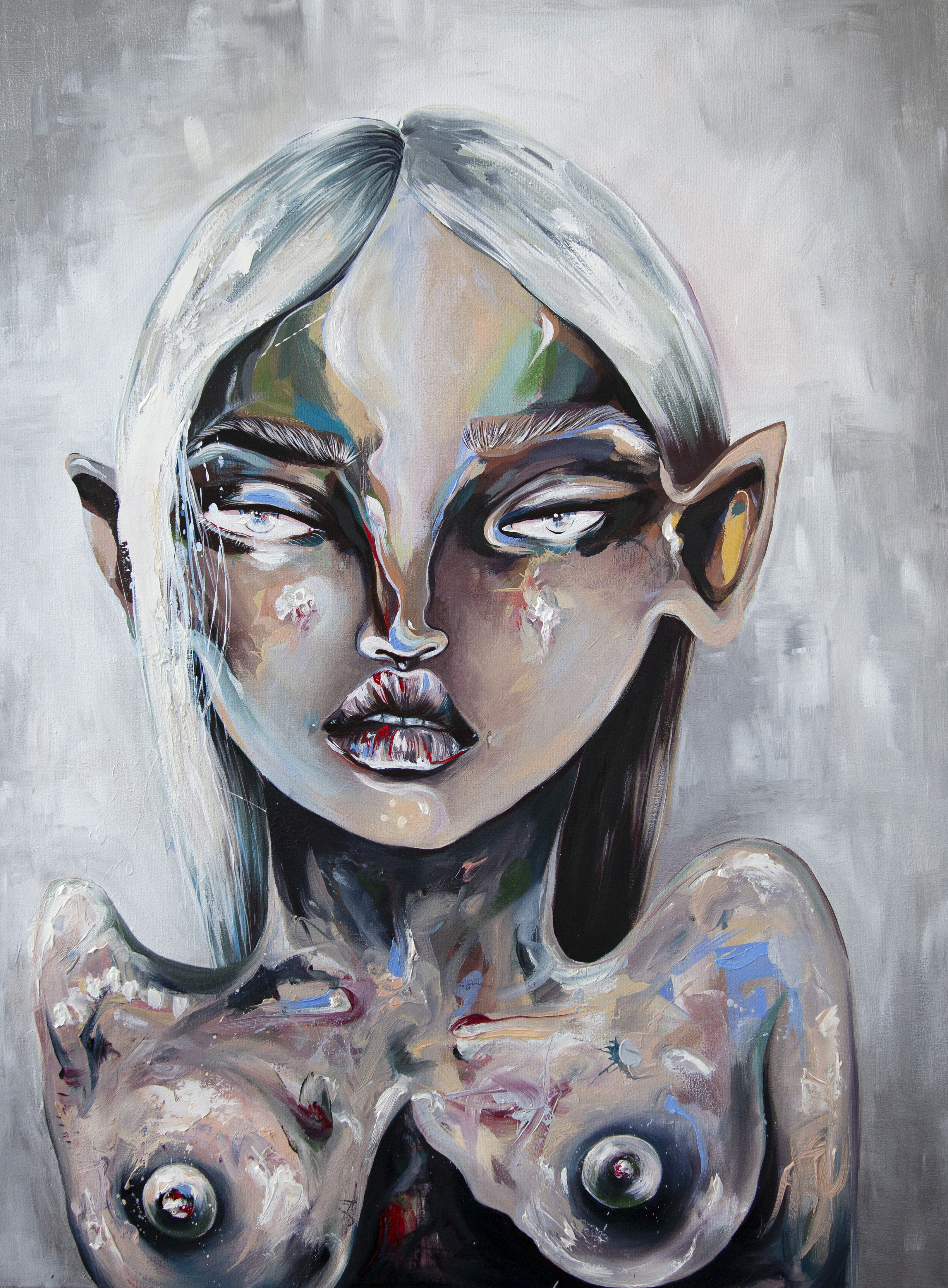 What are some of the collaborations you've done, in Kiev and across your creative work? Is it mainly painting and illustration?
We recently had a very wonderful collaboration with a Ukrainian brand Lessless Robes. They create silk robes that you can wear at home and outside. And we made a print of my muse, a plus size model in Ukraine named Sophia. That was cool because [in Kiev] the whole concept of diversity and different body shapes in fashion, even in art, is a very smudgy area. We are trying to embrace this concept. I just love people and connecting with others, making collaborations, human to human interaction.
I mostly get approached [by brands and people] from abroad, from the US and Europe. I have covered London Fashion Week a few times and collaborated with Show Studio, three or four years ago. They put illustrators and artists in one room and put a model on a pedestal. She wore couture and we painted her for three days. After that live drawing session, I realized that I really loved painting muses in real life. So whenever I travel, I try to contact one of my muses. For example, we did this project with Sita Abellan last week in London.
How do you find your muses? What do they mean to you?
Some of them we've never met yet, but maybe we talked five years ago or something online. My muses bring out so much confidence and they share such incredible energy. For a longtime, I didn't have that within myself. I felt like I was abandoning my own body. My own mind was filled with annoying thoughts.
This year in February, I finished some paintings. And then after I did it, I looked at it and I tried to understand the whole journey that I had during these seven months, painting these women and kind of absorbing their messages, what their values were, what they were saying. My whole perception of myself changed so I thought why not embrace it and try harder to understand myself. That's where the exhibition came about. I'm very, very grateful for my muses. I don't know what I would be doing without them. I would be like, you know, stuck and very grumpy.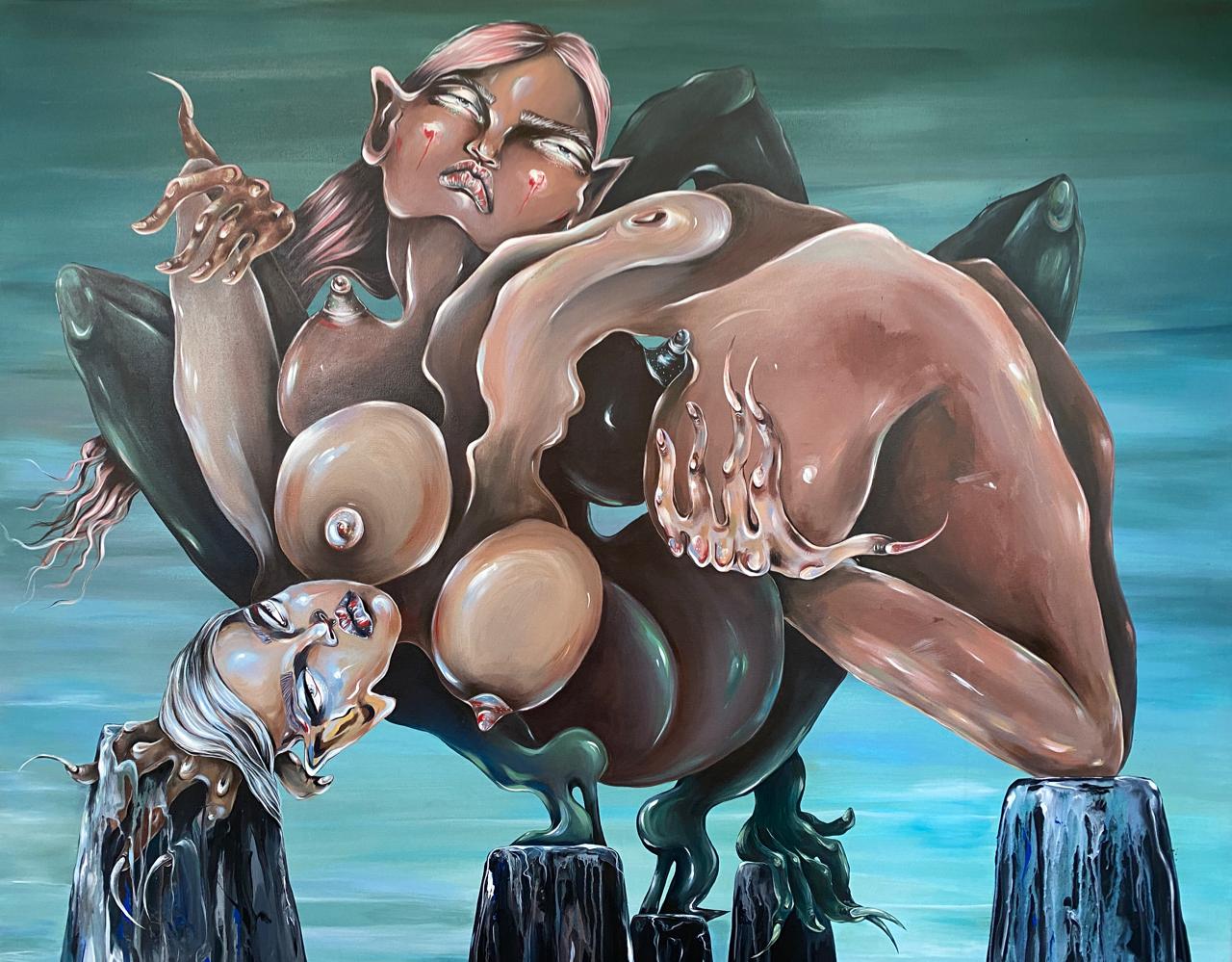 How do you decide that a person is your muse? Do you feel you're drawn to them?
Yeah. Sophia, when we started working together, she was just starting her career. She was so confident in her body and about her appearance. The energy that she shares when you are with her in the room, you kind of feel a bit different about yourself. Sometimes it's people with strong energy, maybe sometimes a little bit negative where you feel shaky and tired after a meeting, I'm very sensitive to this kind of stuff.
I found my second niche that I really, really enjoy is dance, it brings out my childhood memories. When I used to perform on stage I took on a different character, this performing is kind of the same that I create on the canvas.
The main thing that the muses share is this confidence in embracing their beauty and "ugliness" at the same time. Their ugliness and negativity, it's just accepted and embraced.
What is it about dance and the body, the female body that interests you? It seems like there's a gestural quality to your paintings and it's very expressive. I can like feel the energy4 that you inject into the canvas.
It is very energetic. Like you said, you feel it and that's how the process in the studio goes. The body is interesting because I used to paint portraits before, and the paintings were monochrome. This was the period of time where I worked for McQueen. Then I went to an Egon Schiele show at Somerset House in London, that was all color and that was a very incredible moment. His work spoke to me. I researched his work, and it was like portrait, portrait, portrait. I was trying to do the body, but the work was very straight forward and looked super predictable.
I started feeling more acceptance towards my body during this time. I started to study where the pain came from. In quarantine, I worked with a yoga teacher and I started feeling my body more. There are [figures] dancing on the canvas, but I didn't know how and when and why at the same time… I tried to show that painting and dance both have movement, energy, struggle and balance. So they're kind of balancing on pedestals but at the same time, they're holding each other. And the reason why there are two figures is because I thought about the inner fight all the time, how we are fighting with our minds and thoughts all the time. I think the body is so beautiful, but at the same time, so painful. I know some people will feel the same way, maybe different, but maybe someone will relate to the pain.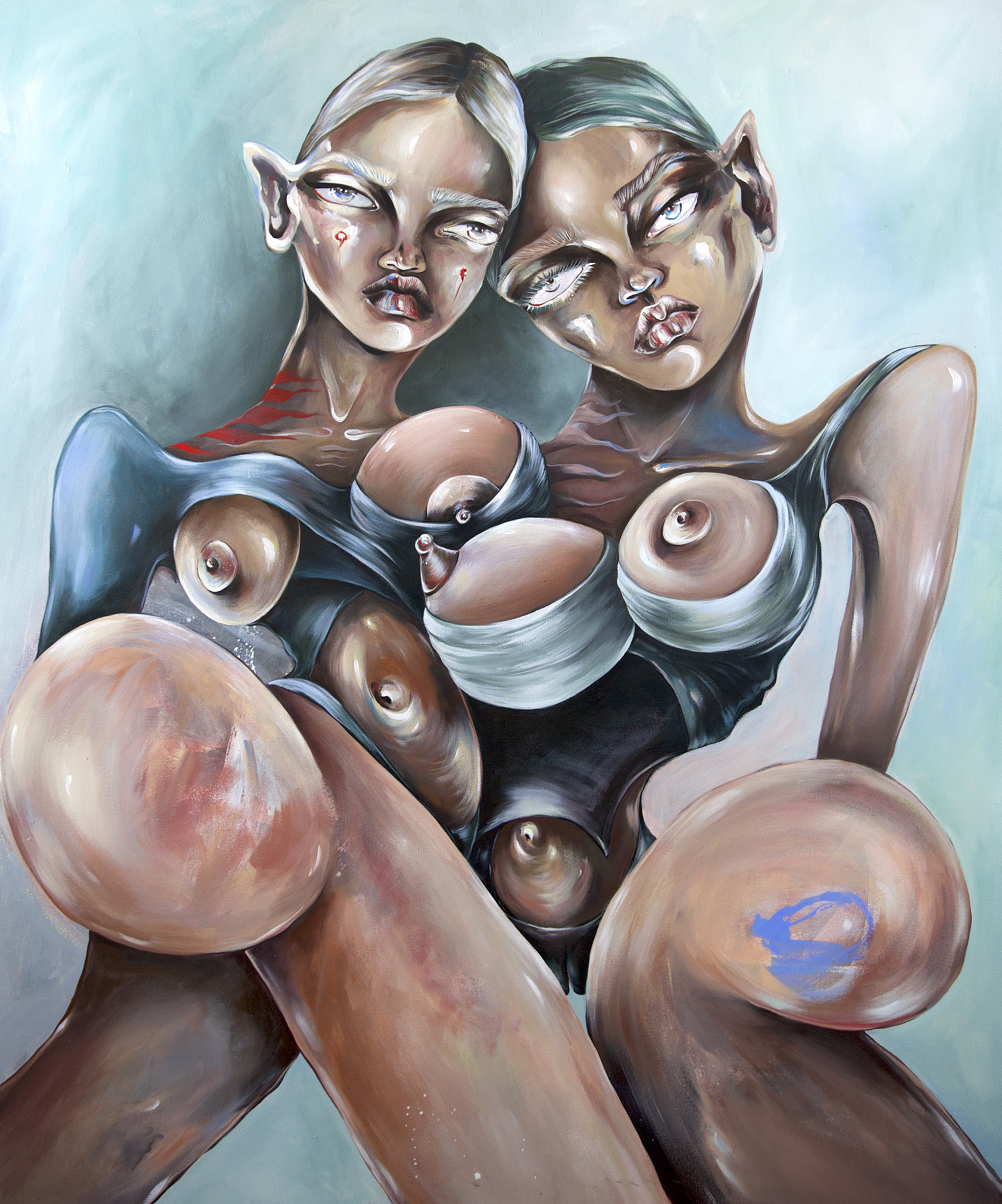 When you talked about the beautiful ugliness, what did you mean by that?
Whatever you hate about yourself or whatever you want to get rid of by pushing it away. You make it more aggressive. You make it the main point of your existence. But if you try to breathe it in, accept it within yourself, try to convince yourself it's who you are. If you need help, ask for help. Whatever is ugly inside you is super beautiful.
Talk to me more about this exhibition and how it came about.
The situation came about last year. I was finishing this painting about other women and they taught me something. I was feeling the need to embrace more of my confidence, and not accept the difficult energy that I have sometimes. So I thought maybe this will go towards a group of paintings and then a group of sculptures at the same time. Because you can feel the body of that. You're creating with your hands in a three-dimensional way. I felt that maybe what I'm going to share might connect to someone and maybe help someone to embrace their own problems, you know, and understand that this can be their strength.
Then this terrible thing happened and people went to quarantine and the world moved upside down. Some paintings were so bright and colorful in the beginning, in March, but I wanted to repaint, make them darker, more moody and the whole color palette for the exhibition became more saturated at the end.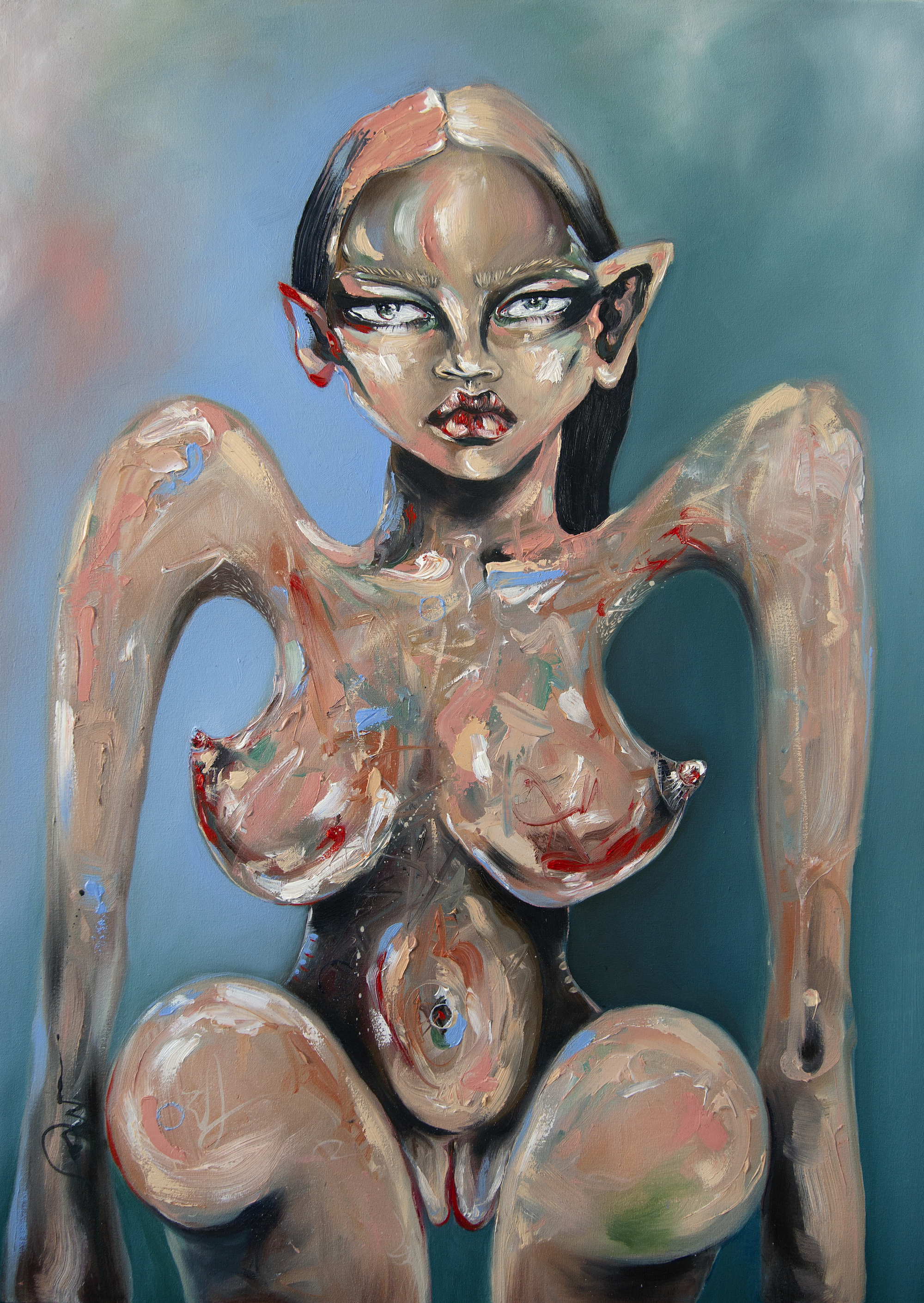 How did you get connected with Michaela Stark?
We met online on Instagram after a LOVE magazine interview. We were doing something similar and clicked. Then, we found out later that we had the same concept for our dissertations. Mine was about representing ugliness and beauty in fashion. And hers was about the grotesque, and ugliness in using body modifications. The theories that we had to back up to our thoughts were the same. And we started working together.
I was inspired by her garments, how she's creating this painful, but at the same time, beautiful, incredible luxury on top of her body, like modifying her body and accepting herself. She made me very inspired to learn more about my body and she said my paintings represent a lot of strength and confidence that she wanted to feel. We made a few collaborative pieces. We were supposed to show them together in a physical space, but it didn't work out at the end because of the second lockdown in London.
I decided to [still] do it digitally online… but because it was online, it was different for Michaela's work. It wasn't really how she would present her garments, but the paintings are inspired by her and her work… It was very important to me to share this message from this year of work, especially because maybe some people are struggling right now. I think art can change the perception of the whole world.