Rokh AW21 is a masterclass in sleek eclecticism
Titled 'Omniverse', the London-based label's collection is a refined exercise in handcrafted slickness. 
Images courtesy of Rokh
Across all the Zoom previews we've done over the past few weeks, a good number of our conversations with designers have revealed a common theme. For many, AW21 has been a season of introspection, a moment of standing back and taking stock of everything they've done so far. Designers have been looking back in order to move forward. Rok Hwang, the eponymous founder of London-based, Paris Fashion Week-presenting label Rokh, is no exception. "I was spending a lot of time alone, and I started to reflect on the core essence of the brand and the codes that we have created throughout the past seasons," he told us.
However, distilling those codes to a neat set proved a bit of challenge for Rok. With his laser focus on clothing, rather than on the narratives that frame them, there's always been a subtle eclecticism to the ex-Celine designer's approach. More than anything, Rokh's language is rooted in the careful study and reimagining of sartorial archetypes: a beige trench coat; a slinky evening dress; a sharply tailored suit.
So, for AW21 it only felt natural to focus on how broad the remit of his practice is, and to "really explore randomness". Fittingly titled 'Omniverse', the collection is, in essence, a 50-look exercise in "picking up the random things that I really love in our archive, cutting them up and bringing it all together," he says, "to merge and reimaging these elements through the Rokh language." It sounds like an apt angle for times that feel pretty damned random. That said, this gung ho mash-up spirit may raise the eyebrows of those who love the brand for the other key component of its aesthetic grammar: an exacting sleekness.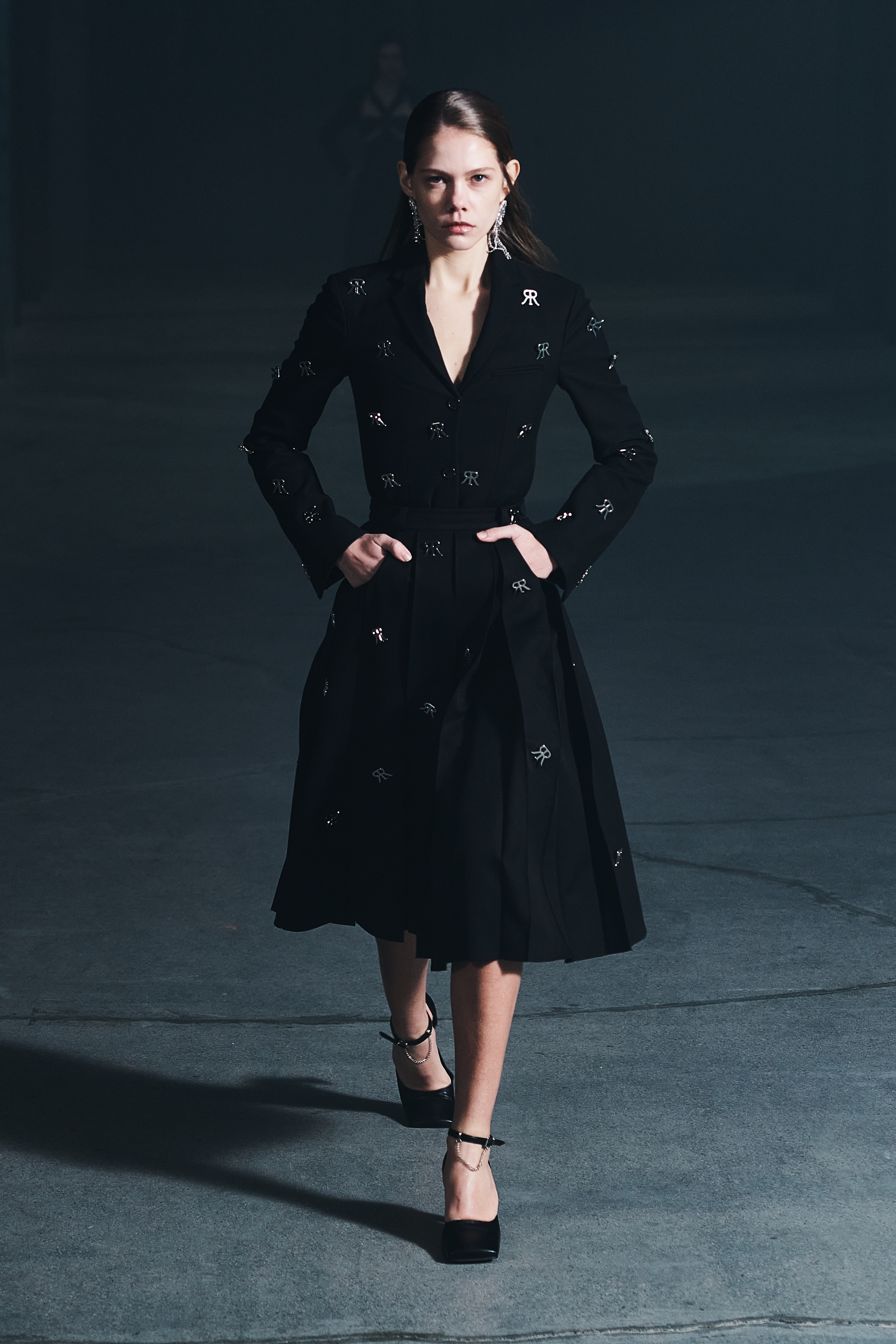 Rest assured, any concerns are swiftly put paid to. The collection is anchored in relatively traditional reference points: silhouettes, for example, err towards reserved; and -- save for the occasional zing of lime green silk -- this season comprises a muted swathe beige cotton gabardines, checked wool tailoring fabrics, acid-washed denims and quietly eccentric puffs of camel faux fur and toned-down leopard print.
Within this relatively low-key template, though, Rok goes HAM with experimental flair. The houndstooth check on a mock-neck column dress — styled with a leather cone bra over the top — is, in fact, hand-beaded, while heavy grey wools are fashioned into sleeveless corset minidresses with thick, overlapping leather belts cinched around unbuttoned coat-like drapes. Elsewhere, sturdy trench coat gabardines are spliced with denim jackets; the hardy textile transformed into cobweb-like jackets with cut-outs, worn with a knife-pleated skirt, slashed to create a dramatically stepped hem.
These are techniques that place a focus on the process of handcraft -- you can almost hear the crunch and clip of scissors cutting through cloth, or feel the draper's hand carefully gathering and pressing each fold. Nowhere does this sense of craftsmanship come through quite as strongly as in the collection's three couture gowns; trailing clouds of snow-white lace and tulle that are hand-embroidered with beads, pearls, and glinting Rokh emblems. Each one, Rok says, was invested with six months of handwork; and each one is styled over distressed, acid-wash denim pencil skirts and reconstructed jeans. Random, right?