All images courtesy of Kenneth Ize
Kenneth Ize finds light in the darkness for AW21
The Lagosian designer presented a solemn, yet quietly hopeful, AW21 collection of exquisitely woven tailoring.
All images courtesy of Kenneth Ize
At a first glance at Kenneth Ize's AW21 collection, you'll notice a distinctly more sombre tone than we've seen in the work the designer has made his name for. The bright, candy-striped suiting, cut from silk aso oke cloth handwoven by Nigerian artisans, has given way to richly textured blacks, greys and brown, with muted flashes of forest green and ochre. It represents something of an aesthetic about-turn, that's for sure -- but, in many respects, it's a fitting testament to the world-turned-upside-down in which the collection was born.
"This season has been quite difficult for me," Kenneth confides. "Working in Lagos during EndSARS, just after presenting a collection in Paris, was a lot to deal with. I was really sad about what was happening, but also happy that we could fight and demand for our basic necessities," the designer says. "It was a real revolution."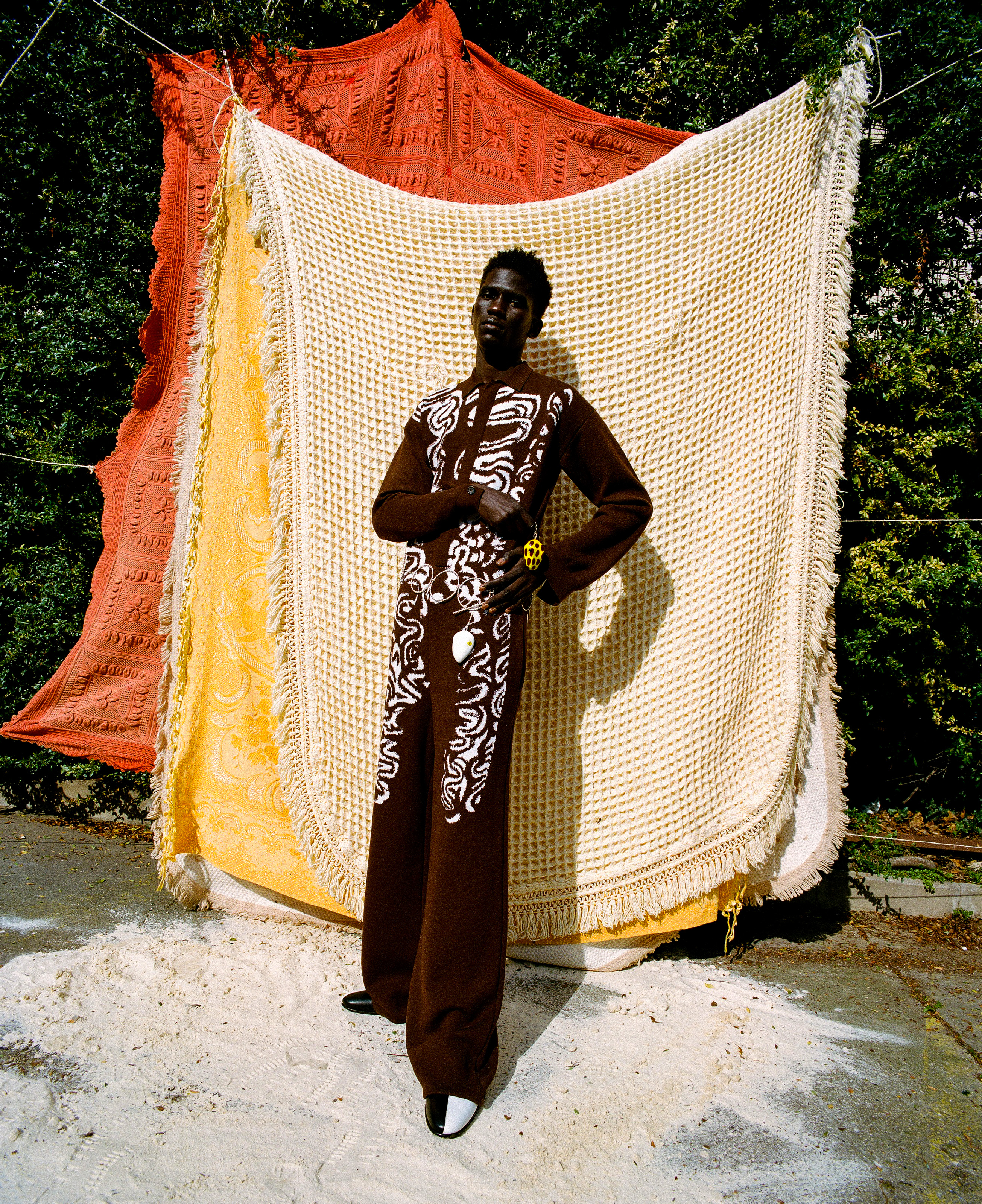 This sense of complex emotional duality is encapsulated by the title of this season's collection, The Circle of Birth and Death, carrying over into the collection's cornerstone motif -- the ouroboros, an ancient symbol of a snake eating its own tail. Printed in lime green on poplin shirts and slashed dresses, it serves as a salient reminder of the fact that an ending often gives way to a new beginning; that the global suffering of the past year offers the chance of "a rebirth," as Kenneth puts it. "Things are shifting, conversations are happening around us and we're trying to find change."
Elsewhere, swirling patterns inspired by the body paintings of Ethiopia's Karo tribe are printed onto tailored tunics and a woven chocolate brown jumpsuit, their contours balancing out the collection's column-like silhouettes. "I think that this season, I just really wanted to do things that I wouldn't normally do, like weave a black fabric," Kenneth says. "I wanted to find ways of loving those things and creating from them," proving that there's always beauty to be found in even the darkest of times.