Photo by Jim Smeal/Ron Galella Collection via Getty Images.
7 of Gisele Bündchen's most iconic outfits
The 00s supermodel and i-D cover star is the queen of micro-minis, the low-rise and bedazzled everything.
|
04 December 2020, 8:00am
Photo by Jim Smeal/Ron Galella Collection via Getty Images.
The foremost supermodel of the 00s, the mononymous Gisele needs no introduction. Her accolades are countless: one of the highest-paid models since 2001 and one of the most powerful women in the world, according to Forbes. Before earning her Victoria's Secret wings in 2000, Gisele walked the runway and fronted campaigns for myriad high-fashion labels, from prestige houses like Gucci, Givenchy and Prada to maverick designers like Jean-Paul Gaultier, Helmut Lang and Alexander McQueen. Off the catwalk, Gisele embodies the glitz, glam and sex appeal of Y2K style: micro-minis, the low-rise and bedazzled everything. Here, i-D charts the German-Brazilian supermodels's legendary career by looking back at some of her most iconic looks.
For Juergen Teller's Go-Sees, 1998
For up-and-coming models of the 90s, being snapped by Juergen Teller for his now-iconic Go Sees photo book was almost a rite-of-passage. Before she walked the runways for prestige fashion houses, Gisele was scouted by Elite Model Management at a shopping mall in São Paulo. Here, we see her photographed by Teller the very same season she debuted at Alexander McQueen's iconic Golden Shower show. Her go-see garb is 100% the 90s model-off-duty vibe we've come to know and love: T-shirt, zip-up hoodie, bootcut jeans, and, naturally, Birkenstocks with socks. Fun fact: McQueen cast Gisele in this particular show for her ability to rock his infamously towering heels on a drenched runway.
With Michael Kors at the LVMH Tower opening, 1999
In 1996 Gisele made her big modelling break at New York Fashion Week. Since, she's been a darling of some of the Big Apple's premiere designers, from Ralph Lauren to Marc Jacobs. In 1999, she attended the opening of the LVMH Tower with Michael Kors wearing a very Y2K studded evening gown paired with era-appropriate shawl and spangled minaudière.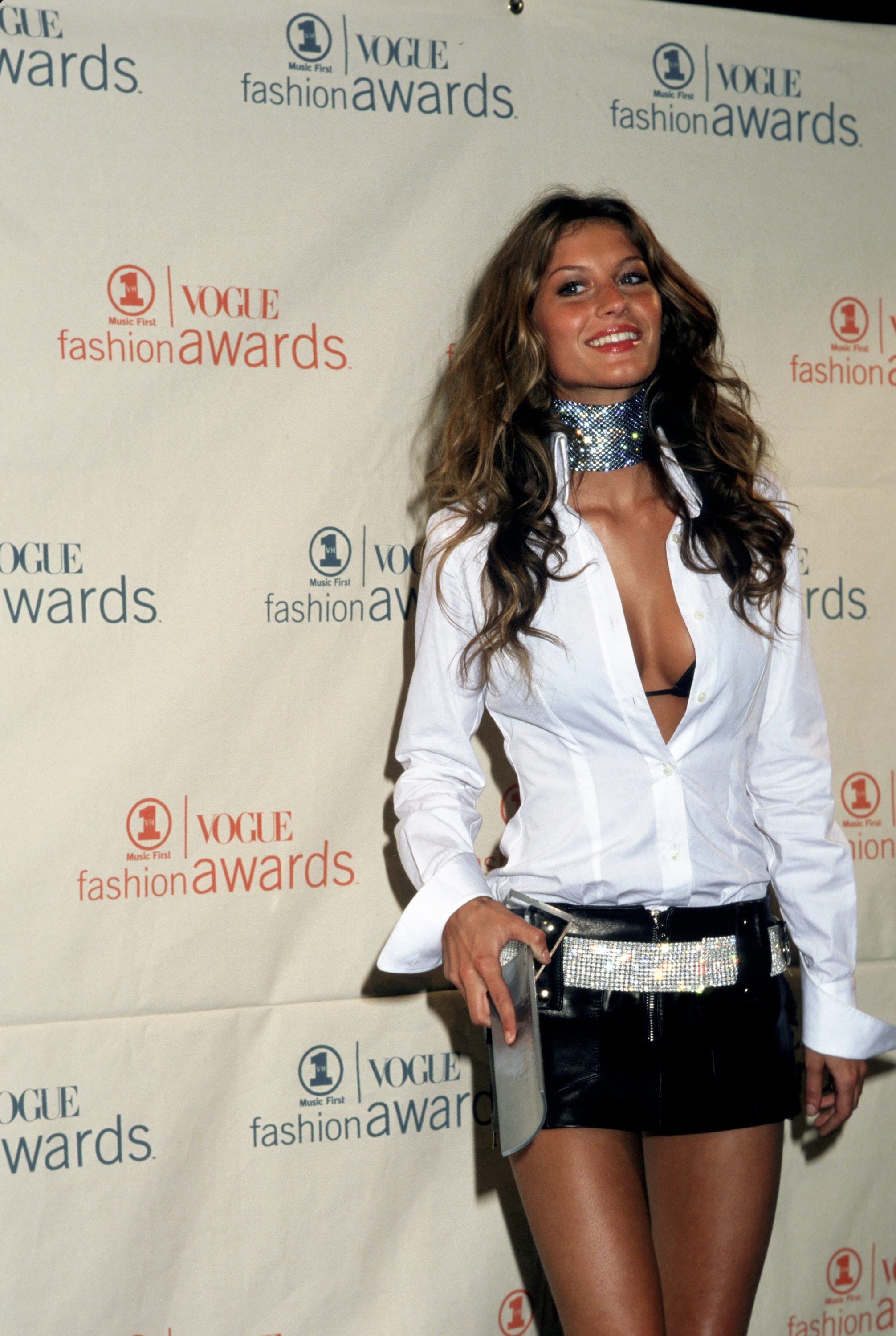 At Vogue's VH1 Fashion Awards, 1999
Y2K style was all about bedazzled everything. And as the era's de facto super, Gisele's style fully embodied the 00's glitzed-out look. To scoop Vogue and VH1's "Model of the Year" award, she wore a turn-of-the-millennium-defining look: micro-mini skirt with matching spangled choker and belt.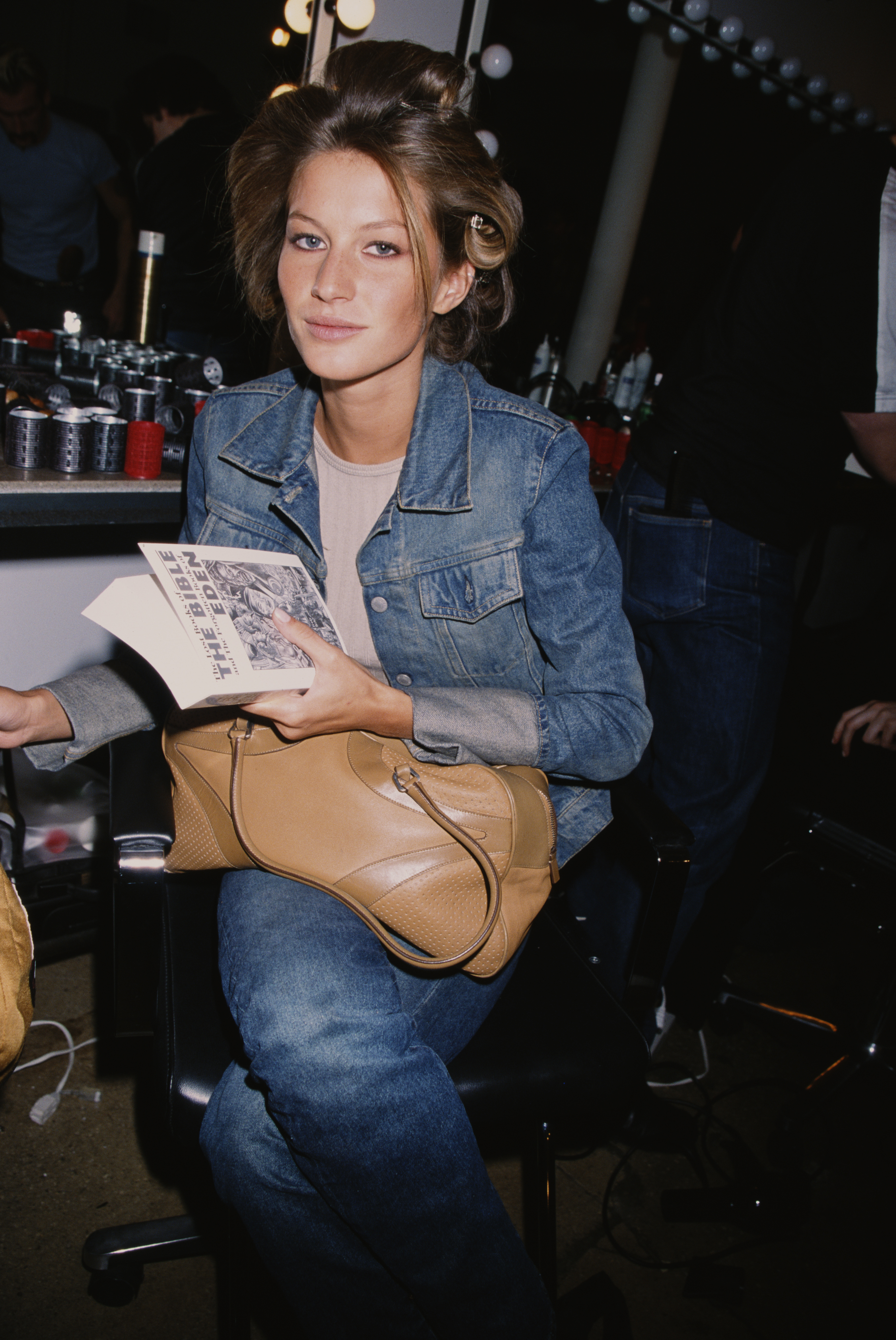 Backstage at New York Fashion Week, 2000
Despite her glam on the red carpet, Gisele is a true-blue jeans-and-T-shirt kinda gal. Backstage at NYFW's fall/winter 00 shows the super wore this Canadian tuxedo look on myriad occasions. Note the rolled cuffs and stovepipe jeans (ankle slit not pictured). Also note the Prada bowler bag. A perfect and timeless all-denim look.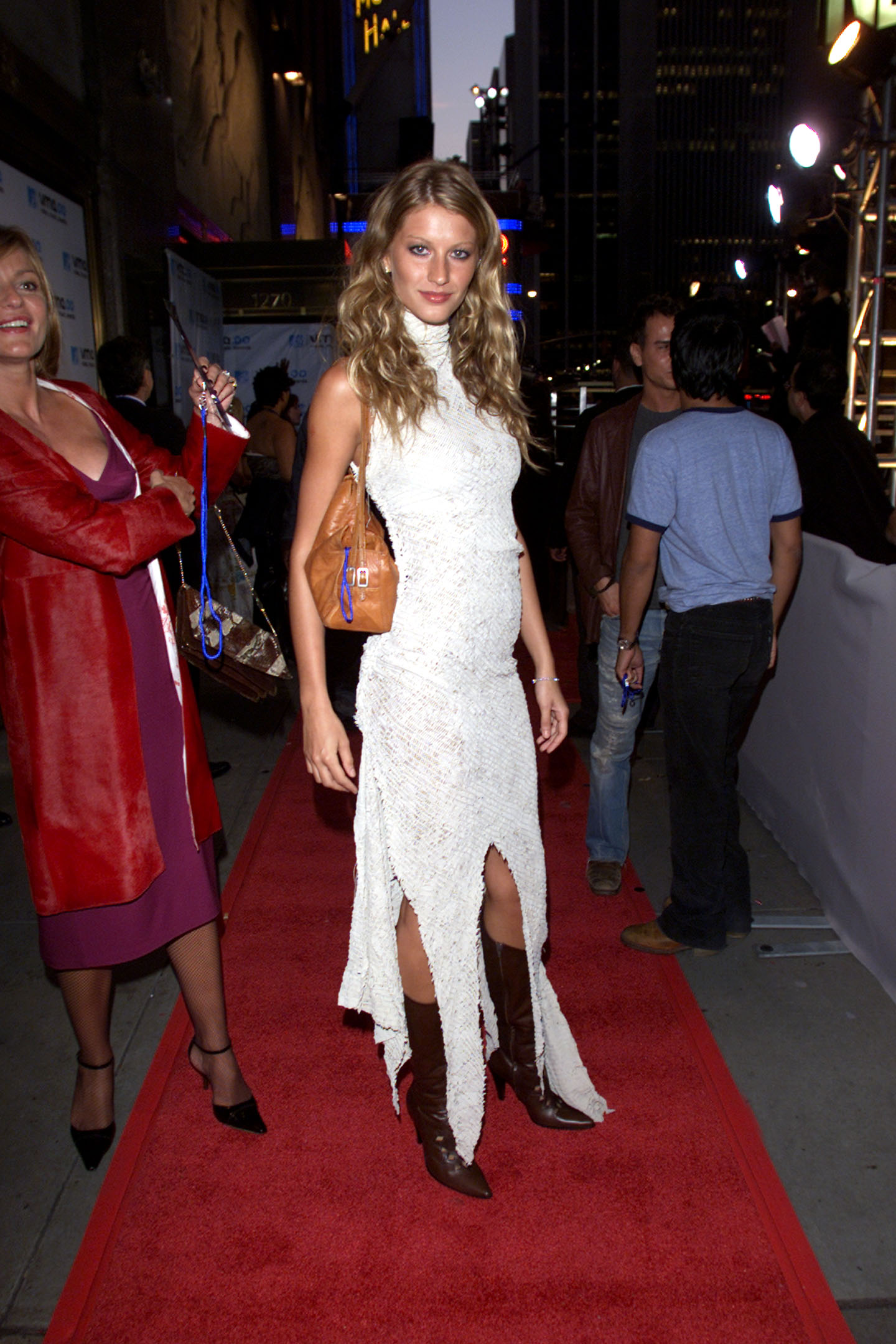 At the MTV VMA's, 2000
As the era's "über- (not super-) model" — dubbed by Vogue's Sally Singer, Gisele was invited to 2000's MTV VMA's to present the award for Best Hip-Hop Video. On the event's red carpet she wore a unique take on the decade's ubiquitous handkerchief hem: a slashed-up knit gown sure to have inspired the Ottolinger's of today.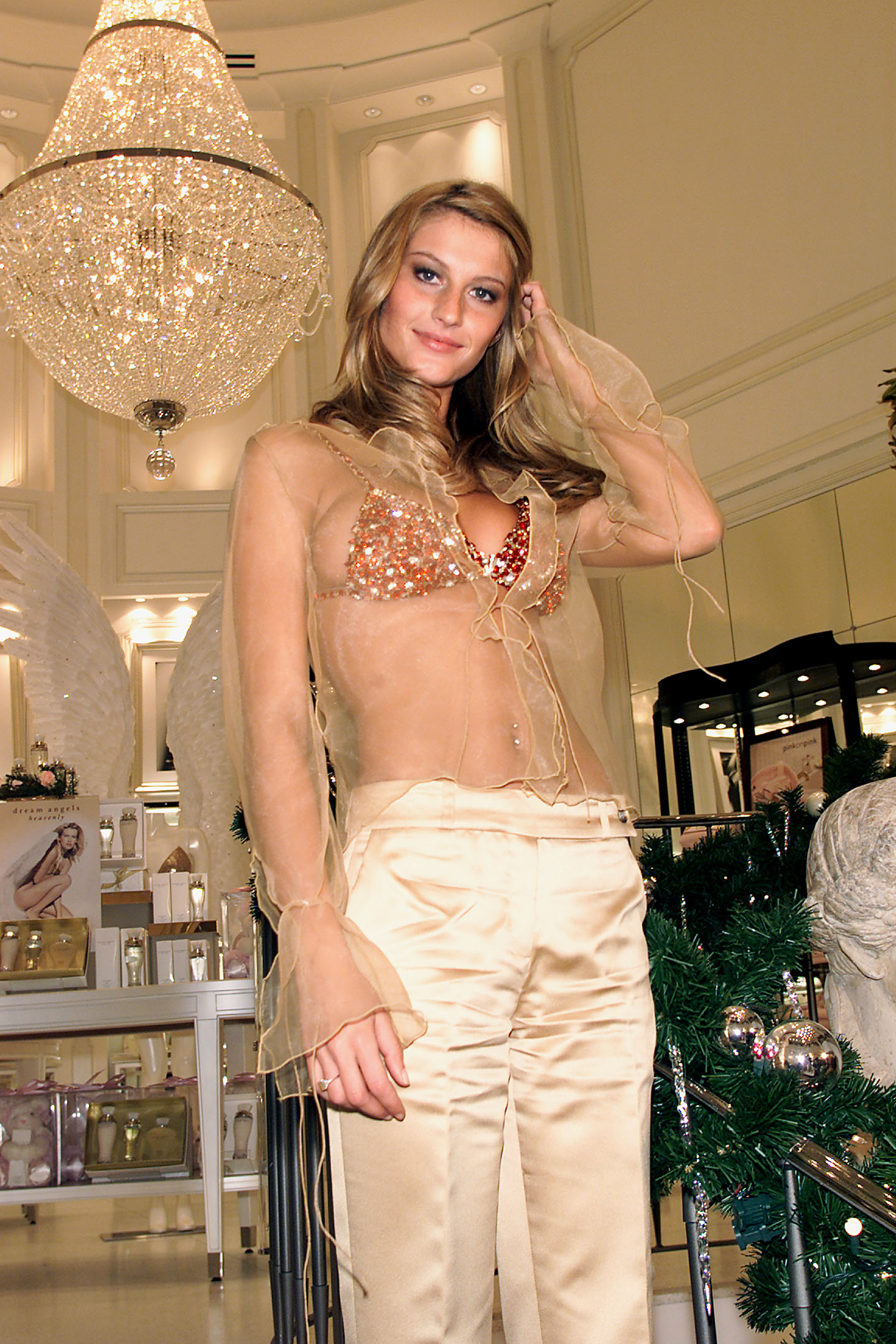 At the opening of Victoria's Secret Lincoln Center, 2000
It's hard to think of a time before Gisele was the de facto face of Victoria's Secret. In fact, the supermodel earned her wings in 2000. Here, attending the opening of one of the lingerie giant's boutiques in New York City, the super sported the year's Fantasy Bra. Made with 1,300 carat diamond and Thai ruby, and ringing in at $15 million, this year's Fantasy Bra scored its place as the Guinness World Records' most expensive piece of lingerie ever created.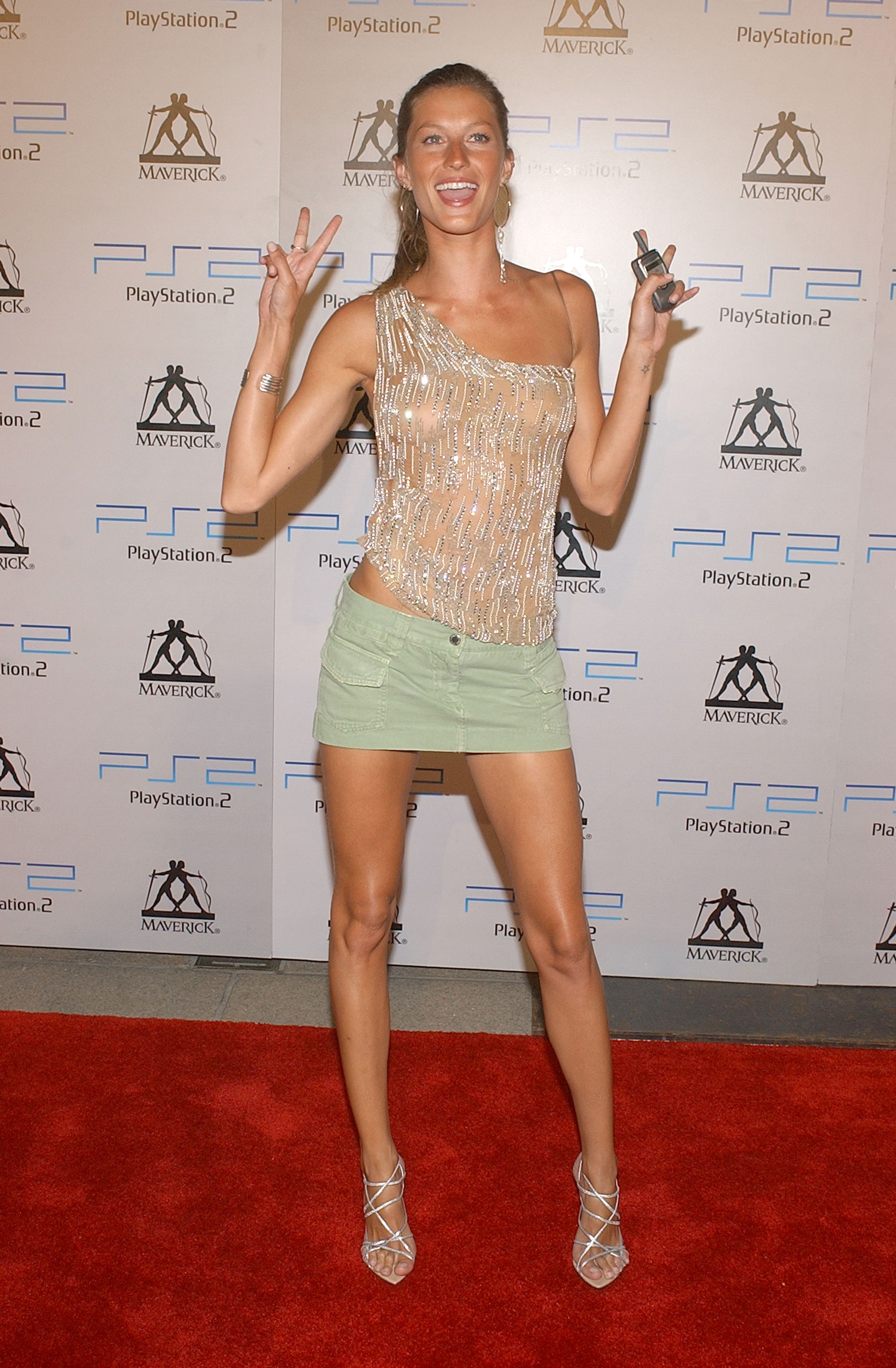 At the VMAs afterparty, 2003
Before it became the 2010's go-to red carpet garb, the supermodel sported her own — very Gisele — version of "the naked dress" to 2003's MTV VMA's. On the red carpet she wore a bedazzled single-shoulder top with — naturally — a khaki micro-mini. Oh, Gisele!