How stan accounts called the 2020 election
Turn off CNN and check @PopCrave instead.
|
09 November 2020, 1:59pm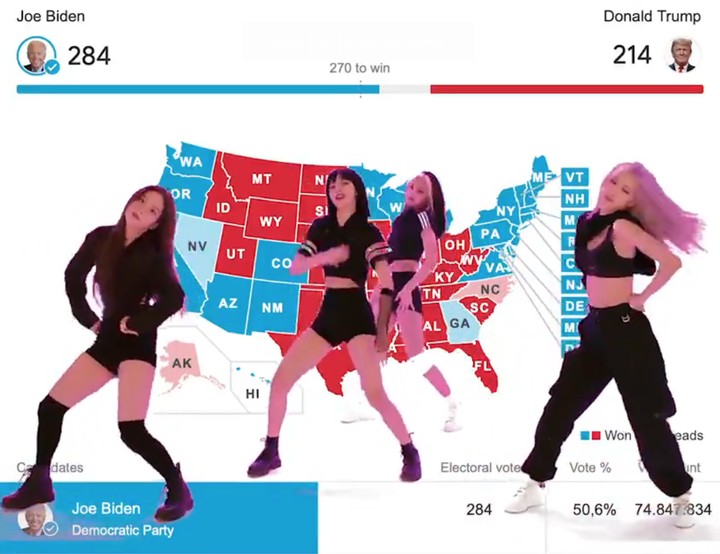 Last week, pop culture did what it famously never does: ground to a halt. What Little Mix were up to was suddenly deemed irrelevant; a new banger from Ariana Grande became a footnote in the everyday discourse. There were, after all, other priorities: the fate of America hung in the balance as its election was underway. What's more, the stakes were higher than ever before, and the gap between Trump and his Democratic opponent, Joe Biden, was dangerously close. In order to secure success, it was imperative that everybody got on board to both support and report the figures. Stan accounts decided it was their time to step up too.
The first outlet on many people's Twitter feeds to report that Biden had been elected as the next President of the United States was not CNN, The New York Times or the BBC. It was PopCrave.
With a few thousand shy of 600k followers, PopCrave has been the most powerful aggregated news source for pop music and culture since its launch five years ago. With eyes and ears everywhere, they're likely to be the first to tell you that your favourite musician has a new record in the works, what spot their current track is charting at, and when a project is celebrating a milestone or anniversary. It's impressively thorough, unbiased and up-to-date: a holy grail for pop culture fans the world over who want to know everything. Today, for example, they've already reported on the return of Lil Nas X, Max Martin working with Miley Cyrus, and Eva Longoria's tone deaf MSNBC interview in which she overshadowed the work of Black women this election to call Latina women like herself "the real heroines".
In short, they are the closest thing your average teenager will get to sitting down in front of the 10 o'clock news every night. And that harbours a power these accounts must be aware of. So over the weekend, PopCrave -- and other artist-specific stan accounts -- managed to repurpose their highly-engaged-with accounts into political platforms. As Netflix writer Rose Dommu rightly put it, "pack it up CNN".
Similarly, GagaDaily, the most followed Lady Gaga stan account pivoted their entire page to election coverage told through a lens of their idol, peppered with links for people to both stream Chromatica and find their nearest polling station. With Gaga joining Biden on the campaign trail, the combination felt symbiotic, and as Trump berated the star on-stage, the account clapped back.
They chronicled the turbulent first night as results rolled in and uncertainty took hold. "I'm not having fun tonight," they declared, citing a lyric from a track on Gaga's latest album, before deciding that actually, "I might be having fun tonight". The memes rolled in as states turned blue; iconic transitions a key theme on Chromatica that lent itself perfectly to the flipping. And then the confirmation: on-brand and positive. You couldn't help but feel like you'd been on a journey with your fellow Gaga stans over the course of a turbulent week.
This isn't the first time we've seen stans lend their hand to politics and social justice. The Black Lives Matter protests this summer were famously assisted by K-pop stan accounts, who shut down state-created apps designed to identify and thus prosecute protestors by flooding them with stan cams of Loona, BLACKPINK and BTS. They did the same with pro-white supremacy hashtags on Twitter, sending them trending for reasons that incensed racists. Young people are a key reason behind Trump's toppling, and now they're celebrating: YG's "Fuck Donald Trump" has topped the iTunes charts again, four years after its release. People are chanting it in the street, while dancing along to Gaga and Ariana Grande's "Rain On Me" and the new Dua Lipa album.
There's a video of Times Square flooded with people jubilantly celebrating a new dawn in America by singing Queen's "We Are The Champions" from behind their masks. The Stars and Stripes, not long ago a tarnished symbol of hideous patriotism, is seen being waved with a new, more inclusive pride. The footage has been watched online by over half a million people. But don't assume that Stan Twitter has given up on trolling us. In the background of said video, a sky-high high banner promotes the new Little Mix album. "Hundreds of people are gathered in Times Square to celebrate the release of 'Confetti' by Little Mix," the caption reads.