Precious Lee and Yasmin Wijnaldum bring Area NYC's couture debut to life
From Canal Street to Paris, Area's Piotrek Panszczyk and Beckett Fogg are the body-positive couture newcomers to watch.
Courtesy of Area NYC
An American in Paris? Well, not quite (we're still in a pandemic, after all) but Area NYC, the label beloved for its crystal-laden, photoflash-friendly designs, is the unlikely newbie in the intimidating arena of haute couture, dialling in from their Canal Street studio — or should that be atelier? The label's designers, Parsons grads Piotrek Panszczyk and Beckett Fogg have been making custom couture-worthy pieces for a while now, and decided to make it official after restructuring their business as a see-now, buy-now model for ready-to-wear.
For their debut couture SS21 collection, they enlisted their friends Precious Lee and Yasmin Wijnaldum to bring their glittering one-off pieces to life, showing that haute couture can be for any size. "It was natural for us to go into couture," explains Piotrek. "We were doing it on a smaller scale, as part of our shows. For us, it was about two things: the soulful connection to beauty and creation, and it being tailor made for your body, whatever kind of body that is."
The collection itself is a no-holds-barred take on the head-turning clothes that Area has become known for. Except, here it's elevated to the highest level of craftsmanship, and made entirely in New York. There's bespoke tailoring with jangling paillette cuffs and sleeves; a gown made from hand-cut and embellished organza petals; meticulously applied ombré crystal embellishment on tubular exoskeletal mini dresses; and lattices of crochet with square-cut stones fastened within the knots. The final handful of looks are ginormous accordion-pleated satin structures, with slits that go up to the sky.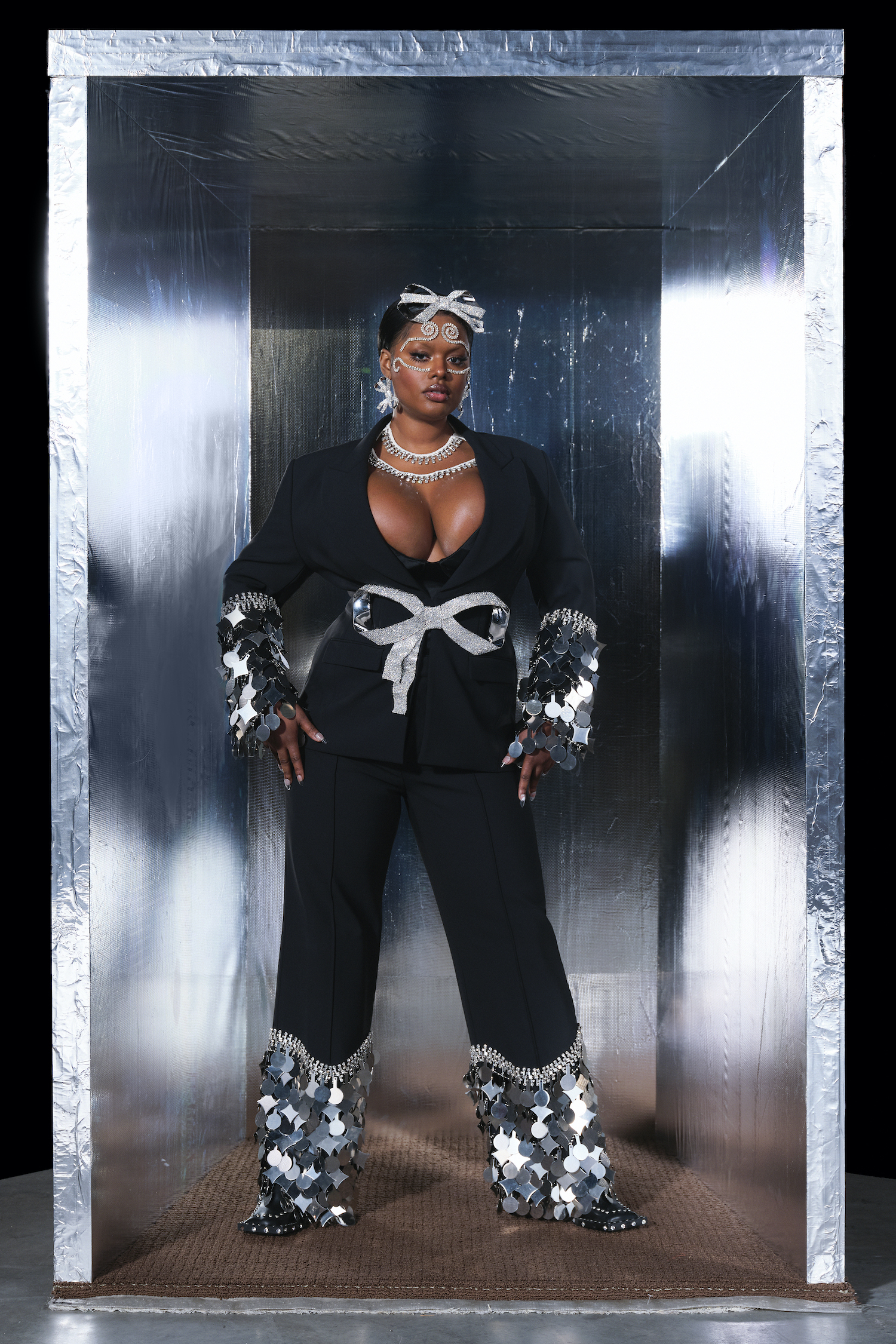 While craftsmanship often translates as ladylike, this was Area NYC in all its incendiary, skin-flashing glory. Sexy is not a word you'll usually hear couturiers offer up, but ultimately it's what makes Area's arrival on the schedule feel like a breath of fresh air. "We have an amazing clientele and it's a lot of women who have worked hard all their life and have amazing careers: dentists, surgeons, professors," says Piotrek. "They're proud of their bodies and accomplishments, and they want to flaunt it. All of our sparkly pieces are still the pieces that people gravitate towards, even in the pandemic."
Indeed, there's an innate optimism to Piotrek and Beckett's collection, the kind that promises us that sometime soon, we'll be able to step onto a dancefloor, dressed to the nines. Their position as outsiders of the traditional couture establishment is not lost on them, and if anything, it has a lit fire under their bellies to go forth and make a bold statement with their first collection. "We knew that the word 'couture' would create a conversation," says Beckett. "That's what's interesting about it, the conversation about what it is and isn't, and what that means."
For this duo, it meant pushing the parameters of what they could make locally, involving as many skilled craftspeople as they could. "We're excited about building an atelier for ourselves," adds Piotrek. "It will take years to match up to the great legends, but you can find craftspeople all over the world, whether you're in Paris or Arkansas."