7 of Cindy Crawford's most iconic outfits
The 90s supermodel loved big blazers, Versace and the little red dress.
|
19 February 2021, 8:00am
Known for her infectious smile and, of course, her signature beauty mark, Cindy Crawford is one of the most instantly-recognizable faces in modelling. Since launching her career in the late 80s, Cindy's become much more than a supermodel, but a cultural icon and a household name. She's walked the runways for European houses from Chanel to Versace, all-American brands like Calvin Klein and booked dream campaigns for beauty giants like Revlon and Maybelline. Off the runway and magazine covers, Cindy's personal style is perfectly befitting of a supermodel, taking in high-fashion glamour and effortless off-duty moments. Here, to celebrate the super's 55th birthday, we take a look back at some of her most iconic looks through the years.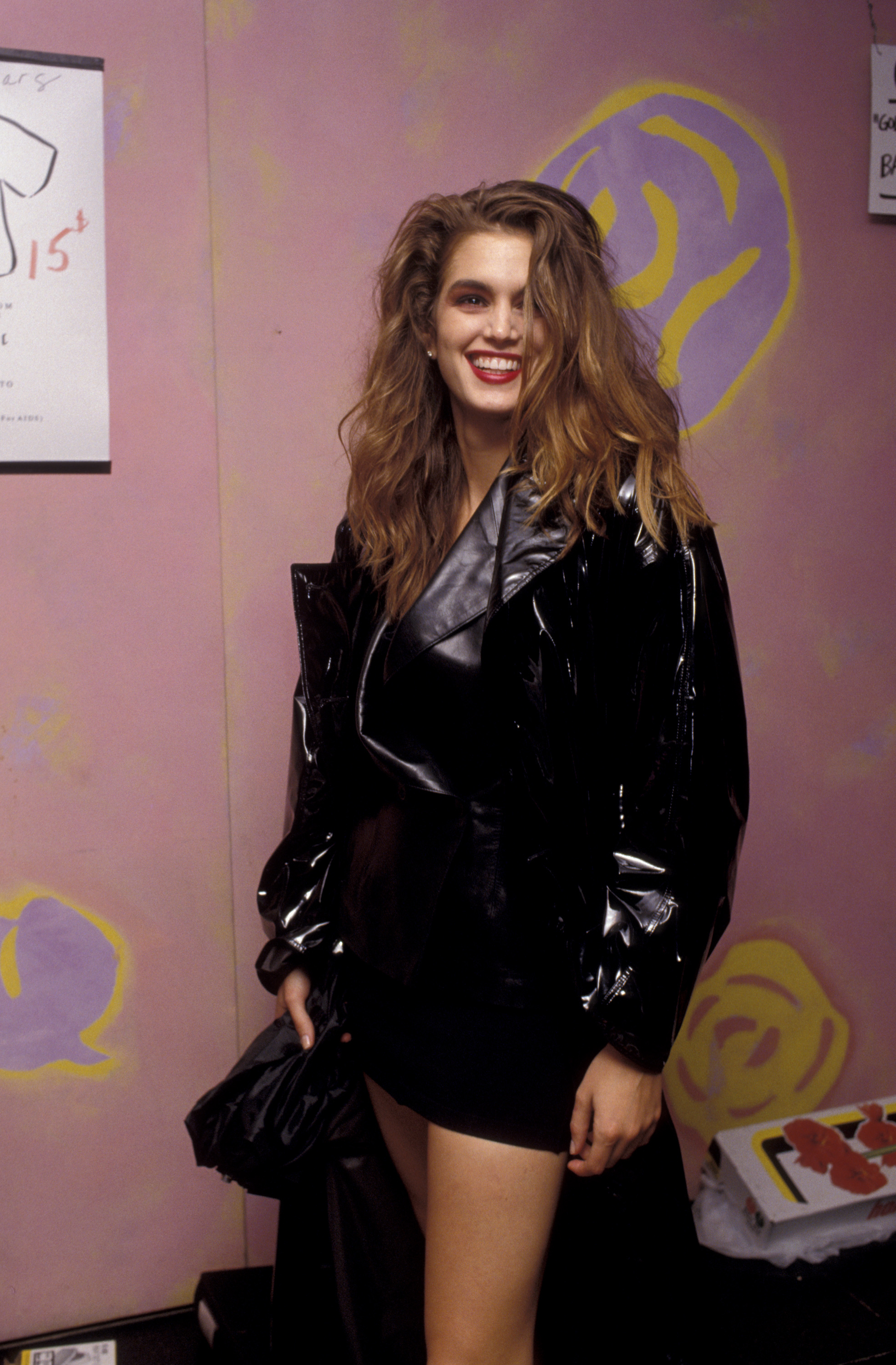 At The Love Ball AIDS benefit, 1989
Born in Illinois, Cindy Crawford got her start modelling for local clothing stores before placing as runner-up in Elite Model Management's Look of the Year competition in 1983. And by 1985 — after a brief stint studying chemical engineering at Northwestern — she moved to New York City to pursue modelling full-time. With her wavy brown hair and dark eyes, Cindy garnered the moniker "Baby Gia", after the late (and equally iconic) Gia Carangi. Here she is at The Love Ball, a gala benefiting the fight against AIDS, looking quite Gia-esque in an haute biker jacket, mini skirt and big 80s hair.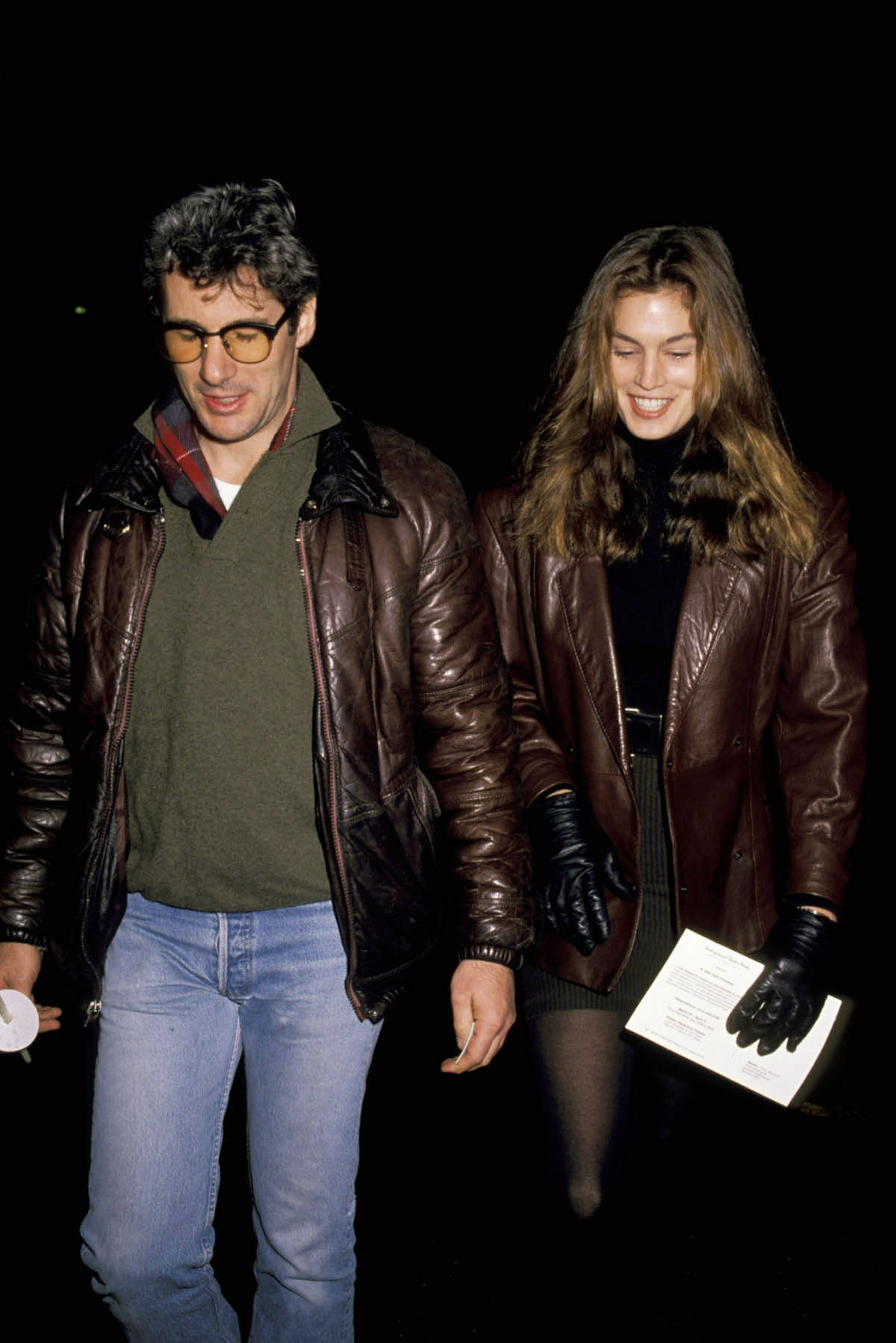 On the way to a film premiere with Richard Gere, 1990
As Hollywood legend has it, Cindy met future husband and actor Richard Gere at a barbecue hosted by fashion photographer and celebrity portraitist Herb Ritts. Two years later, in 1991, the couple tied the knot in an impromptu ceremony held at Las Vegas' Sin City Chapel. The wedding was so last-minute that the duo exchanged rings crafted from aluminum foil and Cindy wore not a dress, but a navy blue Armani suit — chic! Here's the couple a year before their whirlwind marriage, twinning in a pair of brown leather jackets, Cindy wearing her perennial mini skirt and black turtleneck.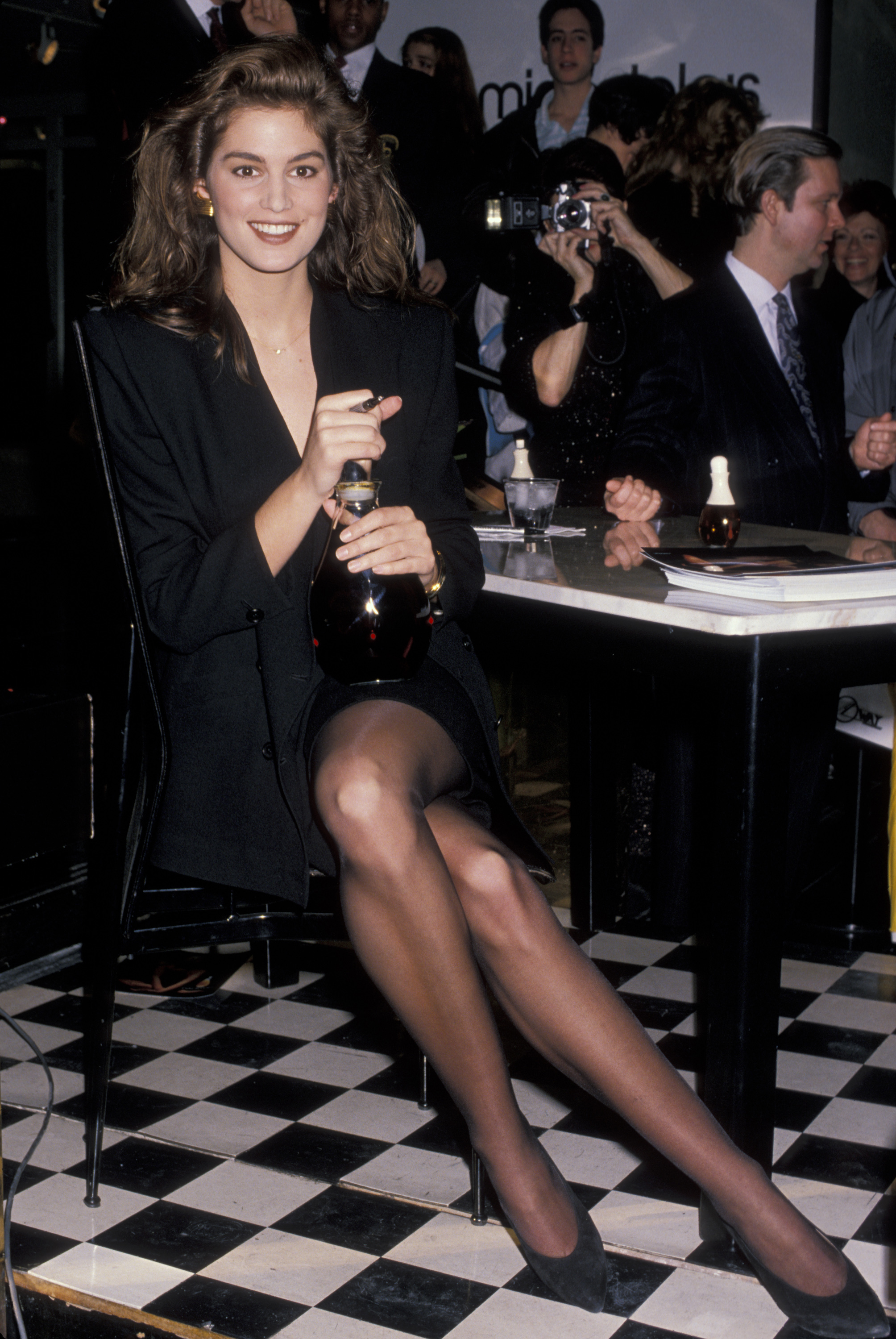 Promoting her fragrance, 1990
This is Cindy's signature look. Merging the best of the 80s and 90s — think Working Girl meets sleek minimalism — the supermodel's go-to outfit was a shouldered blazer worn over a fitted mini. Here, she wears the look with pumps; to a vernissage the same year, she wore the hallmark fit with a leather blazer and at the CFDA Awards, she paired the look with a fringed shawl.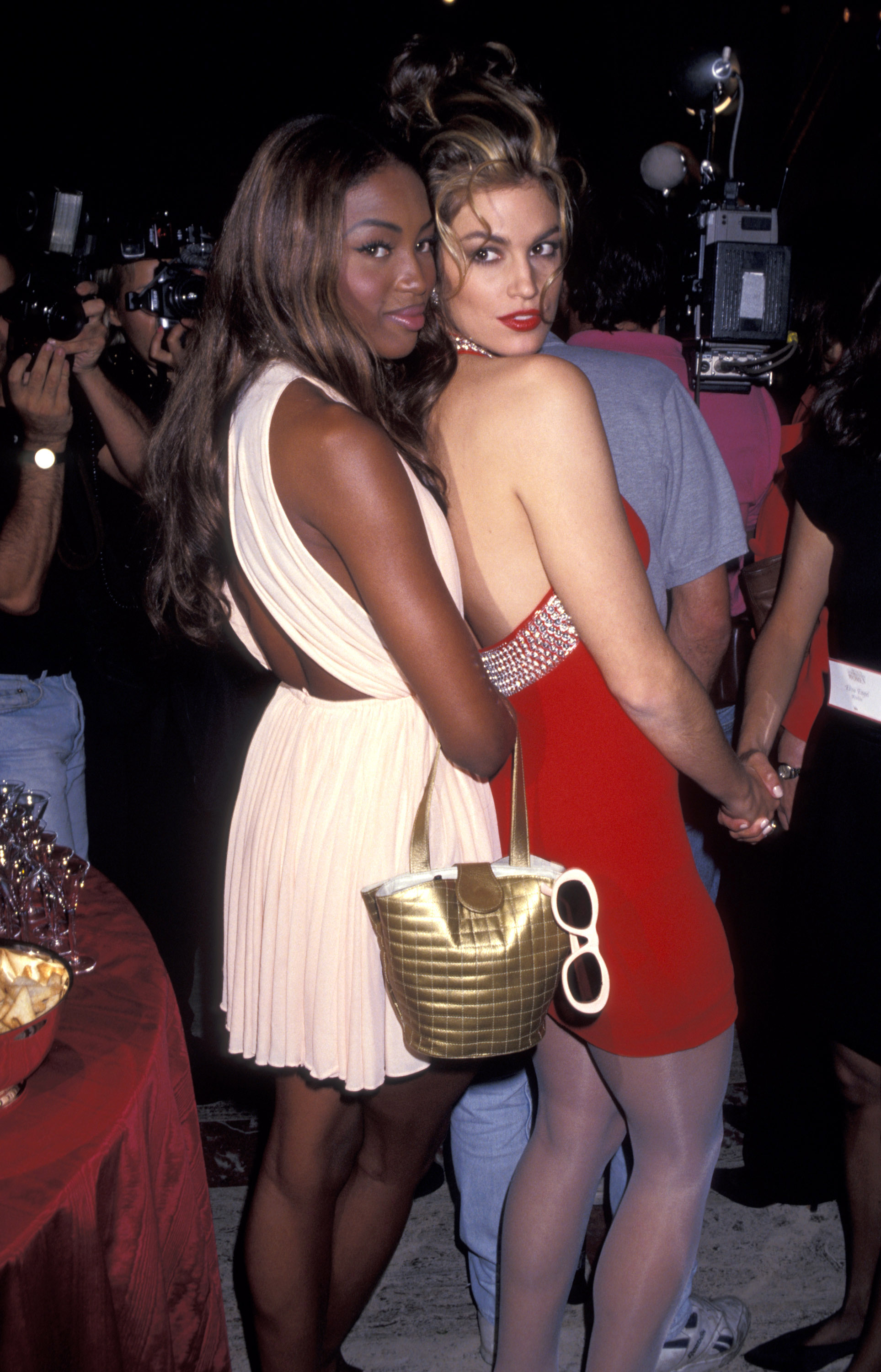 At Revlon's Unforgettable Women party, 1991
In 1990, Cindy appeared on the cover of British Vogue alongside Naomi Campbell, Christy Turlington, Linda Evanglista and Tatjana Patitz. Shot by Peter Lindbergh and meant to signal a new era in fashion, the now-iconic black-and-white photograph launched the group to international fame. The quintet, dubbed "The Big Five", became more than just the premiere supermodels of the 90s, but pop culture icons and household names. In this 1991 photo, Cindy and fellow super Naomi attend Revlon's Unforgettable Women party, both as spokesmodels for the brand. Cindy's wearing her second-favourite look, after the LBD: the little red dress.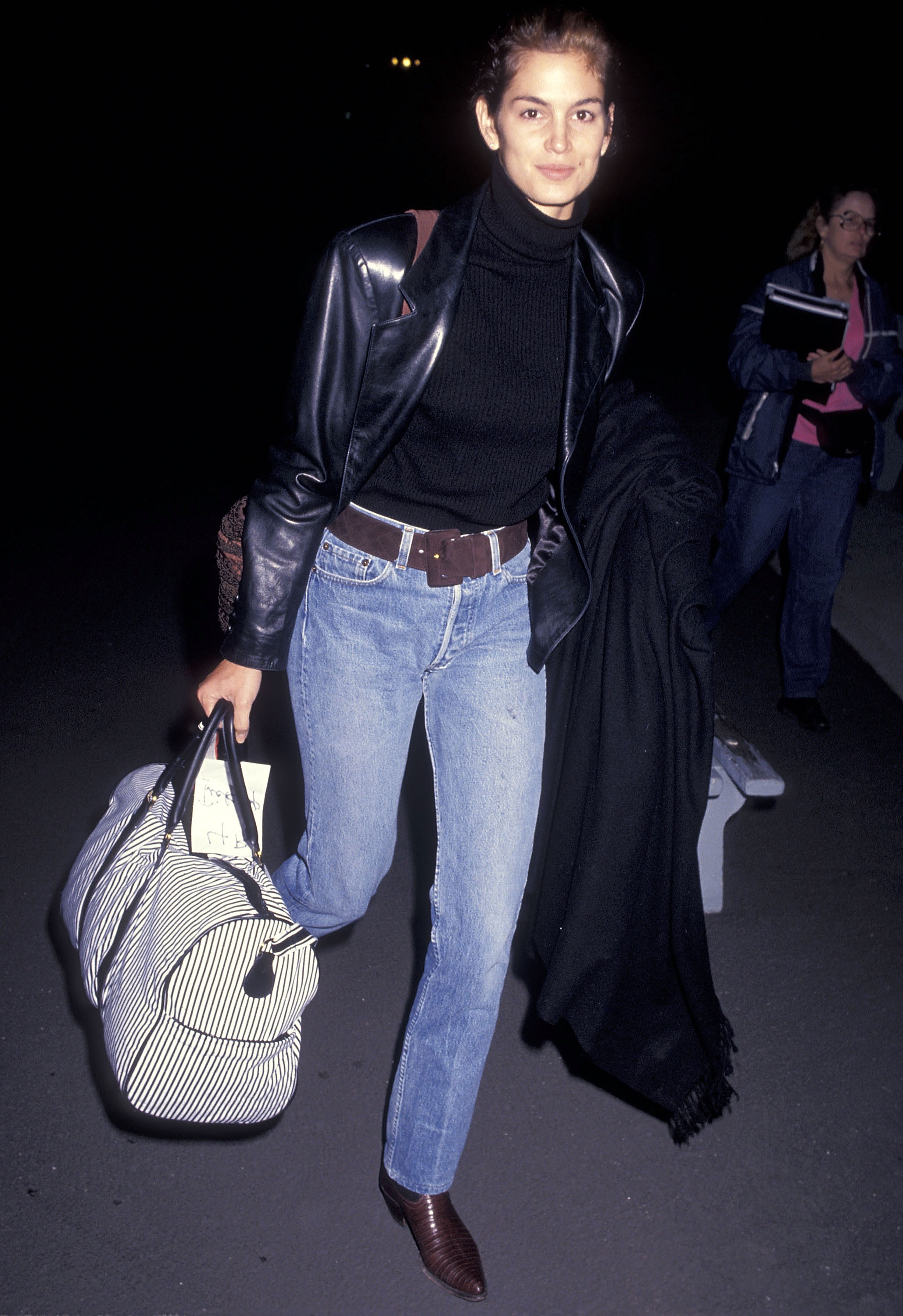 At LAX, 1991
You've probably come across this image once or twice — or fifty — times on your Instagram Explore page. It's a perennial Pinterest favourite, a moodboard staple. And it's easy to see why. Outfits like this are like capturing lightning in a bottle: an immaculately mid-washed pair of stovepipe jeans, loosely tucked turtleneck and luxe leather jacket all coming together to create the perfect look, both for the 90s and beyond.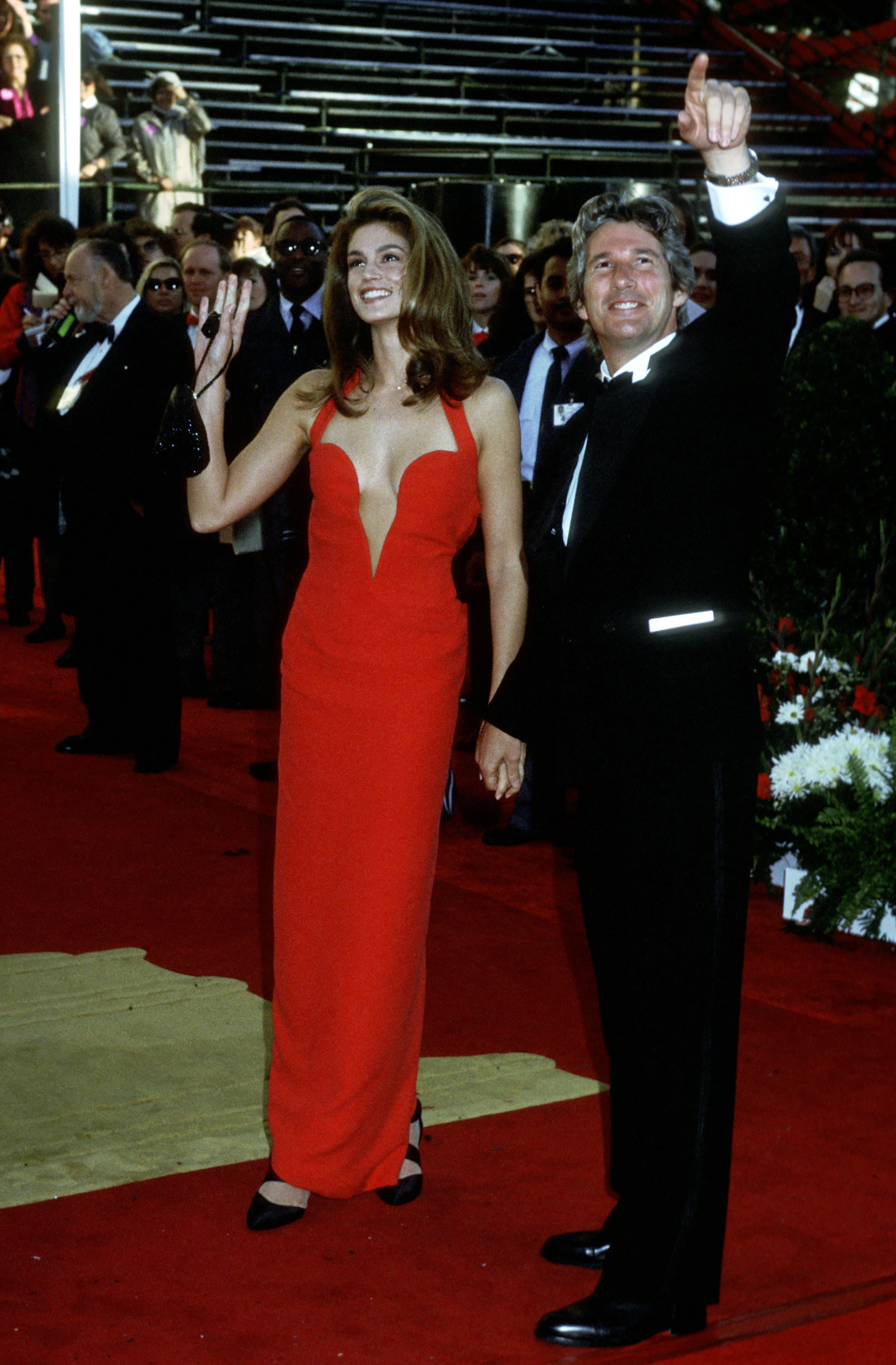 At the Academy Awards, 1992
At the 63rd Academy Awards, Cindy took her penchant for the little red dress to maxi lengths. This plunging backless number, designed by Gianni Versace, not only stole the show on that year's red carpet, but, to this day, is still referred to as one of the best dresses in Oscars history. It even has its own Wikipedia page. In 1999, after nearly a decade of being an object of wardrobe envy (and the subject of many replicas), it was auctioned for just over $12,500 at Christie's.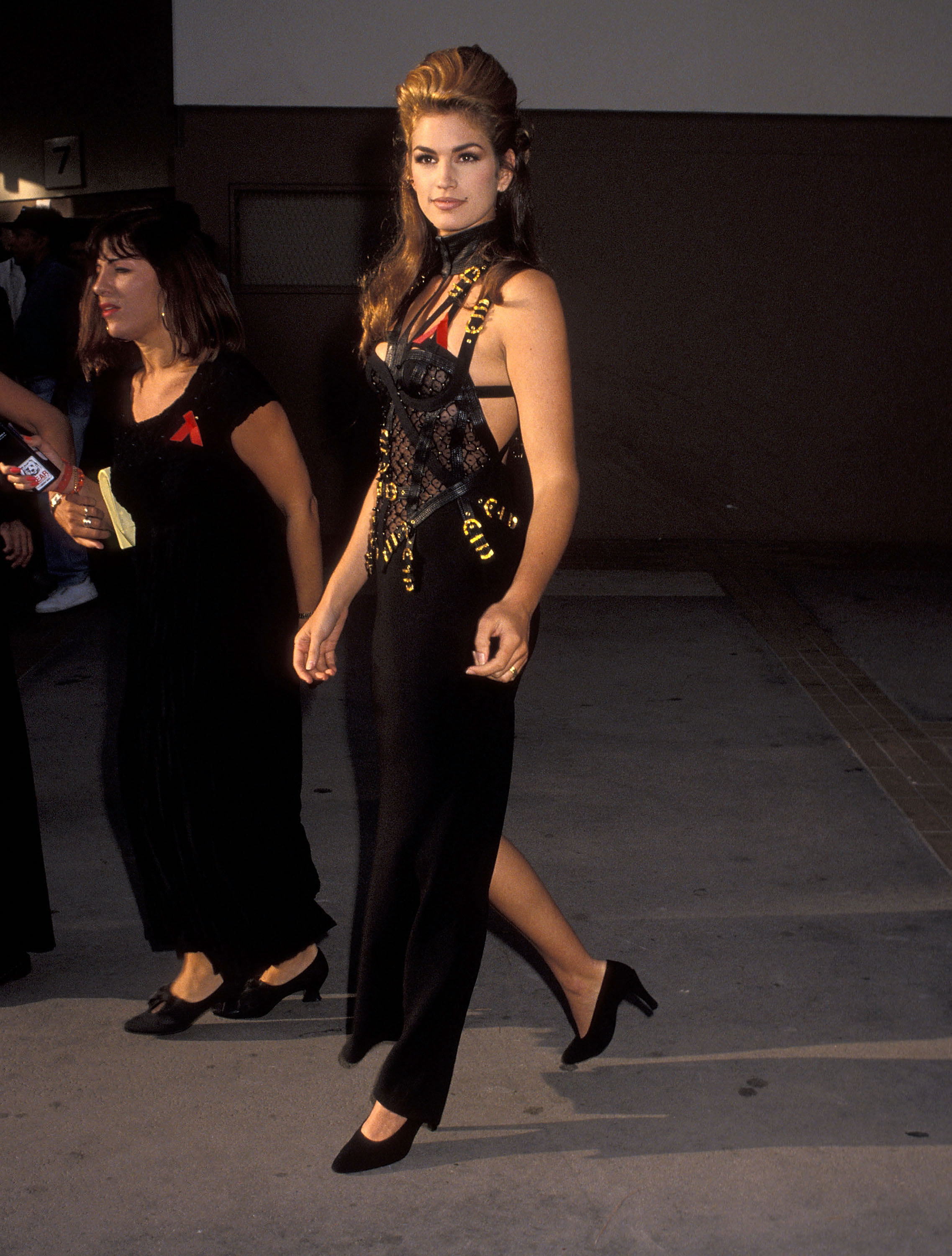 At the MTV Music Video Awards, 1992
Cindy's no stranger to the music industry, either. In 1990, she co-starred, alongside the rest of the "Big Five", in George Michael's now iconic "Freedom! '90" music video. The following year, she played Jon Bon Jovi's ex-lover in the video for his rendition of "Please Come Home For Christmas". Here, a year later, she walks the red carpet of MTV's Music Video Awards. For the occasion, she opted for another winning Versace look, this time with a lace corseted bodice and plenty of leather harnesses.