How young voters feel about the election in Michigan
Young voters – particularly young people of colour – played an instrumental role in turning Georgia, Michigan and Pennsylvania from red to blue.
|
22 December 2020, 12:00pm
The following voters were imperative to Joe Biden's victory last month. Based on turnout and exit poll data, some estimate that young voters in crucial states like Georgia, Michigan and Pennsylvania — particularly young voters of colour — carried Democrats across the finish line to win enough electoral college points.
As per CIRCLE's analysis, "90% of Black youth supported Biden in Georgia, 85% of young voters of colour backed Biden in Pennsylvania (33 points higher than white youth), and 77% of young voters of color in Michigan (19 points higher than white youth)", concluding: "in states like Georgia… Black and Latino youth may have single-handedly made Biden competitive."
Not only is it remarkable that these voters turned their states from red to blue, in Georgia's case for the first time since 1992, but they did so in spite of a well-documented legacy of voter suppression tactics. Celebrating all too rare victories when they come is important. The demographic of the US electorate is changing. But for many, this was more about seeing Trump defeated than Biden succeed. The message seems clear: this is the beginning, not the conclusion, of a fight for a fairer United States of America.
In the following series we talk to voters from these three states. Some of the subjects are first-time voters, others voted in the 2018 midterms, and a handful were of age to vote in 2016. Some, like Roxie Richner from Michigan, voted in counties that gave the Democrats some of its highest margins in history. Others, like Arianna Valbrun, travelled home to vote; in her case to North Carolina, where the gap between parties was significantly closer, despite Black voters' mail-in ballots reportedly being disproportionately flagged for potential rejection ahead of the election. Here, in Michigan, we meet a handful of these voters, shot by Detroit-based photographer and producer Danielle Dabney.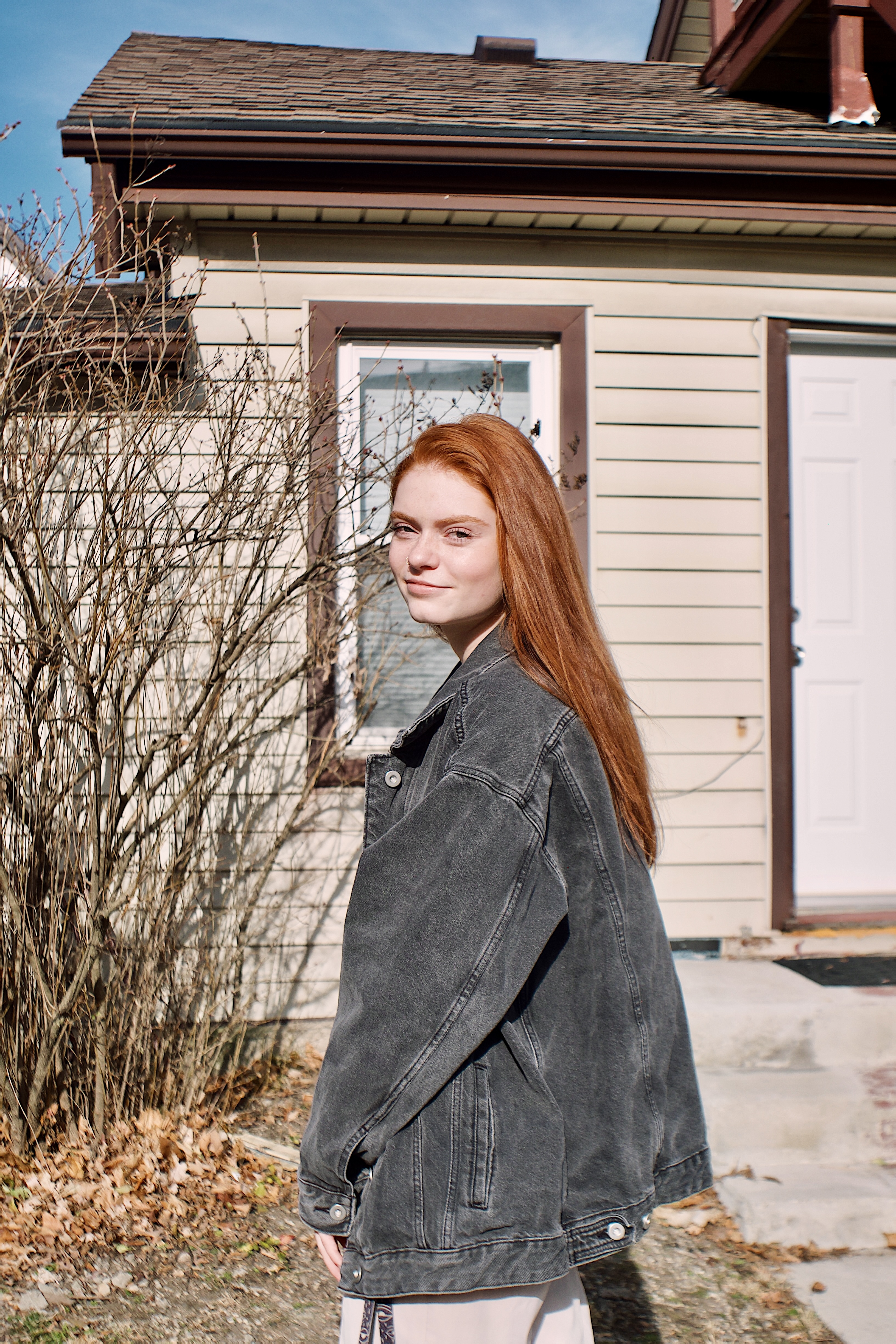 Roxie Richner, 18
"The Democratic party is too afraid to support progressive policy and often works against progressives to keep their corporate donors happy. Now more than ever, we need bold policy to ensure economic aid is given to those who have suffered during the pandemic."
Roxie Richner is a student at Michigan State University, studying Social Relations and Policy. Her vocal support of the Democrats, particularly Bernie Sanders, found her in a piece for Vox last year, under the headline "Meet the teens who love Bernie."
It was her second time voting, the first being a local election in August, and her first time voting in a presidential race. She cast her vote in Washtenaw County, which covers Democratic stronghold Ann Arbor. "I've been involved in politics since age 14," she says. As a young person, there have been many times she's felt that her voice isn't valued. "People are quick to dismiss young people with big ideas that challenge the status quo. Obviously as a privileged white girl, I haven't felt the full extent of disenfranchisement, but I understand how frustrating it can be."

She describes her politics as "very far left", but her extended family as "pretty conservative". "We tend to avoid talking politics at big family gatherings because we know the differences in our ideologies, but occasionally I try to spark conversations," she says. "I think it's incredibly important to have those difficult conversations, but I find that people are generally hesitant to talk across the divide. My dad is a registered Republican, but over the past few years his views have evolved a lot. We talk politics often and I've been able to dispel a lot of misconceptions he had about progressive policies like the Green New Deal and Medicare For All. He ended up voting for Bernie Sanders in the 2020 primary and for Biden in the general. I wish more people understood how impactful having tough conversations can be."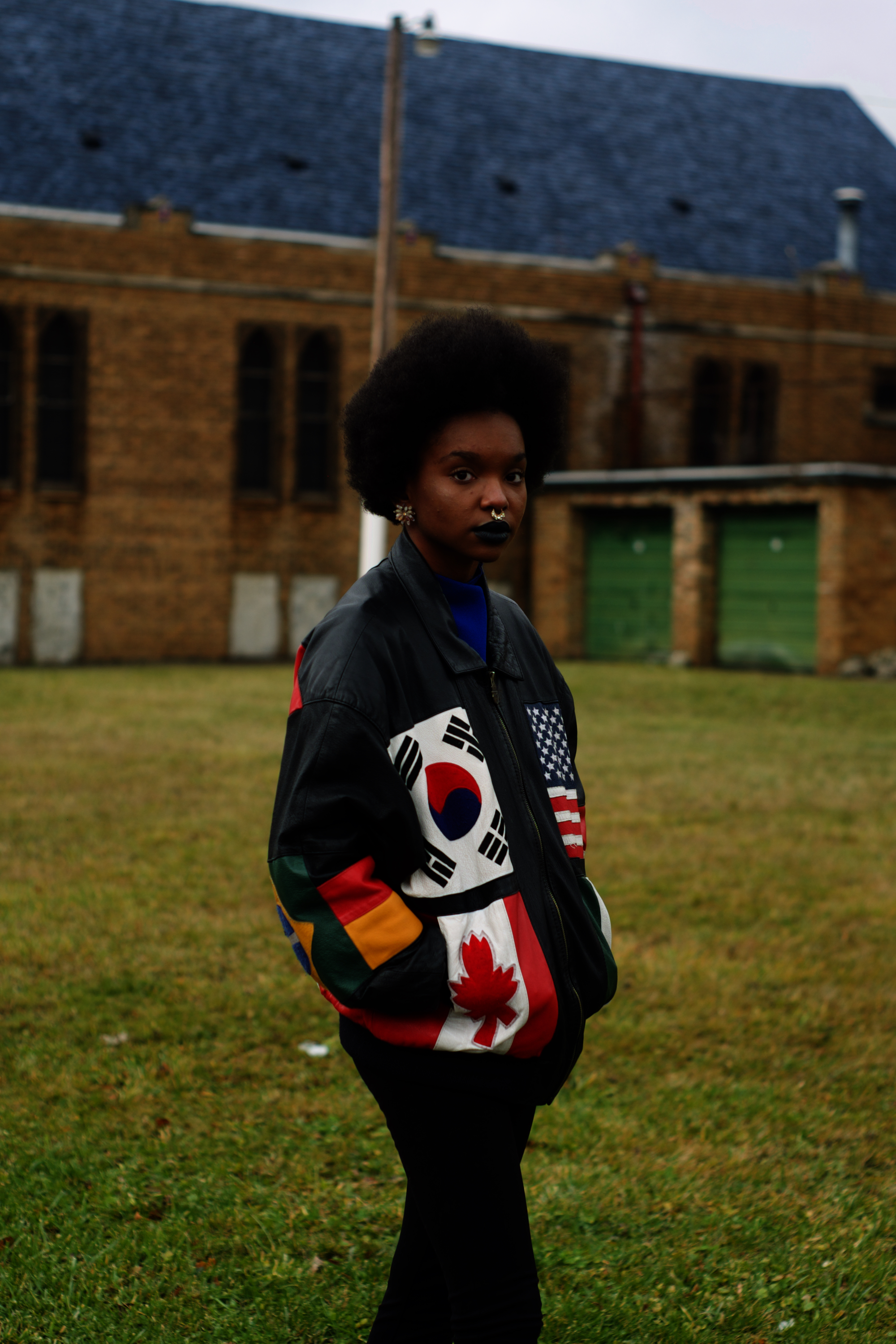 Ayana Love, 25
"Working together is how we begin to rebuild and restructure a system that was not built to support anyone who isn't rich."
Artist and entrepreneur Ayana Love cast an absentee ballot in Detroit, Wayne County a couple weeks before the election. "It is important to me to vote in this election, or any election," she says, "because exercising my right to vote is paying honour to my ancestors who died and fought hard for someone like me to vote."
Wayne County has voted for a Democrat president every election since 1932. Hardly surprising then, that it was targeted by Trump's legal team in their attempts to overturn certain results. A group of Detroit voters responded by filing a lawsuit, as per Vox, "alleging that the Trump campaign's legal actions aimed at throwing out some votes in Wayne County… amounted to a mass disenfranchisement of Black voters."
Like many, 2020 has changed Ayana's perspective on the future, and how it will affect her and her family. "As a Black woman, I would not want to have children in this state of racism and inequality," she says. "Voting, taking up space, being as loud as possible about my feelings and opinions is how I seek to make change and destroy stereotypes in the right way."
Policy-wise, she feels very strongly about assistance being given to lower-income communities, and the decriminalisation of marijuana. "On either subject it becomes a trap to those in lower income communities because families and individuals are forced to make hard choices in order to provide for themselves and/or their children," she says. With existing inequalities only exacerbated by the pandemic, Ayana believes this will only worsen. "Because the people of these lower-income communities tend to be people of colour with little to no education or fair opportunities to get a GOOD job, these individuals will feel like they have to turn to fast money options and one of these options is selling marijuana. Yes, the laws have become legally revised in most places but the trap still persists because these individuals can be taken to jail if one little mistake is caught."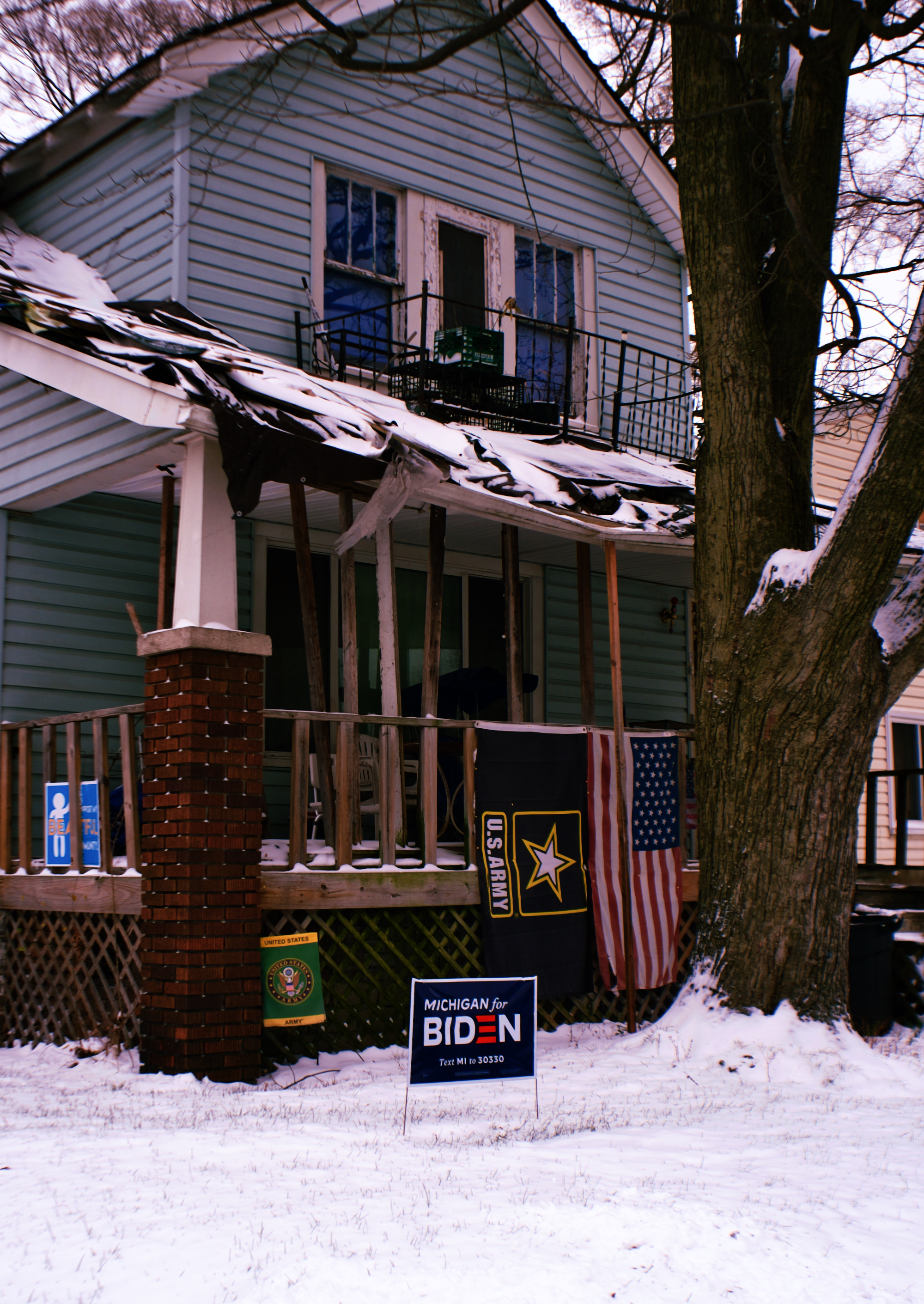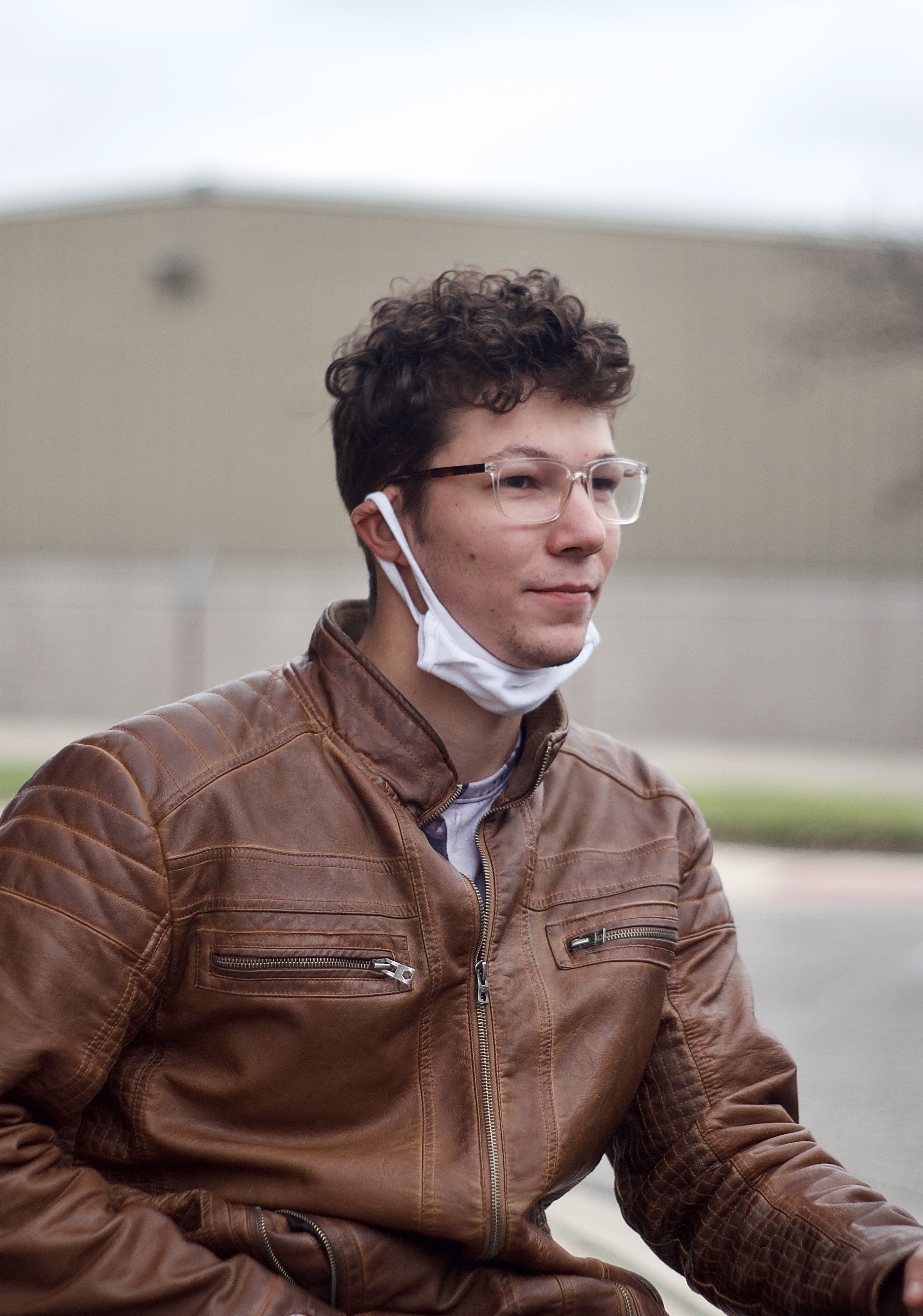 Daydeon Baron-Galbavi, 21
"There are a couple of simple facts that I now recognise. While the police enter a 'nice' (white) neighbourhood to protect property, they enter a 'bad' (Black) neighbourhood to retrieve criminals. The approach is fundamentally discriminatory."
"This is my first time voting in a presidential election, but I have voted locally, and attempted to vote in the 2018 midterm election," Daydeon Baron-Galbavi, a student at Denison University, says.

"In 2018, I did not receive an absentee-ballot on time from my government. It was not mailed to me until three weeks after the election. This election, I made sure that would not happen again." Daydeon cast his ballot on 3 November, in-person. "After what happened in 2018, I did not trust that I would receive my ballot on time."
When voting for Joe Biden, he thought about the women in his life. "My mother, my sisters, and my partner," he says. "I could not morally permit someone such as Trump to continue to speak about women that way. I could not live with voting for a president who threatens the fundamental right to bodily autonomy, regarding the choice to terminate pregnancy."
He feels settled by the 2020 election. "This is a reset from Trump's America, but it is no Hail Mary," he says. Like many people we've spoken to, Daydeon is all too aware of what the US is resetting back to. "Like Obama, he will retain business regulations I deem unnecessary, undertake offensive, illegal wars in the Middle East, and continue to spy on the American people. President Biden will never do enough to combat segregation, immigration regulations, and the military-industrial complex, but he will not feed into those as much as Trump did." His philosophy is: "diplomacy, not war". "Young American men and women have lives to live. I do not want to see the government continue to throw those lives away for money and power."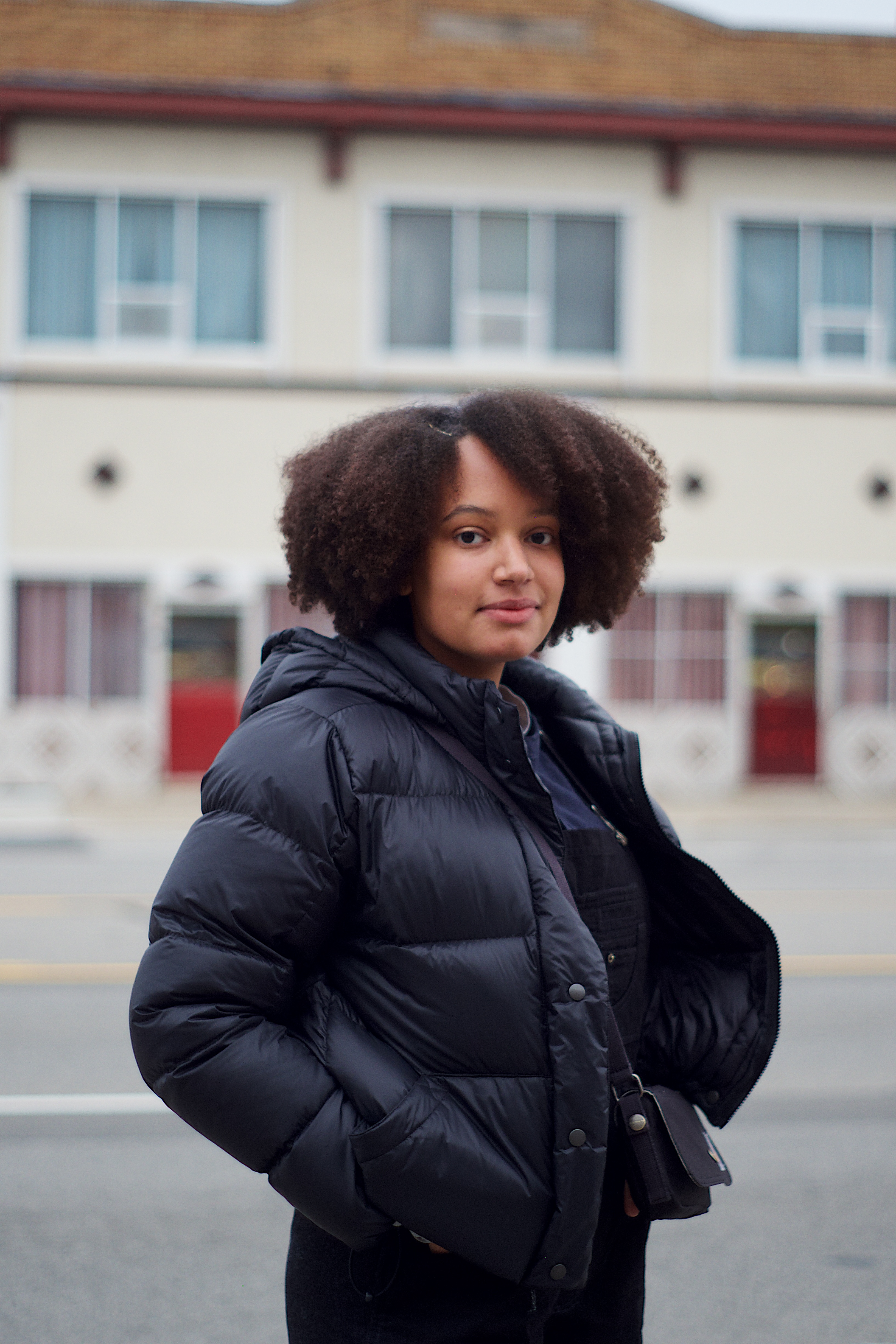 Madison Hollaman, 20
"President Trump was elected during my junior year of high school. I just remember walking into school that day with tears in my eyes and no one else really feeling fazed. Being one of the only POC growing up in a predominantly white and conservative town was difficult."

Madison Hollaman is a student from Highland, Michigan. After reading on social media that there was a shortage of poll workers in Detroit because of the pandemic, she decided to volunteer. "I knew in previous elections the lack of poll workers made the voting process more difficult," she says. "As a young person and someone who is not at high risk, I felt it was important to show up for those who wanted to vote and make sure the process was efficient and safe as possible. On election day, I was responsible for checking people in and handing out ballots. It was really powerful getting to interact with people from all different ages and backgrounds who wanted to have their voices heard."
She cast her own vote in Oakland County three weeks before the election through the mail. "While neither of the candidates were my first choice, I couldn't imagine having the current president for another term," she says. "I also think that voting is one way to have my voice heard and for those who don't have the ability to participate. But being a mixed-race queer woman, a lot of the time it feels like I am just screaming into a void."
What makes her proud to be a part of this generation is that it's "unapologetically disruptive and will not take no for an answer. "This election, we literally made history… I truly believe that older generations don't realise the impact we will have in the coming years. I know that our generation has the power to change things for the better and work in reimagining a future that sprawls outside the constraints of today. The truth is we've only just begun."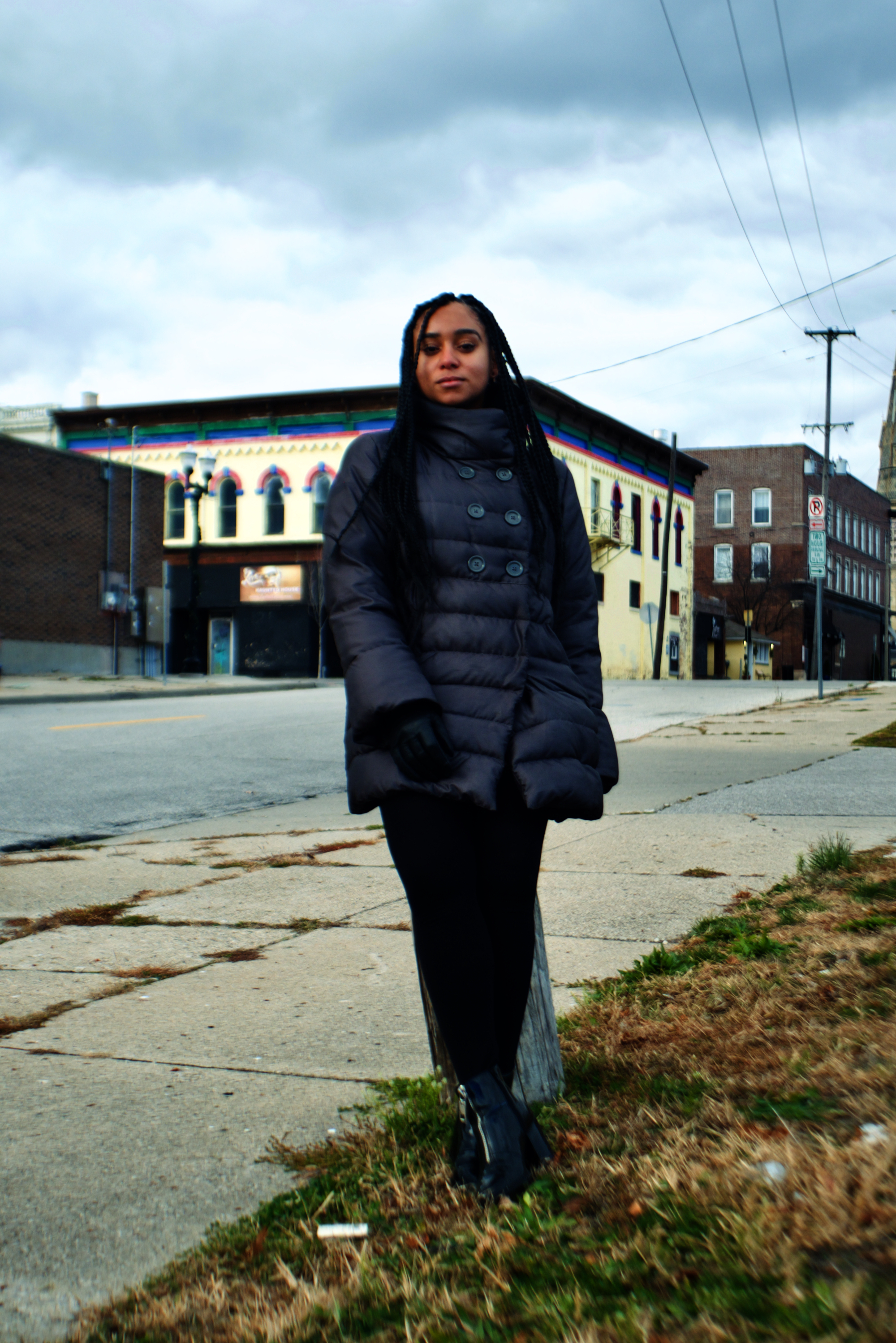 Tatyana DeJesus, 23
"As a queer woman of colour sometimes I feel like my identities are only seen when they're under attack. Whether we're discussing states overturning Roe vs Wade or the reversal of other policies that are an outright attack on people in the LGBTQ+ community, this administration has done nothing to help the anxiety I feel about our government."
Tatyana DeJesus cast her vote in Saginaw, one of just three counties in the whole of Michigan that flipped from red to blue. But she grew up a few states over, in New Jersey. "Growing up in Trenton, NJ was like your typical hood experience," she says. "I was one of the supposed smart kids so after a certain point I was segregated with the other students that had good grades to give us the best chances to 'make it out' I suppose. I went to a small liberal arts college. Now I work at a coffee shop here in Michigan and all of my co-workers have similar political views."
She describes Michigan as a swing state through and through. "My coffee shop job showed me that in my first few weeks," she says. "One minute I'll be talking to another black or mixed person about things we don't enjoy about America and next thing I know a white dude with a confederate flag jacket or hat will walk in."
Like many, she's happy to see Trump go, but has her reservations about what's to come. "I am not exactly over the moon to have Biden as our next president. Maybe I'm a little biased but I am so tired of seeing old white men running things. Plus, his VP passed transphobic policies in her state so I'm not exactly sure how LGBTQ+ friendly they will be going forward. Sure we got that tyrant out of the office but who knows how long Biden will be in office until he pisses me off."
Mekulash Baron-Galbavi, 19
"Bernie Sanders awakened a generation that we need to think in a different framework rather than the old-politics, capitalist mindset. We need champions of the environment, the working class, and of people of colour."
Mekulash Baron-Galbavi studies at University of Michigan in Ann Arbor, but cast his vote back in his home district, Monroe, a small county south of Detroit. Monroe stayed decisively red this election, with 60.5% of voters supporting Trump, to Biden's 37.8%. "I decided to stay in-state because Monroe has been a swing district in the past, and I wanted to help swing it blue like it did in 2008 and 2012."
He describes Michigan as a mixed bag. "It has its progressive enclaves and its conservative ones," he says. "We have a major union presence here due to many industries including the car industry having originated here. We have the Great Lakes which require protecting. We have the city of Flint. We have armed right-wing militias. We have a Democrat governor who championed the pandemic response. We are a swing state. We went blue."
The Republican-slant of his home county, however, is reflected in the views of many of his family members. "I've lost contact with many of my family members," he says. "I had to choose between allowing them to spew hateful ideas, arguing with them in a fruitless effort, or minimising contact. A world in which we all got along seems entirely distant, if it ever existed. I would rather exercise strong morals for the progress of everyone than to allow harmful language to exist in my sphere."
Despite his alienation from an elitist government – "It is absurd that one must have millions of dollars to run a successful campaign; the vote should be won by policies and popular support" – he is proud of this election and what they have achieved. "I am proud to have stood up to conservative peers, to conservative institutions, and to the status quo this election. Our generation is one of the most politically active in history. We have experienced immense hardship from having been born around 9/11 to living through the Great Recession. Now we are living through a pandemic. We are resilient and focused. Although we haven't been here long, we can imagine a better, more inclusive future. This is where we're going."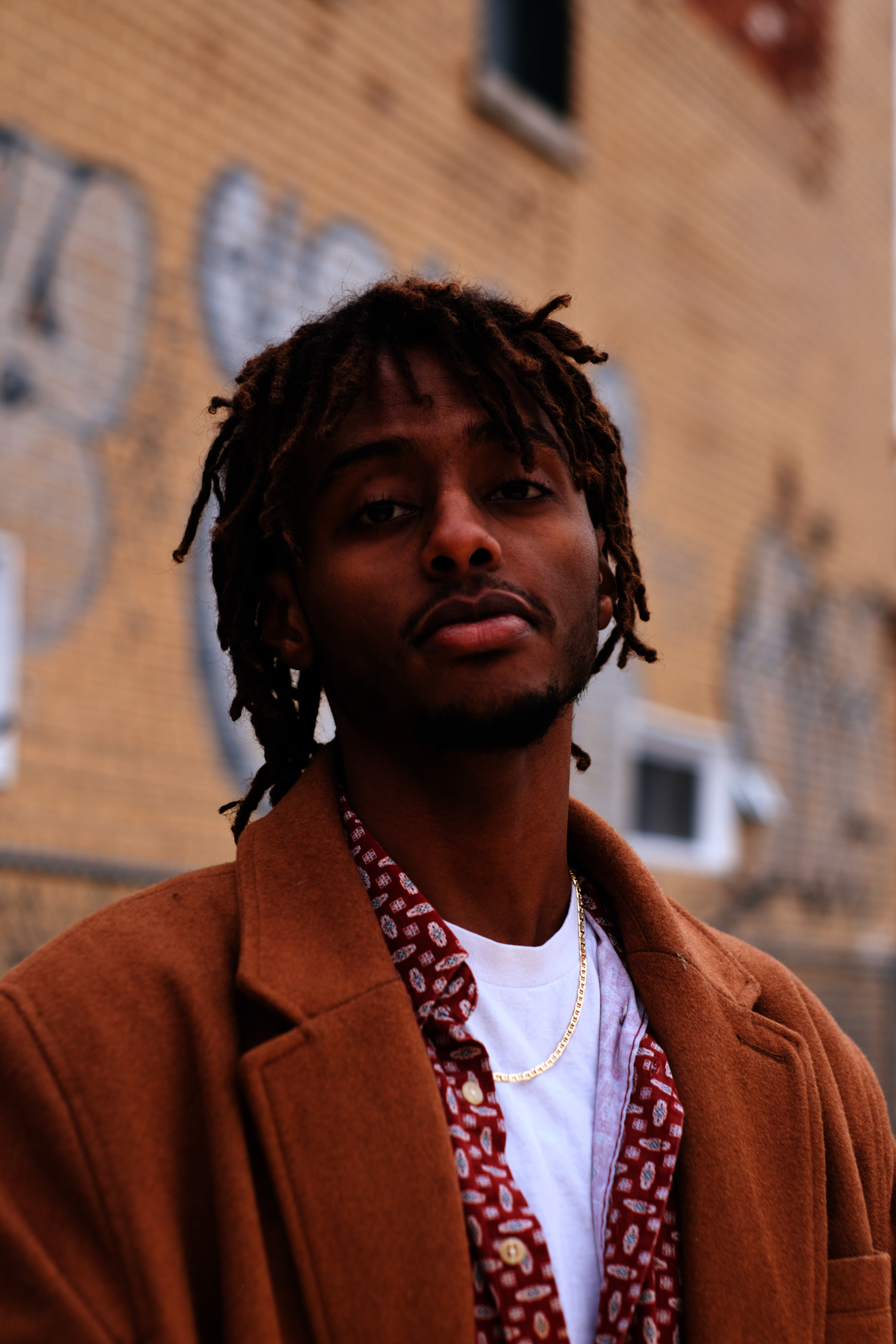 Elijah Graham, 21
"I was angry with politics in 2016 and I'm still angry now. The American people have let me down with their ridiculous ignorance and inability to pursue information beyond what they are told. How could anyone just swallow lies with a smile on their face?"
Elijah Graham is a student at Grand Valley State University in Allendale, Michigan, but he cast his vote at home in Kent County. Kent is remarkable in this election. It reversed its 2016 support of Trump in favour of Biden – while in 2016, the former won the county by 3.1 points. This election, it flipped blue, by 6 points. And it's all the more remarkable when considering the fact the county has supported Republican nominees in all but three elections from 1884 to 2004. "I'm a 21-year-old Black man, so I feel alienated and unheard all the time," he says. "I was born different in front of a white suburb, privileged enough to be one of the Black kids that made it out of the ghetto before elementary school. This government, in its origin, was not made to include people like me."
"Not satisfied, but relieved" summarises his feelings towards the result. "Biden isn't the best candidate in the world and both of the big political parties are basically the same so I'm not a huge fan of what we got. I'm relieved because the orange one is not president and will probably be too old when it comes to running again."
As a student, there have been many figures that shaped his opinions, "for the good and bad", he says. "Frederick Douglas taught me to respect my country no matter what. Hammurabi taught me consequences. Ronald Reagan taught me to hate and fear the police. Mansa Musa taught me the importance of faith in commerce and socialisation. Leibniz taught me the qualities of justice. Lee McIntyre taught me the functions of our new post-truth era. For a more traditional answer to the question, my father taught me to form my own opinion based upon knowledge and reason. Do not eat what the shepherd feeds but instead get to the food before he does."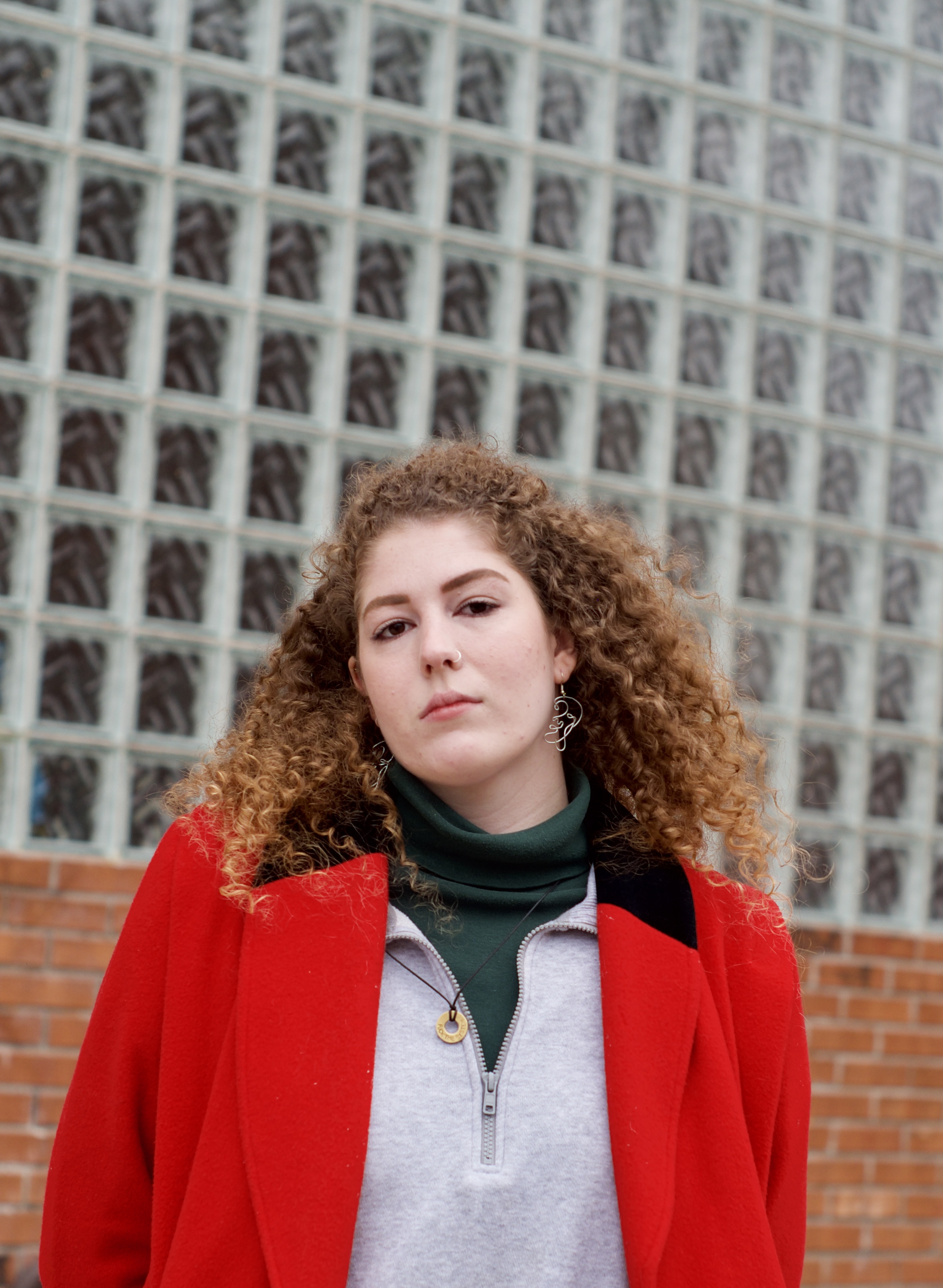 Waverlee Baron-Galbavi, 23
"We owe this victory to the BIPOC community, and I certainly won't be forgetting that. To Detroit, Grand Rapids, and Flint, thank you."
Like Mekulash, political-community organiser Waverlee Baron-Galbavi voted in Monroe County. She's voted in a number of elections since turning 18. "What a lot of people don't realise is that there are actually elections every year," she says, "including city elections on odd years. I've voted in almost every election since 2016." Much of her extended family voted for Trump and, a few months after the 2016 election, an uncle told her to give it time and she would see that Trump would be good for our country. "It's been four years and my opinion on that hasn't changed."
Which is why she describes this election as one of the most important events of her lifetime. "I think a lot of voters have been feeling rightfully disillusioned about our political process," she says. "But that disillusionment has led to a general consensus among some voters that regardless of who we elect, things just stay the same. Right here in Detroit, families were separated because of Trump's immigration policies. At the beginning of the pandemic, Detroit was also a hotspot for COVID-19 cases."
Waverlee points out that it was their governor, rather than their president, that implemented life-saving rules. "Even on a state level, necessary aid has been blocked by our state legislature, which has been, and will be again for at least the next two years, majority Republican," she says. "If we had elected a Republican governor two years ago and they had gone along with the Trump administration's push against safety, we would have a higher Covid death toll. So, even though it can feel like the things that happen in our government have no real effect, they really do."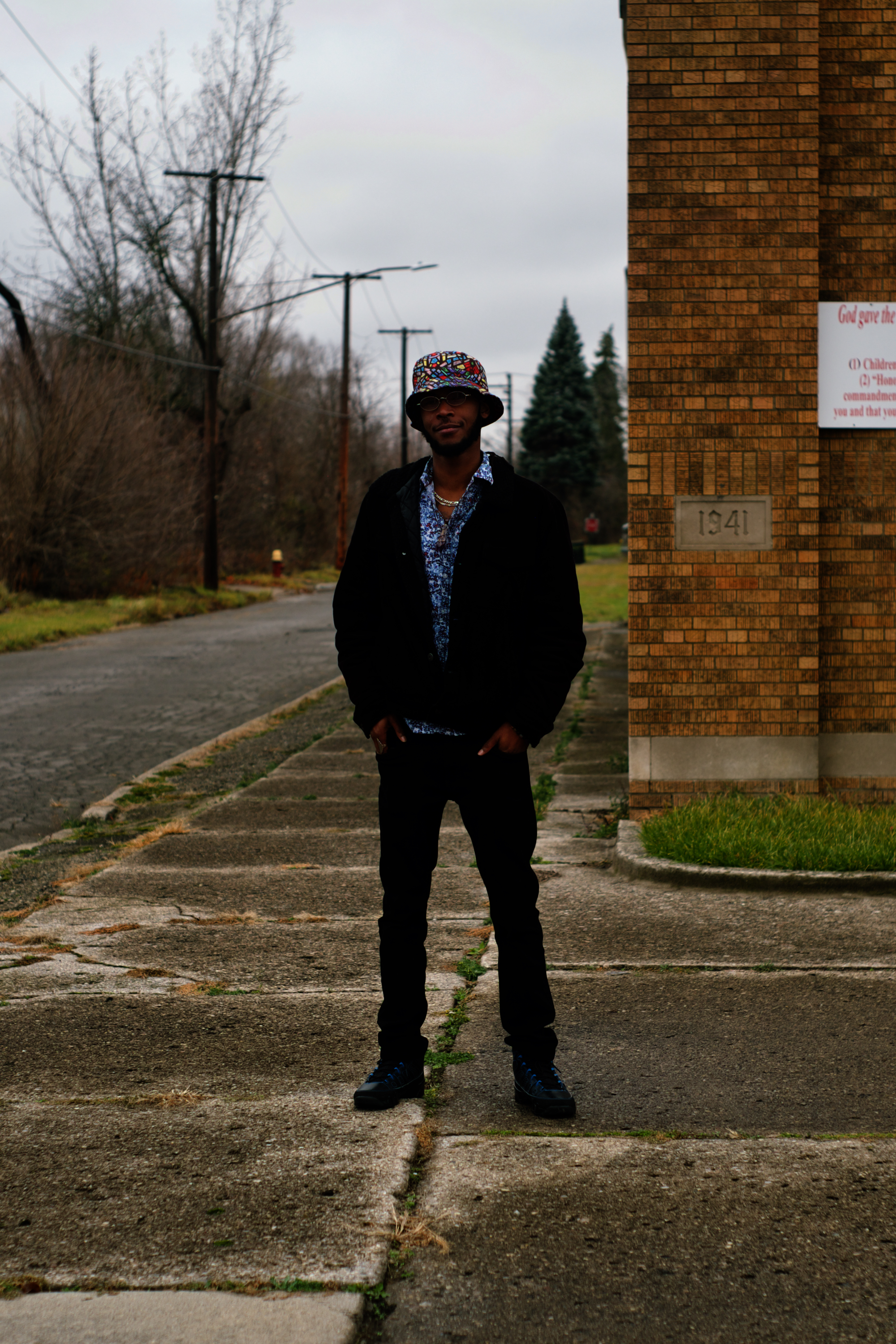 Berris "Pri$m" Flemmings, 28
"Growing up in Detroit will show you a lot of different walks of life and can be very humbling. I do not currently see a government that understands, empathises, and cares for the people I see all around me in my community every day."
This was Berris "Pri$m" Flemmings's second time voting in a presidential election. He cast his vote in person on election day in Wayne County, Detroit. "Voting in this election was important to me because I feel that my generation has a voice and ideas that aren't being represented fully in our current government," he says. "I am hoping that the new administration will be more receptive and responsive to positive change and active in the proper implementation of more progressive policy."
As a Black American, Berris feels that the government has never had his best interests at heart. When asked if he's ever felt disenfranchised, he replies that "it's hard to feel disenfranchised by something you never felt you truly belonged to."
The issues that stand out the most to him are criminal justice reform and socio-economic reform. "Our system is broken, or rather…it's working exactly as intended by the people who put the current structure into place," he says. "So many ideas, practices, and methods are out of touch with reality and they do not positively serve everybody or reflect the ideals of our society as a whole. Our current system does not reform individuals; it either teaches them to become better criminals or swallows them whole."
"From criminal justice reform, to protecting our environment, to expansion in the accessibility of socio-economic growth and equity I believe our country has some real work to do. It's time to roll up our sleeves and get to it."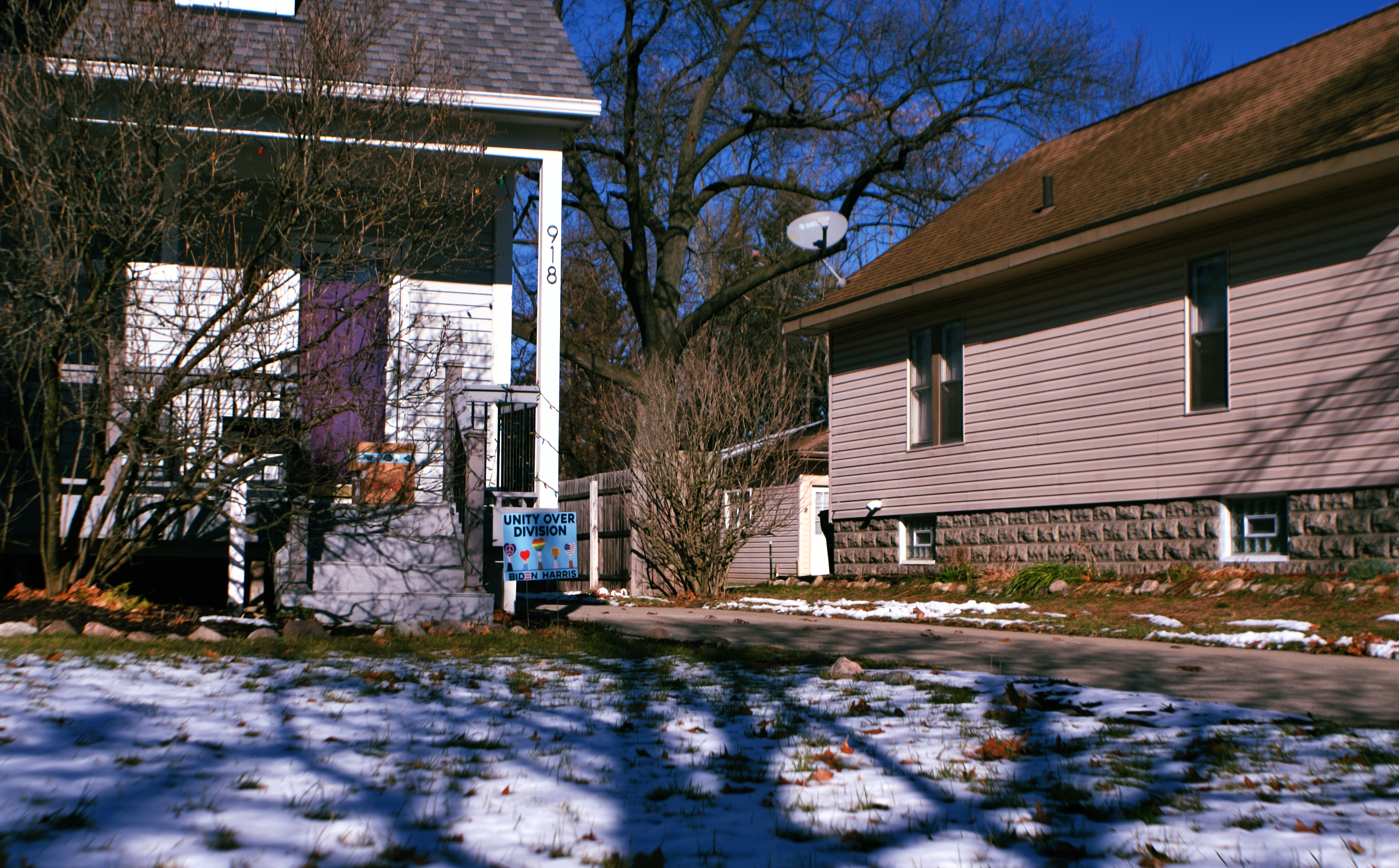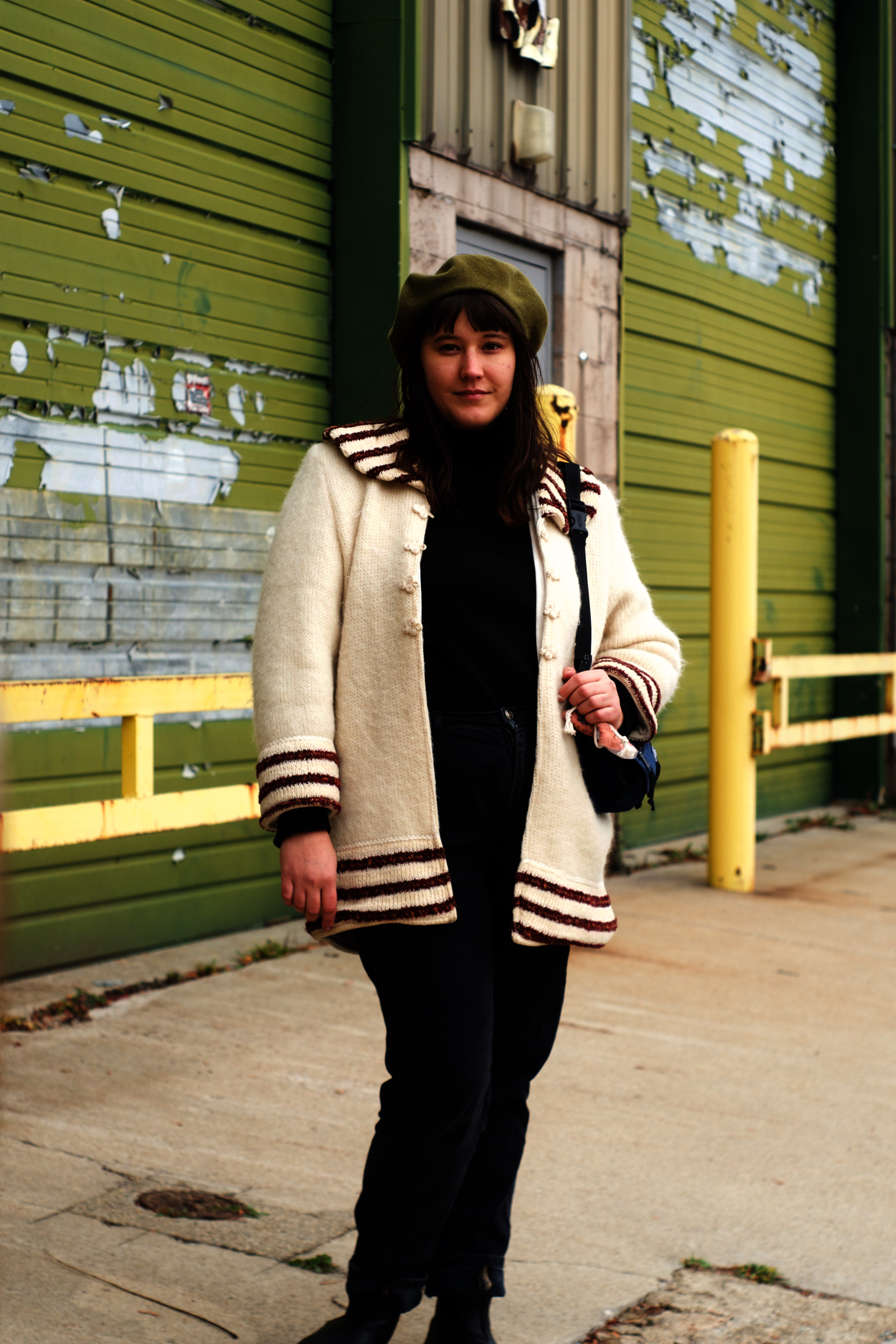 Meghan Navoy, 28
"If the Biden administration views themselves as a continuation of the Obama years and a return to business as usual, that will be a huge problem. I foresee conspiracy theories like QAnon becoming a huge problem and the general trend of people becoming so disconnected from reality."
Meghan Navoy is a textile artist and small business owner. She's originally from Aurora, Illinois, but lives in Detroit and voted in Wayne County, which has backed the Democrats at every election since 1932. She too has always voted for the Democrats, but says her views used to be far more centre-left. "When I met my partner I was a devoted, NPR-listening neoliberal," she says. "I have since become radicalised!" She's veered to the left over the past four years, and is now a member of Detroit DSA (Democratic Socialists of America) becoming a lot more involved in local organising and learning about the politics of Detroit.
"The Democrats are becoming more and more center-right of the political system," she says. "The only reason I ever voted was because of Bernie Sanders and the gaining momentum of the democratic socialist movement. I feel mixed about the result of the election. At first I didn't want to vote for Joe Biden at all, but in the end I knew that four more years of Trump would be absolutely disastrous and I wanted to do whatever I could to prevent that from happening."
Even though Biden won the election, Meghan feels strongly that the government needs to address how many people voted for Trump, as well as "the increasing popularity of conspiracy theories and QAnon, as well as racism and domestic terrorism. There's a lot to work on and I'm hoping that a Biden presidency is willing to do more than spew generic platitudes and niceties while taking no action. I know I sound very cynical, but I do hope for the best and I'm absolutely going to continue to fight to make our country a more equitable place."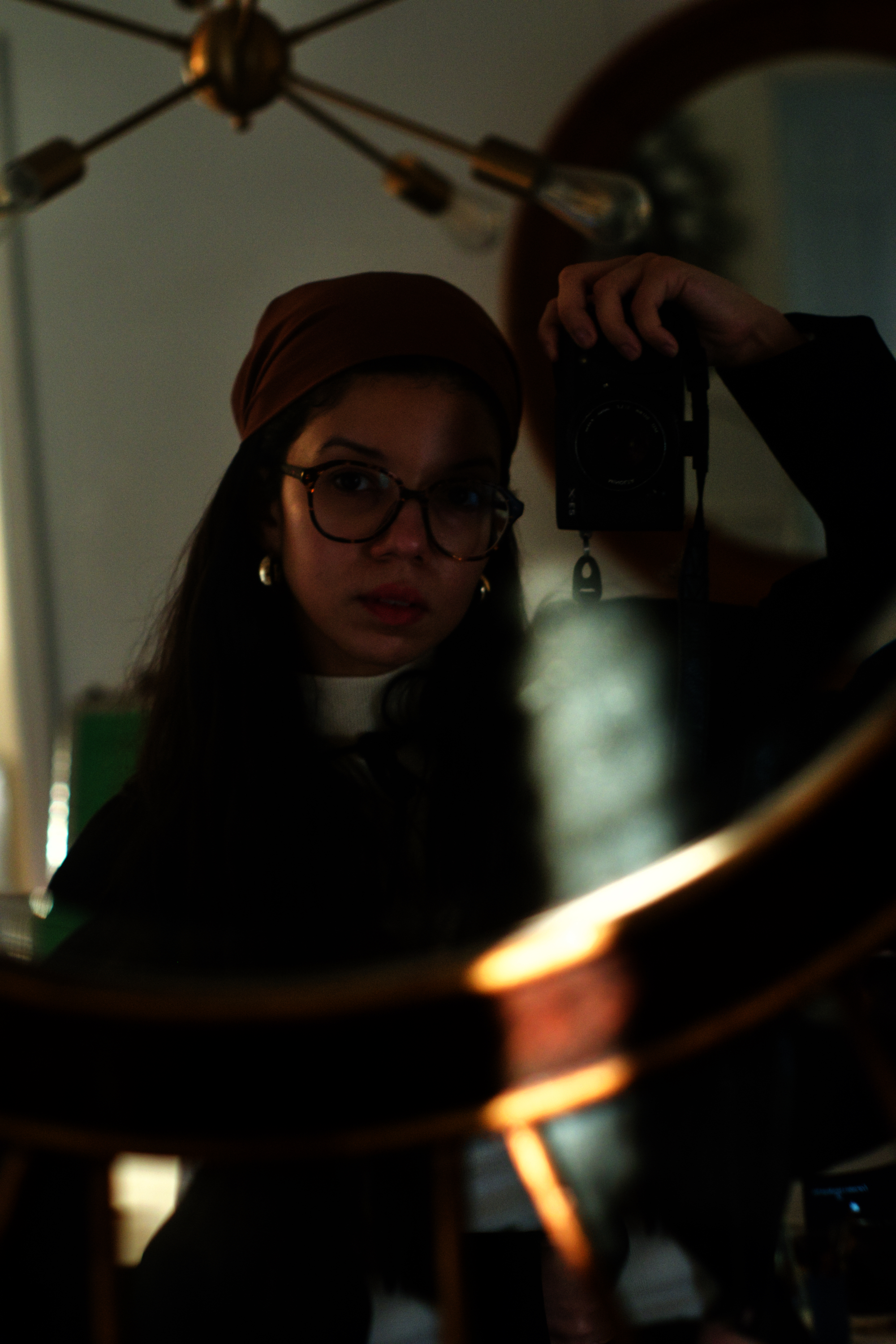 Danielle Dabney (photographer)
Danielle Dabney, originally from Detroit, has been shooting on and off for about four years. She initially planned to vote in person on Election Day. "I waited four long years to vote Trump out of office and wanted to see my ballot scanned," she says. "But two days before, the mounting anxiety was so overwhelming that I went with my husband to vote early. Although I was still somewhat nervous about the whole thing, the poll workers assured me my vote would make it to the scanner on Election Day."
Danielle spent several days casting this story, speaking to friends and finding young voters, in different areas of Michigan. "When shooting portraiture around very American themes, my goal is to tell the most inclusive story possible. It does make the casting process more challenging -- you're looking outside your own bubble and, in this case, across some unfamiliar places around the state. But many young voters are conscious of representation, so it was imperative to tell a story reflecting an array of voices and experiences. I was very grateful to be given the time for the project to unfold in this way."
Credits
---
Photography Danielle Dabney
Tagged: