The Night House trailer will leave you scared to sleep alone
This horrifying Sundance festival favourite is finally coming to cinemas.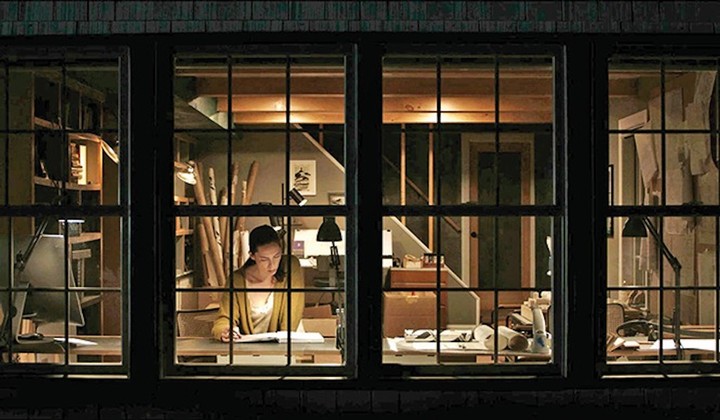 In The Night House, an indie horror movie that first made a splash at 2020's Sundance Film Festival, a woman is tormented by an otherworldly presence in the house her late husband built for them. Rebecca Hall stars as Beth, the haunted, grieving wife, in director David Bruckner's latest horror venture (following 2017's The Ritual).
Beth "tries as best she can to keep it together" reads the film's synopsis -- "but then nightmares come". "Disturbing visions of a presence in the house calling to her, beckoning her with a ghostly allure." Oh honey, we've all been there.
Ignoring the sage advice of her friends (of course), Beth starts digging through her husband Owen's belongings, searching for answers. But while tracing his shape on their pillows, going out to the dock where he left on a boat to his death, Beth begins to spiral in her mourning. Her husband has left her a mysterious note, one that simply reads: "You were right. There is nothing. Nothing is after you." Very reassuring, Owen!
In January 2020, Indiewire called The Night House "one of the loudest horror movies ever made" in a review of the film, saying that it also "rewrites the rules of jump scares" — a seemingly tall order for an indie scarefest running for just 108 minutes. Critic David Ehrlich calls the film's director David Bruckner "a talented genre craftsman with a sick gift for endowing mundane spaces with sinister energy."
"Beth's home is not a particularly expressive place -- aside from some eerie bedroom windows, nothing about the house's design betrays its dark foundations", continues critic David Ehlrich. "But patient direction warps every corner with awful potential. And the film's possessed atmosphere provides the architecture for some of the most brutal jolts in recent memory."
With a cinema release date now set for July 16th in the US, watch the deeply unsettling trailer for The Night House below.