L: Trainers Asics; R: Mountaga wears socks and trainers (worn throughout) Reebok.

Craig Green and Moncler reinvent the puffer jacket
The London menswear designer discusses elevating the prosaic to poetic in his collaboration with the iconic Italian-French ski label.
|
30 November 2020, 11:27am
L: Trainers Asics; R: Mountaga wears socks and trainers (worn throughout) Reebok.

This story originally appeared in i-D's 40th Anniversary Issue, no. 361, Winter 2020. Order your copy here.
In February 2020, a lifetime ago, Craig Green presented in Milan as part of the Moncler Genius Project, his collaboration with the Italian-French luxury alpine-wear label. It was nothing like a normal fashion show.
In a large industrial space on the eastern fringes of the city — this season featuring projects from Simone Rocha, JW Anderson, Alyx, Fragment and Richard Quinn alongside Craig — the Moncler Genius launch was a sensory overload of sound, light and fashion. Thousands of bodies in one place, a messy stream of overlapping soundtracks leaking from the spaces allotted to the designers' competing presentations, each vying for attention in the melee.
It had more in common with the chaotic energy of a funfair than the usual performance and ritual of the fashion show. It was unusual to see a collection of Craig's in such a space, as his shows often draw their power from serenity; they are meditative and contemplative and emotive.
Since his emergence almost a decade ago, Craig's work has circulated around a few notable themes, the relationship between clothing and the body, between fashion and art, the garment and sculpture, the everyday and the poetic. All that was clearly on display in his Moncler Genius collection, which over the few years of its existence has grown to become more than a simple and superficial collaboration between designers and brands, but an exercise in wild creativity and ingenuity.
And for a designer like Craig — who over the ten years of his career so far has coined a fashion language that revolves around the interplay between the poetic and prosaic, the elevation of workwear into something spiritual, the explosion of restriction into the romantic — this kind of freedom in this kind of collaboration creates something enticing. Who better to find new angles of sight within old garments?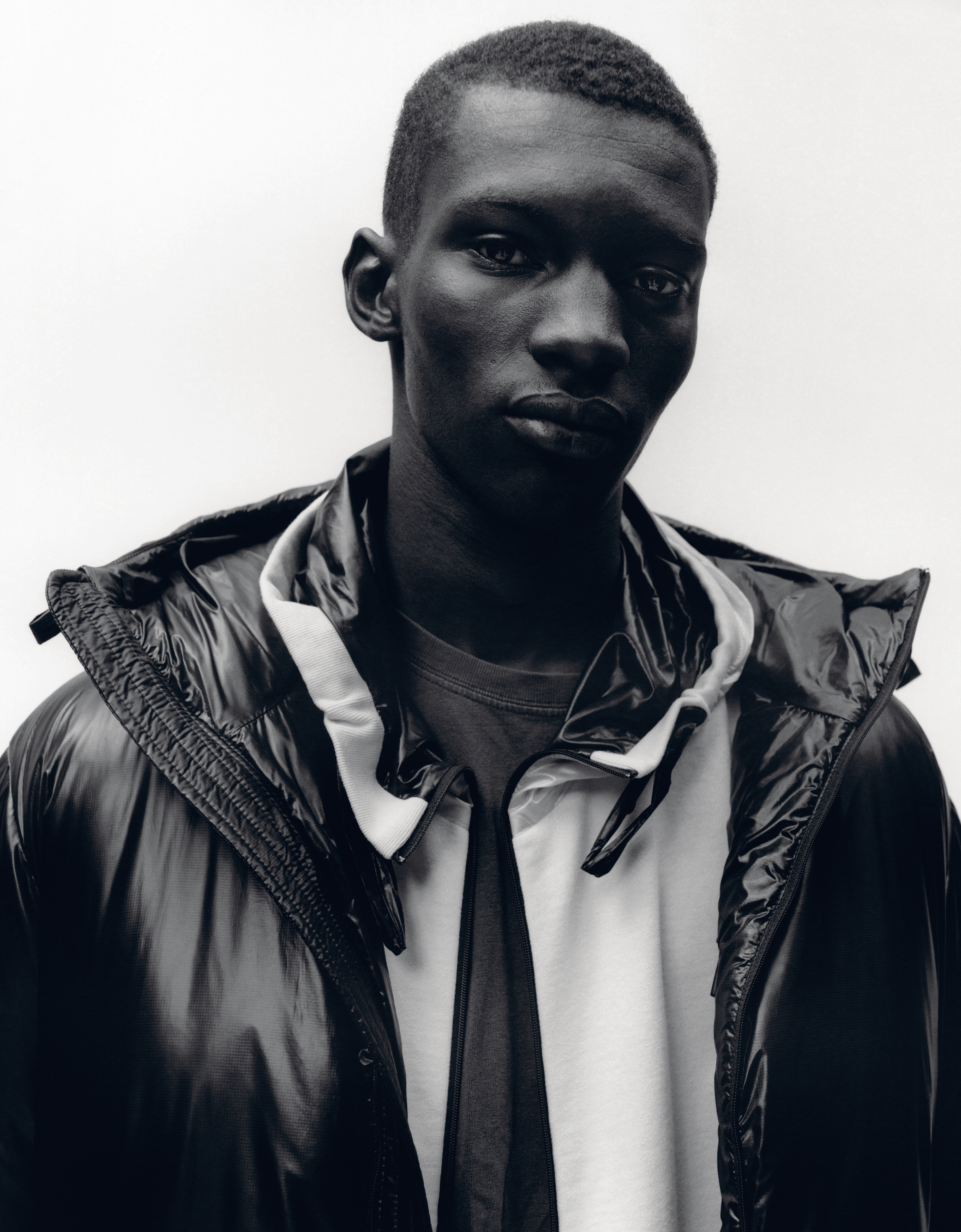 After the season of shows in February ended and as we entered a period of lockdown as the COVID-19 pandemic spread across the world, Craig's Moncler collection felt strangely prescient, so rooted in ideas of isolation and protection and delicacy.
"Conceptually we divided the presentation into two sections," Craig explains. We're connecting one September morning, he's on a late summer holiday and working on a digital release for the SS21 collection of his own label. "There was one section that was monochromatic and quite two-dimensional, and the other which was quite colourful and three-dimensional. We wanted to take that immersive burst of energy you get from a catwalk show and turn it into a presentation. It needed to have movement and feel exciting. It was a new challenge for us, which was also exciting."
Taking the monochromatic two-dimensional room first. The garments shrouded the models, who resembled something between a cricket player and a samurai, swaddled in a layer of down quilting. "It's almost not even really 'clothes'. It's a flat wearable sheet that you have to weave your body in and out of," Craig says. "And your body is what creates the garment and gives it volume. Without a body in it, it is just a blanket with some zips in it."
In the second room, the interplay between fabric and volume was taken to something brighter, the bodies almost appearing trapped inside down-filled nylon capsules that looked like life rafts. The sheer layers of nylon and down creating a fantastical colour palette, each garment dedicated to one colour, and presented in a shade that felt, paradoxically, full of light and depth.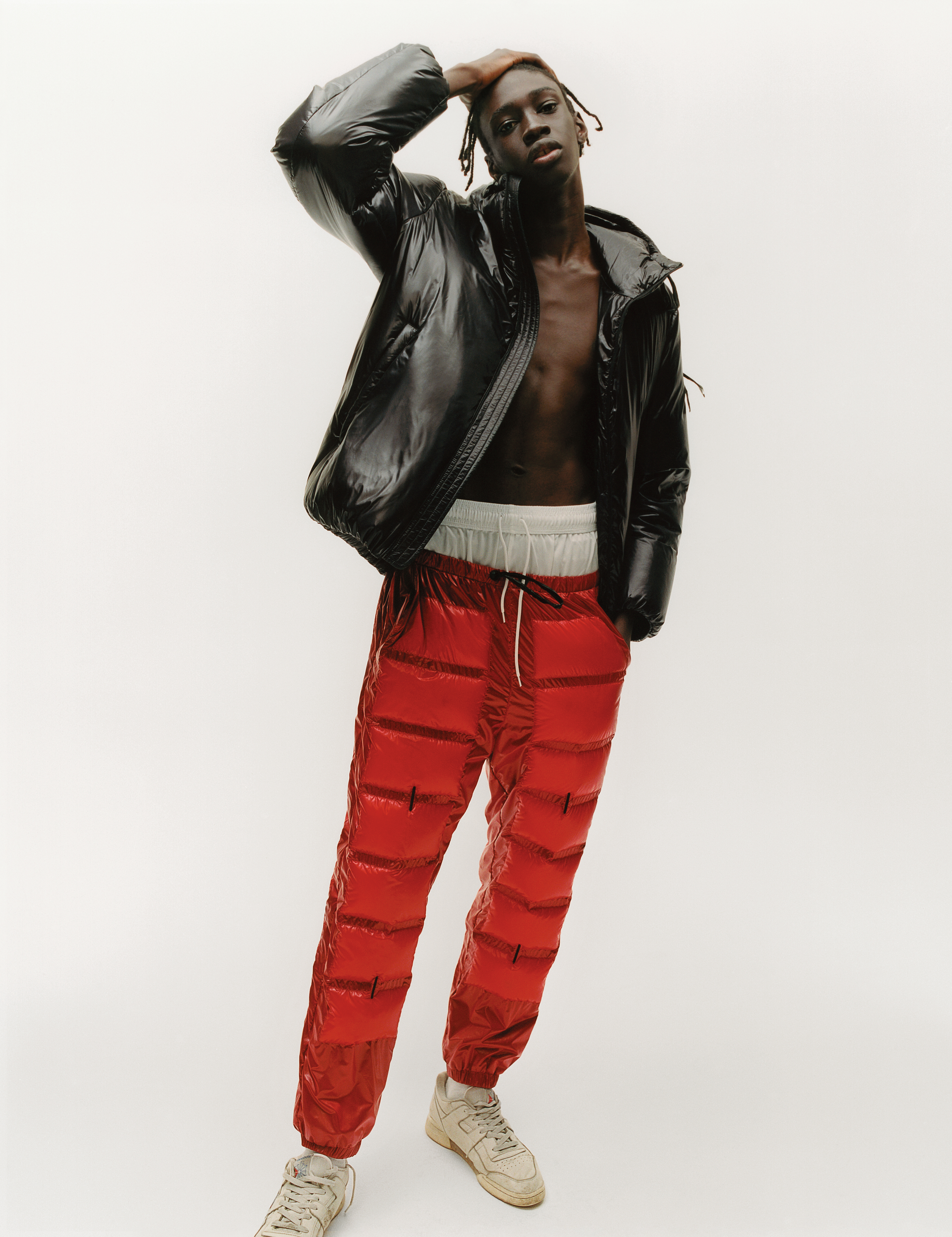 "We found like the lightest possible fabric, which was like a micro ripstop, which was almost translucent so you could see the feathers of the down and the body underneath when they were wearing it. So it looked really, really delicate. And it was so transparent that when we had another colour behind it on the back of the garment, it created a colour that we couldn't really plan. Moncler looks fragile even though it's very technical. We always try to experiment with dye and colour, but the problem is when you dye it, it loses its technical capabilities for keeping the feather. So we found this fabric, it looks iridescent, these flat layers adding up to something and working with each other."
There's something quite magical about the Moncler puffer jacket as a technical garment. When worn it looks so substantial, heavy and protective. But disembodied and held it seems so slight and light and airy that it's hard to imagine people climbing mountains in one. It's a fantastic product, so ubiquitous that we almost lose our ability to really appreciate it. But part of what Craig has always done so majestically is to reappraise the everyday garment and to find some new poetry within its familiarity. "I've always loved working with a restriction," Craig says. "I love the challenge of it. And the challenge pushes you. The scariest thing, I find, is being told you can do whatever you want."
"It is that challenge of how many more things can you do with a puffer jacket," he continues. "Down jacket construction is its own individual skill, it's like tailoring, building a suit, there's a science behind it and there are so many limitations but then those limitations lead to a lot of problem-solving, and that leads to a lot of new ideas. I'm quite geeky when it comes to garment construction. I start every season thinking, 'how can we push it?', not even visually, just in terms of construction."
The collaboration between Moncler and Craig usually starts with Craig working out the more commercial pieces. Through experimentation in product design and fabrication and garment construction they manage to create something new from the familiar. It's a process that Craig finds incredibly giving and fulfilling. "We don't know what the outcome will be on certain things we want to try throughout the development process, but the fact that Moncler is willing to experiment and push things forward with us is really great to have in a collaborative partner." These experiments then build up into the fantastical, show-stopping garments of the presentation. The two function almost as mirror images of each other, exploring the same themes in different forms.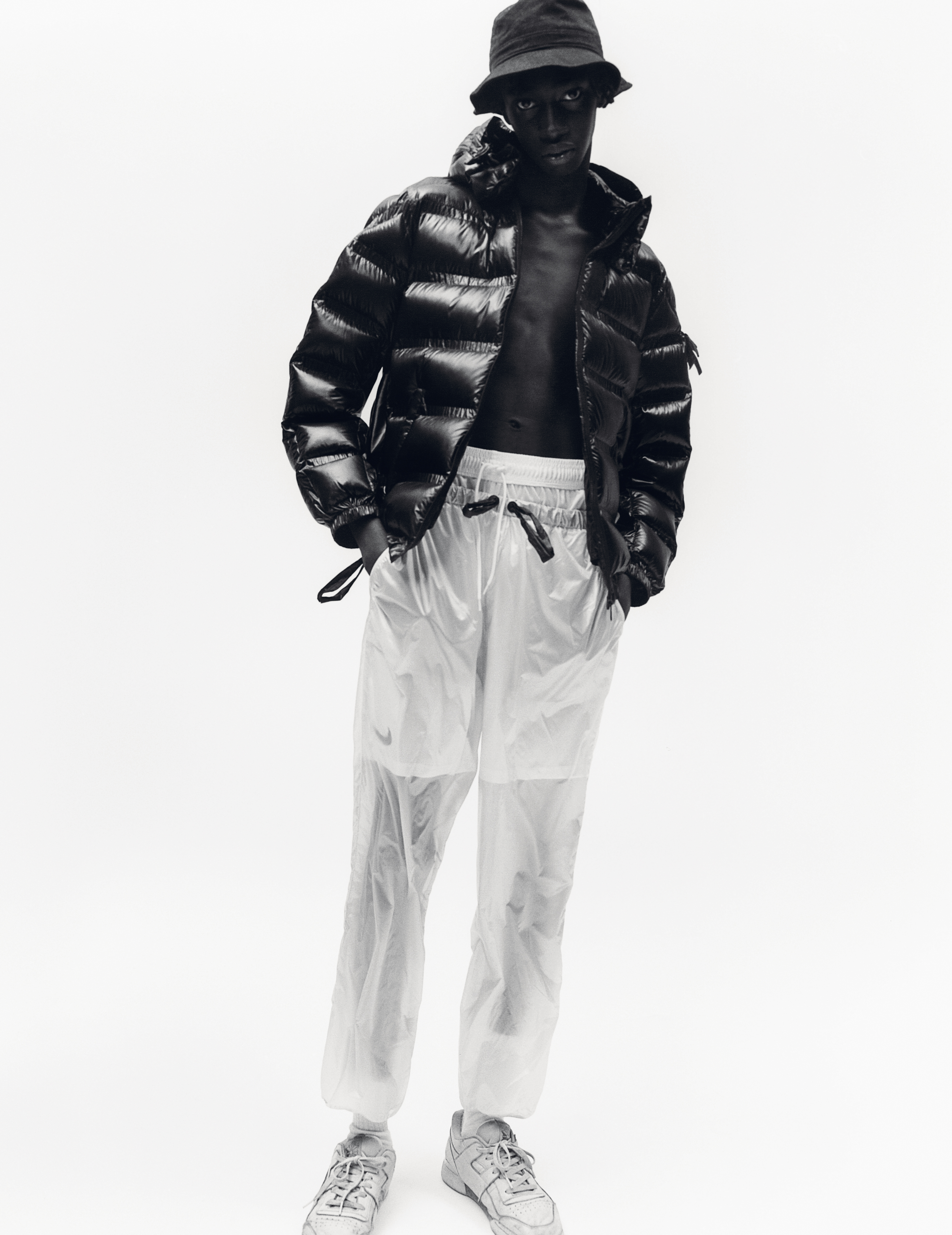 It's a similar process that Craig has utilised in his own label, where he's displayed incredible and emotive sculpture of the body on the catwalk season after season, and has created garments that resonate with a clarity of ideas that distil the fantastical into the everyday item of clothing; to imbue a simple sweater with the beauty of sculpture. Over the last ten years, it's an approach that has marked him out as one of the most thoughtful and interesting designers working today.
"I've been running my label for ten years now," Craig says. "I don't really know what the future holds. I've never had a real plan, I think it's impossible to have a plan in fashion, everything changes from season to season so much, the plans you make get ripped up." This current moment makes that obvious.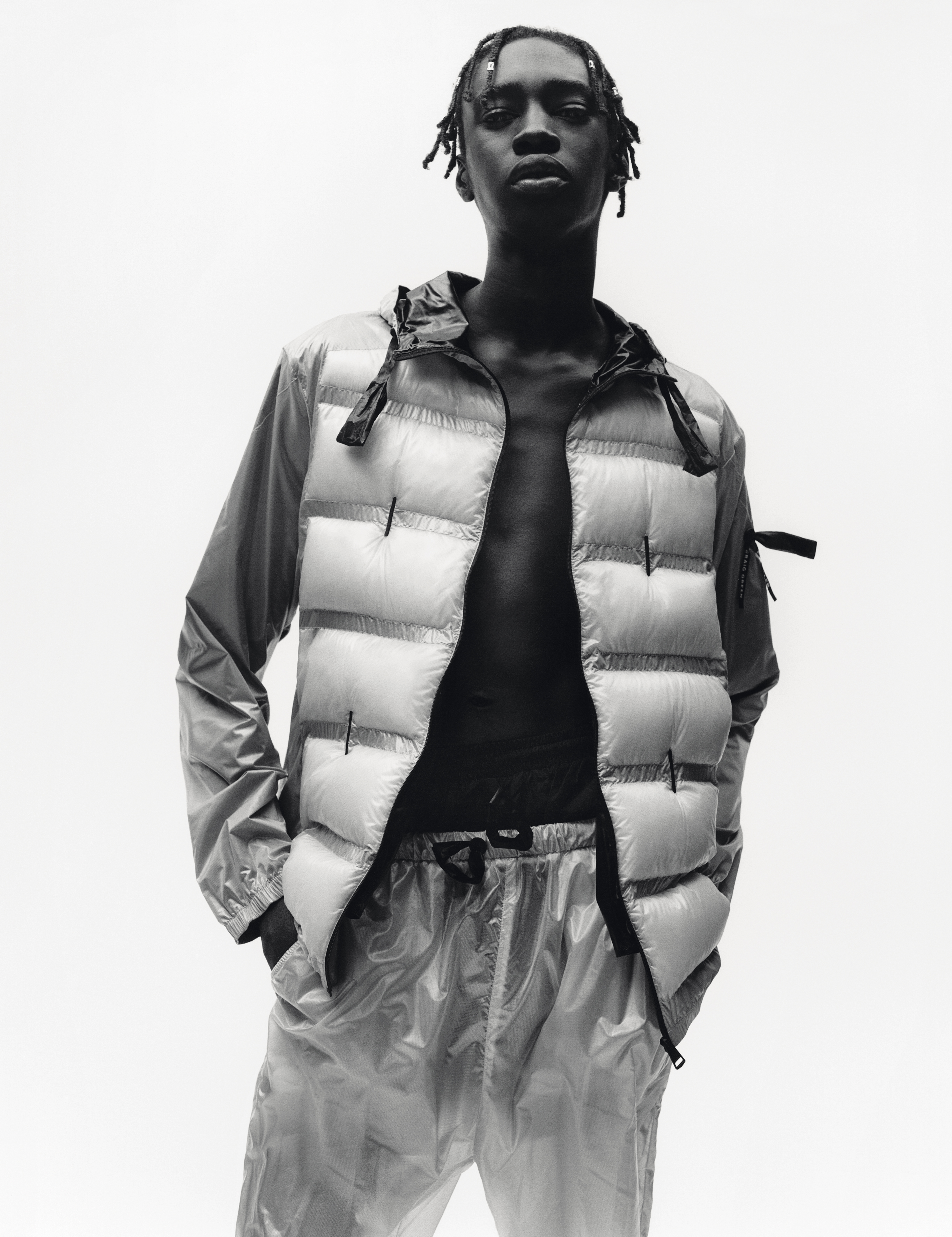 Credits
---
Photography Joachim Mueller-Ruchholtz
Styling William Barnes
Hair Alfie Sackett at LGA using Aveda.
Photography assistance Mike Rudd and Joe Reddy.
Styling assistance Clementine Saglio.
Casting director Samuel Ellis Scheinman for DMCASTING.
Models Momo Ndiaye and Mountaga Diop at Supa.
Tagged: