from the catwalk to the corner shop, gareth pugh's taken over selfridges
The designer will present five young Londoner's work over the week, with each piece tied to an urgent and important theme.
Gareth Pugh's new project, I AM A DREAMER, starting 16 April in London's Selfridges, provides a platform for young voices to dream. Designers Richard Malone, Bianca Saunders, Edwin Mohney, Sinead O'Dwyer and stylist Ib Kamara are treating us all to a visionary weeklong escapade in-store.
Set in Selfridge's Corner Shop, and curated by Pugh, each of the five have a day dedicated to presenting their works in a variety of ways, tackling issues including mental health, legalising abortion, and masculinity. The space also acts as a showcase for Pugh's own work through the years from his inflatable sculptures to his sculptural works of latex and balloons that place fashion firmly within the realm of art.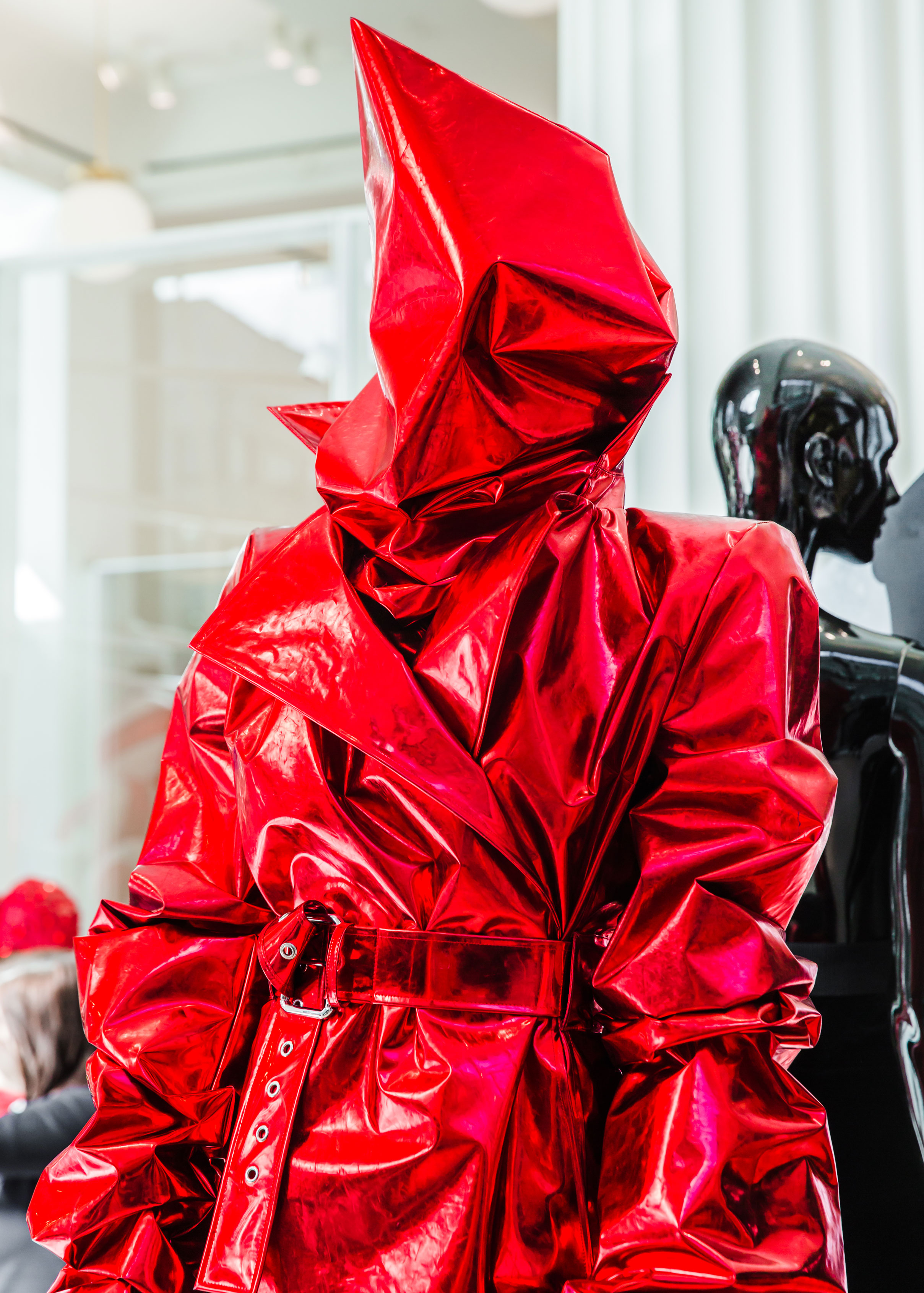 Of the partnership Pugh says, "I have a long history with Selfridges, they've been one of our exclusive partners for years, and I actually used to be a shop boy in men's contemporary back in the day, so to be here doing something like this is pretty surreal. It's going to be full on, and so intense, but sometimes it's good to get off the merry-go-round and get on a roller coaster instead. It was important to me that, rather than seeing this as a commercial opportunity, we use this is as a chance to celebrate the creative spirit of London and to reaffirm the idea that London is a place where anything can happen."
As the climax to the event, on 21 April, Gareth will host an in-store event with Sink the Pink -- in which there'll be sharing a closet full of fun for the audience to dress up in and party. Here, we speak to the young fashion visionaries themselves, to find out what they are showcasing, and how their dreams of a better future can be made into a reality.
Richard Malon


My dream is… a more open playing field, and that begins with education. It's impossible now to go to university unless you have the cash and that shouldn't be the case. Having an open dialogue and equal opportunities is critical, it's those ideas that originally drew me to London and it's quite heartbreaking to see how it's changed. The longer you live here, the more unjust the place seems. I'd never experienced the kind of elitism you see in London back in Wexford, it's always a complete shock. Especially in this industry, where everyone is the child of someone deemed important of famous.
I will be fighting for… the repeal campaign in Ireland. Essentially women do not have the rights to their own bodies, and for such a forward-thinking and modern country this is really holding us all back. It is tragic and infuriating and absolutely has to change. It's also so frustrating to hear these issues referred to as 'women's issues'. It's a human rights issue and it's an equality issue. In Ireland, the young people are extremely diligent at putting pressure on the government to initiate change, we did that most recently by becoming the first country to vote for same sex marriage. This is the next step, and absolutely has to happen.
My dream is… more togetherness. I wish people would notice one another more. As a multicultural city there is a strong sense of division, and people are not taking the time to understand and respect each other. We live in isolation more than we do as a community. After visiting Cuba it made me realise what was missing.
I will be doing… a live performance version of the film I made, entitled A Conversation With Urbain. The performance will travel over themes of isolation/alienation and male identity amid shifting social pressures, but in a way that feels intimate and authentic. Overall it does relate to what is currently happening in London, which I think we need to keep discussion alive.
Ib Kamara


I would love to see… a generation of people giving the best quality of work and ideas to push culture.
I celebrate London because… it gives space to new think up new ideas, which I think is so beautiful.
Community is important because… there is an endless stream of ideas and the end result is always amazing.
Sinead O'Dwyer
My work focuses on... the intimate place of the body within fashion.
I am strengthened by… the brilliant support for young makers in London. I've also met so many artists along the way and had so much opportunity to exchange ideas.
What I love about London is… the collaboration. It's the best thing about living in London. You end up meeting so many different artists here and coming together to complete each others visions.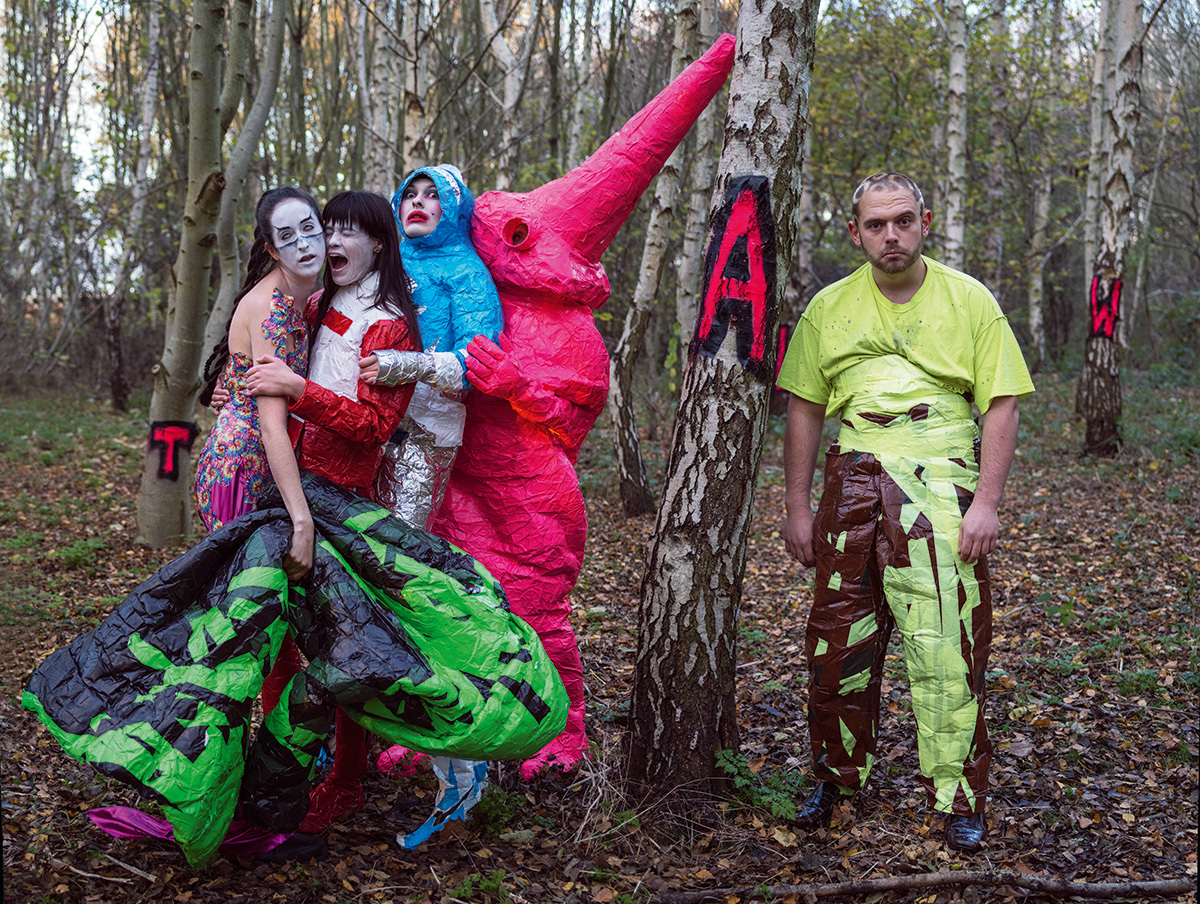 I dream of London as.... Bladerunner in spring.
My installation piece is… based on a very personal feeling I get when I'm suffering from anxiety. It's about the internal spectacle in the public domain. My goal is to raise awareness about the stigmas that still plague people with mental illness. I want people to be able to talk about their experiences and not feel like they have been labelled crazy for doing so.
What I love about London is the… serendipity. London is a hornet's nest of creative people and ideas, you never know who you'll bump in to or what project of theirs you're going to see next.
I've learnt a lot about… the compromise. It's about accepting that you don't have control over the end result fully, and being excited to see where the compromise between two people or more will end up. It's an opportunity to push yourself beyond your own personal vision into a new direction, while also getting to work with other people. Win/win.