meet the radical fashion collective making clothes you can eat
Das Leben am Haverkamp wants to celebrate your favorite garments, instead of making new ones.
Das Leben am Haverkamp is an experimental Dutch fashion collective formed by four young designers: Anouk van Klaveren, Christa van der Meer, Dewi Bekker, and Gino Anthonisse. Based in The Hague, the designers met while studying at the Royal Academy of Art, and the name Das Leben am Haverkamp translates to "the life on Haverkamp," a reference to the street name of their first collective studio, an abandoned building on Haverkamp. "Despite the freezing cold in winter, the abandoned building is a pleasurable place to be," says Klaveren of the studio. "Experiments take place in this year-round playground and we like to use the space as a laboratory where everything is possible."

Having worked under such noted designers as Bernhard Willhem, Henrik Vibskov, Christian Wijnants, and Bless, each member brings different views and experiences to the creative process. Each has their own individual practice, but they present them collectively in an annual showcase, creating a context for a process of thinking and working. Their collective approach is non-conformist in nature, inspired by daily rituals and the cultural relativity of luxury, and they frequently construct clothing items that err toward the conceptual, rather than the wearable. The collective's recent "Quirky Cruise" collection, for example, saw models walking down the runway in their undergarments, carrying 2D cutouts of clothing sweaters, pantsuits, and rain jackets.

In addition to their individual practices, Das Leben am Haverkamp takes on various collective projects. Most recently, that has taken the form of a series of cake garments created for Maastricht's Fashion Clash Festival, a three-day celebration of emerging designers from around the globe kicking off on June 15. Why cake, you ask? So did we—i-D talks with the collective about its origins and how the designers cooked up inspiration for their Fashion Clash collab.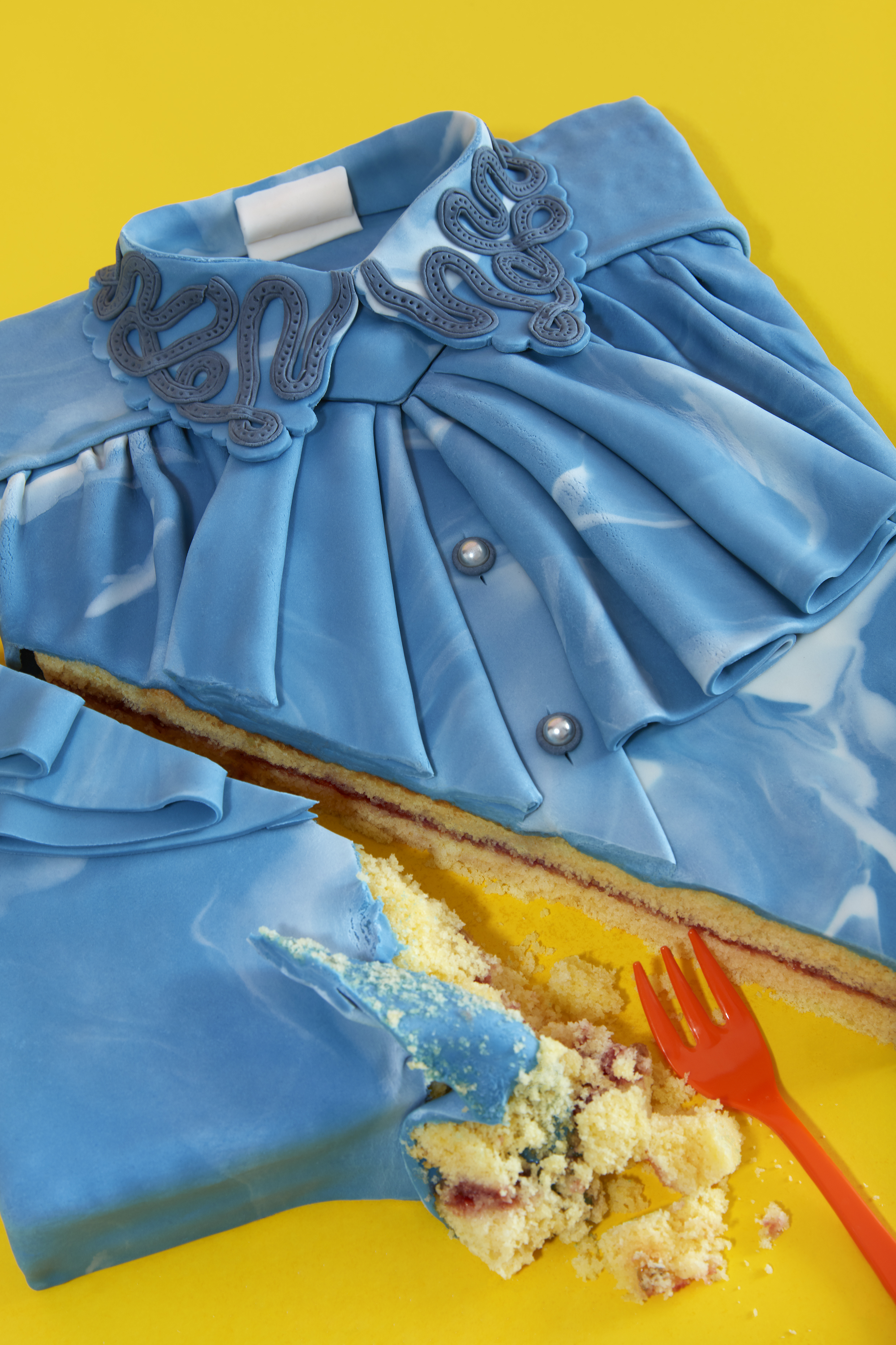 How did your collective begin, and how has it changed to become what it is today?
Christa: After we all graduated from the Royal Academy of Art in The Hague in 2013, we've been sharing a studio space. It didn't take a long time to discover that we all have a very similar approach to fashion. To name an example, we share a strong opinion about certain conventions in the fashion industry. We like to decide on our own pace and we are all interested in making people aware of the value of clothing instead of creating the sense of it being a disposable item.
Dewi: Also, we all share quite surreal and quirky aesthetics. Perhaps this is why our work compliments each other. Besides those aesthetics, our themes overlap strongly. But we have a very personal way of treating them. For instance, we are all quite engaged with folklore traditions and working with masks. We are all attuned to a more light or joyous tone, although the subjects we address can be quite serious. This creates a certain pleasurable tension when you see our work together.

Gino: That is why we started to present our works together. We decided we wanted to create individual collections, and produce them on a very limited scale. Also we chose to create just one collection a year, instead of four.

Dewi: At some times, the pieces we did were an addition to our previous work instead of a brand new one. After two years we figured that this direction didn't suit us in the way that we still felt limited as designer in expressing our artistic views due to the commercial aspect and also, we were still part of the system.

Anouk: As a collective, we see less and less relevance in making more clothes. As a result, our projects have all been about exploring an alternative role for ourselves as fashion designers since then.

Christa: The thing that remained the same over the years is our friendship, which is what brought us together and made us put up with each others foolishness. It's quite an intense, family-like relationship. It is the thing I enjoy the most in our work.

What are the benefits of working as a collective versus designing individually?
Christa: They keep things real! It's very easy to drift away in your own world when you are a creative person and work alone. Dewi, Anouk, and Gino are a constant source of critical reflection, support, and inspiration. We share a lot and are all both harsh and kind to each other, which brings us further.
Gino: We are honest and have strong opinions with our feedback, and this really helps during the process of making the collection. Besides our individual collections, we work on collective projects, such as art-direction and curatorial projects.

Dewi: Since we are working in the same space it is impossible not to get influenced by each other. We believe this works in our advantage. It's a good thing we don't have a big egos.

Anouk: Also, the assignments that we can take on can be four times as big or four times as many.

Dewi: Equals four times the fun.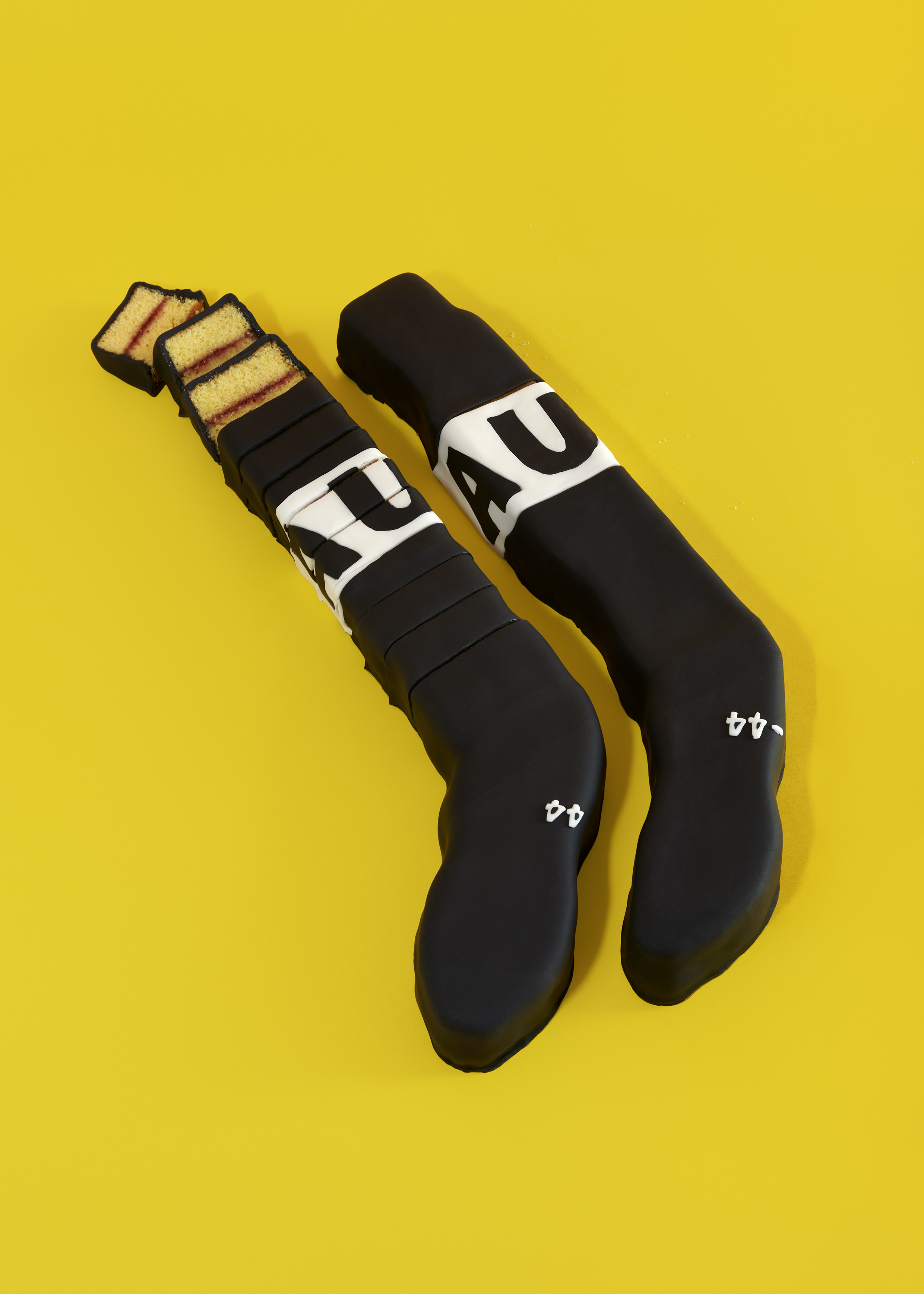 Tell us about your project with Fashion Clash Festival? Why cakes?
Fashion Clash has been hosting a superb fashion festival annually in Maastricht and it focuses on being an interdisciplinary showcase for young, emerging designers that have a non-conformist approach. When they asked us to develop a campaign for their 10th jubilee we were sure it needed to be a statement and a party at the same time. Following the theme for this edition, "Fashion My Religion," we made cakes from the favorite garments of Fashion Clash founders Nawie Kuiper, Branko Popovic, and Laurens Hamacher, and of ourselves.

With this project we want to celebrate your favorite clothing pieces, instead of making new ones. For us—like religion, sports, or art—fashion is a way of giving meaning, a social context, something to look forward to, creation and identity. Unfortunately, the value people attach to clothing is subjected to inflation because increasingly more is becoming available for less.

That is why we present a "new religion," with a wink, that can replace fashion: baking cakes in the form of clothing. The hobby-like character, the personal commitment and the disarming image of cake baking in a fashion context, we find an exciting contrast with the elitist image that fashion might have.

Do you bake?
Christa: Not until now. Although Dewi makes a killer apple pie and Gino is often baked.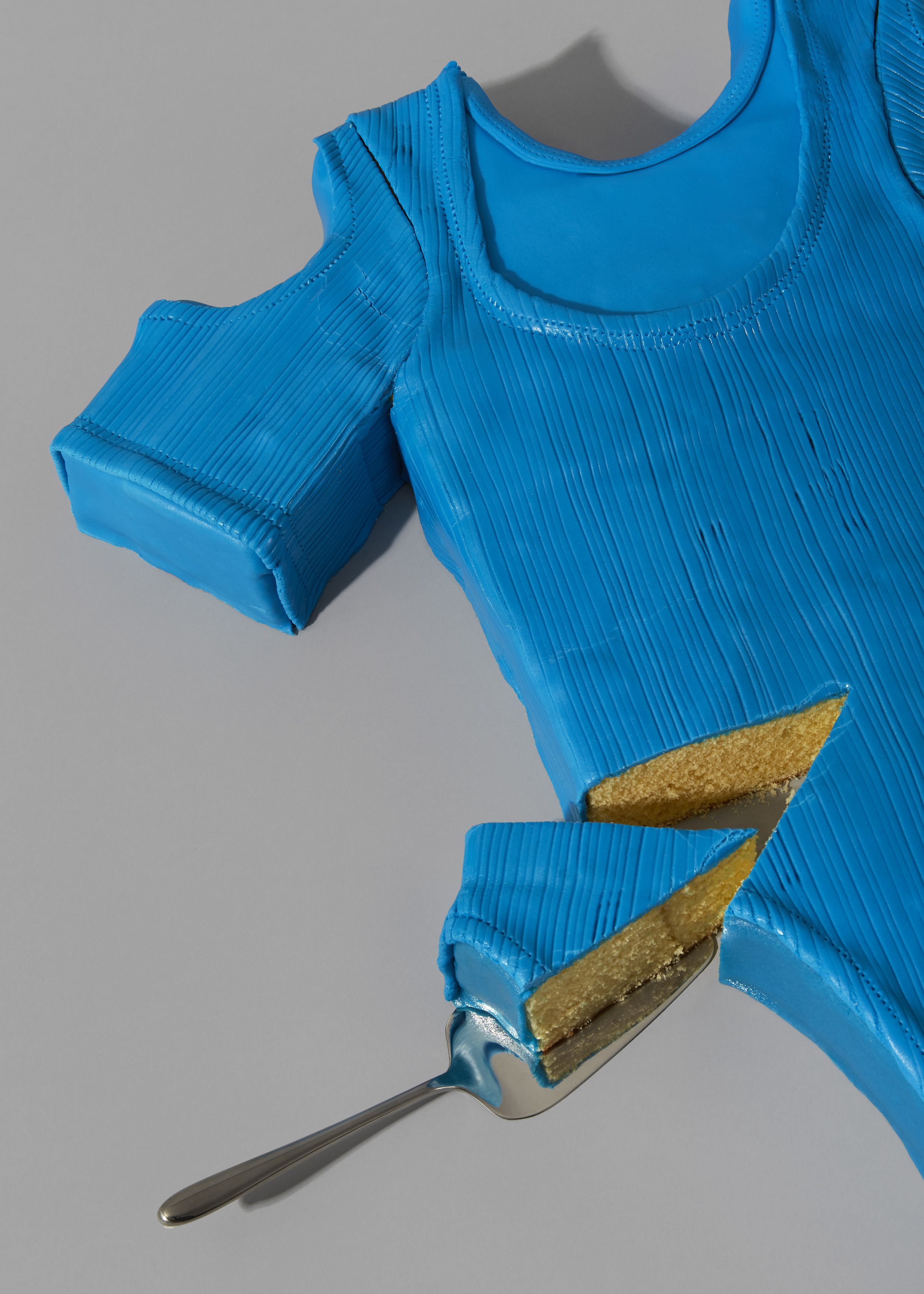 We see cake versions of yellow sneakers, a blouse with an embroidered collar, and a folksy vest. Why did you choose to replicate the garments you did?
Anouk: I love my yellow sneakers, since they are so yellow and shiny. I bought them when I lived in Berlin, in a very weird shop, which is hard to categorize. Every piece we replicated as a cake has a very special story or meaning to its owner.
You currently have a show up at the Zeeuws Museum in Middelburg. So cool! Tell us a little about that. How did it all come together?
Gino: We have had a great appreciation for Zeeuws Museum ever since our first visit, years ago. They often collaborate with contemporary artists and designers to create a link between cultural heritage and the current art and design world. They don't approach tradition as a closed history book, but as something that is still relevant and evolving at this moment. That is something that all of us were drawn to.

Dewi: Gino grew up in that specific region and Christa has been inspired by Dutch traditional wear since making her graduation collection. So snooping around in their storage rooms was something we have wanted to do!

Anouk: Once we started to work with the museum on a new exhibition, we rushed down there and started wandering in the storage rooms. They are bizarre! We knew they have an enormous collection of traditional wear, but their collection also contains many objects that have a less obvious relationship with the region Zeeland. Like mammoth teeth, huge iron cannonballs, and jewelry. It fascinated us how alienating the pieces of the collection were when they don't have any context. The appearance of it seems to tell you all sorts of things, but soon after that you realize that you are limited by your own frame of reference. This whole process of looking and interpreting unknown objects was most interesting to us and became the starting point of our exhibition.

Christa: Eventually we asked the visitors of the Zeeuws Museum to describe collection pieces of the museum to us. These descriptions were taped and these audio tapes form the base for a series of 60 new pieces that are now exhibited in the museum.

Gino: We hope it creates a bridge between past and future, between knowing and fantasizing, between the image of yourself and that of the other.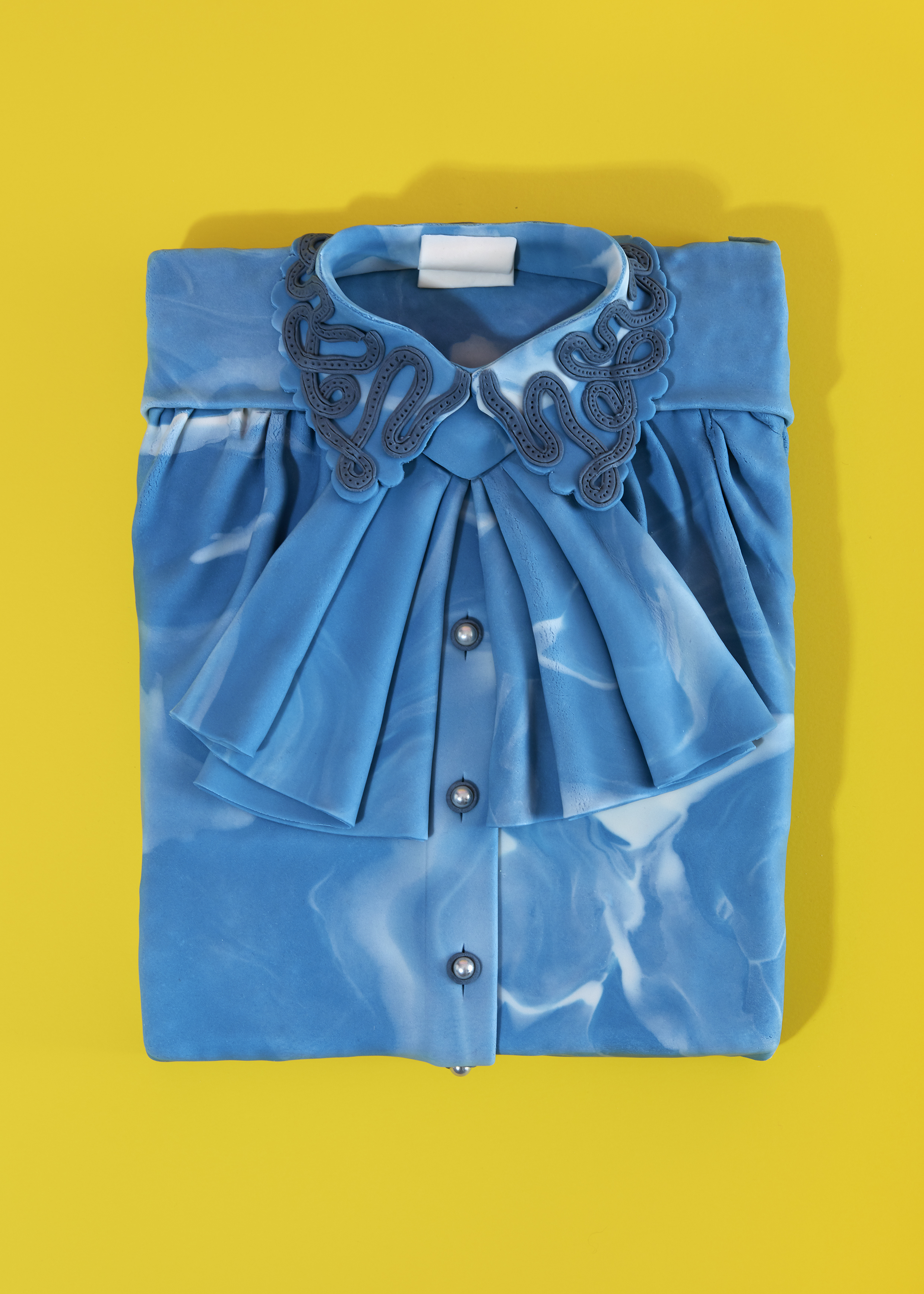 Who or what are some of your references and inspirations – fashion, art, or otherwise?
Christa: It's hard to say where all of our input comes from. I would say it can come from many sources at the same time—modern art, daily objects, rituals, and materials. In addition to this we enjoy thinking about fashion as a phenomenon.
Anouk: For instance, I find it interesting how fashion creates an illusion of structure and hierarchy. Fashion is an inevitable cultural expression in today's world. Even if you wouldn't describe yourself as someone who is into fashion, you are defining yourself with what you wear. This expression is always very much related to a cultural collective memory, full of connotations and information about background, gender, religion, profession or subcultural nuances—in this sense, fashion creates a social structure. Every box in the system has its own written and unwritten rules. Capitalism loves this and prospers from it, selling others' social constructs to the willing consumer. However, this structure and hierarchy is something that can only exist because we believe in it and we acknowledge it as something desirable. In this sense, it is just a collective myth, an illusion we are most willing to believe in.

You note that your work is often inspired by daily rituals. What are some rituals that help get yourselves in a creative mindset?
Anouk: I get most of my ideas while I am on my bike.
Many of your collections err towards the conceptual, especially your recent Quirky Cruise collection. Is it important that your clothing be wearable?

Christa: It is important to us to express ourselves as designers, and we noticed that we don't need to make wearable garments to make fashion. So I would have to say no.

Anouk: These topics are intrinsic for fashion as a discipline. We don't see a necessity in just producing more functional garments, and would rather explore the meaning of fashion in today's context. Most haute couture was never intended to wear and to be functional anyways. So why not make a 2D collection?
Is your work political?
Dewi: Our work is not intended to be political but we do like to be critical on current affairs in the fashion and design industry and the consumer culture that is cultivating this.

What are you currently working on? Anything exciting coming up?
Christa: Gino and I are heading to Salone del Mobile in Milan where we show part of our Quirky Cruise collection and get to be part of a masterclass by Crafts Council NL. At the same time, Dewi and Anouk have a show at ARTIS in Amsterdam, one of the oldest zoos in Europe. They created an installation in a former bear enclosure! The title of their project is "A residence that might remind you of that unique hotel in Magdeburg or that colourful gym where you used to train for tampon hockey." And that is exactly what you can expect.

Gino: And this summer we will present a series of our cakes at Fashion Clash Festival. Come by and have a bite!