Left: Jazzelle wears jacket and choker Junya Watanabe. T-shirt Cyberdog. Earrings and grill (worn throughout) model's own. Right: Coat Burberry. Shoes Rick Owens.
jazzelle: the model who changed the game
Jazzelle is more than a model. She's a movement. She's a rule-breaker. She's a fashion game-changer. i-D meets the break-every-rule alternative beauty icon.
Left: Jazzelle wears jacket and choker Junya Watanabe. T-shirt Cyberdog. Earrings and grill (worn throughout) model's own. Right: Coat Burberry. Shoes Rick Owens.
This article originally appeared in i-D's The New Fashion Rebels Issue, no. 352, Summer 2018.
Jazzelle Zanaughtti's Instagram handle perfectly captures how our generation has learned to embrace – maybe even flaunt – our insecurities. The 22-year-old model goes by @uglyworldwide, a name inharmonious with her mesmerising, androgynous look. But the misnomer fits into the unique approach to vulnerability we've developed. We post tongue-in-cheek memes that poke fun at our shortcomings and turn platforms like Instagram and Twitter into safe spaces to discuss mental illness.
Jazzelle has been a big player in this movement, championing weirdness through and through. She constantly shares selfies of her unconventional beauty looks (which consist of objects glued onto her face, neon-colored showgirl wigs, and shaved eyebrows) to her 400K followers. Her gender-freeing, rule-breaking style feels like a dismissal of conventional beauty standards. Because even though Jazzelle has been a muse of renowned photographer Nick Knight, become a millennial icon and walked for brands like Gypsy Sport and Ashish, she still thinks she sticks out "like a sore thumb".
"I didn't really know if I was going to fit into this modeling shit," Jazzelle says, looking at home in her baggy, oversized hoodie with a pair of super small, very on trend Matrix-esque sunglasses hooked on the collar. "I ended up being dropped from my first agency because of the performance art I was doing."
The Detroit-raised model is found in the Flatiron District office of her agency, New York Models, during the tail end of New York Fashion Week, right before she jets off to London for her next round of shows. When asked who she's due to walk for, she gives a playful roll of her eyes. "You know what, gurl? I couldn't even tell you. I didn't even know I was going to London until two days ago."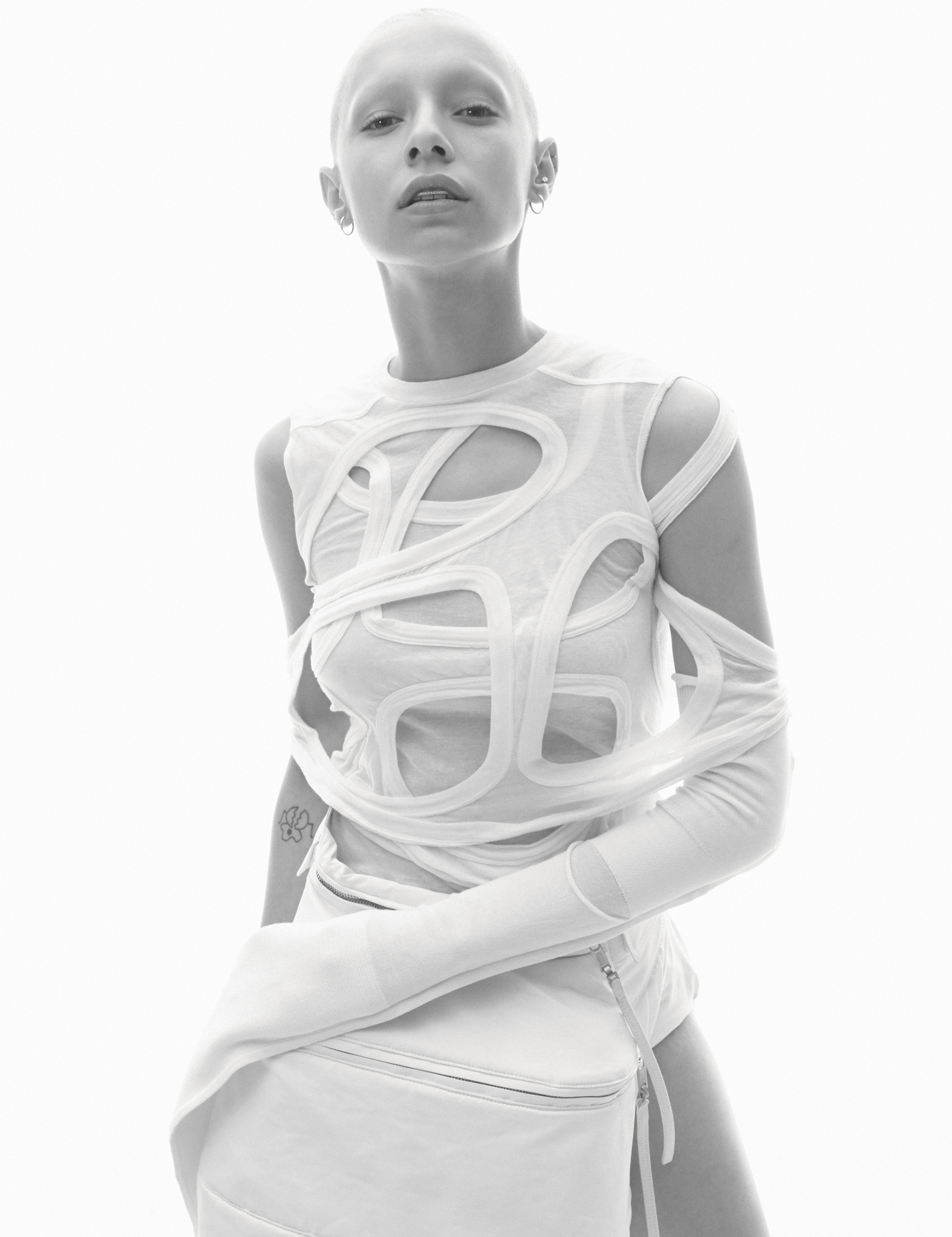 Jazzelle has a unique brand of keeping it real, being just as vulnerable IRL as she is online. She quickly opens up, talking about how her life hit "rock bottom" right before she moved from Chicago to New York. Nothing seemed to be going right: she was working three jobs, knee-deep in a relationship with "an abusive older man" and struggling to pay bills and help her mother out at the same time. "I was really going through it – partying all the time to numb the pain," Jazzelle says, looking down at the table, mentally revisiting the tough period. "I didn't have anyone looking out for me. I had my boyfriend and a lot of other people telling me no one was ever going to get me. That I was never going to get anywhere in life if they were not in my life." Jazzelle was searching for a sense of control and found it by cutting off all her hair. "I woke up one day and said, 'Fuck it. I'm sick of people telling me how to be and how to act. I'm done.'" She went from long curls to her now-signature blonde buzzcut. "It ended up being a larger metaphor after the fact," Jazzelle says, jokingly calling it her Britney 2007 moment. "I was just over it, gurl. I was ready to move on and start a new life." Little did Jazzelle know, the haircut would help her do just that.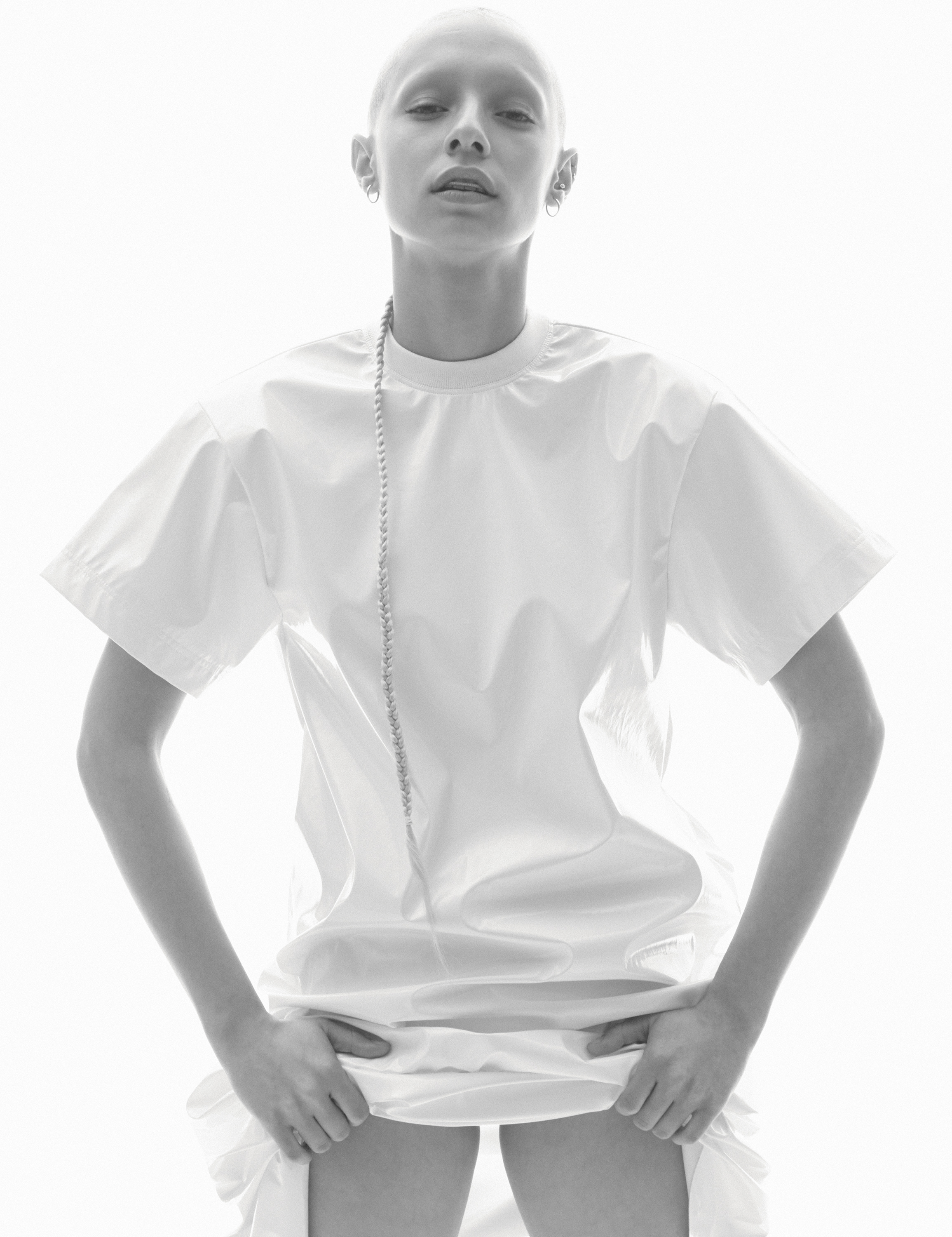 The new look put her androgynous features into sharp relief, and caught the eye of someone special: Nick Knight. The photographer DM'd Jazzelle after he saw photos of her new look on Instagram. "He said he'd love to do a shoot with me in London," Jazzelle recalls, still getting excited from the memory of it all. "I was like, 'I would love to come, but I'm dirt poor. So… if you guys can get me there?'" For once, things ended up working out (despite being detained by UK customs for a few hours). She was photographed by Nick wearing exquisite sculptural Comme Des Garçons. When she looks at photos from that life-changing shoot, Jazzelle says she sees "peace and serenity" in her eyes. She starts crying, using the sleeve of her hoodie to wipe her tears. "That was the best moment of my life," she says, followed by two short sobs. "Yes, I had a life before that shoot – but it was a really shitty one."
Two years later and Jazzelle is one of the most buzzed-about models in the industry. Long gone are the days when she felt like no one believed in her. She has a dedicated following from across the world who send her art and ask her questions about everything from self-esteem to makeup. It's easy to see why so many people connect with Jazzelle: she shows the world it's okay not to fit in. She turns her Instagram captions into lengthy emotional letters, one standout sees the model elaborate on the bullying she experienced growing up. "Eventually I stepped my pussy game up and they left me the fuck alone for the most part," she writes. Her life advice is Oprah-meets-Cardi B. This colorful honesty is how Jazzelle lets the world know some scars can't be fixed by photoshoots or runway shows. Despite all the inspiration she delivers, Jazzelle is quick to say her Instagram is more for her than anyone else. "I kind of treat Instagram like my diary," she says. "Any advice you see on my page, it's not me speaking to anybody. It's for me to go back and look at it and say, 'Okay, on this day I said this and I need to get back to that positive state.'"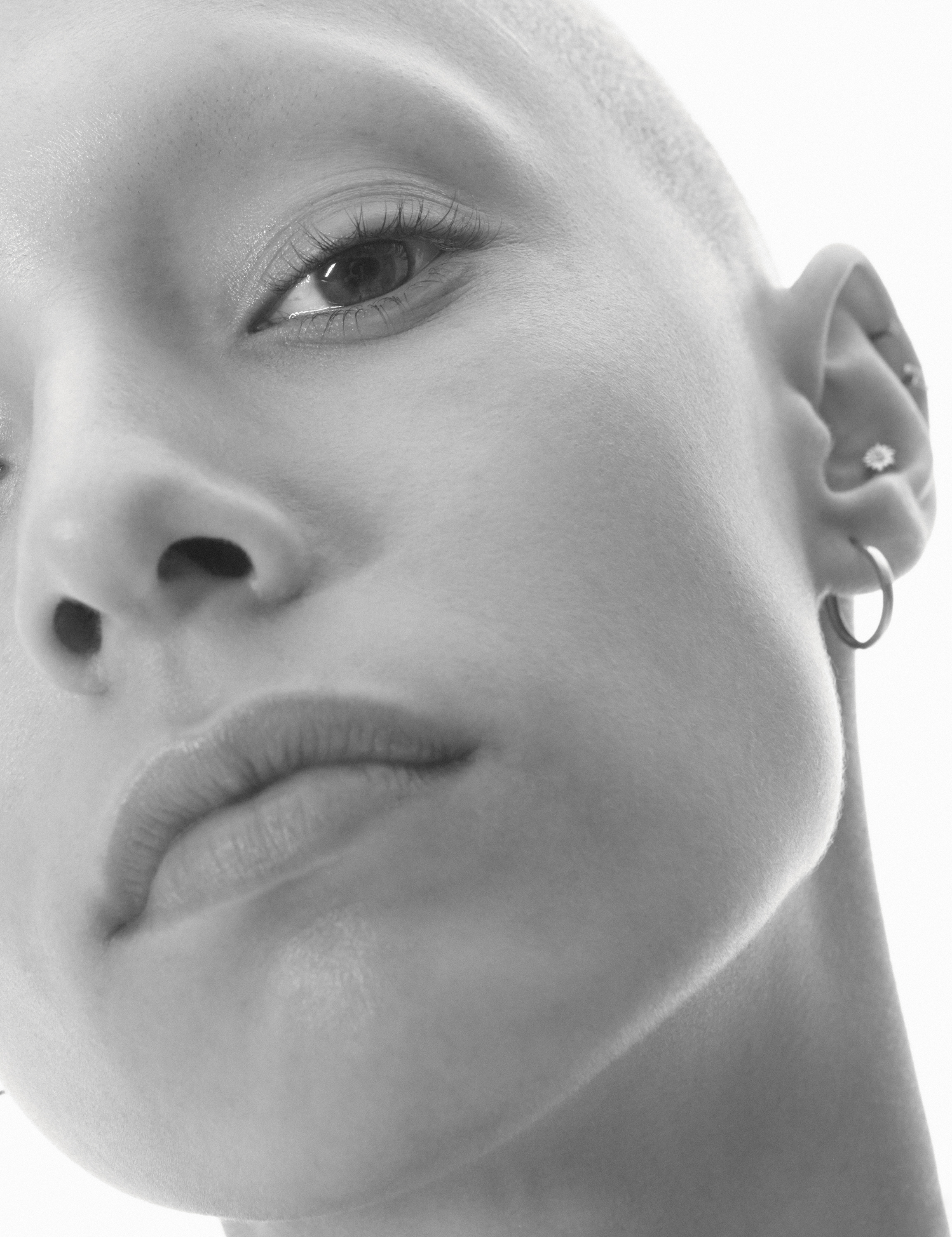 Jazzelle is hesitant to accept being a role model because she is simply sharing what she knows. "I am a queer person and I have been harassed for it for so long," she says. "So when these kind of things started becoming a conversation, it was just something I already knew." Jazzelle reflects on the LGBTQ friends she made in Chicago – going thrift shopping with them and creating sky-high platforms made out of glued-together flip-flops. "None of us had money," she laughs, "but it was such a creative atmosphere and everybody made do with what they had." As our time comes to a close, conversation turns to the idea of advice. Rather than suggesting any books to read or videos to watch or organizations to join, she delivers a simple guiding philosophy: "You should be living in the world, the world shouldn't be living around you." It quickly dawns – that's exactly how Jazzelle has been living life since her 2007 Britney Spears moment.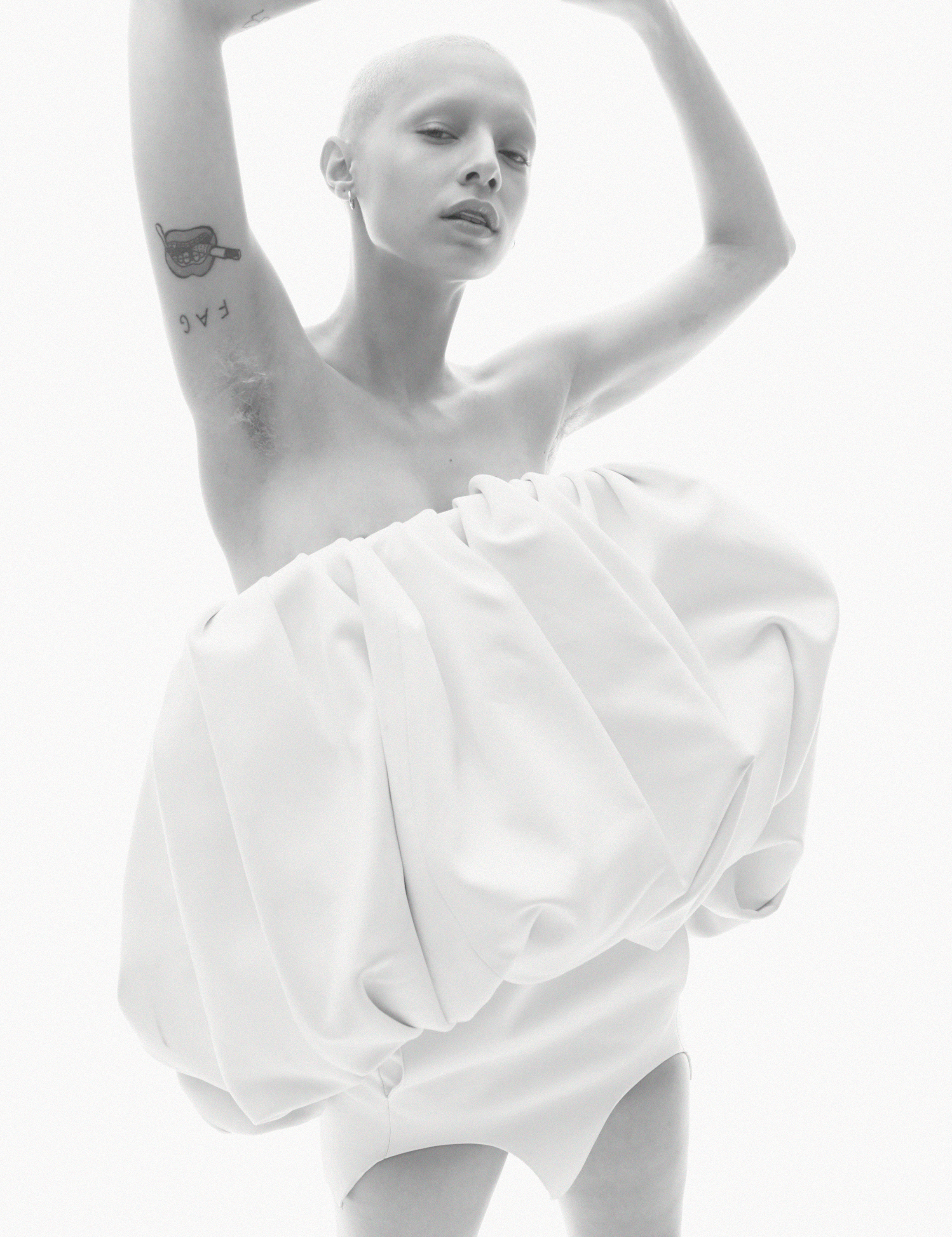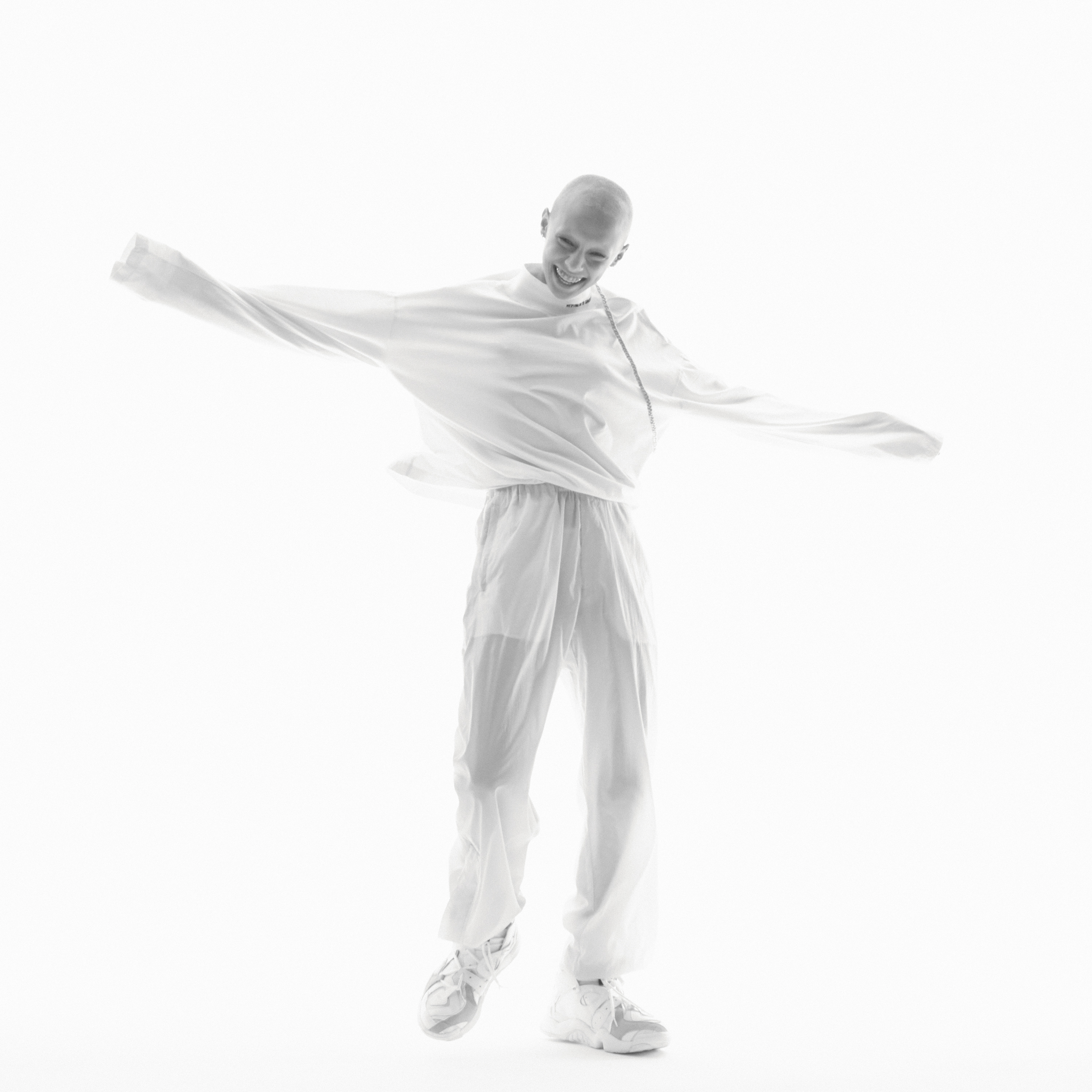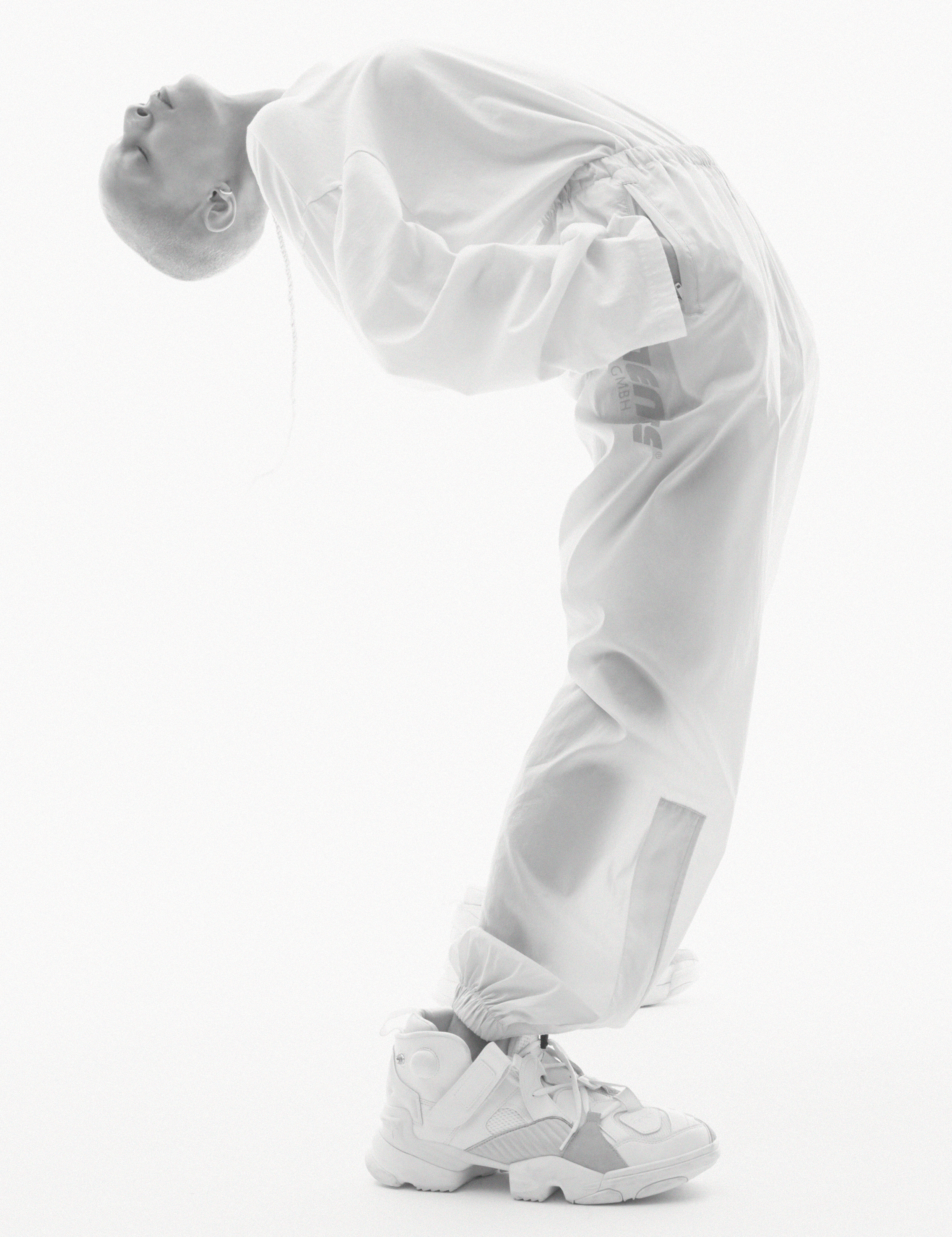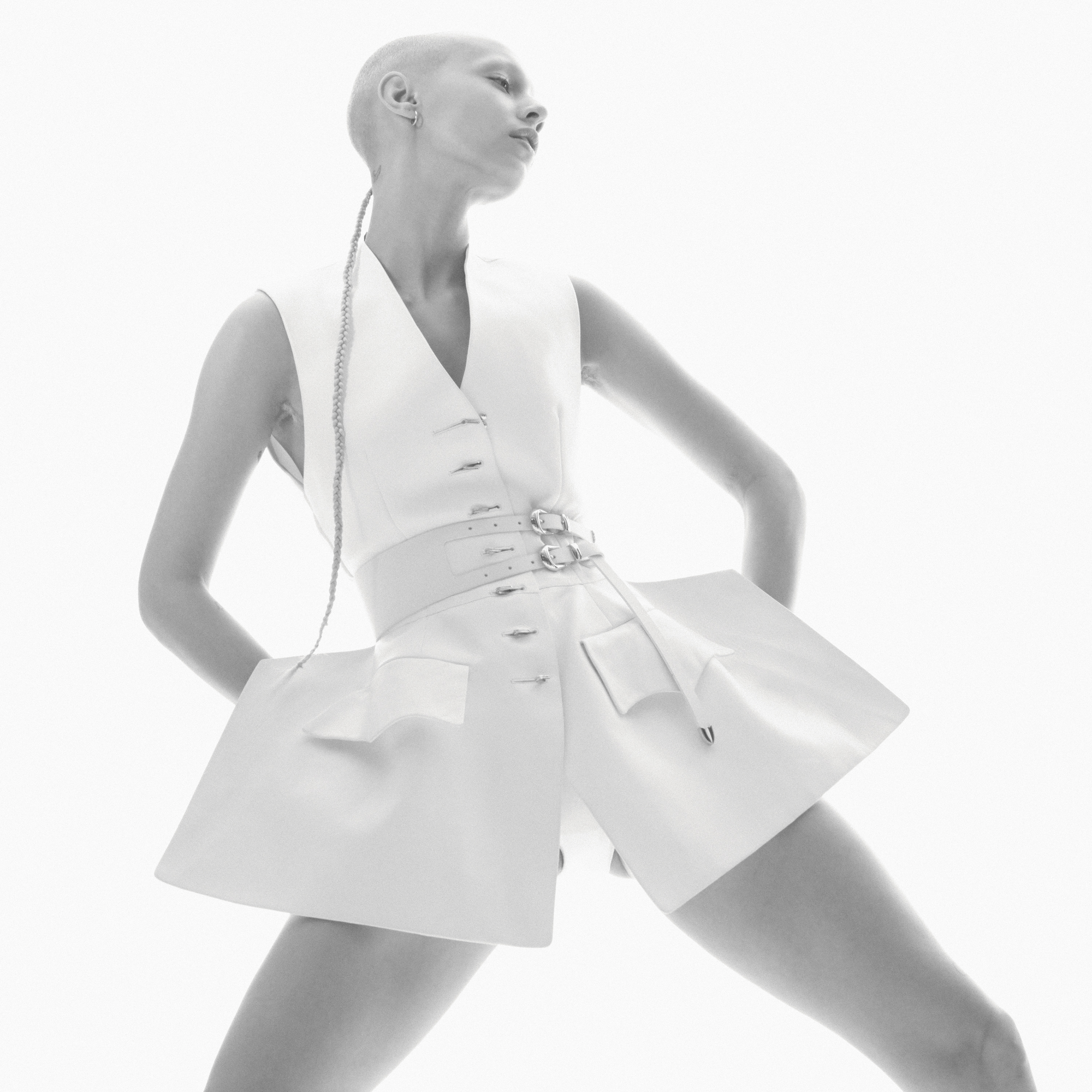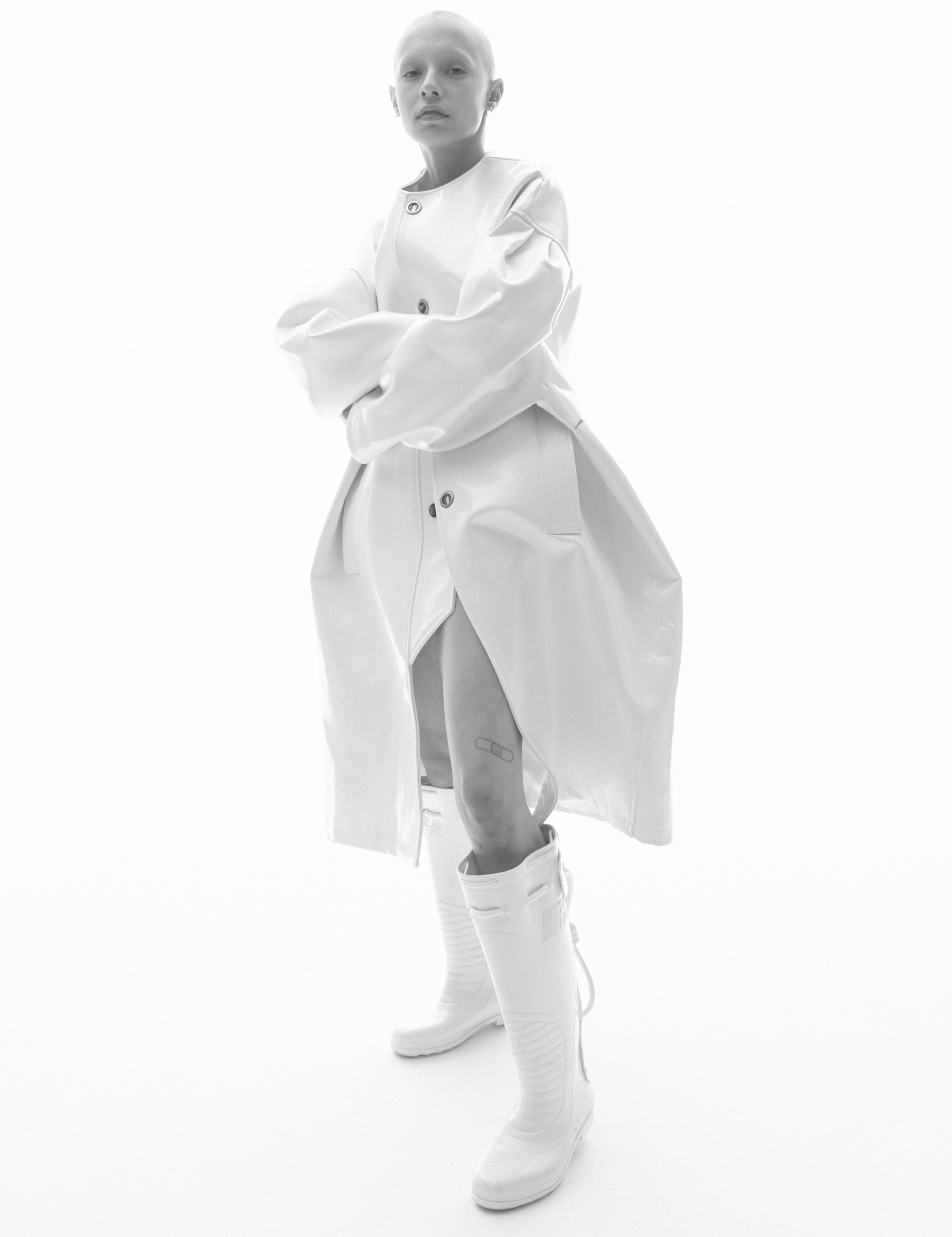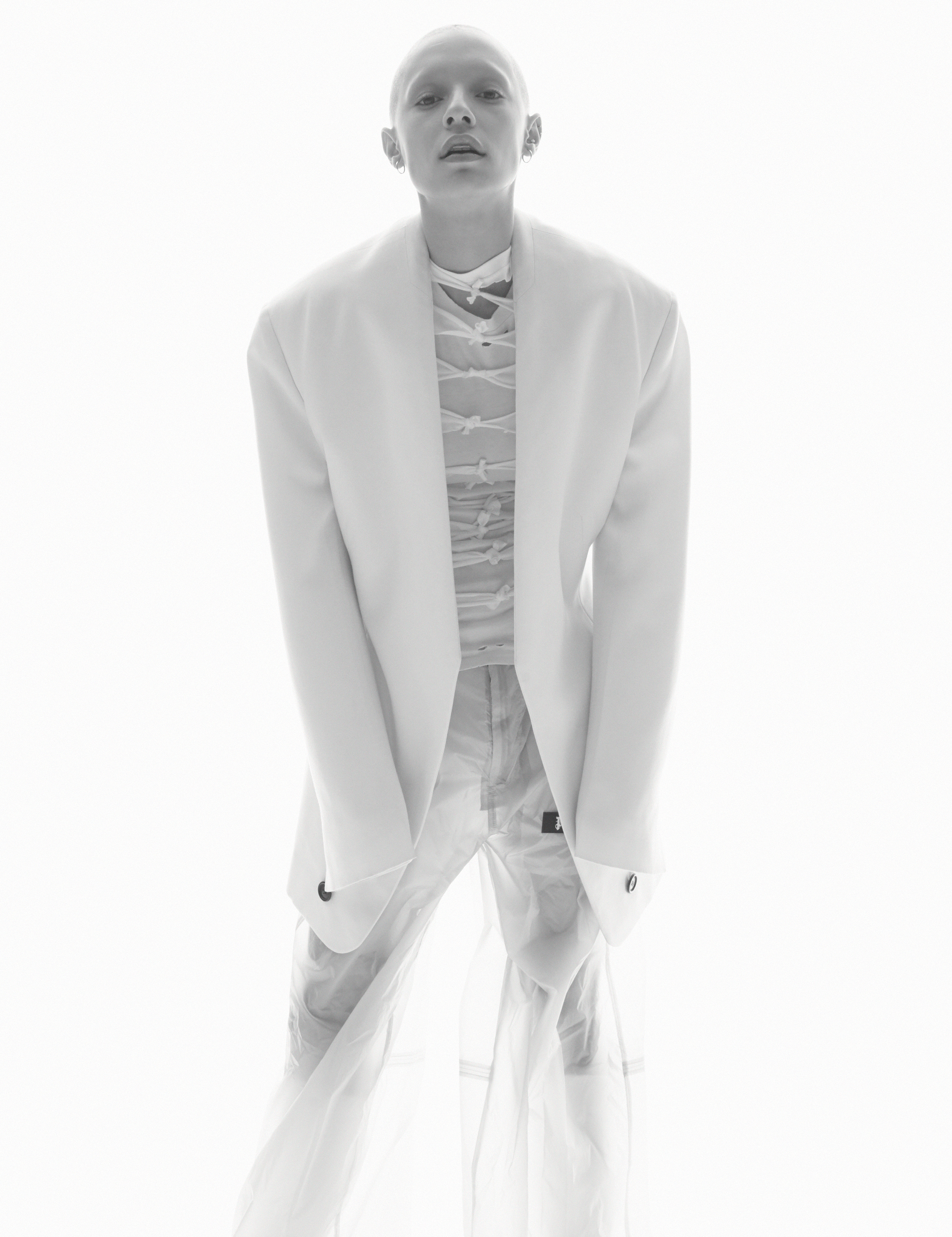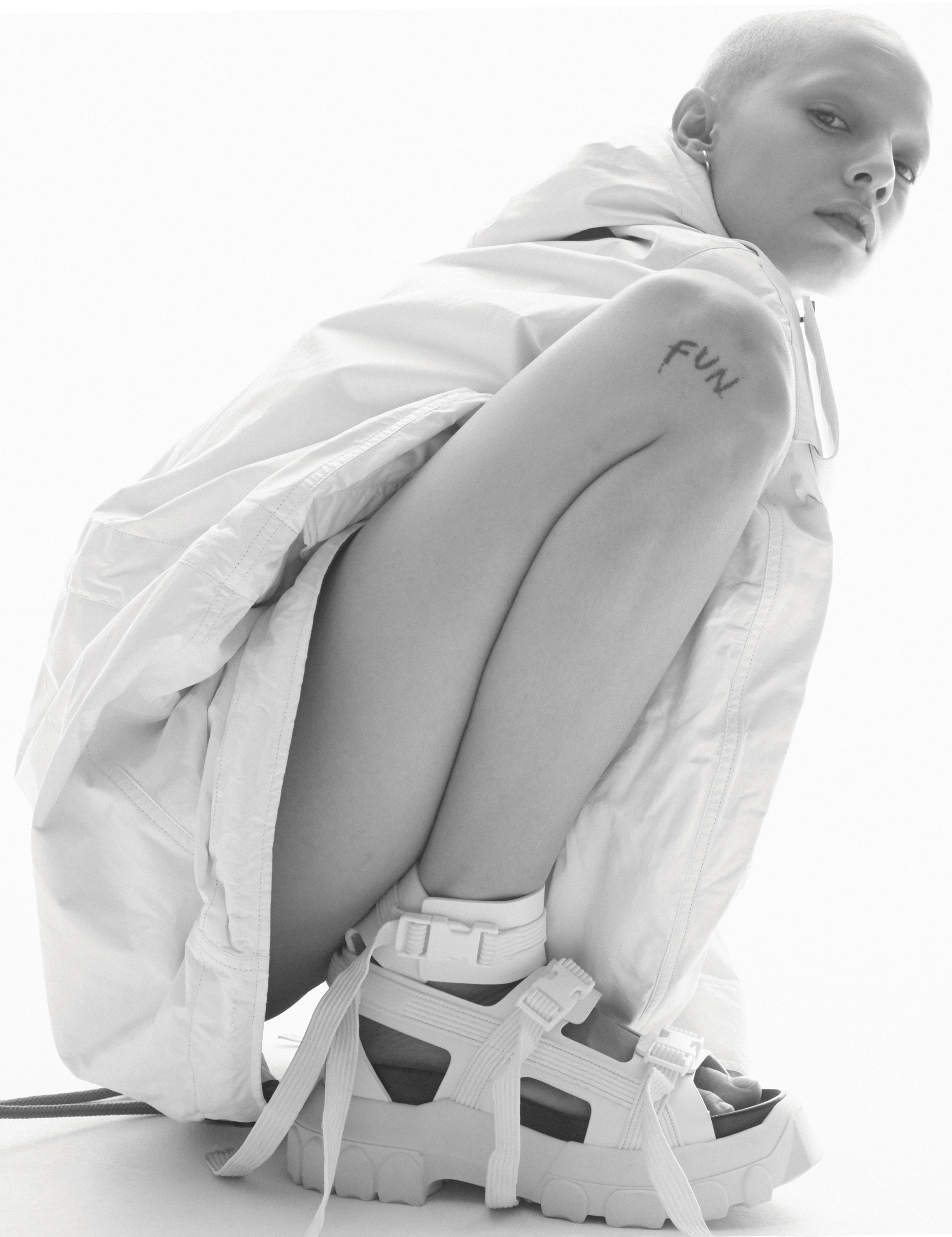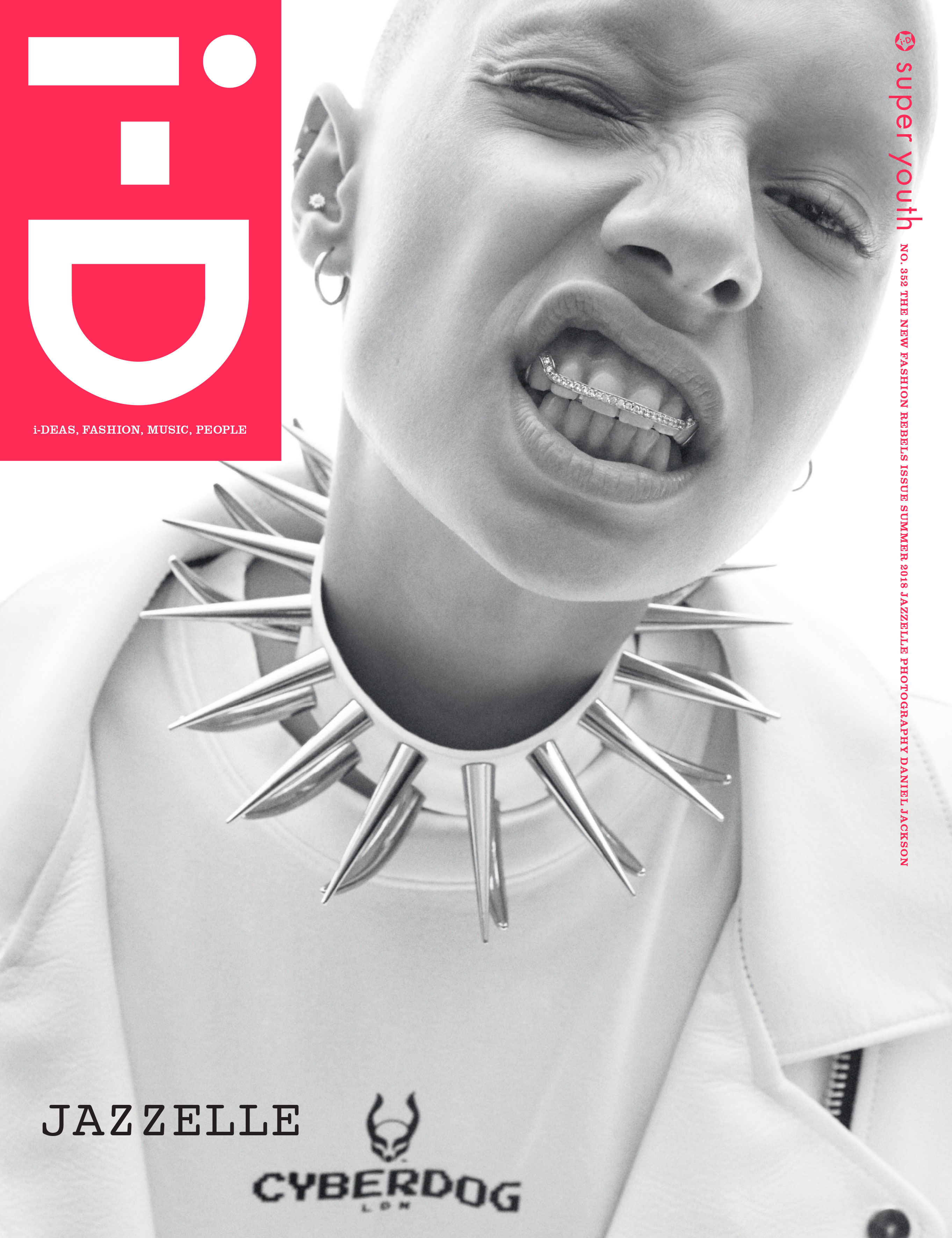 Credits
---
Photography Daniel Jackson
Fashion director Alastair McKimm
Makeup Hannah Murray at Art + Commerce. Nail technician Rica Romain at LMC Worldwide using Chanel Le Vernis. Photography assistance Mitch Stafford and Tim Hoffman. Digital manager Karen Goss. Styling assistance Maggie Holladay and Desiree Adedje. Makeup assistance Colby Smith. Casting director Samuel Ellis Scheinman for DMCasting. Model Jazzelle at New York Model Management.
This article originally appeared on i-D UK.