sza battles kendrick in her new video
And we dig deep into Kung Fu Kenny's obsession with martial arts.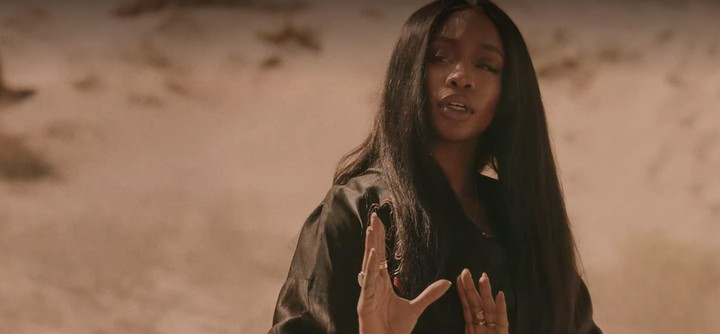 SZA and Kendrick Lamar have just dropped their video for Doves in the Wind, a track that marries SZA's honey smooth voice and Kung Fu Kenny's spitfire bars in perfect holy matrimony. Speaking of kung fu -- that seems to be the phrase pinned to the top of the moodboard for the accompanying video.
It opens with SZA in a desert on a horse. (Don't know if you've heard, but popstars on horses are very en vogue right now). She proceeds to fight her way through a couple of ninja's, engulfed in plumes of dust as she dodges darts from Kendrick's blow gun. He pauses for a bit to pray about pussy. Once she finally reaches him, they share a polite cuppa before indulging in a few rounds of intense martial arts. Spoiler: SZA wins, drifts slowly into the sky where a giant orb of sun emanates from her crotch. The resounding message: power to the pussy.
As Noisey points out, the video draws on few Asian stereotypes that have the potential to feel slightly out of touch in this day and age. "There is, to a degree, a discomfiting layer of broad 'Asian' aesthetic applied to the video that doesn't quite sit right in 2018 (especially after all the discussion around Isle of Dogs and using 'Asian-ness' as a costume)," they write.
That said, Kendrick's adoption of elements from Asian culture is is nothing new -- his alter ego Kung Fu Kenny was a key component in his DAMN tour. Fadar reports that Don Cheadle -- who starred as a character called Kenny in Rush Hour 2 -- confirmed that Kendrick's Kenny was a nod to his own. Cheadle returned the appreciation by popping up in the DNA video. HighSnobiety later drew parallels between 1985 martial arts film The Last Dragon and the narrative of Kendrick Lamar's tour, which featured clips that cumitivaly made up a short film called The DAMN Legend of Kung Fu Kenny. Across both the tour and The Last Dragon, the protagonists embark on a pursuit to find 'the glow' -- which basically means they've reached peak power and skill in their chosen field, be it martial arts or hip-hop. Naturally, Kenny finds the glow in a woman's vagina.
Kendrick isn't the first hip-hop powerhouse influenced by martial arts films (as HighSnobiety point out, the Wu-Tang Clan's album Wu-Tang (36 Chambers) got its title from The 36th Chamber of the Shaolin). In an interview with Complex, scholar and author Joseph Schloss discussed that this was in part due to the accessibility of these films in 1970s New York -- the time and place of hip-hop's genesis. Back then, the city was bordering on bankruptcy. As a result, cinemas -- along with everything else -- took a financial hit, and had to resort to the cheapest option available. "Their best economic alternative was to buy packages of these cheap Hong Kong action movies, and just show them all day long. It was that and porno movies, basically, on 42nd Street," Joseph told Complex.
Such films had a huge impact on New York's Asian and black communities, not least because they were some of the rare few to champion protagonists that weren't white. As author Adisa Banjoko told Complex, "These films -- Bruce Lee movies in particular, and a lot of the Shaw Brothers films -- often dealt with one man going against an organisation, or one man going against an unjust state. Because so much of this was done with just the hands, it was also a tool of the poor. You didn't have to be rich to have these skills. You just had to be disciplined and be willing to work, and you could have it." Basically, they prioritised hard work as a means to success over anything else. You didn't reach transcendental heights through luck or daddy's trust fund. You just needed to dig in.
It's this work ethic that's arguably made Kendrick into the record-breaking, Pulitzer Prize-winning, game-changing artist he is today. As he told i-D in his cover interview last year, "I've been in that studio writing terrible verses, writing terrible hooks, with homeboys and friends and people that you trust telling you, 'That's garbage.' I grew thick skin and got back in there and did it all over again. And then you eventually grow an ability to know when something is too far. I learnt how to challenge myself to take it to the next level."
In that light, Kendrick's use of martial arts film tropes trace a different path to, say, Katy Perry going full geisha at the AMAs, or some old white dude donning a ninja costume at the office Halloween party and trying to take out the printer with a jarring "HI-YAA." Rather, it's an homage to martial arts films and their influence on hip-hop, and a testament to the power of hard work. And pussy.