Photography Alessandro Merlo
the london designer crafting queer fashion as thoughtful as it is theatrical
Recently featured as part of the Met's 'Camp: Notes on Fashion' exhibition, William Dill-Russell is making waves with their maximalist understanding of queer style.
Photography Alessandro Merlo
This article originally appeared on i-D UK.
"Putting together a collection for me is a bit like writing a script," says designer William Dill-Russell. "I collate all of these people I see on the street, or on the tube, or in a film. At some point, it all comes together and morphs into this series of characters." It's a way of working that reflects some of William's keenest influences -- the solemnity and salaciousness of Derek Jarman, or the unhinged decadence of Fellini's Satyricon -- but when it comes to actually presenting their work, they find inspiration in a more unlikely corner. "I'm obsessed with Coronation Street," William adds. "There's something to be said about how TV does extraordinary things in a half-hour slot: it's like a fashion show, where you're trying to communicate a ton of information in 10 minutes."

Be that as it may, we'd be surprised if one of William's gowns showed up on the iconic soap anytime soon. With every piece so far painstakingly hand-crafted by William and produced largely on commission, these are couture-level gowns; albeit available to purchase via the distinctly non-couture means of payment plans. "Most of my audience are within the queer community, who perhaps don't have as much money as other people -- I saw a statistic the other day that trans and non-binary people are four times more likely to be unemployed than cis people," says William. "So for me to sell something at £3,000 just doesn't make sense. I couldn't afford that myself. I'm trying to think of new ways to sell my pieces, but it takes time. I don't want to just release something that's not going to sell."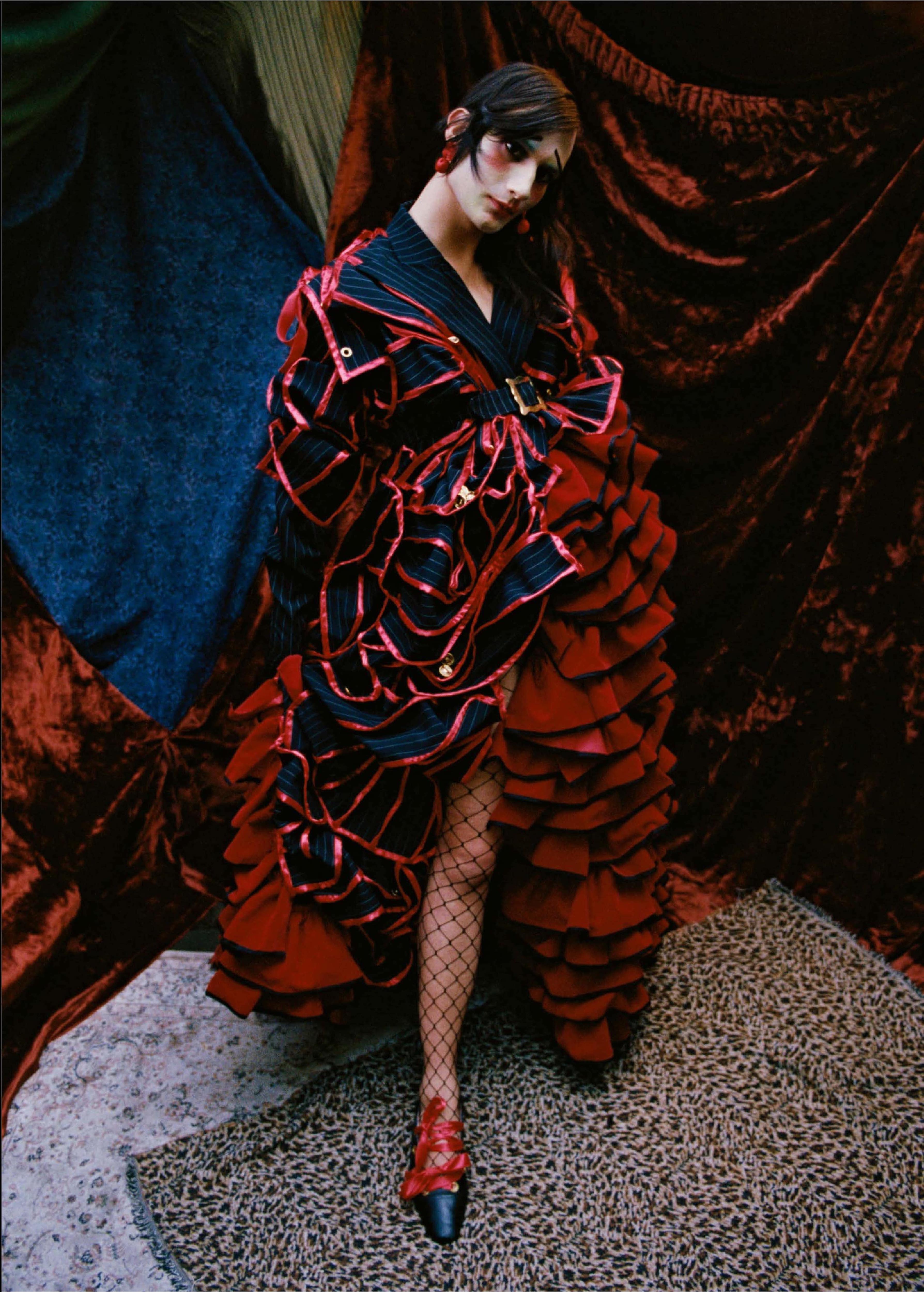 William's 2018 graduate collection was a riff on the ancient Greek myth of Sisyphus, featuring club kids in head-to-toe body paint stepping out in opulent jewel-tone gowns of ruched silks and crushed velvets. Further back, there was their 2016 collection centred around Fanny and Stella, the Victorian cross-dressers who found themselves embroiled in a high-profile 1871 trial for having committed "unnatural offences". But since graduating, William's been laying low, preparing an extensive new collection, for which they're ensuring that every detail -- from retail strategy to the clothes themselves -- represents exactly what they want to say about queer fashion today.
"Without sounding too egotistical, at the beginning my design process was very much about trying to figure out what was going on with myself and my gender identity. It's the same when anyone realises something about themselves, you become very consumed with your own thoughts, and you begin to feel like you're the only person in the world. I think that's why I've taken the year out. It's not just about understanding myself, but looking outward and understanding other people's situations too. I'm trying to do what I guess you would call market research. If I speak to as many different people as I can, from all walks of life, I can find out that a trans man might need certain things from their clothing that I wouldn't have a clue about at all."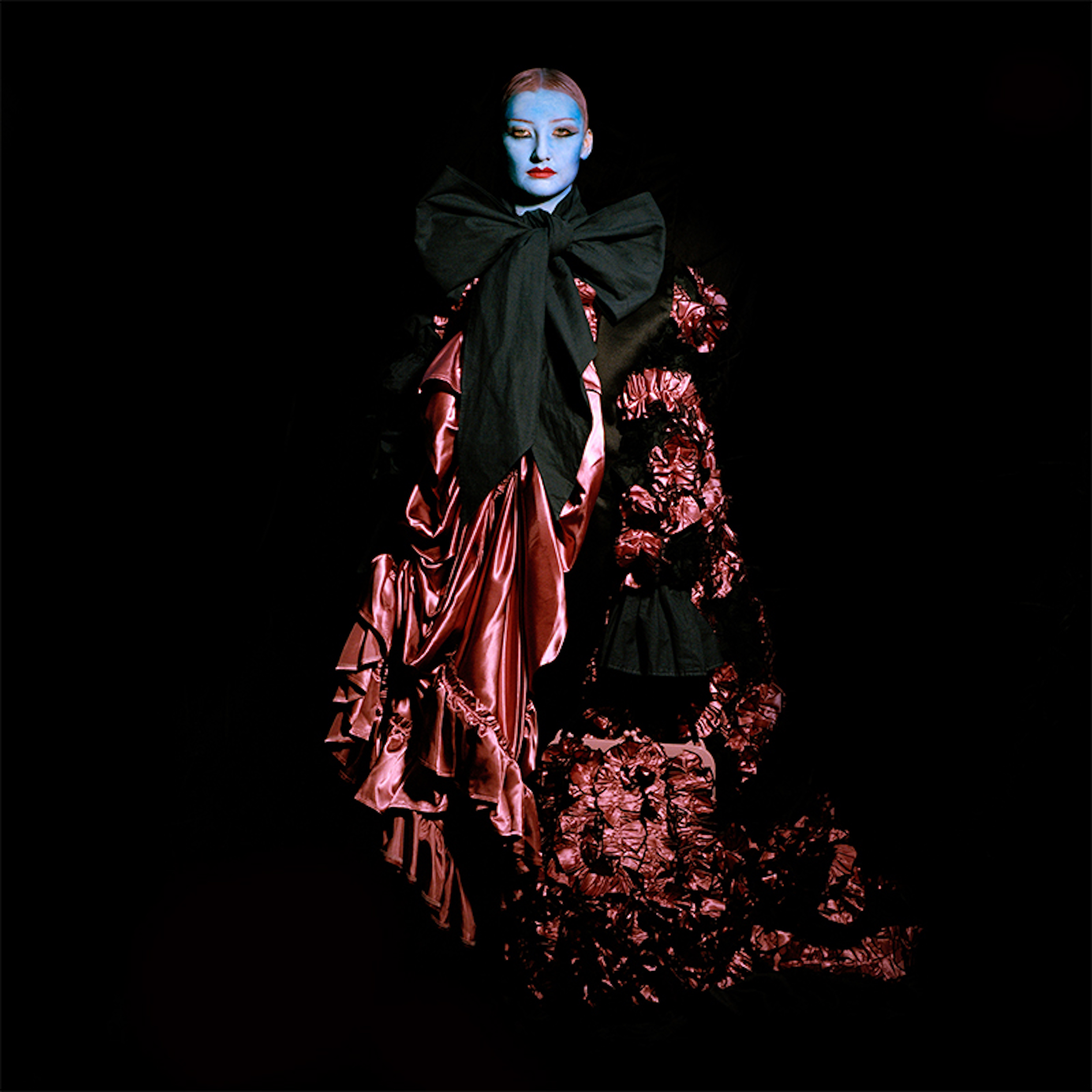 It's this relentless curiosity that marks William out as a singular voice within the new generation of young queer designers coming up through the ranks in London. Much like their friends Eden Loweth and Tom Barratt of the label Art School (William modelled in one of their first lookbooks), William's understanding of how to clothe the queer body is as thoughtful as it is theatrical. At Art School's most recent show in January, the designer duo coined the term "dagger dresses" to describe bias-cut slips produced in a stretchy fabric to account for the mutability of the transitioning or non-binary body; similarly, William's penchant for roll-necks is functional as well as stylish, allowing trans and non-binary people to cover their Adam's apple, should they wish.
"As another example, my parents always ask why all the dresses go to the floor," William explains. "I don't shave my legs, and if I wear something with my legs exposed and sit on public transport I am just completely stared at the whole time, which is very uncomfortable. There's certain things that people wouldn't think of, but for people like me are just part of our daily lives." It's the kind of detail that is testament to the importance of having diversity not just on the runways, but behind the scenes too. The more queer voices in the room, the more queer bodies can finally be properly catered for within fashion.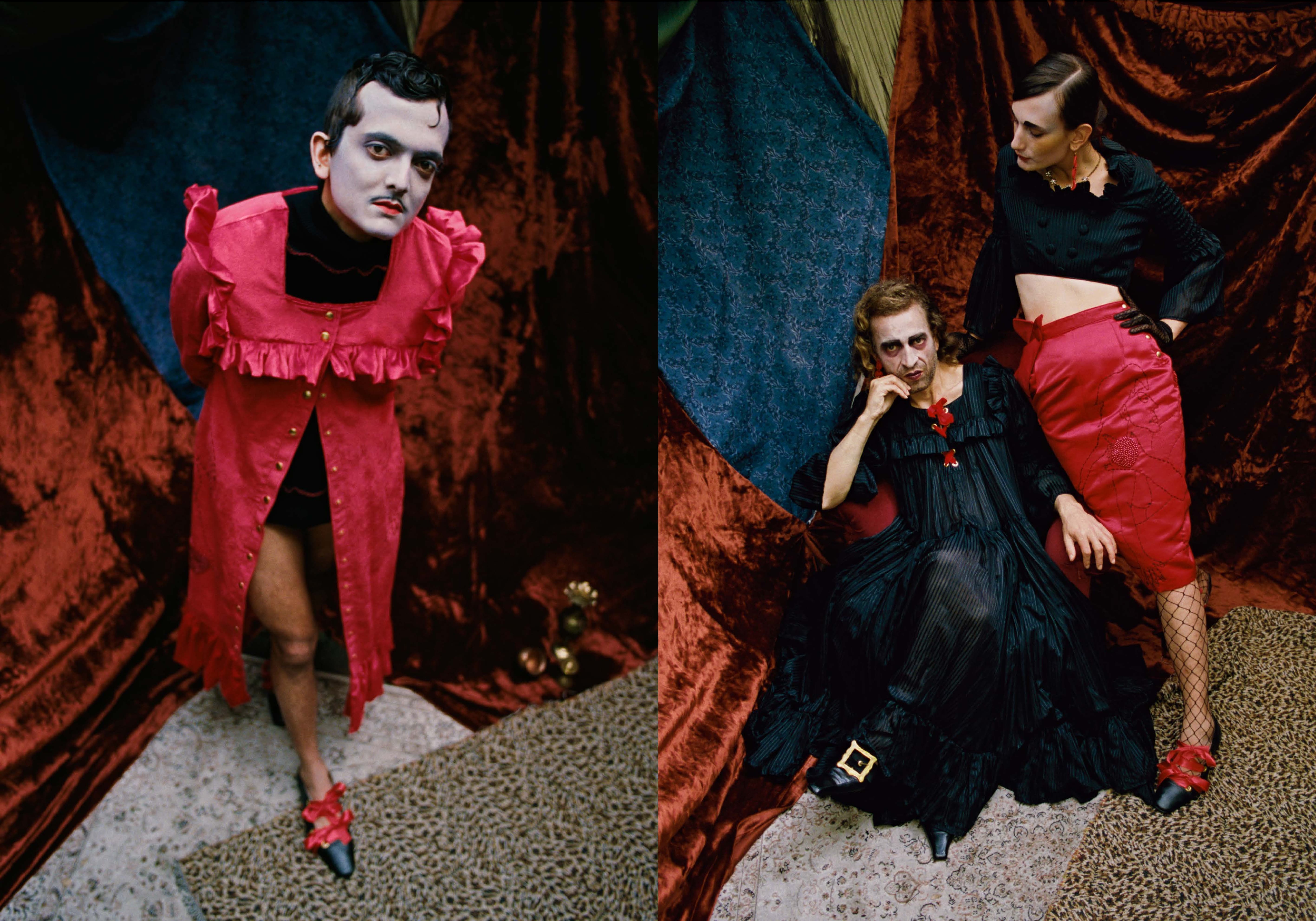 And despite their time out of the spotlight, William's work hasn't been forgotten. A few weeks ago they found themselves in the unique position of becoming the youngest designer to have their work featured as part of the Costume Institute at the Metropolitan Museum of Art's annual blockbuster show, this time themed by the subject of camp. "It was all absolutely bonkers, I still don't really know how they found my work," William says. "They emailed me through my website, and there wasn't a signature so at first I thought it was a student project where they were doing an example of an exhibition proposal. Once I realised it was actually the Met, I went into a bit of a weird, overwhelmed state of mind. I still can't really fathom that any of it happened."
With two of their Fanny and Stella dresses featured within the first half of the exhibition that explores the history of camp, William's work has already received some of the greatest validation that any designer could receive. Where do you go from there? "When I was younger I always enjoyed acting, dancing, performing, so it would be wonderful to return a bit to that sort of thing in a design context. I do a lot of commissions for drag performers, but I think doing more formal costume design would be so interesting, especially for dance. Because there isn't dialogue, the clothing has to do a lot of the talking."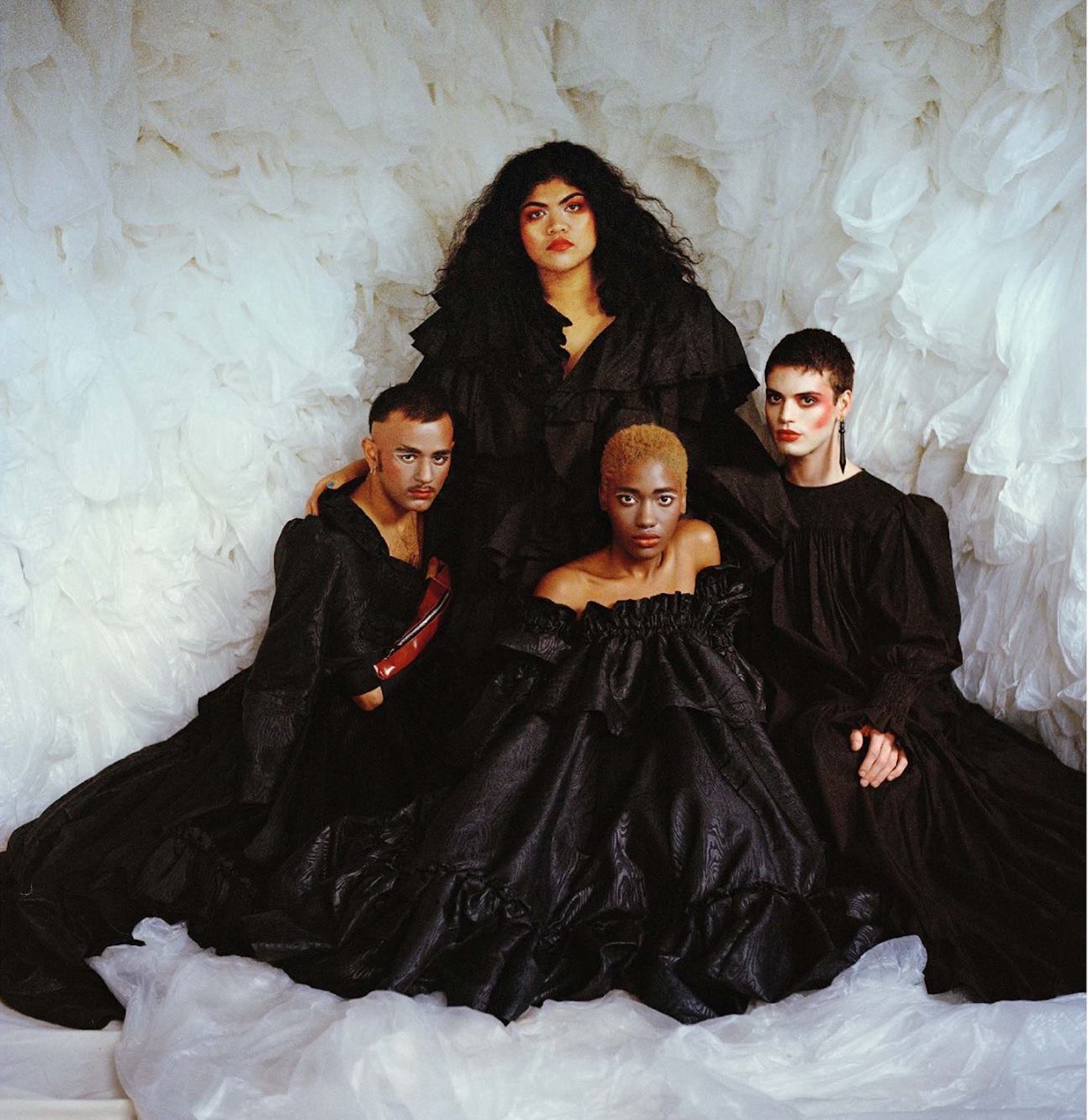 When it comes to assessing the future of queer fashion, however, William is more equivocal. "It's tricky, because I have my opinions, but at the same time, I don't speak for everyone. Within fashion, there are obviously plenty of brands making genderless clothing, but it's an aesthetic that can really easily become misunderstood as something all non-binary people would wear. And not only is that a heavy burden for someone to hold, it's also about trying to get other people to understand that it's not actually just this one little group of people. It's a conflict within many groups and companies, trying to get them to understand that is a valid identity, as opposed to something that's sort of cool."
The cheering flipside is that this new crop of queer designers bring with them an unprecedented level of choice; a spectrum of options for how queer people can dress that fully reflects the spectrum of queerness and gender identity itself. William might be very happy to simply exist as one voice among many, but it's a voice that is one of London's most compelling.
Credits
---
Photography Alessandro Merlo
This article originally appeared on i-D UK.