westwood, mcqueen, margiela: iconic collections to inspire your winter
As the weather cools, we revisit the historic collections that changed the way we imagined winter dressing.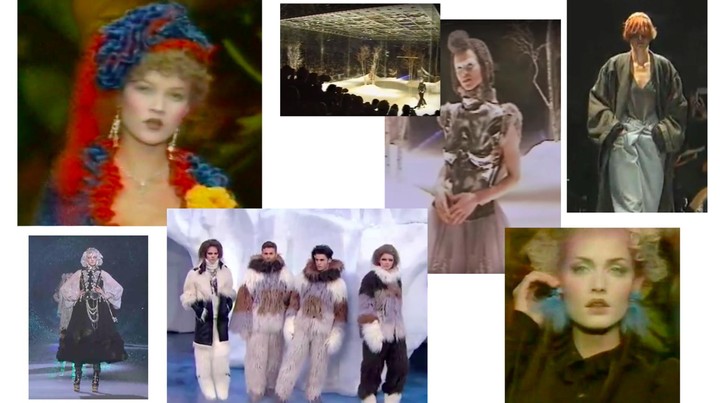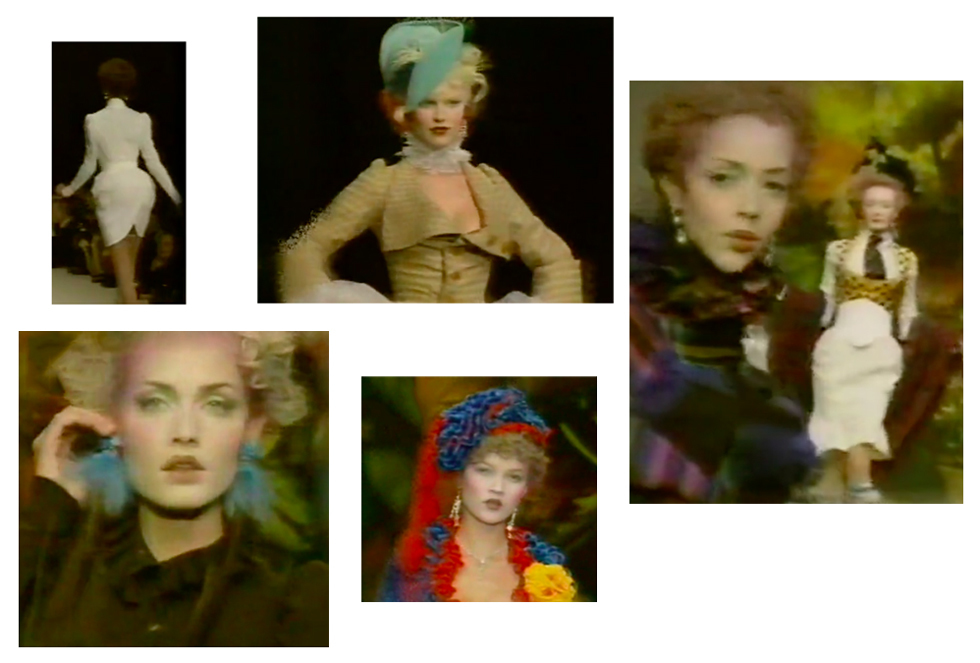 Vivienne Westwood ready-to-wear autumn/winter 1995
Dame Viv's 1995 collection offered us a vision of winter dressing that didn't lose the figure under layers and layers of fabric. In fact, she proposed we rug up to exaggerate the hourglasses, reintroducing historic tailoring methods — the bustle, the conical bra — to push feminine proportions to fantastical extremes. Tartan suiting and heavy furs were nipped tight at model's waists. The fact those very models (Naomi Campbell, Nadja Auermann, Helena Christensen, Linda Evangelista, Eva Herzigova, Shalom Harlow, Carla Bruni) were soon to be cemented as the greats, if they weren't already, certainly helped the collection go down as one for the history books. Only Viv could give us a season that was as provocative and coquettish as it was cozy.
Alexander McQueen ready-to-wear autumn/winter 1999
McQueen's 1999 outing bewitched the fashion press, with reviews reserving special praise for the theatrical set, a sort of Victorian Snow Globe. Models pressed their palms against the glass cube which separated them from the audience, swirling through the snow. McQueen bedazzled nude mesh bodysuits with cascades of crystal, which gave way to exposed flesh; there were tuxedos with odd, uneven tails; and a spectacular breastplate covered in quartz reaching to the sky. Other pieces were more domestic: simple hoodies and homey knits. For his part McQueen took cues from the latter styling, bowing in a simple Ralph Lauren polo and slacks.
Maison Margiela autumn/winter 2000
Margiela's 2000 collection was an ode to the overblown and the extra large, opening with an enormous leather jacket and closing on a chunky turtleneck with too-long sleeves. In between, Margiela gave us giant pants folded over themselves at the waist — even model's fringes were too long, hanging over their eyes like a curtain. Delightfully easy to replicate with one's own wardrobe, the collections is still a rich vein of inspiration for designers and stylists alike. It's all proportion play we're seeing again today, although here, we're watching the originator, not an imitator.
Alexander McQueen autumn/winter 2003
Another McQueen show? Of course. There's no celebration of iconic winter showings without his 2003 collection, presented on a makeshift icy tundra. Where his snowy offering years earlier was poetic, this was brutal and desolate: his models were warriors, walking defiantly over the rocky runway. McQueen's inspiration seemed cobbled all the way from Rome to Tibet, but the fashion press didn't seem to mind the straying thematic focus — they were far too busy praising the designers advancing workmanship, here approaching his peak. It was a convincing pitch for aggressive, fierce winter dressing.
John Galliano autumn/winter 2009
For autumn/winter 2009, Galiano leaned deep into folklore to give us a shining vision of a winter spent draped in silver — think Zelda Fitzgerald via the Balkan Mountains. Flakes of glittering artificial snow fell from the ceiling as the great dolls — Sasha Pivovarova, Magdalena Frackowiak, Natasha Poly — walked down the runway with dustings of gold and silver on their cupid's bows. Everything was illuminated with a cleverly programmed lasers, which gave the impression models were freshly beamed in from some other, fantastical planet. After all, Galliano would never sacrifice theatre (nor forgo the transformative power of great costume) just because it was a little chilly out.
Chanel autumn/winter 2010
Karl's faux-fur spectacular was the talk of the season in 2010: an incredibly extravagant show, even by his standards. Enormous chunks of bona fide iceberg were miraculously shipped in from Scandinavia for the occasion, and the clothes were equally outsized. Abbey Lee Kershaw appeared in a suit of fur three times her size, looking like a chic polar bear. Even when Karl wasn't giving us costume pieces, huge puffs of fur extended off sleeves, trousers and boots — though in a departure from his work at Fendi, all of it was fake. Many reviewers guessed that Karl, normally one for excess and splendour, might be using the ice caps and faux fur to say something about the preciousness (and scarcity) of all natural resources. In any case, it certainly proves you can ditch fur this winter and still look luxe.
Credits
---
Lede image Maison Margiela screengrabs via Dailymotion, Vivienne Westwood screengrabs via Dailymotion. John Galliano screengrabs via YouTube, Chanel via YouTube.