2016's best street looks, straight up
These are the twenty street shots from across Australia and New Zealand that really inspired us this year.
|
13 December 2016, 11:00pm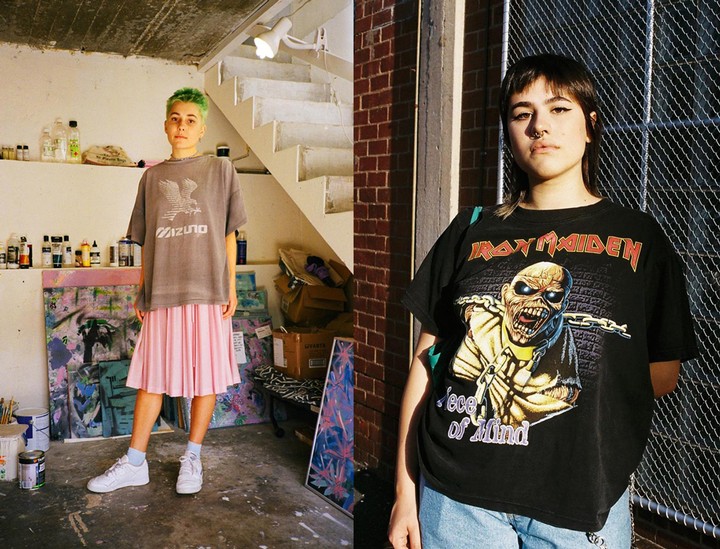 In the 1980s, i-D pioneered a new form of fashion photography: the Straight Up. Punks found in English citites were asked to stand against the nearest blank wall. No studio lights, no casting agent, just a shooter on the street. We're still doing it to this day, all over the world. Here, we look back on our favourite Straight Ups from Australia and New Zealand.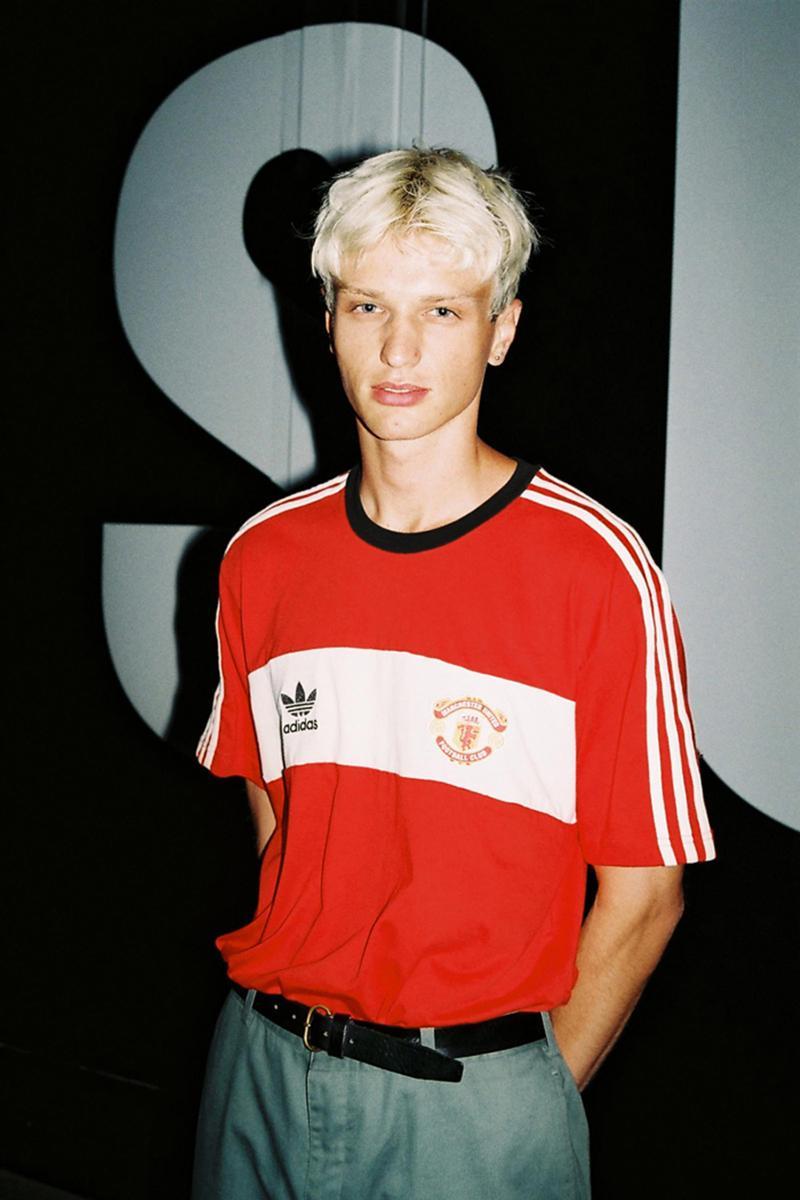 What do you do on weekdays?
Ten push-ups for fitness, 1/2 cup brown sugar for nutrients.
What's the last thing that made you smile?
My dog, Tilly.
What are you wearing head-to-toe?
Adidas Manchester Jersey, Arnold Palmer slacks and Converse chucks.
What was the first piece of clothing you owned that you loved?
I had this Guess t-shirt in sixth grade with a dragon coming over the shoulder. I spilt brown paint on it and it looked like the dragon was barfing.
Do you want to be famous?
Yes, definitely. I have no idea why. I want people to let me have stuff for free.
What happened when you had your first crush?
I heard she went to church so at recess I approached her with the idea that we perform a play of Noah's ark in front of the class. The plan actually worked great, we used cardboard and stuffed animals to build a set and rehearsed the performance alone at lunch break for a couple weeks. Unfortunately after performing it in front of everyone I discovered that she liked this kid Jonathan, who didn't even know any Bible stories. Fourth grade was a super confusing period for me. The play also kind of freaked everyone out.
What are you wearing head-to-toe?
Mum's wedding dress, cut in half; Dad's Mizuno tee and Reebok Classics.
Who are your female heroes?
All the mamas out there, especially mine.
What do you think makes Australian women unique?
It is a beautiful privilege in Australia to live in a diverse society and be able to continually learn, exchange and express cultural knowledge. I think this has lead to a lot of solidarity between women. We all have different things to say but we're trying to find a collective voice.
Who is your favourite woman in film?
Maybe Grace Jones as May Day in A View To A Kill, complete bad bitch.
What do you do?
I am a student of life, doing whatever comes my way. There is so much amazing stuff going on in Auckland at the moment. I have never seen myself as an "academic" so university just doesn't seem the right place for me. But I love "doing and making" so I am interning wherever anyone will have me, learning as much as I can.
How would your girlfriends describe you?
Delightfully insane with a terrible singing voice (but they let me sing anyway).
If you could sit down for dinner with three women who would they be and why?
Tavi Gevinson, editor of Rookie Magazine. She made me feel comfortable in my own weirdness when I was younger. Annabel Liddell from Miss June cos I just love both her music and her politics, and Nina Van Lier who's the Art Director of Black Magazine because she is my best friend and the most loving, creative person I know. Actually the human most inspiring me right now is human rights advocate Aych Mcardle who has just been representing NZ at the UN in Geneva.
What do you think makes Kiwi women unique?
That we can try anything and we have an amazing can do attitude. We are not afraid to give something, anything a try.
What's the best thing about being young in 2016?
It just feels like no one has put any limitations on us right now — we can just jump in and get involved in whatever is there.
What do you do?
I'm a full time chiller.
What are you wearing?
An Iron Maiden shirt and vintage jeans.
What's your favourite thing about spring?
The weather.
What are you looking forward to?
Having a cold beer on the beach baby.
What'll you be wearing?
Probably the same stuff .
What'll you be listening to?
The Scarface soundtrack.
What are you wearing?
Acne sweater, Desert Designs jumpsuit and platforms.
If you could sit down for dinner with three women who would they be?
Dead or alive? Erykah Badu, Judith Lucy and Frida Kahlo. I would hope that we would have a delicious dinner with lots of laughs.
What do you think makes Australian women unique?
Our dirty-as-hell sense of humour and determination to get shit done individually and collectively.
Who are the women inspiring you right now?
Atong Atem and The Brujas of the Bronx.
Favourite woman in history?
Aunty Jenny Munro.
What do you do?
I am fashion director at Catalogue Magazine and Well Made Clothes.
What are you wearing?
Perks and Mini pin, Zara dress, Uniqlo stockings and Topshop shoes.
Your biggest fashion faux pas?
Ages 12 to 19.
First album you ever bought?
Probably Hilary Duff
Tell us about your first crush.
We kissed underneath the computer tables in year four and he proposed to me in front of the class.
What are you wearing?
My mum's Fila jacket, Marfa Journal tee, Louis Vuitton jeans and creepers!
How would your girlfriends describe you?
I'd hope that they would say I'm kind and loving, but the first thing would probably be how annoyingly rational and critical I am.
Describe your dream dinner party?
Pipilotti Rist, Anjelica Huston, Vivienne Westwood and Joan Hornsby (my grandma). She would definitely bring an unusual energy to the room, as well as three packs of cigarettes and a two-layered tin of biscuits.
Who are the women inspiring you right now?
At the moment I find the work of Barbara Kruger really interesting, and more specifically her recent iPhone prints and her artist ads in Dazed from 1996. They are more relevant in today's world of social media than ever before which is exciting. Locally, I really admire musician and performance artist Rainbow Chan, sculptor Hilarie Mais, and my best friend Lily who runs China Girl.
Favourite female film character?
Trinity from the Matrix and Bridget Jones.
Favourite woman in history?
My mum. She's a super power lady.
What does "the perfect night out" look like for you?
The perfect night out for me begins with pre-drinks with queer friends at my favourite Korean bar. On occasion there's some pre-club dancing if they're playing some K-Pop bangers (which is most of the time) then heading down to Yah Yah's in Fitzroy for my favourite queer night, Thursgay!
Why is the club such an important haven for gender diverse and queer kids?
The club scene is an escape from reality, a reality which can often be dark and turbulent. Some of them, including myself, would be dealing with estranged family ties, bigotry and discrimination from the general public. It's very much a safe space for us where we can be somewhat comfortable living our truth without fear of harassment, at queer friendly clubs anyway.
How does the club foster style, culture and community?
When I first started going out clubbing I would see so many people in amazing get-ups and it really inspired me to play around with looks and find my own unique style. I never knew I would make so many friends at the club, but the smoking area really changed my life. I could sit (or stand) there for hours talking to people, everyone is just so chill.
Should we be thinking about accessible ways that queer people can connect outside of the club as well?
Yes, definitely, and there are. I've joined a few great queer groups on Facebook that people I've befriended at the club added me to. We stay hella connected, share relevant memes and sometimes plan nights out together.
What are you wearing?
My favourite Lovisa headband, Max Black collar, my 'C' Louis Vuitton necklace, an old Vetements hoodie (inside out, because I'm bored of the print but it's still so cosy) and a Balenciaga skirt and bag with a Givenchy raccoon tail.
Female heroes?
They're the only kind.
If you could have dinner with three women who would they be?
Kim Kardashian, Grimes, and my mom.
Who inspires you?
Björk has always been a huge inspiration to me as a musician and for her style. Similarly I'd say Grimes. I used to be obsessed with Chloe Sevigny and still kind of am. I am always inspired by other trans women and their work in art, film and fashion. Women like Hari Nef, Rowan Oliver and I honestly just want to list my Insta following. My friend Jess, who has mentored me as a DJ, I feel the most supported at this time in my life, and that's thanks to other women inspiring me. It's always refreshing. I also love the Kardashian and Jenner girls.
Favourite film character?
I'd like to list every role played by Nicole Kidman.
What are you wearing head to toe?
AS colour top, Uniqlo pants, Lacoste bag and shoes.
What was the last track you listened to?
Around, Noir (Moodymann Edit).
Do you consider yourself politically active?
I do, armchair basis for now. I am disgusted and offended by the level of discourse and the disrespect of the populace globally as we are misrepresented through the two party system.
At the end of a big year, after Brexit and Trump, how are you approaching 2017?
I decided in case of all out catastrophe, instead of floundering around for food and general supplies, I am going to meditate and try and transcend this plane and enter the 5th dimension.
Who would you pick for president?
Me!
Where are you from?
Berlin.
What do you do?
I have a lot of fun and I tend to take photos of that fun.
What are you wearing from head-to-toe?
Shark Week tracksuit and Nike 90s GTS. I was supposed to fly to London on Tuesday but I messed up booking my flight, so I've been wearing this for the last four days. I feel ridiculous
What are you listening to on repeat right now?
You don't want to know
Where would you take us if we came to visit you in Wellington?
Probably Reading Central, I'll buy you Wendy's.
What are you wearing?
A long sleeve t-shirt by Sibling, it lists all the things that matter: affordable housing, breaking the internet and the dance floor. My jeans are BDG.
If you were Prime Minister for the day what would you do?
I'd legalise same sex marriage, boost arts funding, create stronger climate policies, and create a treaty that recognises the prior occupation of Aboriginal people.
What do you want to see politicians address?
A lot of things, we should be doing all we can to preserve what we've got.
What's the best thing about being young in Australia?
People are nice and I feel safe — there is a great arts community in Melbourne.
What are you listening to?
Little Dragon by Bowie.
What makes you happy?
I'm happy when I'm doing a combination of walking, having a good conversation, drinking a coffee and with my dog.
Zeb Amentas photographed Melbourne boy Theo Jürgen Amentas bracing for winter. Here's what he had to say — and here's hoping he graduated with flying colours.
What do you do?
I'm a student.
What were you wearing?
An op shop scarf, four or more t-shirts, a thermal, a Ruby Yacht t-shirt, Paradise long sleeve, Supreme Child of Hell t-shirt on top, an op shop jacket, op shop pants, yellow Converse and cozy soccer socks. It's very cold.
Are you a winter or a summer person?
I don't pay much attention to the seasons; but winter, for the layers.
Would you rather travel back in time or to the future?
Back in time, a little, technology is scary — so are robots.
What song can't you stop listening to right now?
Ma Cousin by Yancity Gurl.
What are you excited for?
Finishing high school and the next cake I bake.
What were you wearing?
I am wearing a M.Y.O.B beret that was purchased in Japan, a thrifted PVC trench coat and black silk pants.
Define your style.
The fifth member of Siouxsie and the Banshees.
What was the last thing that made you smile?
The beautiful bunch of red roses I just gifted myself with.
What's your favourite decade for style?
The 1990s; in particular Jean Paul Gaultier working alongside Madonna creating costumes for her Blonde Ambition tour.
Got any style tips?
Invest in a raspberry beret.
What are you wearing?
ASOS navy droptail jacket, UO black mesh shirt, suit pants.
What do you do on weekdays?
Sit and wonder what Ja Rule might be doing at that exact moment.
Song you have on repeat right now?
That Yeezy Season recording of Wolves and Blue in Green by Miles Davis.
What was the first item of clothing you remember getting that you loved?
In year five I remember getting this thing that looked like a rolled sleeve button up with a sweater vest over the top, but it was actually one piece of clothing on some Houdini illusion type shit. I thought it was so wild.
Star sign?
Gemini.
What are you wearing?
Yohji Yamamoto trousers, Y3 blazer, J.W.Anderson pin, BDSM bondage belt, fake Reebok sneakers.
Which show are you most excited for at NZFW?
Wynn Hamlyn and Eugénie.
Who are your favourite Kiwi designers?
Same, Wynn and Eugénie.
Tell us about your outfit.
I'm wearing Grandma's old hat I just found, a vintage mesh beach print top from Fluff Shop, flare jeans with an Anges B belt and buffalo shoes.
What's your favourite movie?
Shawshank Redemption is an absolute favourite, also Blue Is the Warmest Colour.
Who is the best dressed movie character of all time?
Catwoman.
What's your recommendation to watch with a crush?
When Harry Met Sally.
What's the scariest movie you've ever seen?
The Mist.
Finally, best character of all time?
Do TV shows count? Dale Cooper from Twin Peaks, he is my absolute favourite character in this world. I wish he was real.
Credits
---
Photography Zeb Amentas, Chloe Nour, Lekk Porter, Jordan Purchase, Jono Revanche, Phoebe Veldhuizen, Charlie White and Imogen Wilson