fall in love with alessandro trincone's fairytale menswear
Two years after designing the ruffled lavendar dress for Young Thug, Alessandro Trincone hasn't slowed down.
Before Alessandro Trincone's show on Monday morning, influencers took their seats dressed in Gucci tracksuits and Balenciaga Triple S sneakers, while makeup artists jostled around backstage dressed in black jeans and more Balenciaga Triple S sneakers. It would have made Trincone easy to spot even without his signature Cruella de Vil bowl cut. The designer often models his own collections on the Instagram of his idiosyncratic men's couture brand, and had selected a look from the new spring/summer 19 collection: a pleated, pastel babydoll dress paired with white schoolboy socks and matching Dr. Martens. Around him, boys in glitter eyeshadow moved placidly in tailored pink smocks and billowing tiered tulle prom gowns.

Surprisingly, Trincone's starting point for this tranquil, boldly ethereal collection was negativity. "I focus always on bad things," the designer told i-D, "and I try always to transform my bad things into my fashion." Trincone received his first taste of viral fame when Young Thug wore a piece from the designer's spring/summer 17 collection on the cover of his mixtape JEFFERY. The ruffled lavender ensemble attracted nearly as much attention as the music, with Thugger memed into everything from a Mortal Kombat character to the arms of a drive-through car wash. Trincone still posts frequent TBTs of the moment. And two years later, despite the proliferation of genderless dressing, his extravagant men's gowns feel no less subversive. Some of the most striking new iterations included a purple sequin update on the JEFFERY dress topped with an oversized lamp shade-esque headpiece, and a long pink pinafore cinched with a princess line bow. The whole thing was anchored with truly exquisite tailoring.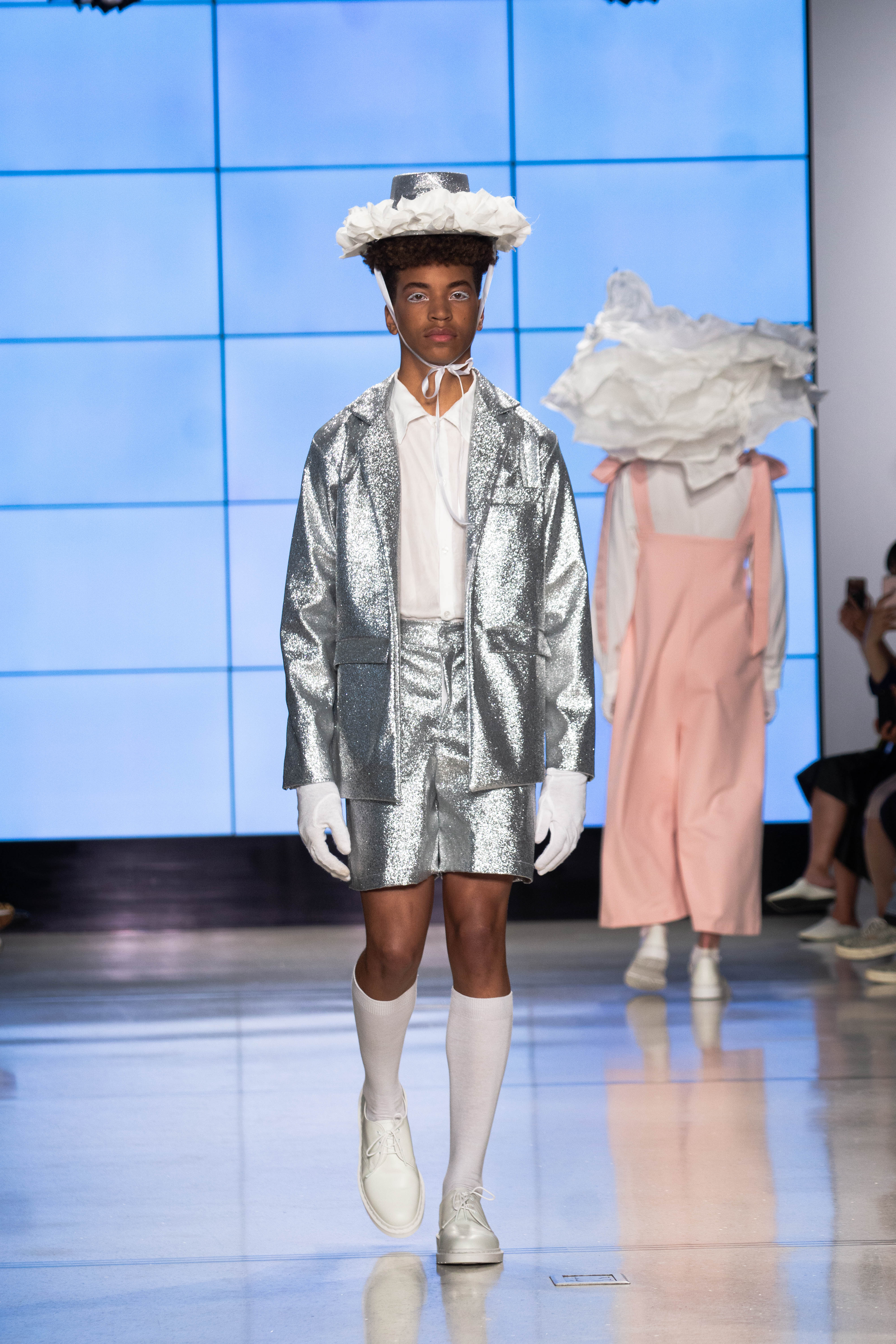 Where does the Italian designer see himself in a streetwear-obsessed America: "It's hard to answer that. It's also my question," Trincone ponders. "I'm very different in this fashion right now. Everyone is doing streetwear and I don't know if it's the right time for me to do these things. But I just don't care. It's my world and it's true to myself." Trincone says New York is his favorite city; it makes him feel like a phoenix, which maybe isn't too surprising given the city's relationship with underground queer culture. This spring/summer 19 collection was indeed inspired by self-discovery and the sort of "fuck the man" rule-breaking that still prevails here, at least more than in other parts of America. "This collection celebrates the people who can find the courage to express themselves," Trincone confirmed.
In the show notes, the designer elaborated on the "bad things" he was describing backstage, revealing his personal experience with bigoted verbal and physical violence. This provided a painful turning point, "pushing me firstly outward, looking for help in vain, but eventually reconnecting me with my most intimate and blissful dimension," a.k.a. himself. "It ultimately criticizes the bigotry in today's society and hypocrites who accept it, but actually they're sadly pretending to be free." Even the iPhone-attached hypebeasts in the front row, while maybe not in the market for sequin pinafores, watched them with quiet admiration .