can skinny jeans ever be subversive again?
With the rise of the streetwear aesthetic the skinny jean has fallen out of favor. Will Hedi's return at Celine bring it back?
Skinny jeans, for all their ubiquity, are a relatively recent phenomenon. Their fashionable roots hinge on the 70s subcultural appeal of punk rockers like The Ramones, and pop fashion radicals like David Bowie. The second ascent of skinny jeans began in the 00s and was equally pegged as a subversive marker of "outsider," but we can also trace their mainstream appeal as being tied into a paradigm shift of changing attitudes toward masculinity. In the early 00s very tight black jeans emerged; skinnier, darker and younger. The popularity of the style had a lot to do with the rise of indie, emo and a mainstreaming of "alternative" subcultures into music, fashion, and media.
As it's been noted, emo culture was one of the last "true" subcultures. Being emo meant adhering to a certain kind of lifestyle, and being one of the first youth cultures to be taken online, its reach was limitless. At a base-entry level, being emo hinged around Myspace bulletins, congregating outside McDonalds in dense suburban shopping areas, and mincing about in bone-crushingly skinny jeans.
Along with tight band T-shirts and studded belts, ultra-tight trousers were the uniform for a highly sensitive youth. It was a style led by the likes of Pete Wentz of Fall Out Boy and Brendon Urie of Panic! at the Disco. Along with eyeliner and long sweeping hair, the style was a Daily Mail-baiting challenge towards gender conformity, and although it wasn't explicit, there was coded queer subversiveness to this new, emotional, anti-rockstar rockstar persona.
At the time, tight black denim singled you out as someone embracing a sense of identity that was divergent to the norm. Prior to A Fever You Can't Sweat Out, skinny jeans were making inroads with the fashion crowd via Hedi Slimane.
The designer leant into rock 'n' roll iconography and its modern mythology during his time as Creative Director for Dior Homme. Slimane's wildly successful new androgynous silhouette pierced society's ideology of what a man could look like, and by extension, how a man could behave. If emo's vision of the skinny jean was a little anti-fashion and full of suburban angst, the Slimane-Indie axis was all about being as cool as possible. It was Metropolitan and existential and beautiful. It was Kate Moss and Pete Doherty and These New Puritans and the Horrors. It was on this wave that the skinny jean really became cool.
In 2002 Slimane was awarded the international award (a first for a menswear designer), by the CFDA. It was presented to him by Bowie, who applauded the designer's aptitude for "smouldering androgyny" and "sensual allure," which had previously "always been the exclusive provenance of the women's collection."
Symbolically, it was quite on point. Bowie's androgynous style, once the preserve of very fabulous people like Bowie, was now being celebrated as a new frontier for menswear. Speaking to Yahoo! Style in 2015, Slimane reflected on the connections between body shape, masculinity and fashion: "I was precisely just like any of these guys I photograph, or that walk my shows … Many in high school, or in my family, were attempting to make me feel I was half a man because I was lean, and not an athletic build. They were bullying me for some time, so that I might feel uncomfortable with myself, insinuating skinny was 'queer'… I would turn to my music heroes, and this was comforting. They looked the same and I wanted to do everything to be like them, and not hide myself in baggy clothes to avoid negative comments."
In the 00s Big Brother was at a critical point of pop culture. BB's late-night sister show Big Brother's Big Mouth was hosted by the then-upcoming verbose and flamboyant Russell Brand. His rock and roll image -- back-combed hair, deep V-necks, and spray-on fit jeans -- and his ensuing success in the media, proved the breaking point for the style into mainstream acceptance.
Unlike emo's singer-songwriters (Brendon Urie recently identified as pansexual in an interview with PAPER), Brand was fiercely hetero. The Sun acclaimed him as "Shagger of the Year" three years in a row. The connections between skinny jeans and Slimane's othered, queer-ish silhouette had more or less disappeared.
High street retailers began stocking countless variations of skin-tight denim for dudes. Slimane's silhouette had broken free of its edgy sensibilities. It was now a visual symbol for being cool, famous and possibly wealthy enough to shop at Saint Laurent.
After Hedi left Saint Laurent his influence has, obviously, receded. At last month's Paris Fashion Week, Kim Jones's first offering for Dior Homme featured loose, straight-leg tailoring with buckles, and Virgil Abloh's vision for Louis Vuitton contained streetwear-orientated cuts and patterns.
It's worth noting that wherever Hedi goes he generates a lot of money. People want his designs. At Saint Laurent he more than doubled the annual sales revenue from €353 million to $787 million in three years.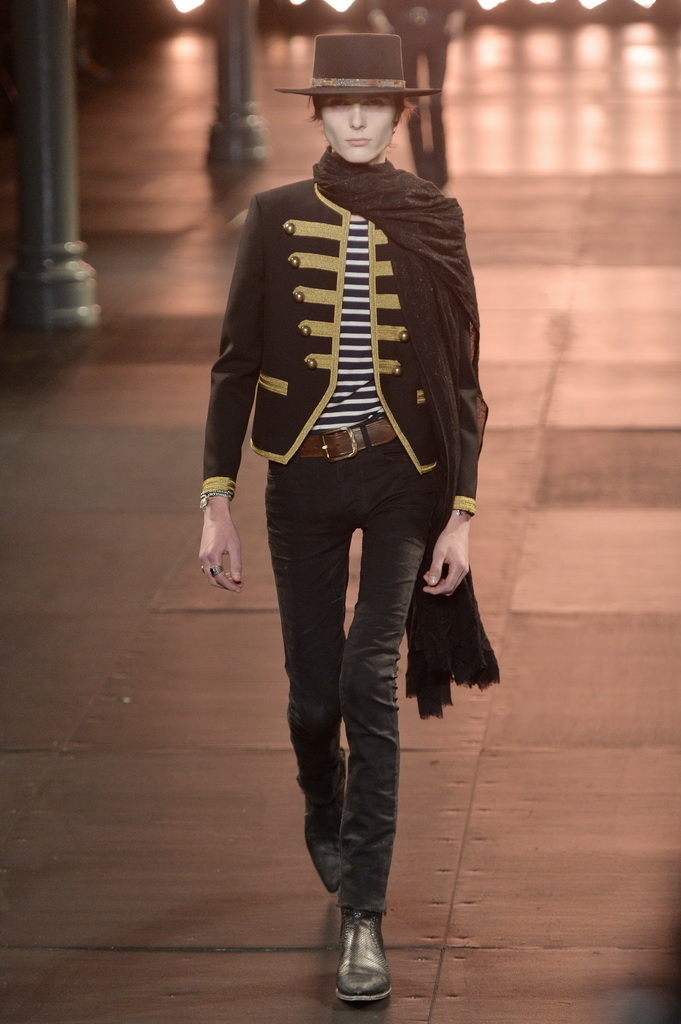 Many brands have quoted themes of protection and resilience for their spring/summer 19 collections. If hyper-exposing skinny fits in the early 00s denoted a celebration of social otherness and emotional vulnerability, then 2018's style codes -- technical wear, chest rigs, utility buckles -- are catered to a desire to protect and defend. Skinny jeans do not particularly fit into this new fashion narrative, but if anyone can make skinny subversive again, it will be Hedi -- when he returns to fashion for a third time with his debut Céline collection in September.
It will be interesting to see whether the arbiter of skinny jeans will adapt his style to reflect a luxury-streetwear shape, or champion again his love for a narrow point?