Photography by Michael Wittig
this palestinian design collective is breaking down borders with the internet
tRASHY Clothing used their show at last month's Berlin Fashion Week to pay tribute to "Arab artists who have used the Internet to soar over borders sharing their art and stories".
Photography by Michael Wittig
tRASHY Clothing hadn't planned on the entire room loving their fashion collection. tRASHY Clothing hadn't planned on the entire room seeing it at all. The Palestinian collective -- formed by 19-year-old designer Shukri Lawrence -- had been expecting to use their debut show at Berlin Fashion Week to make a comment on coming of age in the Middle East. What they hadn't counted on was how the audience would react.

"We built this huge wall on one side of the runway, blocking the view of the audience behind it," Shukri says of his West Bank Wall-aping design. "We wanted to highlight borders and have our audience experience privilege."
As Shukri and his team of cohorts -- Reem Kawasmi, Luai Al-Shuabi, Omar Braika and Sereen Khass -- began to erect the wall, however, something extraordinary happened. "The audience instinctively moved to the other side of the room," he describes. "Almost everyone behind the border moved to the other side of the runway.
"I did not expect that to happen," he continues, "but I was glad it did. The wall represents so many borders. It can be the borders of two different countries, races, or even just an actual wall in a building. It's the idea of being separated and breaking that separation with the Internet."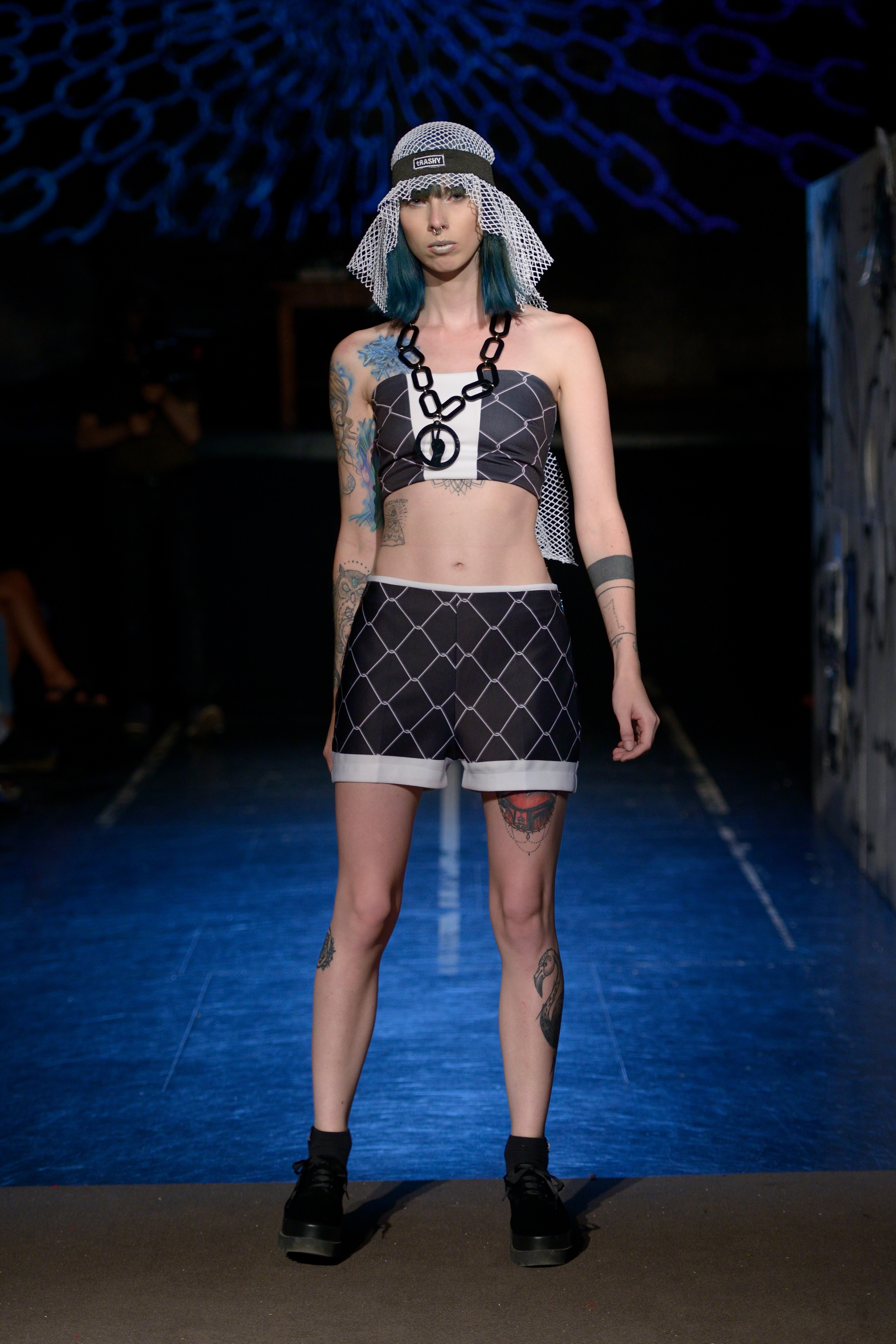 As noted when we first interviewed him last year, the internet isn't just a pastime to Shukri. It's a way of isolating himself from his often-difficult surroundings, a way of discovering information, a way of meeting different types of people to work with on projects as diverse as editorials, music videos, and clothing. "I grew up riding the Wi-Fi, and it has become part of my identity," he said at the time -- and it's hard to argue.
He's been making a statement against the mainstream fashion industry with his tRASHY CLOTHING designs for the last couple of years now; a project that sees him recreate big-name logos in Arabic letters to fight the language's association with terrorism. The Berlin show, however, was the first time he, and his newly formed team, had displayed their non-bootleg creations to the world. "The clothes represent different themes and stories me and my friends went through living in Palestine," as he puts it.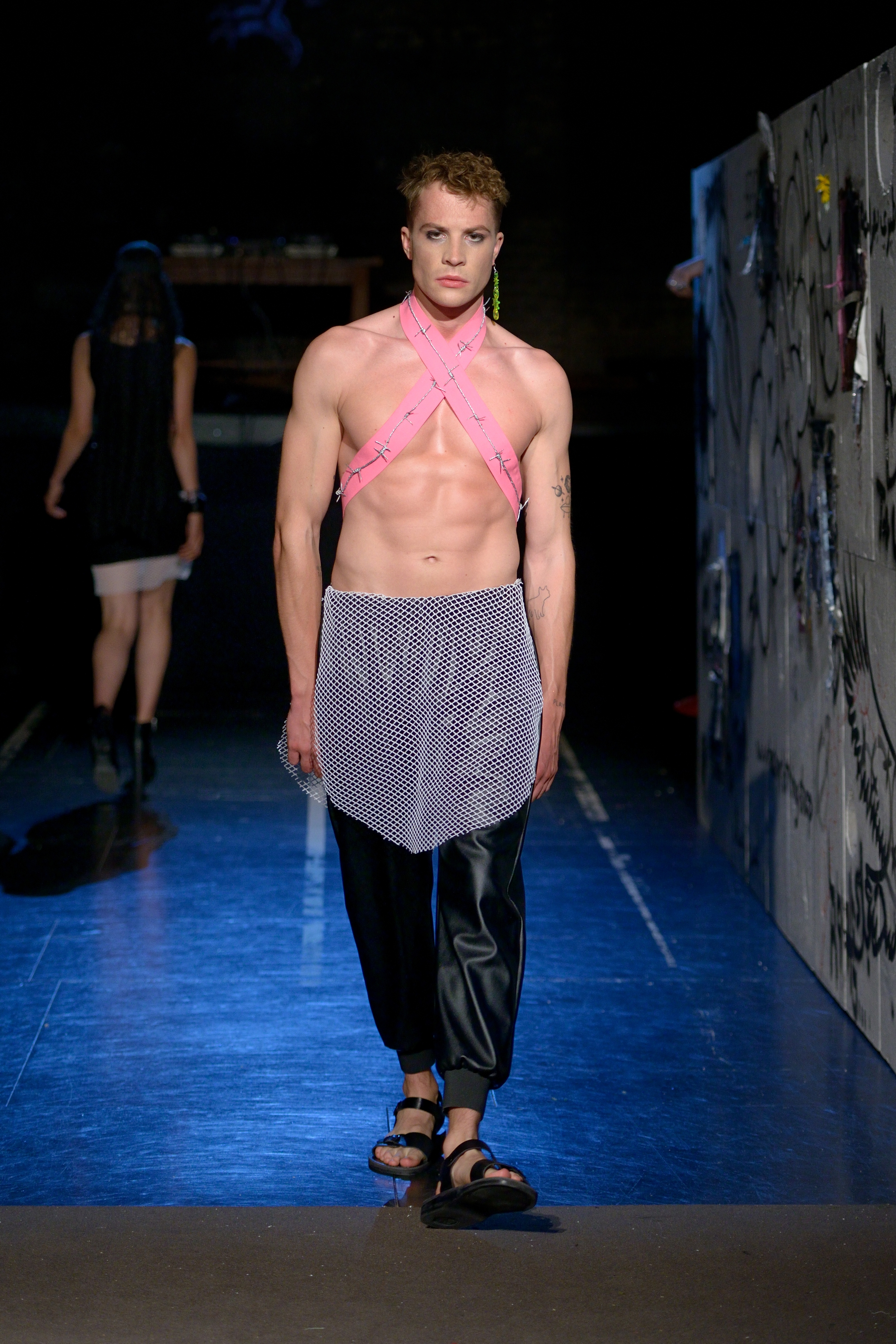 Shukri dedicated the collection -- sound tracked by Anglo-Danish band Off Bloom and featuring silver cropped tops with pink barbed wire harnesses -- to "Arab artists who have used the internet to soar over borders sharing their art and stories". "I personally have used the internet as a way to give a voice to a side of the Middle East people don't know about," Shukri says. "I love reclaiming words and so I wanted to give a new name to artists, like me, that have used their art as a weapon of awareness."
The idea for this particular weapon of awareness came following a shoot Shukri had directed for i-D's Peace Week back in January. "Looking at the photo series we did in front of the wall [which annexes Palestinian land in the West Bank] got us inspired to push this concept further," he says. "It was so interesting to do a fashion shoot there while people were watching us in real life. We thought what would happen if I did a fashion show with the same concept but have the wall block some people's view of the runway? Basically when life imitates art but in this case the other way around." Team tRASHY pitched the idea to the Prince Claus Fund for Culture and Development -- an organisation that funds innovative, high-quality initiatives in regions with limited opportunities -- and won sponsorship to present the show at Berlin's annual fashion week last month.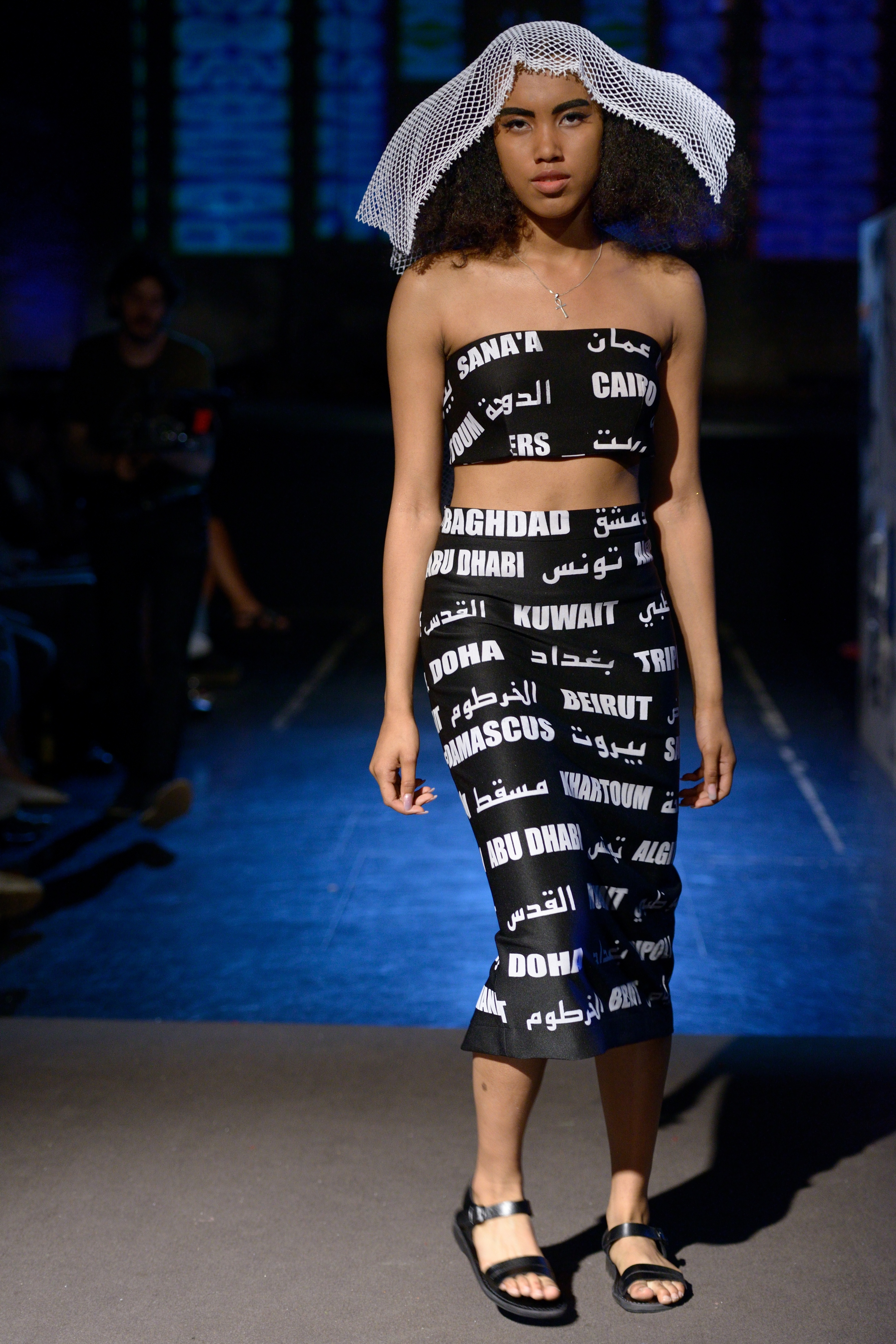 "It's been quite overwhelming," Shukri says of the feedback to the show. "Many people were so surprised that we were Palestinian. They asked about the wall and wanted to know what life in Jerusalem is like for people like my friends and I.
"It feels like there's been a MENA [Middle East and North Africa] artist revolution happening these past couple of years, with so many Arab artists slowly getting recognition for their talents," he continues. "From musicians playing Boiler Room in Palestine, to designers getting features in Vogue, there's been a creativity push that we've all been feeling in the air recently. It's what inspires us to keep going."
Credits
---
tRASHY CLOTHING are Shukri Lawrence, Reem Kawasmi, Luai Al-Shuabi, Omar Braika and Sereen Khass. With thanks for collaborations to Fadi Zumot, Olivia Gallupova, Jose Rodriguez. Halimeh Magid, Roots Graffiti, Beatrice Mcguire.
Performance by Off Bloom.
Video by INCLOVER STUDIO.
Held at Into Berlin Fashion Festival.