this brand turns trash into luxury fashion
"It's absurd to spend your money on something made of trash," says Sebastián Narbona of Novedades, "but it's also absurd how much brands charge for their clothes."
Photography Alexis Rayas
This article originally appeared on i-D Spain.
"There must already be enough materials in the world to be able to stop producing any more," Sebastián Narbona tells i-D regarding his fashion and recycling project, Novedades (meaning "novelties"). According to figures from the World Bank, in 2016, it was calculated that each person generates 1.63 pounds of waste daily — a number that, according to the same organization, will only increase. Taking this into account, we can say that, yes, there are enough materials out there so it's obvious that they should be reused.
With this in mind, the Chilean art director decided to set up Novedades, as "a brand made with luxury trash, which is specially selected and made to high quality standards" a few months ago. "I like what can be done with the materials you have around you, with resources everything is more controlled, recycling is a logical consequence when you play with trash."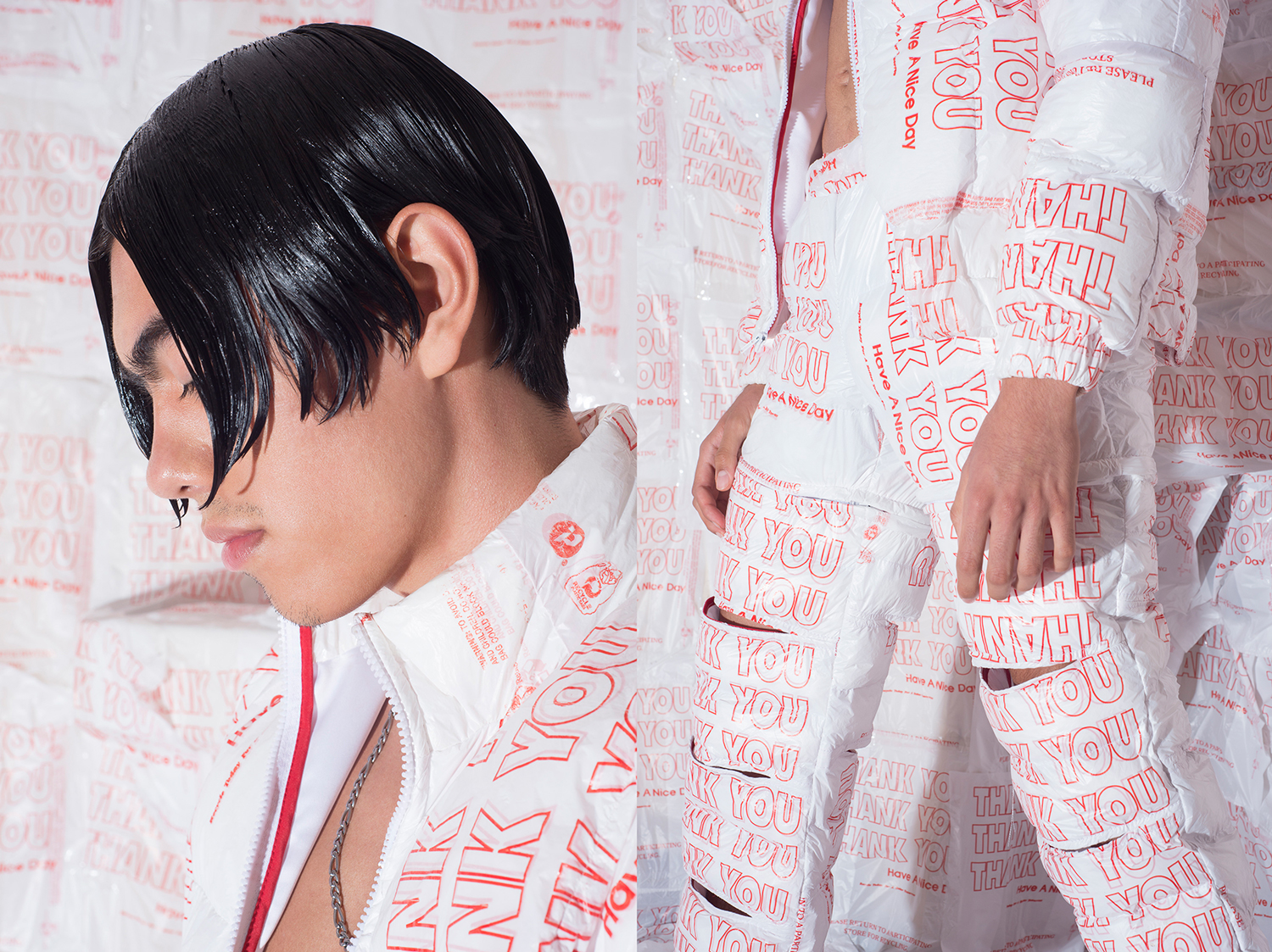 The fashion of recycling historically has a sense of humor, a necessary factor when giving new life to materials we're accustomed to seeing in other contexts. Check out the sustainable creations of Gypsy Sport or the Ziploc collection of Japanese shop Beams, just to mention a few. According to Sebastián, "changing the use of the objects that we have around us is something that we do every day and it happens spontaneously. In Mexico they are very familiar with this concept and you see it anywhere." I completely agree.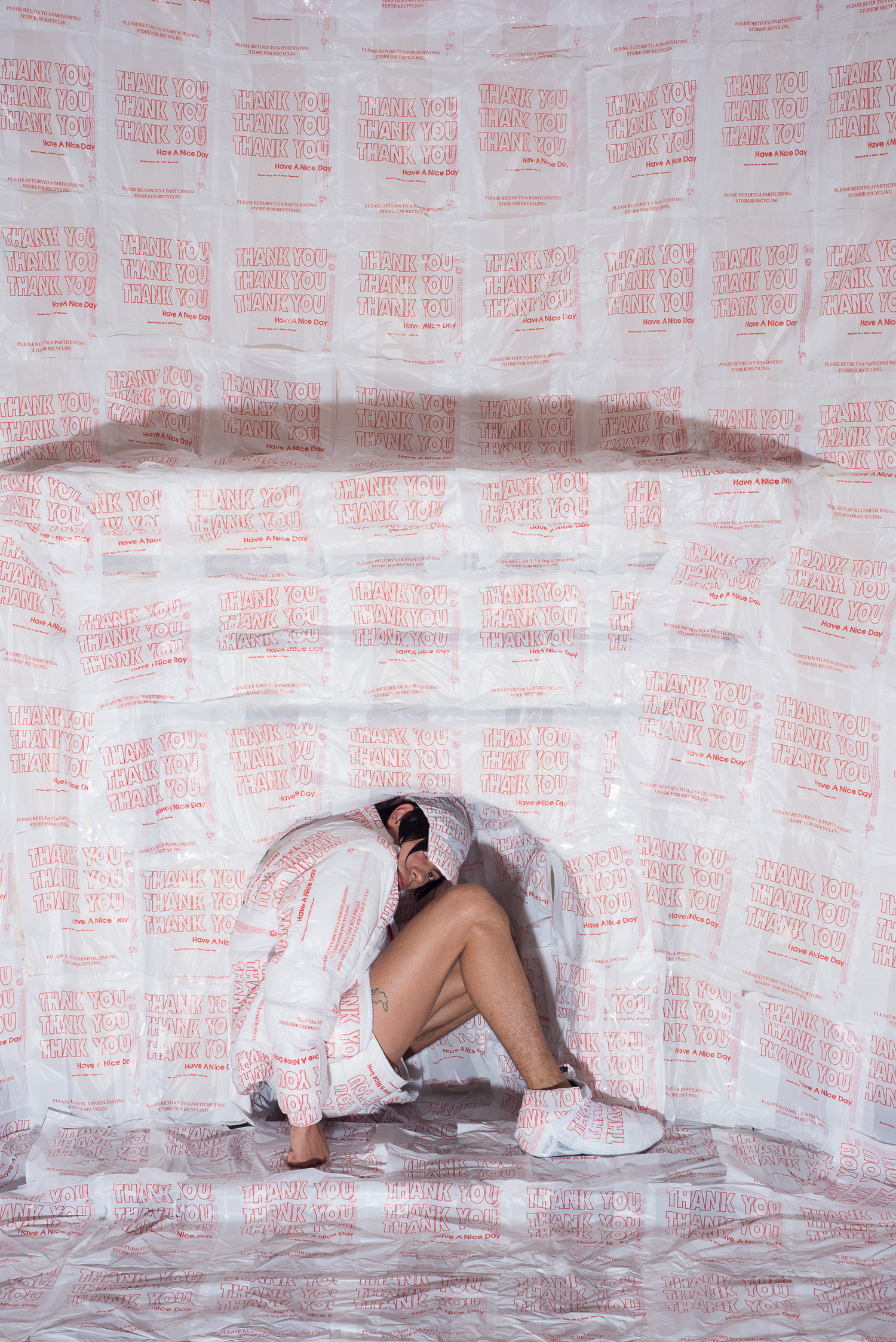 The fashion industry's traditional production and consumption cycle is causing more pollution more than airlines, thanks to the rise of fast fashion and the tons of clothes ending up in landfills each year. "It is absurd to spend your money on something made of trash, but it's also absurd how much brands charge for their clothes. I want to use the same language and let the fact that the scam is obvious go unnoticed — when they ask me for the price [of Novedades], I always end up saying 'be careful with your money,'" explains Sebastián.
Novedades has a very basic and effective premise: "the world is going to end and we can do whatever we want." This is impressively communicated with a series of images captured by Alexis Rayas. The set is decorated with the same material that the clothes are made from — the typical plastic bags that you might be given in a bodega or takeout shop, or in Sebastián's case, Oxxo, a Mexican convenience store chain.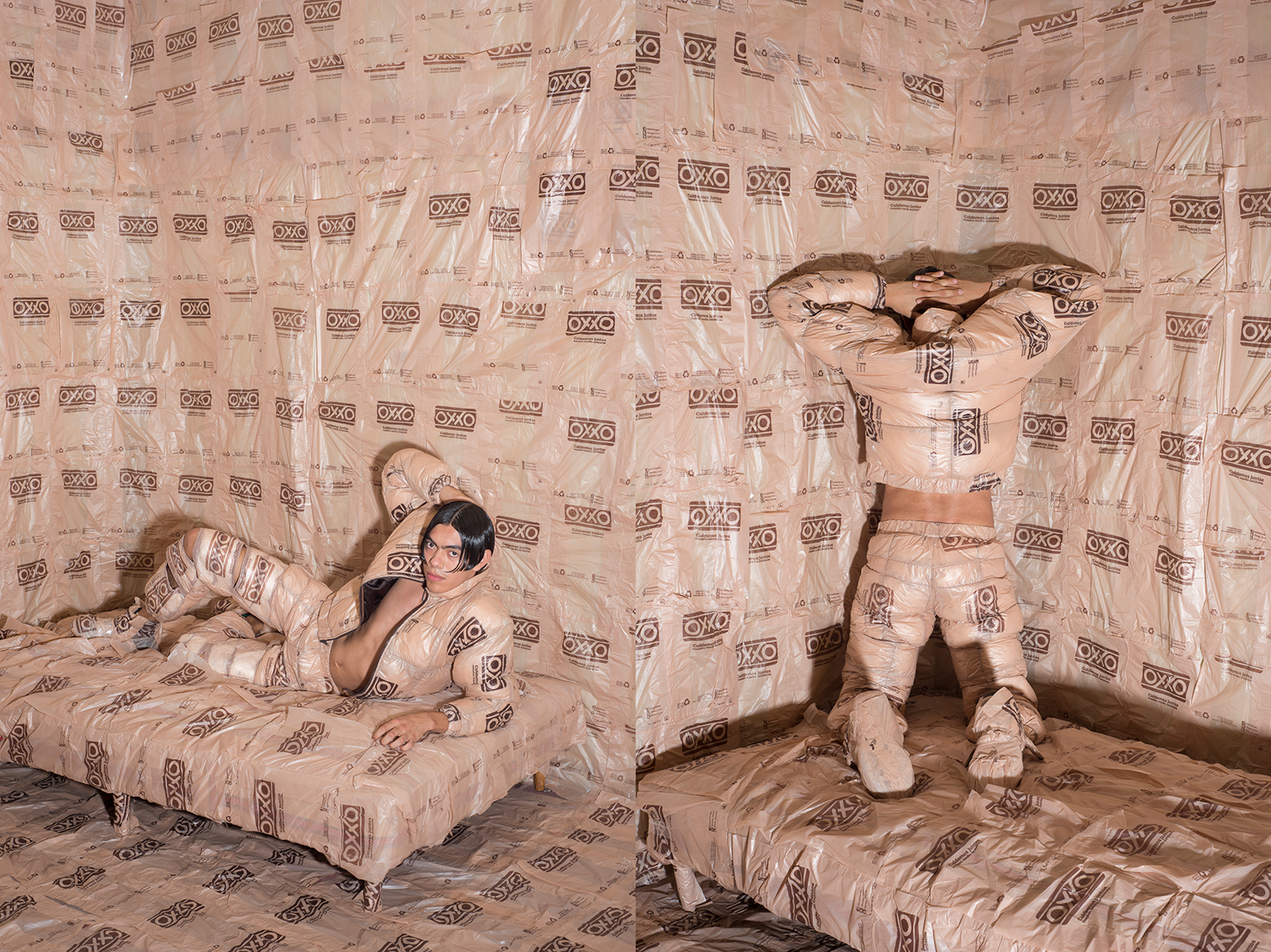 "It all happened pretty fast and the photos haven't even been retouched," Sebastián says. "There were two sets, that we made in two hours, and the photos took another two hours, and we took everything down in 10 minutes. [They were taken] In an abandoned house in La Narvarte, in Mexico City." The model is Samuel Guerrero, Sebastian's friend, and "he had known about the project for a long time, which didn't even matter after seeing how well his complexion went with Oxxo's coffee color."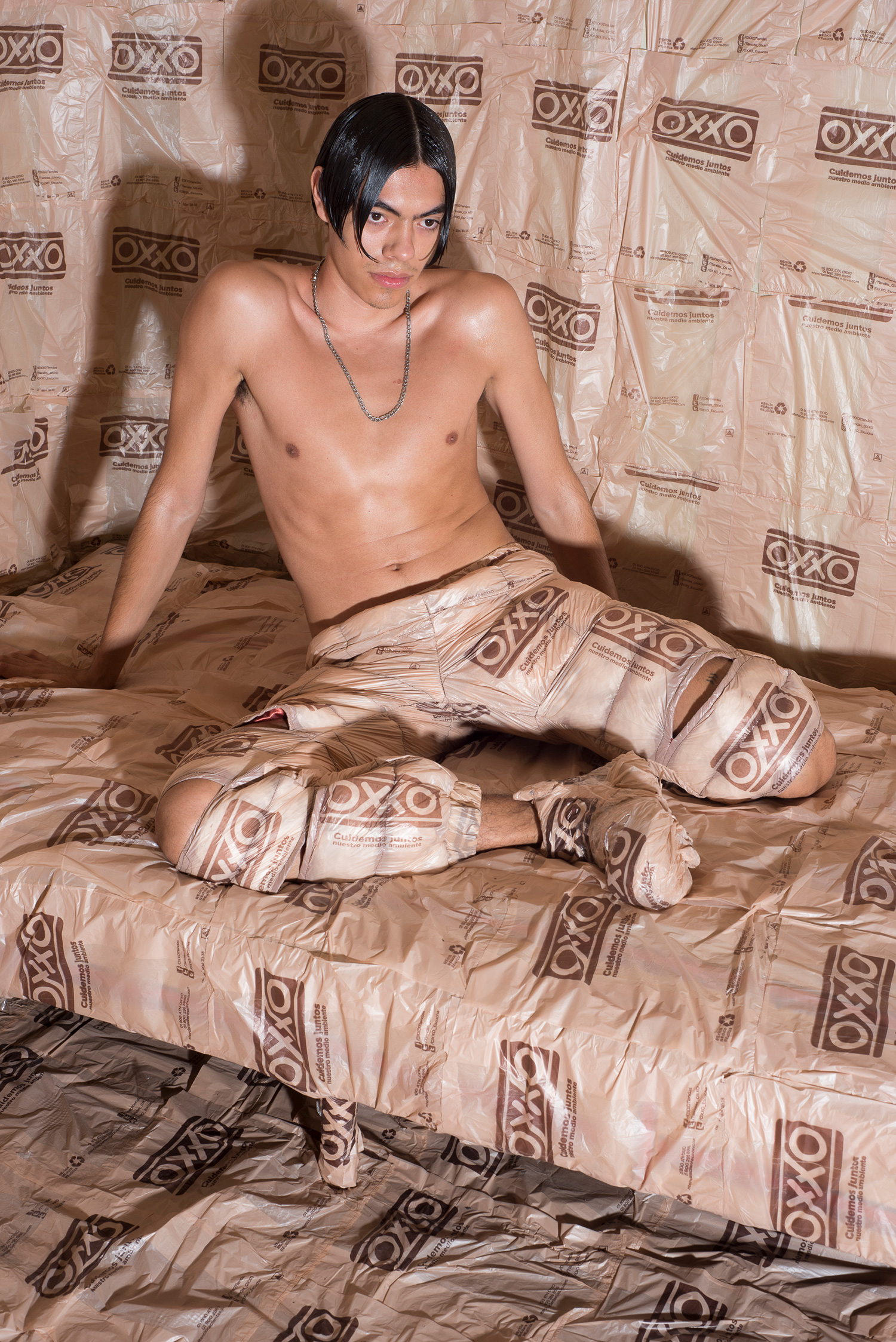 Giving new use to familiar images — DHL has never been the same since Vetements — is a recurring practice in fashion, as a response to the over-saturation of information and daily stimuli. "We are surrounded by new icons all the time, the Oxxo coffee bag is part of the city, and considering the option of putting it on as clothing is a tangible action. It's something that you have in your house to put trash in, for your dog's poo and seeing it in a photo on your feed as a piece of clothing makes you say, 'Wow, they're plastic bags,' and you carry on looking at your feed, like nothing happened, but for a few seconds it surprised you and made you feel something."
So, what are Sebastián's plans for Novedades? "Turn trash into cash, baby." Amen.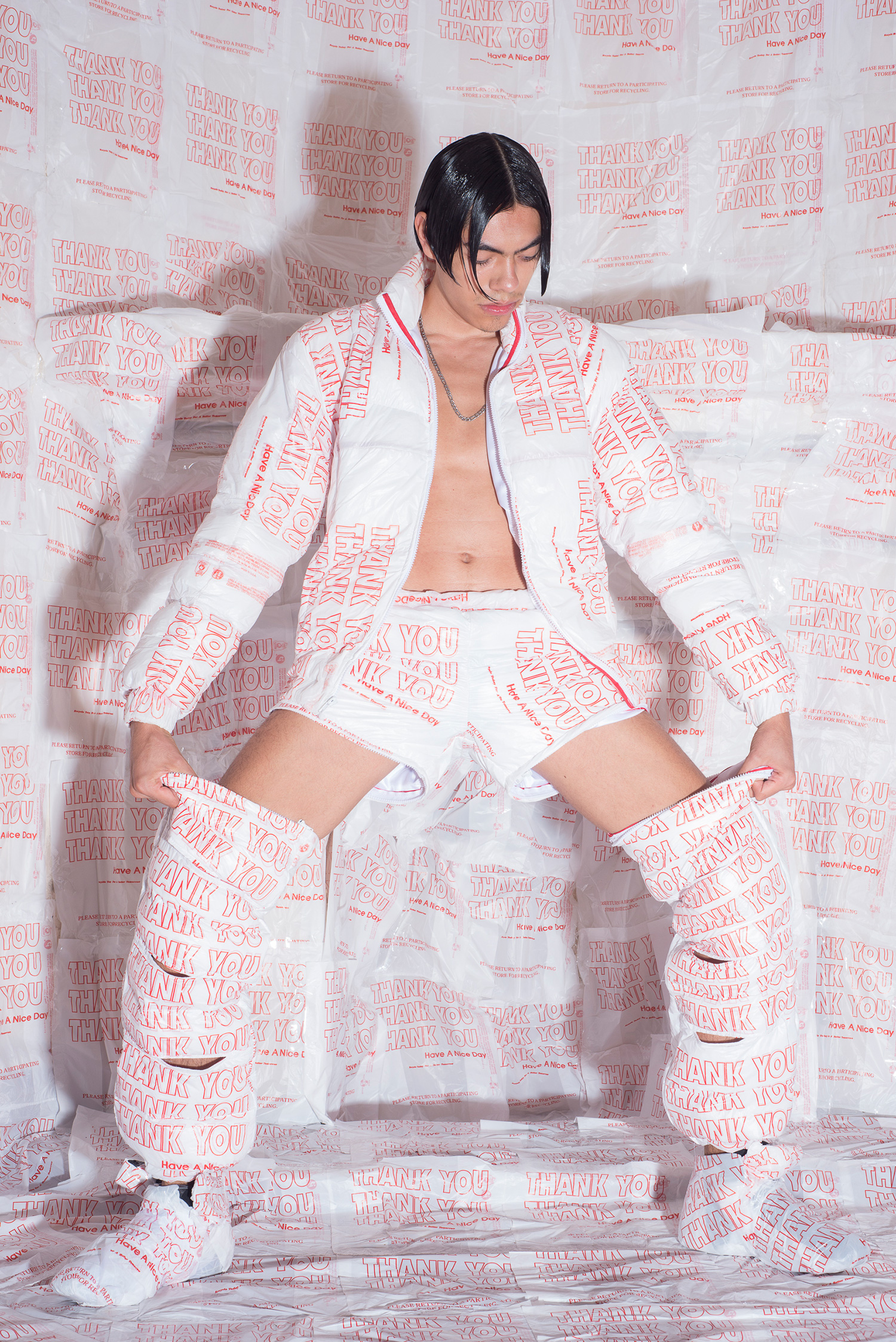 Credits
---
Photography @lechix
Makeup and hairstyle @adrianglezc
Design by set @nnnarbona
Model @samuel_guerrero___
Set design assistant @babybruise @jsrfor @dnllvy