2017 was the year the female rapper got the respect she deserved
From Cardi B to Beyoncé, the female MC cannot -- and will not -- be silenced.
|
22 December 2017, 8:45am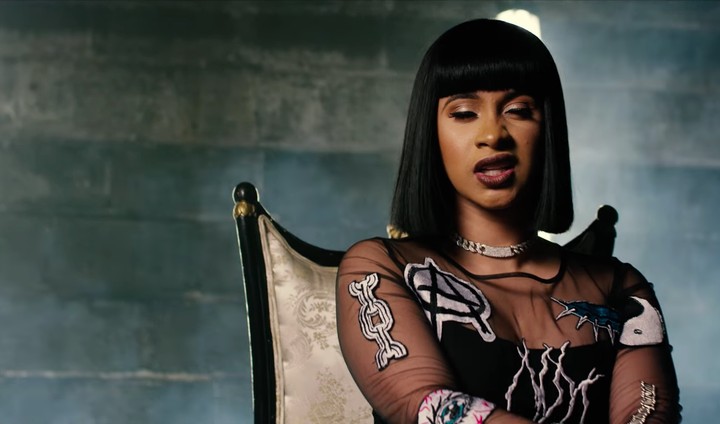 Cardi B, Bodak Yello
In 2017 a female rapper knocked Taylor Swift from the top of the charts, and singers like Beyoncé and RiRi flexed their rapping chops; the female MC has had quite the year. Broadly speaking, women who rhymed were a little like buses -- you waited years for one to come along and then one did come along and you missed it cos you got bored and started walking to the next stop so then you missed that bus because you didn't make the next stop in time. When women have had their go on their mic, it's been few and far between.
Since its beginnings in 70s New York, hip-hop has had a complicated history with women. Or rather, very little history at all. Despite numerous b-girls spinning on lino on the sidewalks, the female lyrical perspective was rarely considered during those early years. MC Sha-Rock was the first woman rapper heard on wax when the group (of which she was the sole female member) Funky Four + 1 (guess which one Rock was) released Rapping and Rocking The House on the seminal Sugar Hill records in 1979 (co-founded by Sylvia Robinson). The photojournalist Martha Copper was another lone voice, capturing the Bronx graffiti scene for the New York Post. For a number of years these three women were the sole female voices of prominence found in the male-dominated nascent hip-hop scene.
While in the 80s and 90s women finally got a foot in the door (Monie Love, The Real Roxanne, Roxanne Shante, MC Lyte, BO$$, YoYo, JJ Fad, Lady of Rage, Salt-N-Pepa) it took until 1994 for Da Brat to become the first female rapper to go platinum with Funkdified, eight years after Run DMC's Raising Hell was the first hip-hop album to sell over one million copies. Sha-Rock's successors had to physically "toughen up" and wear masculine fashions in order to be taken as seriously as their male peers. It wasn't until the arrival of Lil Kim and Foxy Brown in the mid-90s that a contrary idea of what a female rapper could look like was put forward. Depending on how you look at it, the arrival in the mid-90s of Kim and Foxy was either regressive or revolutionary. These were sex-positive women, albeit introduced via the male co-sign of Biggie and Jay-Z respectively. Kim and Foxy were outrageous and they outraged with their lascivious lyrics and clothes. They were a stark contrast to the women who preceded them' gone where the 8-ball jackets and closely cropped hair, in came barely-there Versace, Prada and LV.
When they were permitted to exist, women were often -- still are -- confined to type. It took the arrival of Lauryn Hill and Jean Grae in the mid-90s to offer an alternative to the tomboy/ temptress tropes. Finally female rappers were allowed to be the sum of their many parts, rather than conform to the cultural confines placed upon women, and particularly women of colour. Lauryn and Jean were latterly joined by Eve, Kreashawn, Little Simz, Missy, Lizzo, Lady Leshurr, Azealia Banks, Junglepussy and Angel Haze -- beautiful, righteous, alternative, radical, funny, queer, pop, underground, challenging and everything in-between.
In 2017 we have seen many wonderful women in all of these forms, and more. And we've seen super success as well as critical acclaim to an extent that this year finally feels like the solidification of the female rapper. Now really feels like the time. And not just because women like Cardi B are breaking records, or a British female rapper like Stefflon Don has the kudos to attract collaborations from A-list rappers like French Montana. In a post-Weinstein/ Russell Simmons world, we need, as much as ever, the female narrative to make sense of sexism and sexuality and race and identity within rap. With the proliferation of mumble rappers, few are the voices in rap concerned with much other than talking about just how much money they have.
So here come the women.
Nicki Minaj may not have put out an album this year, but she's featured on plenty of hit singles from Swish Swish with Katy Perry to Future's You Da Baddest to Migos' Motorsport, which featured the eponymous and mooted "successor to her crown" (because of course there can only be one successful female rapper at a time guys) Cardi B.
But it's not even the music that has been the most interesting thing about Nicki this year. Throughout various interviews she's seemed determined to instigate conversation around cultural appropriation, racial identity and more recently the proliferation of the white rapper and the potential dilution of a culture. Hackney's Paigey Cakey put the mic down for a minute too last month, to talk about her struggles with anxiety which resulted in traxion alopecia. Similarly some of Stefflon Don's most popular social media posts haven't been selfies and shopping bags; it's her outrage of the news of slavery in Libya. Steff was the first on the frontline when the anti-slavery march happened in London two weeks ago.
Throughout 2017 we have seen a flood of female voices within rap, hip-hop and grime, and not just in the US or the UK, but around the globe. Birmingham-born, Rotterdam-raised Steff just missed out to Jorja Smith to become awarded 2018's BRITs Critics Choice. Not only is she is managed by the incredibly powerful Quality Control, the team behind Migos and Lil Yachty, but she also brokered her own record-breaking deal with Polydor Records, signing her own label, rather than herself, to the deal. While Steff may have more in common with Lil Kim than Lauryn Hill, she regularly features only females in her videos and often creates a women-only safe space on her stage for her female fans to enjoy themselves. She's also one of the few British female rappers able to embrace a global sensibility; she's jumped on afrobeats, bashment and grime and worked with everyone from Charli XCX and Jax Jones to Skepta and Lil Yachty without skipping a beat.
This hasn't been too shabby a year for Lady Leshurr either, who recently revealed her seventh Queen's Speech and released her Mode EP in April. Queen's Speech 7 also featured an all-female team. Nadia Rose released Highly Flammable earlier in the year; Ms Banks continues to impress with tracks such as Bangs, while her bars on the Yu Zimme remix were so hot that Nicki Minaj herself quoted them on Insta.
Remy Ma made a comeback, enlisting Lil Kim for Wake Me Up, an energetically inflammatory track that squarely confirmed her beef with Nicki Minaj is ongoing (we'd really like to see less of this going forward please, women).
Yaeji, who is technically a electronic producer but nods often to rap, nowhere less than in the Missy Elliott inclined Raingurl. Cupcakke was recently described by i-D as the sex-positive feminist that hip-hop needs. Listen to her song Vagina and get involved. Cape Town's Kanyi, Uganda's Keko, Chicago's NoName and Lil Yachty affiliate, 18-year-old Kodie Shane are all brilliant rappers making brilliant music right now.
The art of rhyming is so respected in 2017 that even singers are doing it. Sure, Beyoncé has rhymed for years, but she out-dazzled her husband Hov on DJ Khaled's Shining. When Rihanna dropped bars on N.E.R.D.'s Lemon the only surprise was why she hadn't done it before.
Cardi B has of course been the stand out this year, not only managing to shatter records but deliver what is arguably the song of 2017. She has graced the NYT Magazine and Rolling Stone, built an insanely committed online fanbase and is currently readying her debut album. It looks like 2018 will be an even bigger and better year for the Bronx rapper -- there's something particularly serendipitous that the woman breaking rap records is from the birthplace of hip-hop. Also, Cardi did this outside of the co-sign; she didn't need to rely on a male to approve her place within hip-hop.
It could be reductive to suggest 2017 is the year of the female rapper when we of course hope 2018, 2019, 2020 and beyond will keep female rappers front and centre of the hip-hop canon. We'd also like to see more women in the Missy Elliot mould -- women that produce music (shout out engineer K Lee) as well as rhyme. But it feels like real and meaningful headway has been made this year. Whether new names or old, underground or platinum sellers, the female voice finally rang out loud this year -- she is a rapper, hear her roar.
It can't be too much of a coincidence that Lauryn Hill arrived after we met Kim and Foxxy. Initially was one third of the Fugees but it was 1998's The Miseducation Of… where Lauryn really came into her own. Lauryn Hill was a real revolution in female rap because here was a culturally and commercially successful female within the genre of hip hop that neither adhered to nor enforced tropes of tomboy or temptress. Here was a thoughtful, powerful, beautiful black woman who embraced her afrocentricity, her womanhood, her femininity and her feminism. She was also incredibly, ridiculously successful. So successful that it's taken Cardi B bulldozing her way in with Bodak Yellow to even slightly match produced the accolades first won by Lauryn. It took two decades for a solo female rapper to have a number one single in the first place; it took another two decades before Cardi B would follow Lauryn up.
During and after the reign of Lauryn you could be forgiven for thinking there's been a proliferation of female rappers -- Jean Grae, Missy Elliott. Da Brat, Eve, pre-prison Remy Ma, Trina and the biggest, the best, the most successful, Ms Nicki Minaj. When you consider this has been over 20 years, it's not really that impressive, is it.