5 ya writers tackling asexuality, porn addiction, and bicuriosity
This year, young-adult literature moved away from the clichéd girl-meets-boy narrative to explore topics from bisexuality to homoromantic demisexuality.
|
28 December 2017, 2:13pm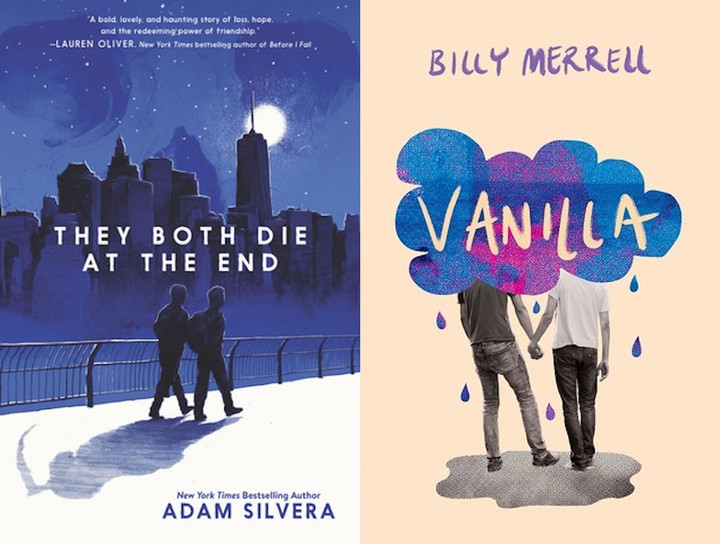 As a closeted 16-year-old "trapped" in the suburbs of Dallas, young-adult books about boys falling in love with boys were my chief form of escapism. I overcame my fear of the librarian's judgement and discovered queer books like The Vast Fields of Ordinary and Hero. That was less than a decade ago. Amazingly, in that short time, queer YA novels have gone on to dominate the book market. Now, they're displayed front and center in stores, topping bestseller lists, and becoming big-budget films.
YA writers finally have the freedom and audience to explore underrepresented sexualities in fresh, hyper-specific ways. For example, the form of Billy Merrell's Vanilla is just as original as its subject matter. Merrell combines poetry and fiction to depict a high-schooler named Vanilla coming to terms with his asexuality. And writers are tackling the digital-age struggles of heterosexual teens, too. In The Temptation of Adam, author Dave Connis faces a taboo topic head on, namely the vast amounts of porn today's adolescents have access to. And Becky Albertalli's Simon vs. The Homo Sapiens Agenda — about a teen boy trying to stop the world from discovering his online chats with another boy — looks set to be next year's The Fault in Our Stars. The book is being adapted into a film starring Nick Robinson and Katherine Langford (who plays Hannah on 13 Reasons Why) that will hit theaters early next year.
Here are five books pushing the young adult genre into uncharted territory and illustrating that teen sexuality extends far beyond prom dates, coming out, and first kisses.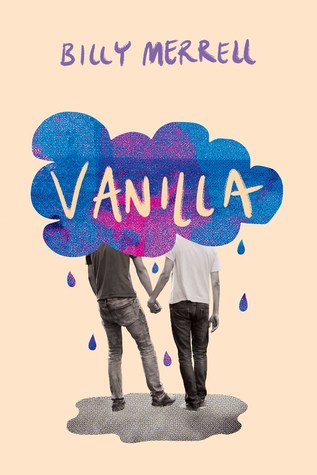 Vanilla by Billy Merrell
About 1% percent of the world's population is asexual. Yet there are few multidimensional asexual characters in popular culture. Vanilla strives to change this. The book presents a character learning that while he is emotionally attracted to men, he has no desire to have sex. This causes a deep fracture in Vanilla's relationship with Hunter, the boy he has dated since middle school and is feeling pressured to lose his virginity to.
In the book, Merrell shares poems through the perspectives of multiple characters. The book is joyfully diverse; there is a genderqueer black teen and a group of out-and-proud high schoolers (who throw fabulously queer parties). But it is shyboy Vanilla who delivers the most poignant, heartfelt lines ("Because he was blushing I knew/ that what we were doing was worth being done"). By focusing on a high school couple that got "coming out" over with in middle school (whew), Merrell is able to explore the hero's journey that happens afterwards. Together, Vanilla and Hunter learn to navigate queer culture — including the popularity of casual sex and the idolization of hypermasculinity. These are things other generations typically did not have to confront until they were old enough to go to gay bars. But things have changed. Today, 64% of LGBTQ teens are out to their classmates.
Other top picks for you: Will Grayson, Will Grayson by David Levithan and John Green, Someday This Pain Will Be Useful To You by Peter Cameron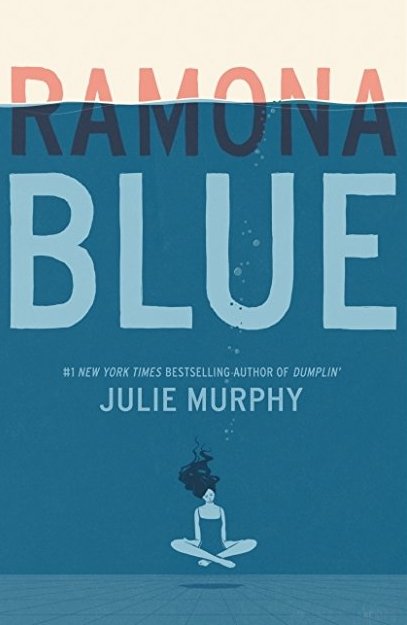 Ramona Blue by Julie Murphy
A book like Ramona Blue feels especially important at a time when bisexaulity is still being sidelined and erased. When the book opens, six-foot-three Ramona has identified as gay for quite some time. So she's thrown for a loop when she develops feelings for a boy. Through Ramona's gorgeous, rich voice, we are able to witness a character slowly grow into their bisexuality.
The book also touches on race in a powerful way. Ramona's crush and childhood friend Freddie, who is black, experiences numerous micro-aggressions — including a drunk white girl telling him she's never date a black guy — and has to explain to Ramona why breaking into a pool at night is more dangerous for him than her and her white friends. Other sexualities are represented powerfully in Romana Blue too. For example, Romana's friend, Ruth, identifies as a homoromantic demisexual. And if you don't know what that means, you'll just have to read the book.
Other top picks for you: Annie on My Mind by Nancy Garden, The Difference Between You and Me by Madeleine George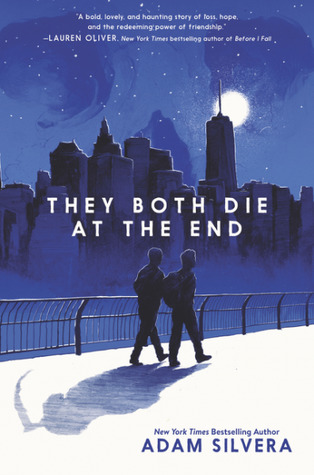 They Both Die at the End by Adam Silvera
Adam Silvera regularly explores queerness through the lens of magical realism. In his debut novel More Happy Than Not, released in 2015, the Bronx native writes about a 16-year-old teen debating whether or not he should undergo a life-threatening surgery that would make him forget he's gay. Silvera's unique approach highlights how surreal and otherworldly figuring out your queerness can feel in a straight-dominated world. In his latest book, They Both Die at the End, Adam envisions a world in which people receive phone calls — seemingly at random — letting them know they're going to die that day.
Teenagers Mateo and Rufus have both received that call. Strangers at first, the two queer boys are bonded by their impending deaths and decide to spend their last day together. "I guess what I'll miss most are the wasted opportunities to live my life and the lost potential to make great friends with everyone I sat next to for four years," Mateo reflects in the book's opening chapter, shortly after receiving the news. What follows is Mateo and Rufus's attempt to live an "End Day" that'll make up for a life spent on the sidelines — and of course they fall in love in the process.
Other top picks for you: Hero by Perry Moore, Kaleidoscope Song by Fox Benwell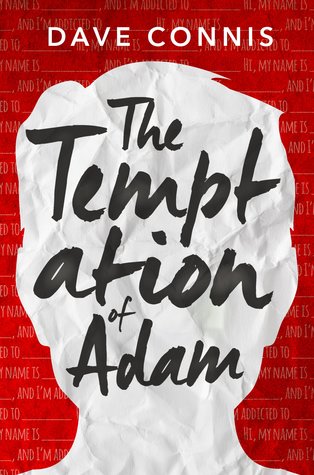 The Temptation of Adam by Dave Connis
Earlier this year, Eliza Hitman's breakthrough film Beach Rats illustrated just how much cyberspace can facilitate a detached-but-fluid exploration of sexuality. The main character, Frankie, cruises gay webcam sites to distract himself from his fractured home life.
Dave Connis's The Temptation of Adam operates in a similar vein. The book is centered on Adam, who spends all day watching porn online — when he's bored, when he's at school, even when he's driving. As with most addictions, Adam's obsession with porn stems from deeper issues. Adam's father is mostly absent from his life and he blames his mother (who he refers to as "The Woman" in his head) for splitting up their family. Thankfully, Adam has a teacher and mentor invested in getting him back on the right path. When Adam gets kicked out of school for behavior related to his porn addiction, Mr. Cratcher (aka Mr. Crotcher) forces Adam to attend a 12-step program and confront his insecurities. The Temptation of Adam breaks the silence and shame around porn addiction. It presents a compassionate story about confronting and overcoming your demons.
Other top picks for you: Reality Boy by A.S. King , King of the Screwups by KL Going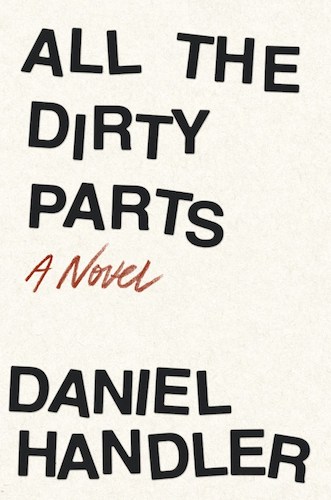 All The Dirty Parts by Daniel Handler
"There are love stories galore," Cole, a playboy high schooler, tells us in the beginning of Daniel Handler's All The Dirty Parts. "This isn't that. The story I'm typing is all the dirty parts." Cole stays true to his word, giving us a story filled with sex, porn, and masturbation — with few of the romantic bits. Handler shows us a facet of male adolescence that is not typically painted in a multidimensional way: just how maddeningly horny teen guys are all the time.
One of the most daring plotlines in All The Dirty Parts is Cole casually hooking up with his close friend Alec. The two slowly venture towards sex, even though Cole insists that the sexual acts mean nothing. That's not the case for Alec, who is slowly discovering his queerness. Cole continues to identify as hetrosexual and dumps Alec as both a friend and lover when he falls for a new girl at school. Through Cole's experimentation, Handler provides a rare illustration of a sexual exploration that does not end with the character identifying as queer. And it's this bold approach to honestly depicting sex that resulted in A ll The Dirty Parts being marketed as an "adult" novel — even though it contains YA elements.
"I think the chances of [the book] ending up in high school libraries are really slim," Handler (who also wrote A Series of Unfortunate Events as Lemony Snicket) told OUT Magazine. "But I think it is going to reach a population that's not really looking at how a book is marketed or labeled." Handler explained he is working to remove the literary taboo around writing scenes in which queer young adults actually have sex, and don't just think about it. "It's a bummer to think there are people dealing with queer young people who think, The one thing I don't want them to read about is sex."
Other top picks for you: The Starboard Sea by Amber Dermont, "Out of Body" by Jennifer Egan

---
Covers courtesy of publishers