now you can get your nails done by one of fashion's favorite nail artists
Ama Quashie paints nails for the biggest fashion shoots and shows, and at her new Brixton salon, she can do yours too.
|
19 November 2018, 5:29pm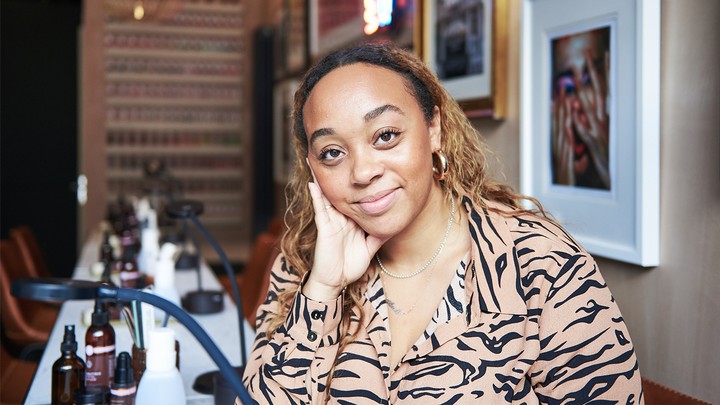 Ama Quashie
As one of the fashion industry's most booked nail artists, Ama Quashie has travelled the world painting the nails of the likes of Solange, Adwoa Aboah, and Tilda Swinton; the models walking for designers such as Phoebe English and Mimi Wade; and for titles such as Vogue, W Magazine, and of course, i-D. Now, she's bringing her expertise back home to Brixton, south London, with the opening of her eponymous new nail salon, AMA.
But it might surprise you to hear that her signature isn't some intricate nail art or uber glossy gel manicure (although you can definitely get those here too). In fact, AMA puts a notable focus on the naked nail, with services that offer all the maintenance of a manicure, just without the polish. "There's something about your own natural nails that you just can't beat," she reckons.
AMA also differs in its ethos; Quashie has taken extra care to hunt out the most natural brands for her wall of polish bottles — the brands she stocks are up to 90% natural and free from many of the questionable chemicals found in traditional polish — right down to the hand cream she massages in, post manicure. It's certified organic, of course.
i-D spoke to Ama about her refreshingly natural approach, and the politics of launching a business in increasingly gentrified Brixton…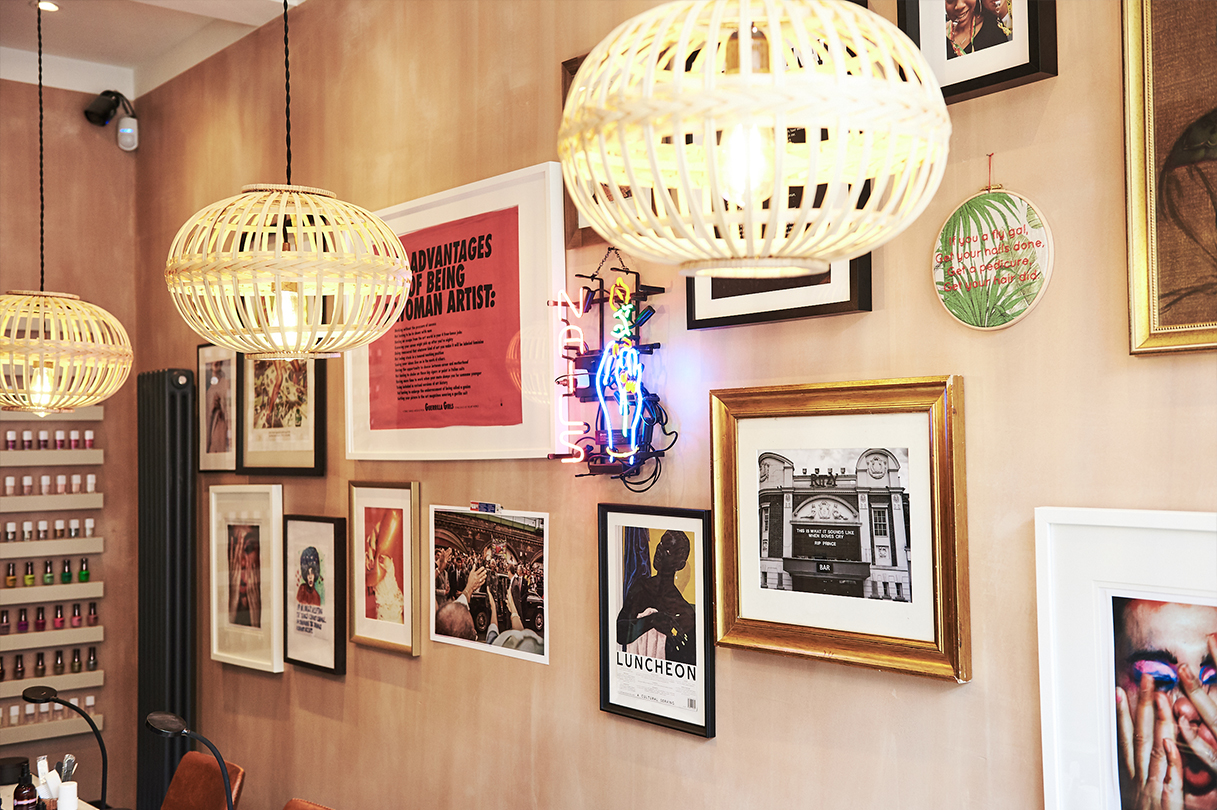 Did you always want to get into nails?
No. I studied media, art and cultural studies at uni, and went straight into media, first working for a start-up TV channel, later for ITV and an advertising agency. I realized I hated it, so I decided to train in things I like: nails and jewelry design. Nails seemed to happen quicker, as friends would hook me up with jobs working on music videos, and from there I just started doing more and more. I continued to work at a newspaper alongside that, but then I got made redundant and decided I wasn't going to look for another media job, I was going to do nails. Six months later I signed to [creative agency] CLM.
Why did you decide to launch a nail salon?
I bought a nail kit in college and would charge my friends to do their nails, so it's funny how full circle it's turned out. I always had it in my mind that one day I would, but I always saw myself doing it in an emerging market, like Ghana. I went last year with my family to check out how feasible it would be, but I realized that logistically it was going to be quite hard. When I came back, I was with my now-business partner Latoya [Lovatt], and we were getting drunk in her new coffee shop/bar and she said to me, 'You should just open it here, you know?' And three weeks later, I found this place and it all seemed to happen.
What does it mean to you to open the salon in your hometown of Brixton?
I said if we're going to do it, it has to be in Brixton. Latoya and I both grew up here and I feel quite strongly about how Brixton has changed. It's hard not to get too political. Things can change, and don't get me wrong, change can be good, but there shouldn't be social eradication. It shouldn't be out with one and in with another. I remember Brixton in the 90s, and as much as it's a Labourized, overused phrase, it was a melting pot. Everyone adapted together. But now there's a split. It's too extreme and it doesn't need to be like this and it makes me sad.
I'm not trying to isolate anyone. I mean, people see my name on the window and realize it's a very obviously Ghanaian name [Ama means girl born on Saturday] so people are excited about me launching my own business here. But I don't want it to make it exclusive, or for one set of people. Even with the design of the place, we want it to feel like a living room, where old friends, new friends, anyone can pop in for a chat. We want it to be somewhere that little girls and boys walk past and think, 'Wow, that looks cool, I want to go in there'. A place where everyone feels welcome.
You said you're committed to contributing to the community. How do you intend to do that?
The salon will be closed on Mondays at first, so we're going to reach out to local charities and secondary schools to hold talks for young girls and boys, or get involved with programs helping people get back into work. I'm not trying to opportune on the fact that Brixton is hot right now and make myself a millionaire, I want to contribute. I'm lucky that I can facilitate this salon, so I want to share it with others.
Your menu and the products in the salon focus on natural brands, is that important to you?
In the past few years I've become really conscious of my own beauty regime, from the deodorant I use to my toothpaste and skincare. So it wouldn't feel right for me to bring in a load of brands and treatments like acrylics that I don't believe in. I've found the most natural polish brands [Ama stocks Kure Bazaar and NCLA gel polish] and this great skincare brand Pink's Boutique for our scrubs, creams and oils.
Your website talks about celebrating the naked nail, and you also have a treatment of the same name. What's the idea behind that?
There's loads of nail shops that do a simple file and buff, but they always seem to call it something like the 'man-icure' as though it's only for men. But there's women that don't want to paint their nails, or who just come to the salon for the treatment, like taking care of the cuticles and filing the nails. It's just about stripping it back and putting your nails back to zero again. There's something about your own natural nails that you just can't beat. It just looks sick.
What's your secret weapon for making nails look less shit?
Dior does this apricot base coat, which just 'ubers' the nail. It makes it look so shiny and nice. But also I've been loving brown nail polish this last year. Like a chocolate nail… that's sick. It's so luxurious.
This article originally appeared on i-D UK.