the future of fashion is trash
CSM MA student Matthew Needham makes fierce fashion out of environmental waste, fly-tipped rubbish and upcycled luxury fashion deadstock.
|
20 November 2018, 12:08pm
Central Saint Martins MA student Matthew Needham is part of a new generation of design talent challenging the British fashion industry on issues of ethics and sustainability. The statistics that shame the clothing industry as the second biggest polluter on the planet are shocking, but these young minds have witnessed the industry's filthy habits with their own eyes. The time spent working in the industry during their placement years ignited their imagination to return to university and change the world. For Matthew Needham it's reimagining how we perceive and make use of waste.
As Osman Ahmed recently explained in i-D's The Earthwise Issue, each year "the industry produces 100 to 150 billion items yet there are only about 7 billion people in the world," and, as has recently been reported, fashion brands are destroying billions of pounds worth of it. Earlier this year, fashion's colossal waste problem provoked widespread public outcry after it was revealed that Burberry had destroyed almost £30m worth of its fashion and cosmetic products over the past year to guard against counterfeiting. "Humanity tends not take interest in matters until they become dire or critical," Matthew explains. For this new generation of designers, dreaming of change is not enough, calling for change falls short too, only being the change will do.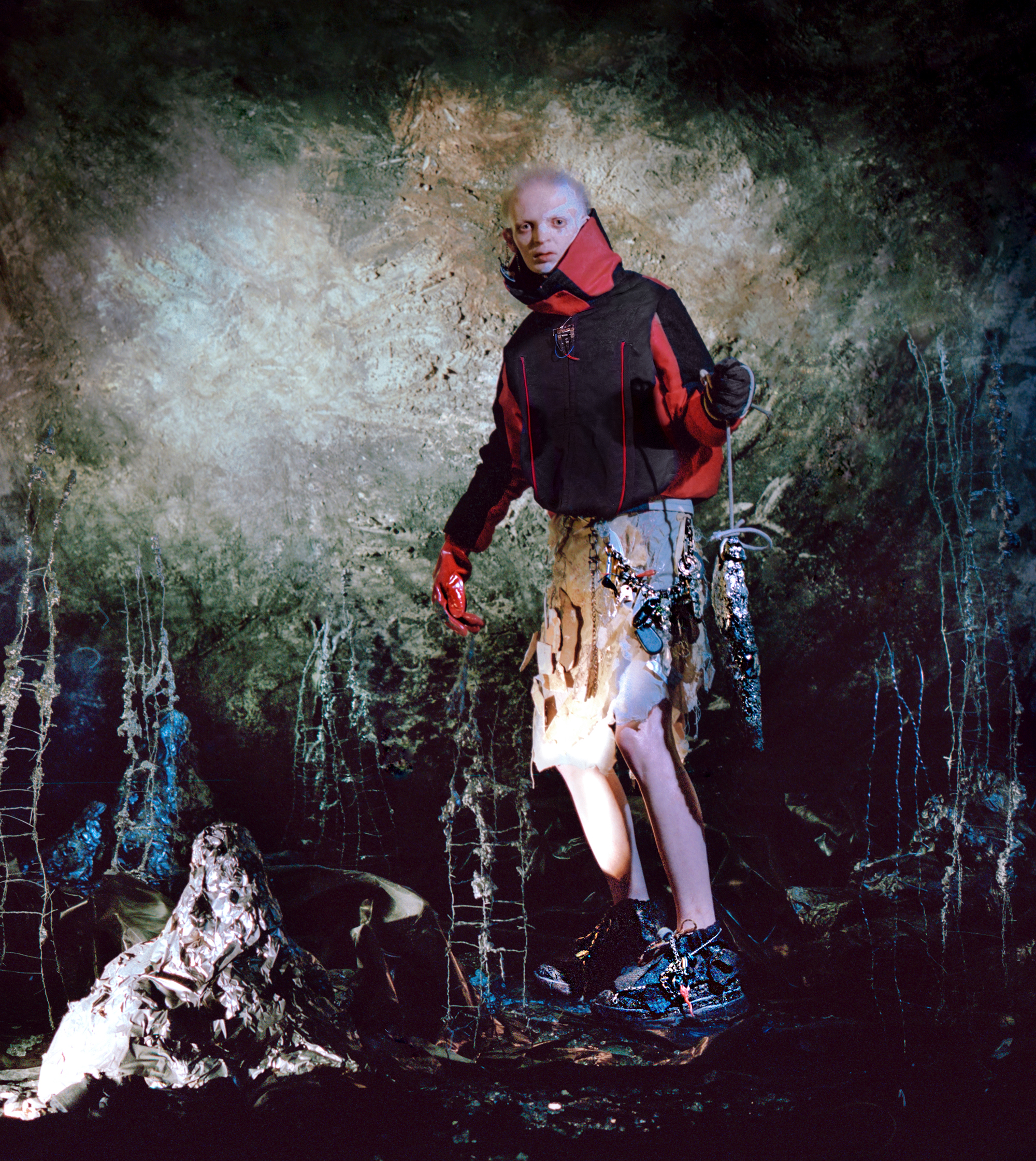 "I believe that in order to push this movement forward and utilize our platforms as creative people, it is necessary that we speak out and lead by example," he explains. Supported by a scholarship from the British Fashion Council and the Kering Sustainability Scholarship., Needham might still be in the CSM classroom but he's ready to use his platform to discuss, protest, and showcase what he believes will change fashion for the better. "It's to do with the idea of being a pioneer and influencing opinions to change the way the system has been programmed over the last two centuries. That is what we need to do, we have that opportunity as we are not yet tied down to business plans or marketing schemes. We have an obligation to be shouting about what's important, and people should take notice of us."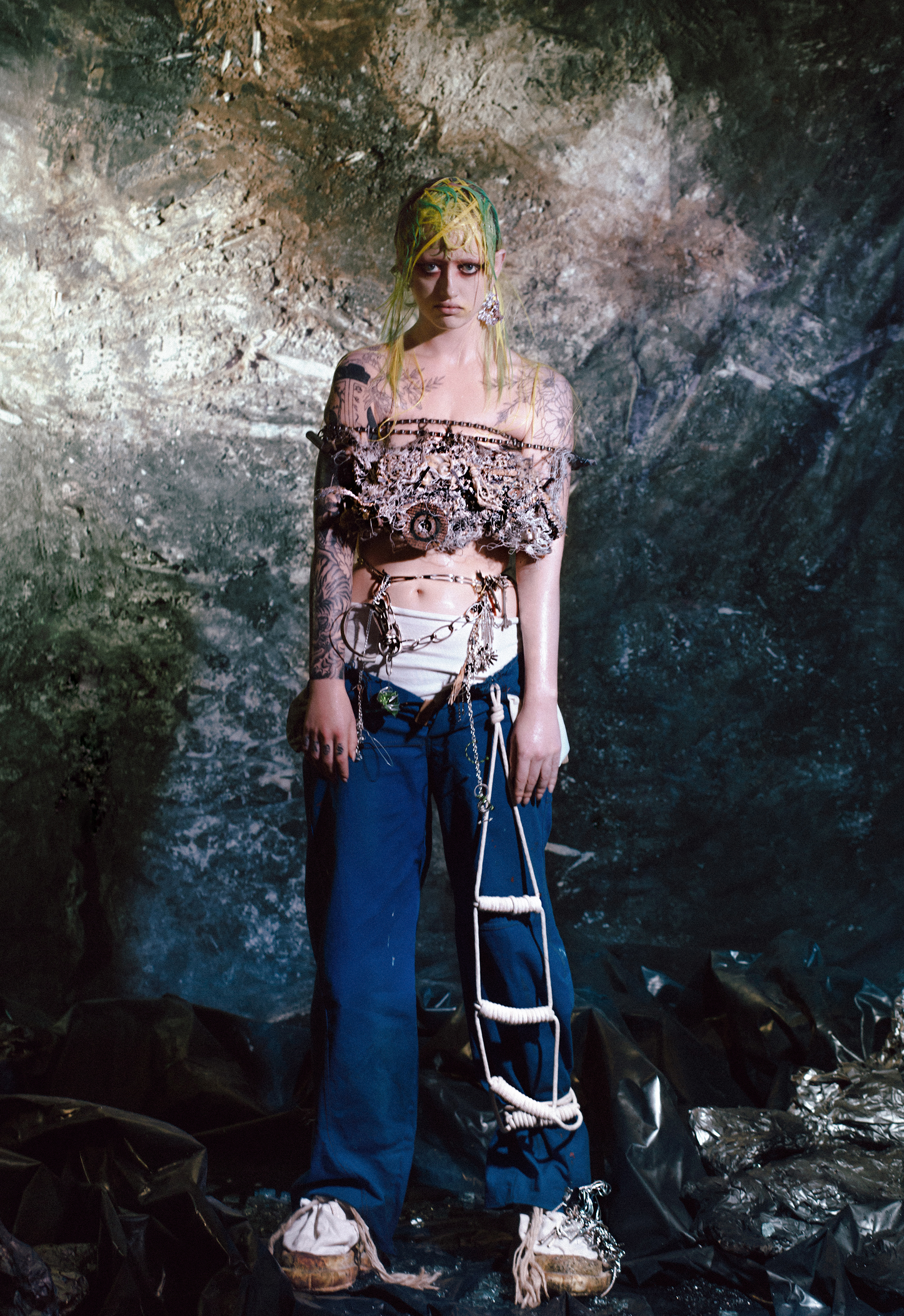 Today, Needham is shouting about fashion's overproduction problem. As he interned in Paris, he experienced a creative epiphany after witnessing starkly how broken the system was. "Working in Paris was the first time that I saw the enormity of the waste that was being produced in the industry, and understood the extent to which brands weren't dealing with the problem," he explains. From housing tons of unused fabric in storage facilities to cancelling samples at the last minute, ill-thought-out design decisions are having a negative impact on the planet. "A huge part of my process became about analyzing a material and deciding upon how it could be best utilized, inventing alternative fastenings and fabric manipulation rather than sourcing a specific color or material. It's about compromise. It became my goal to make a statement in an attempt to challenge the system. The experience was the catalyst that challenged my creative outlet and I think it was about seeing the production with my own eyes that gave me an understanding of the importance of conscious decision making."
This conscious decision making saw him create an acclaimed BA collection out of environmental waste that included roofing asphalt, fly-tipped rubbish and upcycled Chanel tweed. "Throughout the creation of the collection I altered the way in which I thought about the world," he explains. "The collection was a comment on how man has curated himself for ease and convenience to the detriment of society, culture, and the creative industries –– looking for easy solutions to problems instead of looking at what we have and how we can utilize existing materials as a viable solution." In the eighteen months since he closed the CSM BA press show, Needham has been working closely with Orsola de Castro at Fashion Revolution and teaching the the fashion foundation Pathway at Kingston University and BA at CSM, and his intention to utilize existing materials has only intensified.
Enlisting London-based photographer Alessandro Raimondo and set designer Anna Sharon, Needham has shot a new look book to showcase the evolution of his designs. "The collection was designed with the intention of visually showcasing an alternative way of thinking and adding value to materials that we do not consider to be valuable, although for myself, value is added through creativity. It goes beyond the ethical standpoint of doing it -- it's just trying to change the way we think about our possessions and questioning the way in which we have been taught to feel excitement through acquiring something new."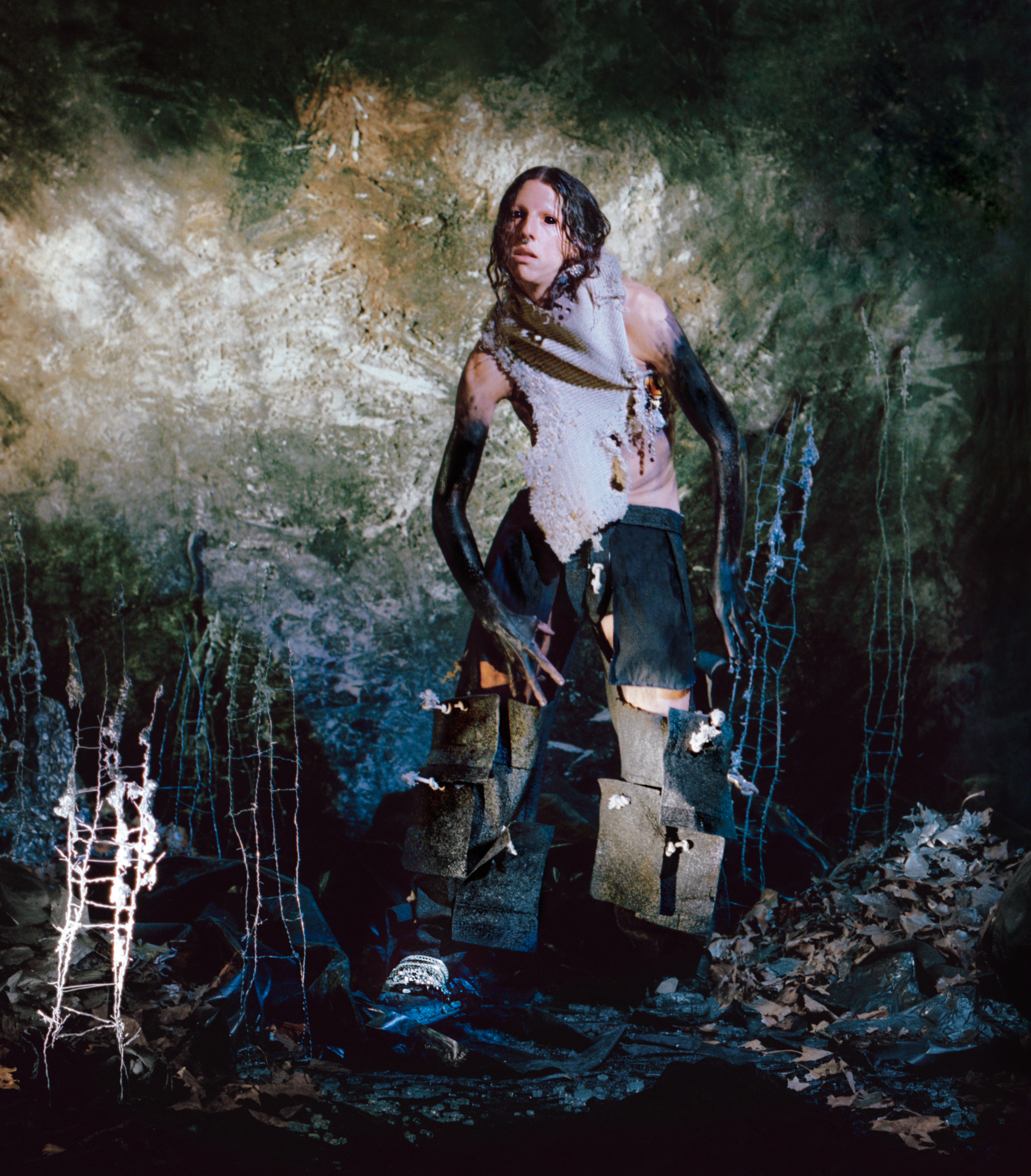 As he continues to build on his practice, Needham is also focusing his attentions on revolutionizing the industry. "Over the past two to three years there has been a new appreciation of creatives who are dealing with the global issue of waste. We have the platform and the freedom to make noise and fight for what we believe to be the right thing to do. It's imperative we act now."
What advice would he give to the next gen of fashion students? "Think about the things you do, question everything, and investigate." And what does he know now, that he wished he knew then? "That trash is the future."
This article originally appeared on i-D UK.