asking for it? donna karan's defence of harvey weinstein sounds like rape culture
Meryl Streep rightly called his behaviour "inexcusable", but the former DKNY designer (who has since apologised) seemed to make the same dangerous — and false — excuses that often stop sexual assault victims from getting justice.
Photography Chris Beckett
Last week, the New York Times reported allegations that the powerful American film producer and executive Harvey Weinstein (who co-founded Miramax, and The Weinstein Company with his brother Robert) had "paid off sexual harassment accusers for decades". The report included testimonials from several actors, including Ashley Judd (Divergent, Insurgent), who told them in an interview that "he had her sent up to his room, where he appeared in a bathrobe and asked if he could give her a massage or she could watch him shower". British actor Romola Garai (Amazing Grace) has subsequently told the Guardian that after a formal audition she had to visit Weinstein's hotel room to be "personally approved by him". "I had to go to his hotel room in the Savoy, and he answered the door in his bathrobe. I was only 18. I felt violated by it, it has stayed very clearly in my memory," she said. Other women report similar patterns of abuse in the NYT investigation, and more have come out since publication, including TV journalist Lauren Sivan who alleges that he masturbated in front of her.
Weinstein, who has not been charged with any crimes "unequivocally denies" many of the allegations. He has also disputed parts of the New York Times report. His former lawyer Lisa Bloom said in a statement last week: "He denies many of the accusations as patently false" while another lawyer Charles J. Harder initially said Weinstein was planning on suing the newspaper, calling it defamatory.
A growing number of Hollywood stars have reacted to the scandal (mostly women, and shamefully few men). The NYT article claims that Rose McGowan is one of the women Weinstein paid off, in a settlement of $100,000 after an incident in a hotel room, and she is now calling for the entire Weinstein Company board to resign. Others to speak out about the allegations include Jessica Chastain, Julianne Moore, Brie Larson, Lena Dunham, America Ferrera, Kate Winslet, Olivia Munn, Judi Dench, Patricia Arquette, Amber Tamblyn, Constance Wu, Seth Rogen, Mark Ruffalo and George Clooney. Meryl Streep described the allegations as "horrifying" and "inexcusable". Unfortunately, however, one high-profile voice did appear to make excuses.
Fashion designer Donna Karan (formerly of DKNY, but no longer affiliated) was reportedly asked about the scandal by a Daily Mail reporter on the red carpet at the CinéFashion Film Awards on Sunday. Instead of condemning his actions, she instead appears to point a finger at his victims, and victims of sexual assaults in general, responding: "I think we have to look at ourselves. Obviously, the treatment of women all over the world is something that has always had to be identified. Certainly in the country of Haiti where I work, in Africa, in the developing world, it's been a hard time for women. To see it here in our own country is very difficult, but I also think how do we display ourselves? How do we present ourselves as women? What are we asking? Are we asking for it by presenting all the sensuality and all the sexuality?"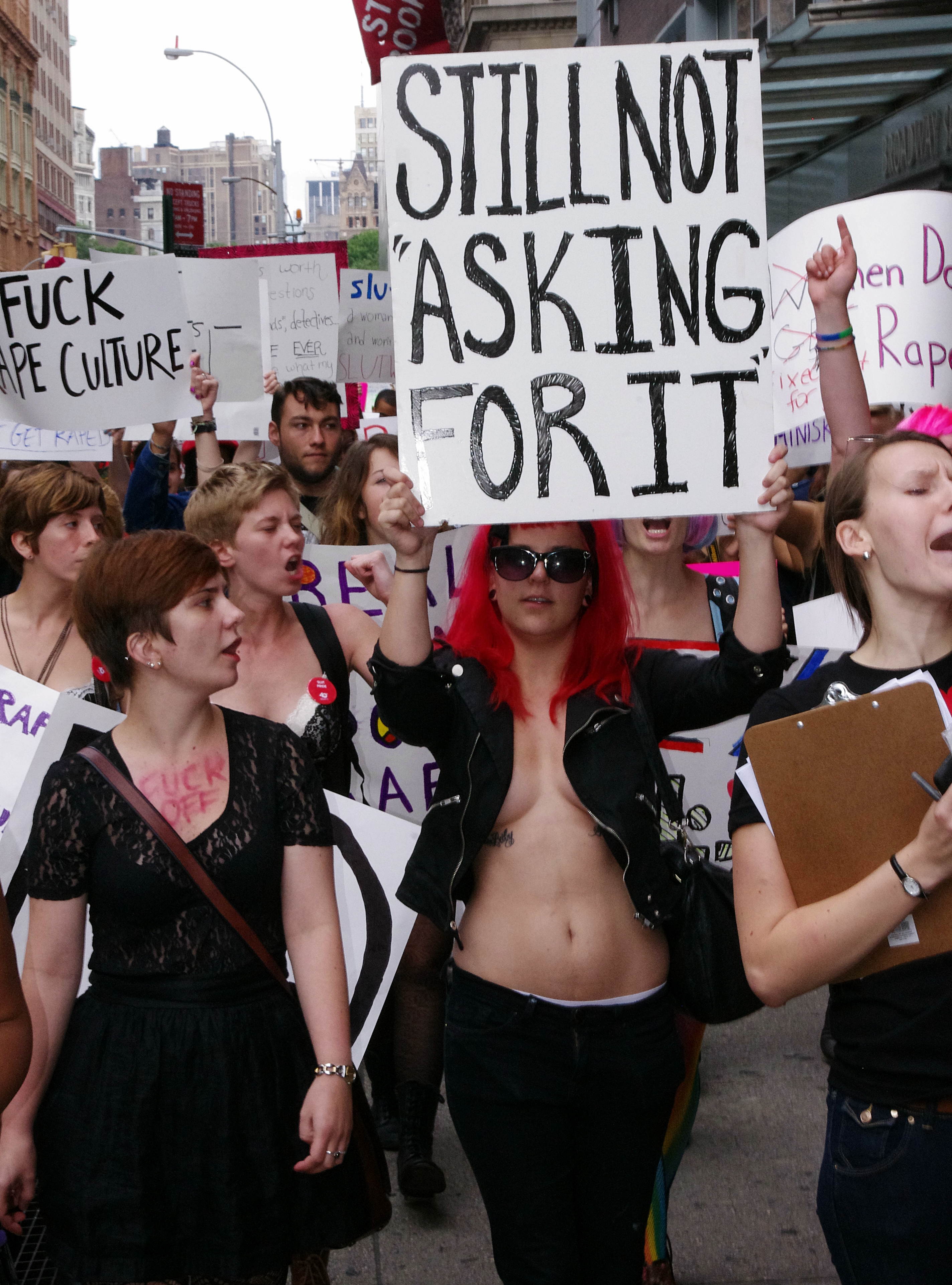 "You look at everything all over the world today and how women are dressing and what they are asking by just presenting themselves the way they do," she reiterated, concluding, "what are they asking for? Trouble." This is a particularly exasperating response for feminists, who have long fought against victim blaming in rape and assault cases, and particularly the claim that what the woman was wearing had some mitigating effect on a man's decision to assault or rape them. It doesn't. There is never an excuse. Rapists are the reason for rape, nothing else.
'Rape culture' is a phrase used to describe the ways we normalise sexual violence through cultural myths. Among the most insidious of these cultural myths is that women, both cis and trans, somehow invite sexual harassment, assault, rape and rape-related murder through the clothes they wear, how they behave and details like how much they have had to drink.
Rape culture is perhaps why Donna Karan seemingly tried to shift blame onto the victims of sexual harassment. As Susie Bubble writes on Instagram, "Says the woman who gave us deep plunge necklines, form fitting bodysuits and high-split wrap skirts that were part of Karan's emancipatory wardrobe for women. These were clothes that were supposed to enable women to own their sexuality without compromising their position in the workplace in relation to men," alongside an image of the designer's famous 1992 In Women We Trust advert, which presented the 'what if' situation of a female president, played by Rosemary McGrotha in a cold-shoulder dress, being stared at by a much older man. "Note the comments came out of [Donna's] mouth as she bared her shoulders on the red carpet. Is she 'asking for it' in that instance? One wonders what exactly is the 'correct' mode of attire then to prevent the Weinsteins of the world from beckoning women to hotel rooms/boardrooms/office cupboards," Susie added.
Rape culture is also why women in the film industry are only now revealing that they have known about the allegations against Weinstein for a long time. In a tweet, Jessica Chastain said: "I was warned from the beginning. The stories were everywhere. To deny that is to create an environment for it to happen again." The extent to which the industry knew is now a fraught element of the debate. Meryl Streep told HuffPo, "One thing can be clarified. Not everybody knew [her emphasis]," claiming that she had no knowledge of many of the allegations. However, filmmaker Lexi Alexander has tweeted that "Everybody in the film and TV industry knew about Weinstein. Everybody." One commenter on her tweet points out that back in 2013, Seth Macfarlane made a joke at the Oscars nominations announcement that the five women actors nominated for Best Supporting Actress "no longer have to pretend to be attracted to Harvey Weinstein" -- a quip that was met with applause, cheers and a shocked 'Oooo' sounds. Journalist Sharon Waxman has even claimed that the New York Times gutted a story of hers about similar allegations in 2004, after "intense pressure from Weinstein" -- a claim that has since been denied by the ex-NYT editor named by Waxman.

The Harvey Weinstein scandal perfectly demonstrated how rape culture intersects with privilege. "I am a 28-year-old woman trying to make a living and a career. Harvey Weinstein is a 64-year-old, world famous man and this is his company. The balance of power is me: 0, Harvey Weinstein: 10," former Weinstein Company employee Lauren O'Connor told the NYT. She had provided the newspaper with a 2015 company memo she had written asserting that "a female assistant said Mr. Weinstein badgered her into giving him a massage while he was naked, leaving her 'crying and very distraught'". The privilege Weinstein unquestionably had as a powerful and wealthy white man in the film industry is undoubtedly why these allegations have taken so long to surface. As Lauren Sivan wrote on Twitter, "For those asking why I waited? YOU try telling that story 10yrs ago. Only possible now because of women with bigger names far braver than me."
The stark difference between the number of women and the number men speaking out arguably has a lot to do with the fact that these men enjoy the same privilege that Weinstein did. As Rose McGowan put it, "they are weak and scared". Some have condemned his actions, including Seth Rogan and Mark Ruffalo, but many others are still silent. The Guardian report that they asked 20 industry men to comment and not one of them responded with a comment, either declining to or just not responding. One of them, George Clooney, did later comment, telling the Daily Beast, "It's disturbing on a whole lot of levels". Addressing this issue on Twitter, Mindy Kaling writes, "Why is it helpful men speak up? [Because] that's what this personality fears most: the disintegration of the tacit male support for this behavior".
Since her comments were reported, Donna Karan has issued a statement saying she is "truly sorry to anyone that I offended and everyone that has ever been a victim". She says she made a statement "that unfortunately is not representative of how I feel or what I believe" and, though the interview was recorded, she says her statements were taken out of context and "do not represent how I feel about the current situation concerning Harvey Weinstein". "I believe that sexual harassment is NOT acceptable and this is an issue that MUST be addressed once and for all regardless of the individual," she added.
It must.
Editor's note: This article was amended after publication to reflect the fact that Harvey Weinstein denies many of the allegations against him.