what's the deal with novelty acts getting signed by record labels?
Cardi B might be hot to trot but let us not forget One Pound Fish man.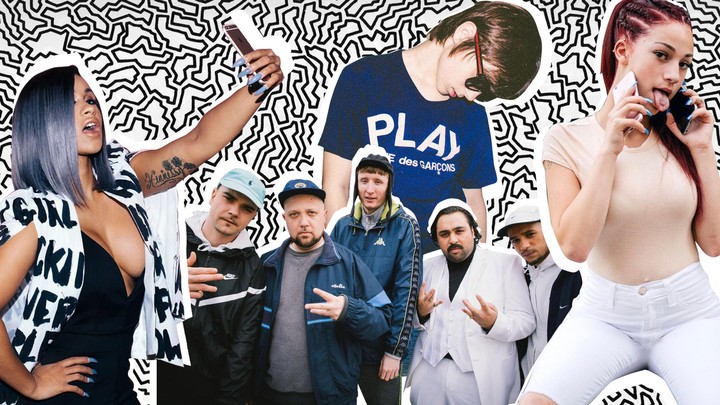 An internationally successful rapper is sat on a sofa, flanked by two of his producers. He's wearing a Louis Vuitton cap, Comme des Garçons tee, and appears to have a wad of cash fanned out across his lap. He's musing on his life before music. "I used to be bad, bro," he says to the camera, gravely. "Like, I used to be in the streets drunk." It's a picture that would make perfect sense – if the artist in question weren't twelve years old.
Matt Ox has over 150,000 Instagram followers, thanks to his breakthrough song Overwhelming. The video shows Matt and his friends eating snacks, doing wheelies on their BMXs, and, most memorably of all, fidget spinning in slow motion. It quickly went viral – at the time of writing it has almost 15 million views. Ox has all the hallmarks of a one-viral-hit wonder – but at the end of last month, it was announced that Ox has signed a major record deal with Warner Music.
The news came just one week after Atlantic Records signed another teen from a viral meme: Danielle Bregoli, also known as the "Cash Me Ousside" girl after a clip of her on The Dr. Phil Show went viral (in it, she appears to threaten to fight the audience outside the studio, saying, "Cash me ousside how bow dah?"). After selling merch and appearing in Kodak Black's video for Everything 1K earlier this year, Bregoli started fronting music of her own. Now, she has a new alias: Bhad Bhabie, the name under which she's released singles These Heaux and Hi Bich. In the same week she signed to Atlantic, Kurupt FM, which started life as a fictional, parody rap collective from the show People Just Do Nothing, signed to XL Records.
Viral video stars gaining record contracts are a tale as old as the internet – from One Pound Fish man (who also signed with Warner) to Psy (Scooter Braun's Schoolboy Records) to Rebecca Black (DB Entertainment). But there's something different about the current wave of new novelty acts.
When hip-hop site DJ Booth wrote up Matt Ox's new record deal as a cynical cash-grab on the part of Warner Music (comparing him to Bregoli), Finesse, co-owner of Ox's management/production company Working on Dying, responded. "Don't group him with Danielle Brigoli," he insisted. "Matt has been making music way longer, y'all just took notice. At what point do we allow the kids in the game and give them time to actually develop into artists?" Basically, take Matt seriously – he's the real deal. It's not surprising that his colleagues would make such statements – but what is surprising is he seems to be being treated as such. Noisey have released a 15-minute documentary detailing Ox's rise.
But despite Finesse's protests, Brigoli, too, has been treated with a respect not usually given to 14-year-old girls who attempt turn their 15 minutes into a rap career. She's been the subject of a sharp, 2,000 word essay on Buzzfeed's cultural criticism vertical Reader. Internationally respected culture magazine The Fader wrote up Brigoli's second single with the headline, "The Cash Me Outside Girl Is Actually Good At Rapping" and the subhead "Welcome to the Bhquad." Only Kurupt FM seem to be treated like a joke: and they were, quite literally, a joke to begin with.
There are parallels here with the signing of Cardi B. An internet star who rose to fame thanks to her straight-talking Instagram videos oozing empowered attitude, Cardi also signed to Atlantic earlier this year. While some saw her as a novelty act, Cardi was legitimised by respected publications like The Fader. Last week, her song Bodak Yellow pushed Taylor Swift off the top spot of the US's Billboard 100 – making Cardi the first female rapper with no featured artists to hold the spot since Lauryn Hill in 1998.
Of course, the key difference is that that Brigoli, and Ox, are both very, very young. Yes, they may not be receiving the same treatment they might have done had their music been released a few years earlier – the media landscape seems to have moved on from the malicious sneering directed at Rebecca Black, or even a young Justin Bieber, to recognise that big artists can emerge from the most unlikely places. But the music industry doesn't exactly have a great history when it comes to signing children.

Jojo was 12 when she signed with Blackground Records and released her hit song Leave in 2004. Problems soon followed. "People started talking to me about my weight," she told Lenny in 2016. "They'd tell me I'd have to 'look right' to sell this music, that if I was going to have a sexier song, I needed to 'wear more provocative clothing.'" Where did these comments come from? "It all stemmed from the record label and trickled down from there." Jojo sued Blackground after years of disputes back in 2013. The pressures of an increasing audience can also be incredibly difficult to deal with: as Rebecca Black told Buzzfeed in 2015, "It would be great if I could eliminate some of the backlash and hate and dealing with death threats at the age of 14."

If this new wave of kids with viral hits and big record deals tells us anything, it's that we've reached a point in music history where audiences have become more open-minded about different routes to success – the word "viral" is no longer synonymous with "terrible", and there seems to be a general move away from demonising children who gain absurd levels of fame extremely quickly. But as consumer tastes evolve, are the machinations of the music industry staying the same? Even if we enjoy the music, there's still something potentially uncomfortable about the way very young – and potentially vulnerable – children are snapped up and spat out by enormous record labels for their ability to make a quick buck.