devon rodriguez's paintings of commuters will change the way you see the subway
The young artist originally practiced graffiti.
|
25 September 2017, 10:14pm
Devon Rodriguez is a portraitist for a new era. Born and bred in the South Bronx, the 21-year-old painter's New York roots directly inform the cast of characters he depicts. In addition to commissioned canvases for locals (ranging from "drug dealers on the block to NYC real estate moguls"), he paints subway riders on the 6 train, who function as his unwitting sitters and modern muses. He snaps photographs of them and then paints them later. The neighborhood he calls home is heading into a new phase, and young creatives are choosing to stay put rather than head downtown. We speak to the artist about staying inconspicuous on the MTA, the beauty of a brushstroke, and the upward trajectory of the Boogie Down borough.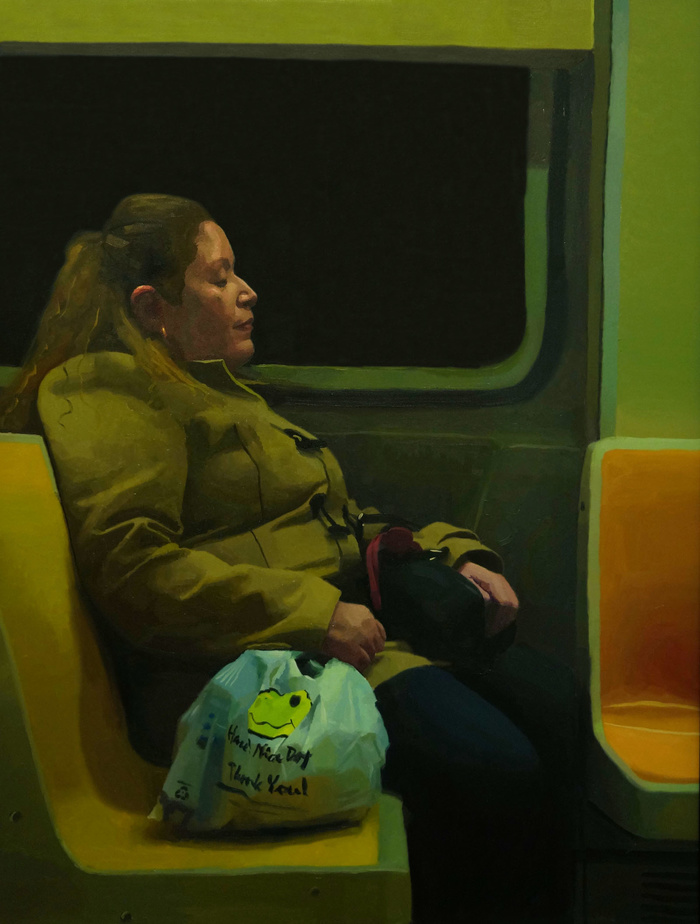 How does your background inform your relationship to art?
My father was an incredible tattoo artist, mostly inspired by Japanese woodblock prints. He wasn't around for very long to teach me anything about drawing, but I guess he passed down the gene. I always noticed little nuances in the world: shapes, the way colors interacted, various facial features, etcetera. I was never exposed to painting. My main focus in my younger years was graffiti; I thought that one day I'd become a big graffiti artist.
In seventh grade, it came time to apply for high schools; I saw High School of Art and Design [in midtown Manhattan] and I put that as my first choice. I had to audition with a portfolio, which ended up being rejected. So I went to my zoned school, which had terrible ratings and graduation rates. But during my freshman year, the art teacher helped me with my portfolio. He was an SVA graduate, so he knew what they wanted to see. When I started my sophomore year, I passed by the AP art classroom and saw a bulletin board full of amazing drawings. I walked in and saw the teacher painting a student from life. I'd never seen anything like it, and I wanted to learn to paint that way.
Who was your first portrait of?
It was a self-portrait, I think. I can't remember attempting any portraits before that.
What's your "field research" like, when you're wandering with your sketchbook and camera and seeking ideas in the NYC subway?
I'm usually just commuting somewhere, and I'll see something that strikes. I haven't been using my sketchbook lately because my camera gets me a lot of information much more efficiently.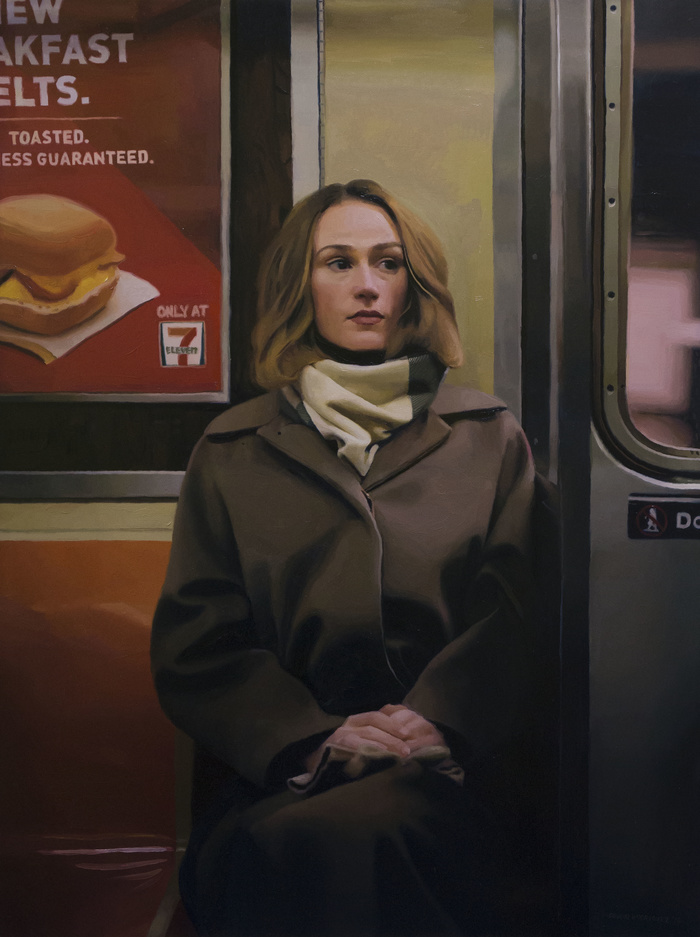 What details do you need to capture to move forward?
Just some practical things, like making sure I adjust my camera exposure to match the lighting in the subway. Some cars are darker than others. I create assumptions and stories in my head that often lead me to picking up my camera to photograph a person, but sometimes someone can just be visually appealing. I shoot for different expressions and spontaneous moments. The more material I have, the better it is for me in the decision-making process later on. I eliminate around 20 images before I choose the one. I feel that if I'm going to work on a painting for a few weeks, I shouldn't go with the first image that I shoot.
Is discretion important to you, or do you talk to your subjects?
Very important. I sorta wish I was an invisible eye or something. I do not want my presence affecting anything in terms of the outcome of the photo. I've had times where people notice me taking a photo and they'd try to pose for it, which kills it for me.
Do you always use oil paints?
Mostly. I draw every now and then, but I love painting much more. I sketch everything out in graphite first to set up the placement before I mix any paints. I spend anywhere from a week to a couple of months per canvas; it depends on the size.
Your artist statement says: "My goal is not to replicate photography, but rather, to instill in the viewer a sense of empathy for the subject." How does painting create empathy in a way a photograph cannot?
Emotion affects my brushstroke and spontaneous color decisions. Painting adds another layer to the human spirit—that photography cannot reach, in my opinion.
You also state that you "record the psychology of the overlooked"—can you expand on this?
I just feel like if people observed other people more, they'd learn interesting things about social intelligence.
Do you notice sociological patterns as well? Like recurrent trends?
Yes, in the way certain age groups tend to resort to similar clothing brands, and the way social backgrounds can sometimes dictate certain slang or communication patterns. I notice things when I'm commuting after work hours, how groups of people in a various social classes get off in different neighborhoods that are considered "better" or "worse."
On that note, people still seem to have a guarded vision of the Bronx. What do you wish people knew about the borough?
I mean, people have that vision for a reason. It didn't emerge from thin air. However, things are getting much better in the South Bronx, particularly around my neighborhood (Mott Haven/Port Morris). It's a change that I've always wanted to see, since I was young. It's going slowly but surely. I want people to know that it's a cool, colorful, edgy place that inspired me, and many other creatives.
Are you directly connected to those Bronx creatives, to other local artists?
Yeah, there's so many. Some of my friends include John Ahearn (sculptor), Michael Robayo (filmmaker), Jerome Lamaar (fashion designer), Amaurys Grullon (designer). The Bronx is on fire right now!
Which other artists have influenced your aesthetic?
My favorites are the photographers Philip Lorca Dicorcia and Gregory Crewdson, and the painters Daniel Sprick and Steven Assael.
H&M bags and 7Eleven ads and issues of the New Yorker crop up in your paintings—signs and markers of the modern city. What role do logos play in your work?
Brands that people wear can reveal demographics of taste and style… The logos, ads, clothing also serve as a timestamp.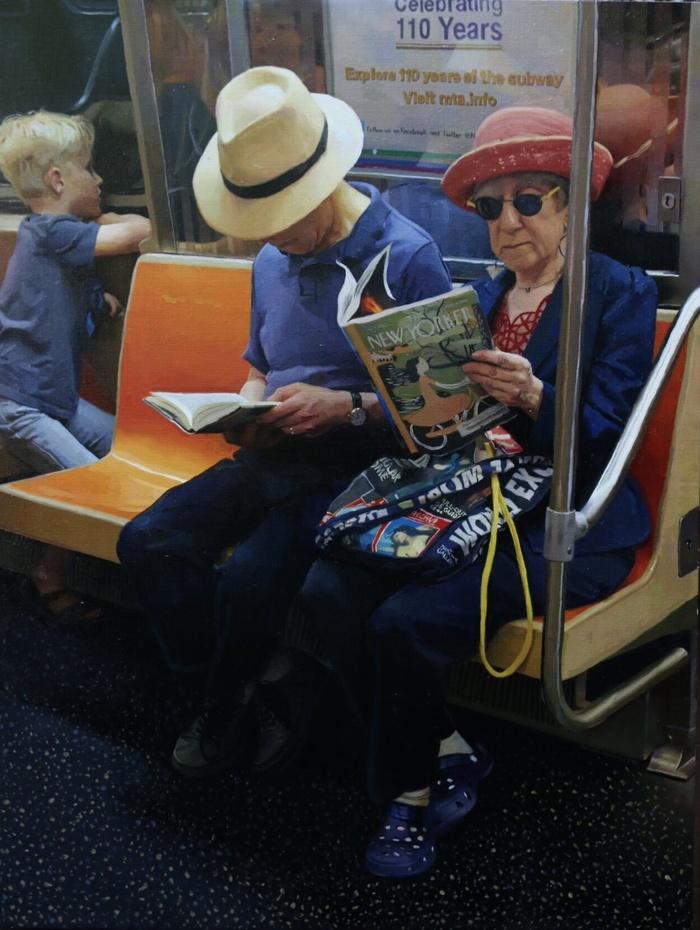 What are you working on currently, and what's planned for 2018?
Right now, I'm dealing with my list of portrait commissions. I'm also working with Michael Robayo, a filmmaker based here in the Bronx, on a documentary about working and living as an artist in the Bronx. My plan for 2018 is just to create a body of work that looks good to me. Hopefully others find it interesting.
---
Paintings Devon Rodriguez