HUGO spring/summer. Image courtesy of HUGO.
hugo cut, pasted and innovated its 90s berlin rave beginnings for today
Head of HUGO Menswear Design Bart de Backer takes us back to the future for spring/summer 19 and beyond.
|
17 December 2018, 8:44am
HUGO spring/summer. Image courtesy of HUGO.
"It's the 90s imbued with the feeling of today, " Bart de Backer, Head of HUGO Menswear Design, explained from a quiet enclave of a members club in Soho as he talked i-D through his spring/summer 19 collection. Following an acclaimed Pitti Uomo catwalk comeback, HUGO returned to Berlin Fashion Week -- after a seven year hiatus -- for spring/summer 19 taking over Motorwork, a huge warehouse on the outskirts of the city which was the original home of techno. We might be a world away from Motorwerk when we meet in London but the rail of tech-infused tailoring, harnesses, neon and flyer-inspired graphics in combination with de Backer's enthusiasm has a transportive power that takes us from our book-lined bar to the thump-driven, sweat-filled dancefloors that Wolfgang Tillmans documented for i-D back in the day. "HUGO started in the 90s and we wanted to return to our Berlin roots," he emphasised. After announcing a HUGO BOSS brand realignment last year that clearly defined and separated BOSS and HUGO, this reimagination of eras past shown in the city of its birth invited us on a tour of HUGO's past, present and future. With ten years experience within the HUGO BOSS family, de Backer is the perfect guide to talk us through the next steps for a progressive brand that always been about rule-breaking with its fashion-forward mix of streetwear-influenced tailoring.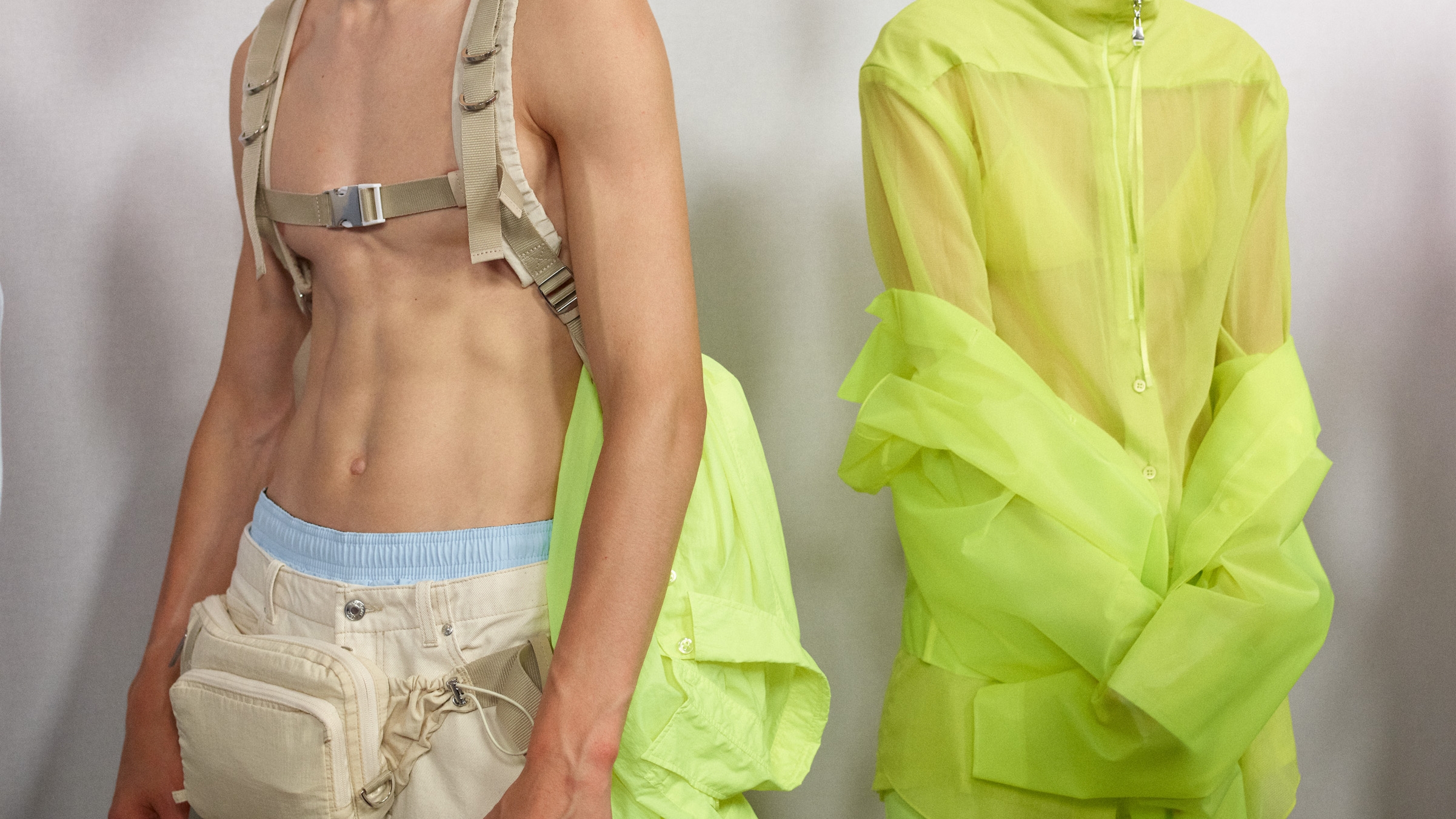 "It's very approachable," de Backer succinctly explained when i-D asked him to define HUGO. "When I started here with Bruno Pieters, our ethos was to offer designer product that was affordable and most importantly, design that is understandable. This is an idea that I like a lot. We continually strive to create something new but it has to be understood. It's not about making extreme statement, it's about following your own personality. Everyone wants to look cool, but for me, cool is a natural way of following your own path without shouting about it." The quietly spoken design believes in soft power, a refreshing respite from an attention-demanding industry that thrives off of noise and disorientating disruption. "Fashion today can be overwhelming and that's one of the main reasons why we retreated to our core values because we're all searching for value.I like to follow what I love but I don't shout from the rooftops." After spending more than a decade here, the HUGO philosophy mirrors his own and de Backer, alongside HUGO Womenswear designer Jenny Swank-Krasteva, knows just where to take the brand next.
"I have the feeling that I can shape it now," he explained. "When I started there were two different messages within the brand, design and commercial, but I wanted to make it more balanced. To refine our own language. Before the new chapter unveied during Pitti Uomo last June, our last show was five years ago." So, de Backer and Swank-Krasteva went back to the archive to 1993 when HUGO started -- "Back when it was a fashion-forward brand that sold at the avant garde stores of the time"-- and pushed their shared back to the future vision forward. From there early 90s starting point, the pair were inspired by an authentically Berlin street style approach of a mix and match mash-up of styles from different decades to create a fresh aesthetic. "In our second show, it was important to return to Berlin to remind people of our identity, we are a German brand with our own 90s heritage. Berlin is the place where everything is happening. There's so much youthful energy, experimentation, and multi-disciplinary collaboration across fields. That's where HUGO should go. Ultimately, the brand stands for quietly challenging the status quo."
Throughout the aptly named Mixmasters collection, this make-your-own-night DIY approach to fashion – bringing the idea of customisation and self-expression -- was at its forefront. Influenced by the creative energy and eclectic street style of its home city, HUGO makes the rules this season.
"I have a nephew who's obsessed with the 90s and I love how his generation have created an imagined perception of the period," de Backer explained as we looked at unstructured suiting with tech-infused string detailing. "He customises many of his pieces and that's what we did, replicating naive fashion creations of a kid who discovers items in their parent's wardrobe." The collection orbits a then and now reality. "The 'Berlin suit' silhouette is taken from the streets of Berlin right now. I see so many kids wearing huge outerwear styles and slim tailoring trousers. It's a combination of immersing myself in the archive and what's happening in Berlin now," he added. "Playing with those differences and pushing possibilities. When I look to the past, they have to be in the context of today. If it doesn't fit today, it's not relevant." As it explores new sartorial sensibilities, HUGO is part of a wider movement of brands and houses challenging the long held hegemony of streetwear. 'When there's one movement that dominates, there is always a counter one," de Backer noted. "People always have to challenge. The HUGO message of today and tomorrow is simply follow your own path."