fashion, brexit and british identity
How a generation of young designers are claiming and redefining Britishness as positive, progressive and inclusive in fraught political times.
Photography @mitchell_sams. From L-R: Asai, Matty Bovan and Molly Goddard. All autumn/winter 19
Fashion and fascism have always shared a passing resemblance, haven't they. Strong leaders? The tyranny of the individual genius? The will to power? The marching? Nice boots? I mean David Bowie even wrote a song about it. Fashion's fascist quandary used to be as simple, historic and morally one-dimensional as Coco Chanel sleeping with a Nazi general during the war, or Cristobal Balenciaga making dresses for Franco's wife. But it all comes at us a little more obliquely than these days.
Exhibit A? Pink-haired, repentant data meddler and current H&M employee Christopher Wylie explaining at a Business of Fashion Voices event how the evil overlords in charge of manipulating our feelings and politics used our fashion choices -- specifically the brands we like on Facebook -- to send us subliminal messages, adverts and information to promote the election of Donald Trump and Vote Leave in the Brexit referendum in 2016. Christopher worked for Cambridge Analytica, and could predict how susceptible we might be to fascist bullshit via our love of Superdry.
He has said that the fashion industry created a "cultural foundation which allowed the alt-right to grow" -- they exploited this idea that fashion = identity, that what you wear is who you are: "When we think about fascist movements," he said, "the first thing they do is develop an aesthetic." It maybe stands us in good stead, then, that the only recognisable aesthete to emerge from the far right Brexit gloom is Jacob Rees Mogg, a bespectacled second-rate parody of an Evelyn Waugh character in a coat two-sizes too big for him. A man without glamour, menace, or sophistication. And yet right now we're staring down the barrel of actually leaving the EU. There is less than a month till we depart, and, with much self-importance, we're trying to work out what this means for fashion. Fashion helped get us into this mess, and now fashion has to help get us out of it.
Fashion is a business, and it is rather inextricably interlinked across Europe. The fashion industry supports almost 900,000 jobs in the UK, and is worth £32 billion to the economy. Leaving the single market will make everything harder and more expensive. Whether you're trying to get something manufactured to sell at Dover Street Market, or simply buying something at Dover Street Market, your costs are going up. Brexit will directly impact trade, talent, funding, grants, manufacturing, distribution, hiring, and more abstractly, our place in the world.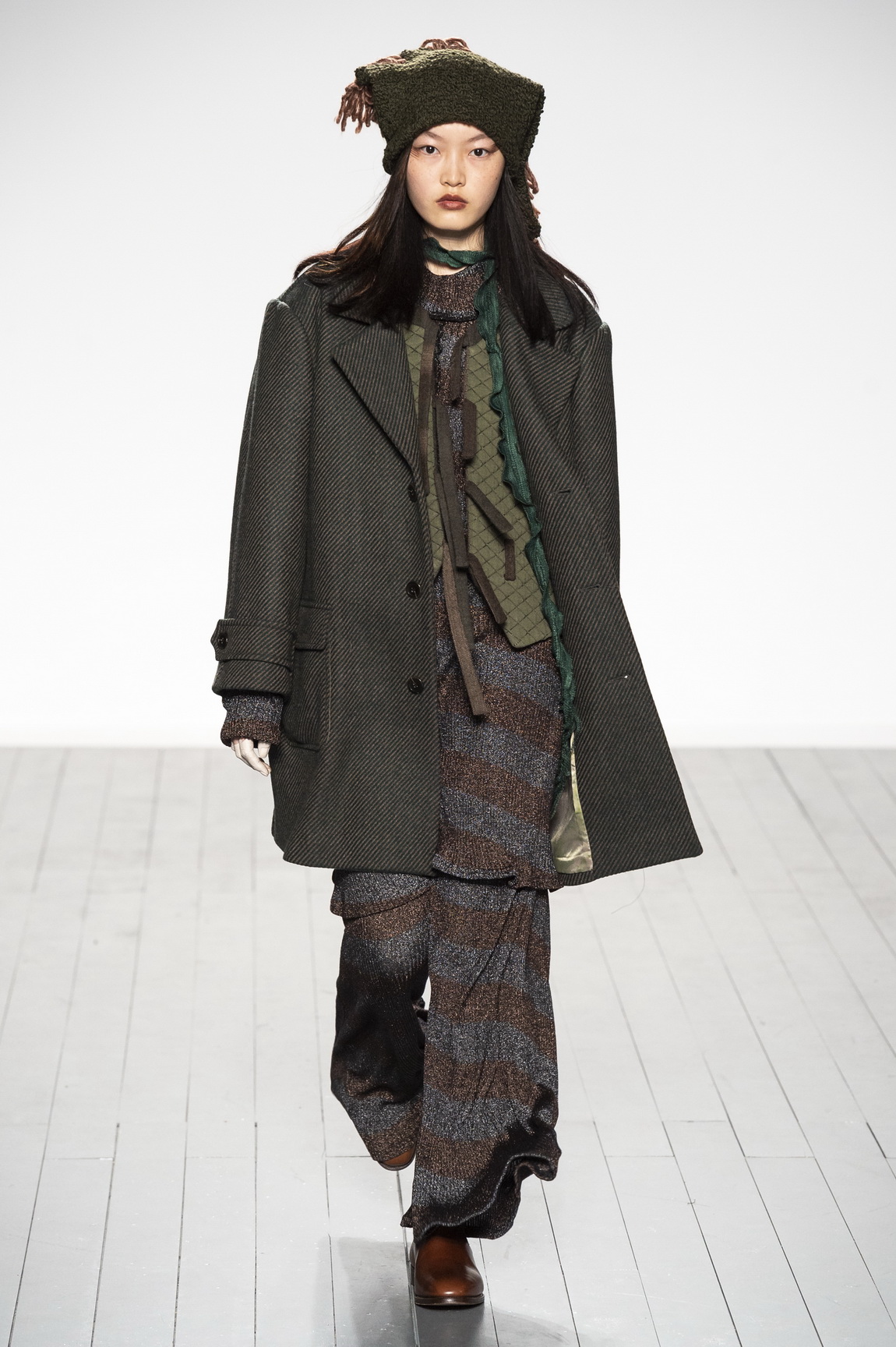 We're still no clearer on what leaving the EU will actually entail, which makes all economic predictions feel a little baseless, but I think it is important to ask, more generally, 'What will British fashion look like once we're closed off from the world?' Brexit is built on a nativist assumption that British means best, a self-sabotaging ideal of self-sufficiency, a dream of a world as it never was.
The best collections from the autumn/winter 19 season of shows at London Fashion Week were nuanced explorations and excavations of British cultural identity, and more excitingly fought for a vision of Britain as a space for diversity and hybridisation, protest and creativity.
No dumb britpop bullshit Union Jack flag waving. No empty Carnaby Street nostalgia. No pompous Savile Row establishments. No insidiously fake, bombastic and simplistic mythologies about what Britain used to look like. At a time when almost all expressions of British cultural identity come fraught with nationalistic association, fashion instead found a progressive aesthetic.
The opening show of the season, by Asai, set the tone. Asai is of Vietnamese-Chinese heritage and was born and grew up in south London as his parents arrived in the UK in 1979 as refugees. He studied at CSM, and then moved on to Fashion East, where over four seasons he marked himself out as a designer who could twist conflicting ideas and identities around each other in new, poetic ways. He takes stereotypes, exposes their simplicities and then finds new harmonies in them. "I was thinking about class and money -- particularly in the UK -- and how I'd been speaking about those concepts in my work so far," he explained to i-D before his show. "I feel like I've proposed broke girls, from poor immigrant families, turning around these amazing glamorous looks. In this collection there's an inversion, where I'm trying to understand the world of privileged upper-class country women and their approach to style." One immutable fact of the various style tribes that have erupted throughout post-war Britain is that poor kids want to dress like they're rich and rich kids want to dress like they're poor (and no one wants to be middle class).
To convey this Asai took his own fashion vision -- acidic neons, tie-dyes, dystopian club Chinoiserie, shredded glamour -- and subverted and reduced it through a palette of the English autumnal countryside. It carried an echo of Christopher Nemeth; who would refashion old clothes and found fabrics into new sculptural, dramatic forms. And it shared some of Nemeth's textile subversions too, in that the fabrics in this collection -- which so intuitively explored Britishness and class -- all came from Japan: "They are part of the debate about people being challenged on what being British means," he said. Asai is a clever manipulator of superficial detail, always undermining it with deeper meaning.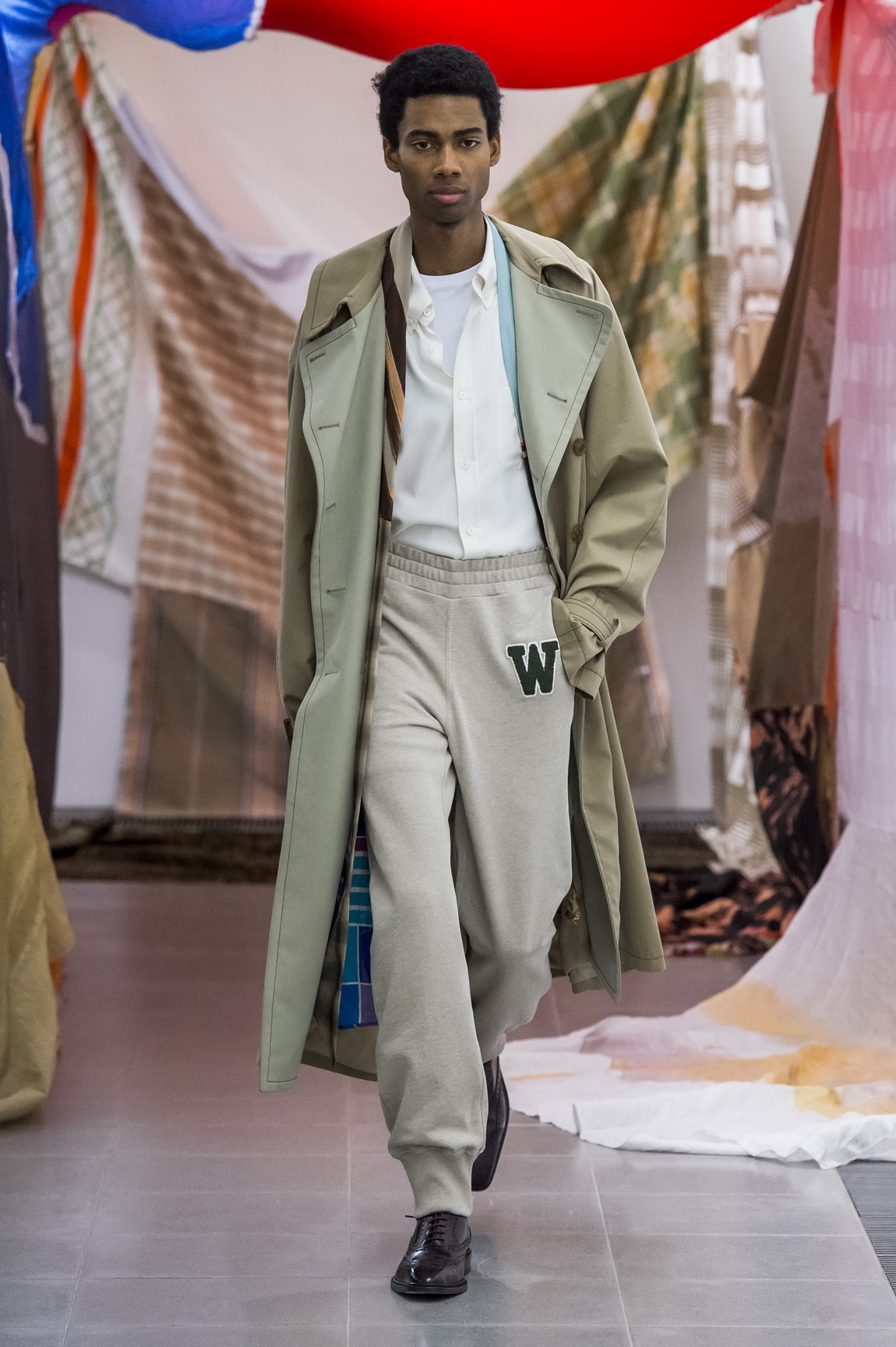 There is, as well as Asai, a generation of designers emerging in London at the moment who are grappling with dual identities of Modern Britain -- anglo hyphenates, the children of immigrants, second generationers, those stuck between worlds. Grace Wales Bonner and Supriya Lele for example, both design with this aesthetic liminality at the forefront of their minds. Their clothes move across and ignore boundaries imposed by the strictness of geography. They are designers who explore heritage and tradition, but refract it through the lens of modern life, modern fashion. They represent Britain as it actually is, a hybrid place, and show the beauty and creativity, the new expressions that come out from those cross-cultural meetings.
With a wonderful slice of black humour, Matty Bovan titled his autumn/winter 19 collection In Uncertain Times, This Is a Sure Thing! That these are uncertain times is a bit of a understatement, and well what surer thing than wild, rebellious, patchwork flamboyances. Equal parts CSM-baroque and pastoral-mystic, a designer who combines the cosmopolitan with the bucolic, and who can, in the same dress, reference Brexit and the witch trials of Stuart Britain. Fashion becomes, in his hands, about modern mythology, craft as a kind of creative refusal to be bowed by the emptiness of current political narratives. A thousands things that shouldn't work together come in sync, they mesh, become bigger and more powerful, more glamorous, more interesting. Which might well stand in as a symbolic gesture for the whole of our history. "This isn't another world any more," Matty said. "It's talking about the country we live in."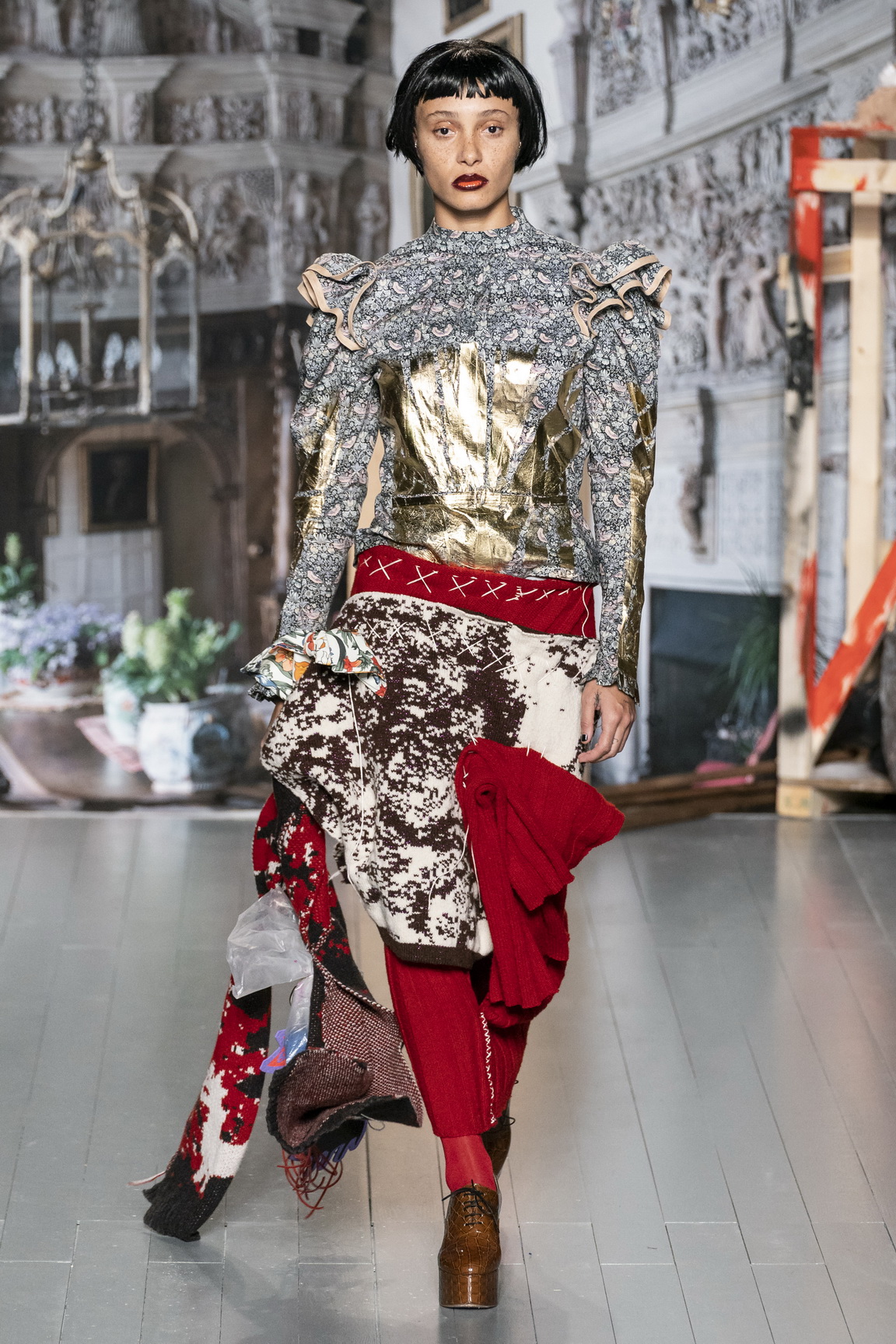 Which is part of the problem with fashion, isn't it. Subtly doesn't come easy. Every gesture magnified under the catwalk. A slogan T-shirt becomes a giant Piccadilly Circus billboard. This is to say that it is very easy for your well-meaning intentions to turn into political bludgeons, blunt instruments stripped of all nuance. And yet, this generation of designers in London right now have managed to weave their positions and politics into their garments in a very natural, harmonious way. For both Matty and Asai, for example, the politics came from the clothes themselves. The medium is the message.
Or take as another example, Molly Goddard. This season she staged her show in Dunbar Court, a grand courtyard in the building that houses the Foreign and Commonwealth Office. Dunbar Court came coated in Imperial marble, lined with busts and statues and relics of Britain's past. The show was hosted by The Great Britain Campaign to trumpet the impact and importance of British fashion to the economy. Outside the show a Brexit Means Brexit protest quietly raged away, a gang of Don Quixotes in search of a windmill. Molly's girls came out wrapped up and cosy, wearing practical shoes and practical trousers. There was tulle worn over tailoring, knitted socks and balaclavas. It was about stomping through the storm, finding insulation against the world.
Fashion's political approach can be found in its retreat, its glamour, its anger, facing it down, head on. Or it can come at it more obliquely. What does the fashion itself mean, politically? What does commerce mean? The unpaid interns and the environmental impact of factory production? What does it mean to dress in a certain way, during a certain moment in time? Do hemlines really move up and down with the stock market? Do you plot British politics out along subcultural chronologies. Boomtowns or ghost towns, Twiggy or Soo Catwoman. Wear the coat. Join the club. These fashions could change your life.
What is so exciting is that these designers reject the nostalgia of British fashion that so often reduces our country's style down to absurd caricatures or subcultural strictness. How the past is meant to have looked or felt is politicised -- it's the false promise of those who want to drive us out of the EU, send immigrants home, deport the Windrush generation. They play up a past vision of Britain as this Golden Age when of course there was never a Golden Age. These designers aren't looking back, but are pushing us forward, reflecting Britain as it is, for a generation.
Nostalgia so often reduces everything to its most basic, immutable and absurd positions. And nostalgia played on loop to diminishing returns, well that feels like it sums up Britain's politics today, doesn't it?
Credits
---
Photography @mitchell_sams
This article originally appeared on i-D UK.