Andres. Still taken from i-D's documentary Tijuana: A Mexican Dream
city of angels: meet the people saving migrants' lives on the mexico-us border
19-year-old Andres is one of hundreds of 'Border Angels' who spend their days helping those marooned in the migrant camps of Tijuana.
|
19 February 2019, 1:15pm
Andres. Still taken from i-D's documentary Tijuana: A Mexican Dream
On February 15, US President Donald Trump declared a national emergency to bypass Congress and free up billions for a border wall between the US and Mexico. The alleged national emergency? A migrant caravan of several thousand people that arrived at the border fleeing violence in Central America. i-D travelled to Tijuana in December 2018 to report on the situation first-hand. The result was i-D's latest documentary Tijuana: A Mexican Dream, which you can watch here.
---
Dotted with neoclassical architecture and neon lit bars, Tijuana is a city that teams with energy, creativity and a decent dose of hedonism. The local arts scene is vibrant, the restaurants are world class, and there's a craft beer and cocktail scene that's booming. The surrounding landscape is all rolling mountains, cotton blue skies and cacti growing by the sea. Ask a local and they will tell you it's "the most visited city on Earth" (which may well be true, as the US-Mexico border crossing Tijuana sits on, sees an average of 300,000 people passing through it on a daily basis).
But it's also a city of stark contrasts; one dealing with more issues than most would face in a decade. The murder rate has soared, the streets are flooded with cheap meth, and, in the last six months, thousands and thousands of central American migrants have arrived, fleeing the unrest, unemployment and violence of their home countries.
Many came under the impression that entering the US via Tijuana would be a straightforward process. Instead, they have found themselves marooned in makeshift and overcrowded camps around the city, subjected to thousand-strong processing queues and aggravated exchanges with US border officials (which included a teargas incident).
Some Tijuana residents have staged xenophobic protests against their being here, ringing out cries of "Out Hondurans, we don't want you here", "Tijuana first" and "Long live Mexico". But most try to support the migrants by donating food and clothes to shelters and providing entertainment.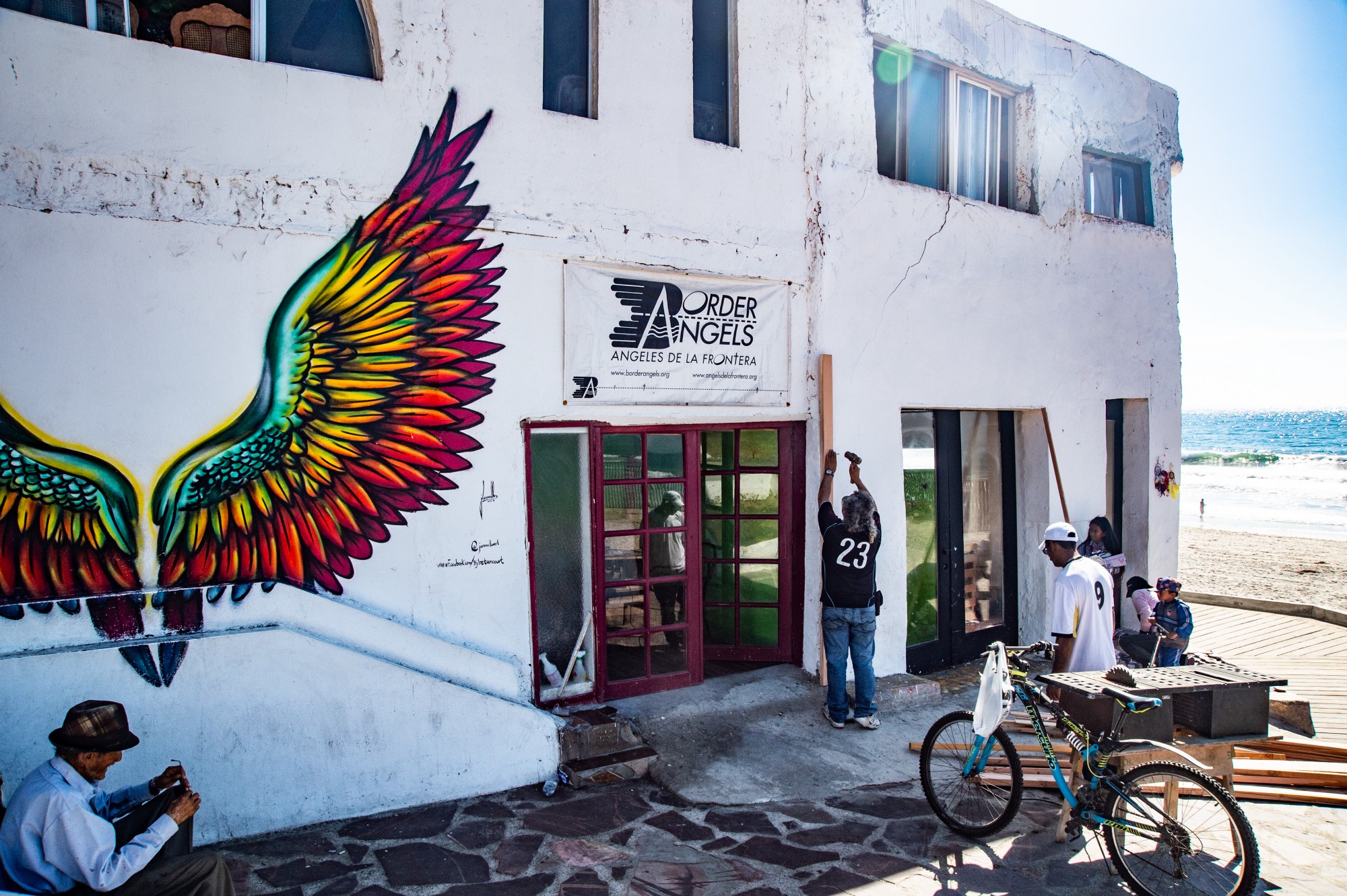 Andres is 19 years old and was born and raised in Tijuana. Now, they spend their time volunteering for Border Angels, a charity that provides aid for migrants on both sides of the US-Mexico border, and campaigns for human rights, humane immigration reform and social justice.
The charity, which was started by Enrique Morones in 1986, initially just sent teams of volunteers to drop water containers in desert border regions which they knew were popular crossing spots. Now, they've expanded. Each day, Andres and hundreds of other Border Angels work tirelessly to provide vital support in the shape of supplies, water drops, legal assistance, education and general advice. Their overall ambition is to reduce the deaths that occur along the Mexico-US border line, a toll which stood at more 260 fatalities in 2018.
---
---
When Andres was a kid, it wasn't unusual for people to nip across the border to visit the zoo or even just buy a burger. But over the years, they have seen people's attitudes change, becoming more aggressive and the situation more ominous by the day. "You see the height of the barrier increase, the security systems becoming more futuristic each time – increasing the surveillance as Trump's wall gets built," they say. "It's not just a barrier that divides us, it's a wall that kills and attacks every thing that it doesn't want or need."
While right wing media has portrayed the migrants in Tijuana as violent and nefarious, Andres has witnessed a different reality. They have encountered lesbian, gay, bisexual and transgender migrants who had no other option but to leave societies where they faced harassment, social rejection, discrimination and hatred. They've met Haitians who, after their journey ordeal, decided against crossing into America and have since become happy contributing members of Tijuana society.
One day, when Andres was working at the Border Angels donations centre, a young girl of 5 years old wandered in. "There was food, blankets, and clothes," they say, "but all she took was four toothbrushes. For her mom, her dad, her sister and herself. The behaviour of these children, who have been through such difficult experiences, is so impressive."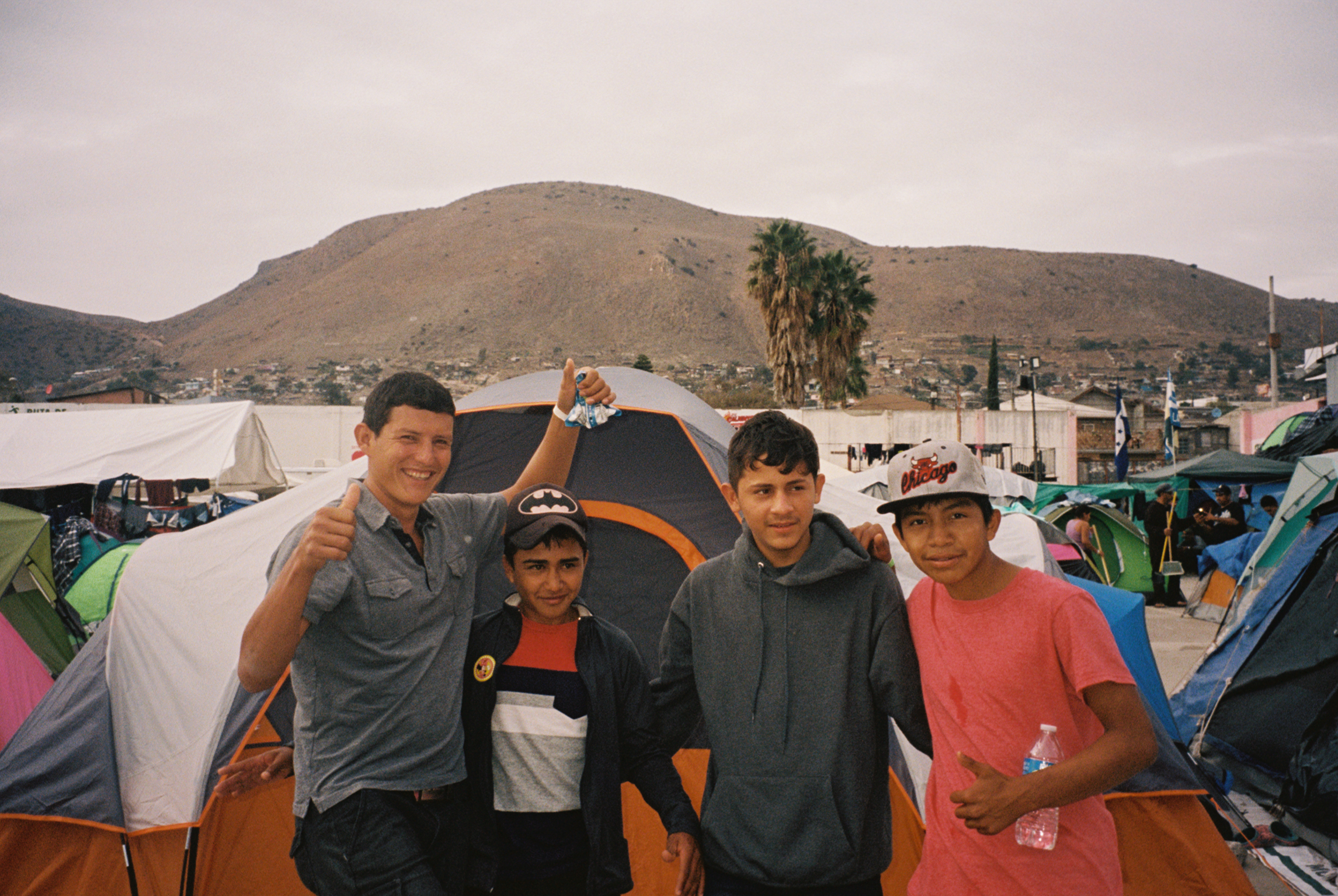 Each week, the news is filled with daily reports of Donald Trump threatening a state of national emergency in America just so he can get his wall built. The situation only seems to be worsening, and the quandary faced by most migrants now is whether to stay and wait, or make the crushing journey back home. The camps across Tijuana are all beyond capacity, and hygiene and security are becoming major issues for those living in them.
Their presence has been made even less welcome by the aggressive rhetoric of the city's mayor, Juan Manuel Gastélum, who has been known to wear a "Make Tijuana Great Again" cap and was recently ordered by a Mexican judge to stop spreading toxic messages about the arriving migrants.
But thanks to Andres and so many other Border Angels, there remains a unshakeable sense of optimism; a belief that things could get better. "For me," says Andres, "society is about being all for one and one for all. When you accept and understand this, you become capable of seeing the issues in our society: violence, xenophobia, racism, etcetera. You can become a tool for change, and give hope to the people who have lost it."
In their opinion, the ever-changing fluidity of Tijuana is exactly what makes the city so special. This is a migrant city, a border town, a place of movement and it always has been. "What makes Tijuana," they insist, "is the diversity. This is a place to celebrate inclusion and cultural diversity. We have to keep fighting everything that threatens that, though art, teamwork and empathy."
If you would like to help or find out more about the crisis in Tijuana please visit: www.borderangels.org