the duo behind diet prada speak publicly for the first time
And they've shared what they plan to do next.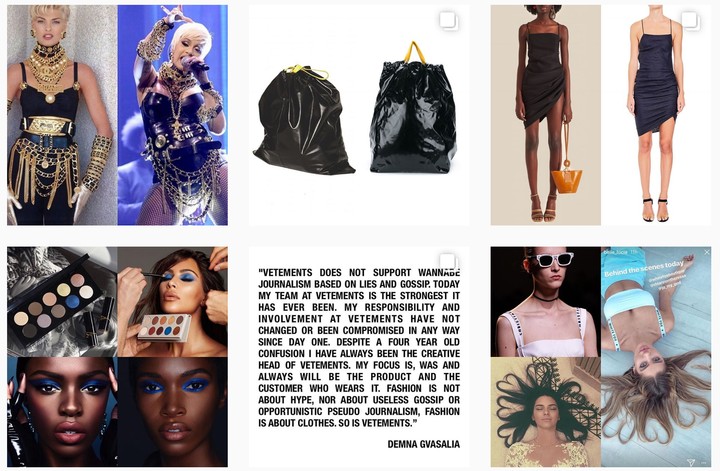 Diet Prada Instagram
The Instagram account named Diet Prada is, by now, firmly established in the fashion landscape and has become a sometimes-controversial force for industry change. If you're a designer, you've probably secretly feared Diet Prada for quite some time. The secretive, acid-tongued Instagram account has been pointing out fakes, replicas, copycat patterns and designs, and "homages" since December 2014.
Until late last year, part of the allure of the account was that nobody actually knew who Diet Prada was. But nearly four years after they started holding the entire fashion industry to creative account, the names of co-founders Tony Liu and Lindsey Schuyler, were revealed by Fashion Law. Since being exposed, Tony and Lindsey have remained quiet (off of Instagram at least), but now they've finally decided to speak publicly.
In an exclusive interview with Business of Fashion the pair revealed that their account started "as a joke" while they were working together as researchers for Eugenia Kim — an employer they refuse to comment on. They soon realized how many runway collections they were analyzing borrowed, alluded to or straight up stole from other work. "It definitely was just for the lolz," Lindsey told BoF.
From humble beginnings — they only hit 1,000 followers in November 2016, almost two years after founding the account — the pair have now amassed nearly half a million loyal "dieters." But the account is just a side job; Tony launched his casual menswear line, You As, while Lindsey runs a consulting practice.
When it comes to why they waited almost a year since being unmasked before speaking publicly, like everything else in life, that also seemed to have been a matter of timing. "The time was going to come that we'd need to own it, eventually," said Lindsay. "Ideally, we would like to make this a business," Tony added. "It's going be easier to do that if we put a face to the names."
Describing themselves as "just two people with an opinion", Tony and Lindsey are a breath of fresh air in an era of fake news, and say they want to stay completely unbiased, because so much of the mainstream media right now is just the opposite. In the interview pair also explained their username, which chosen in honor of Miuccia Prada "the original end-all-be-all of everything", and Diet Coke "the original imitator."
But just because they've gone public, doesn't mean they're going to get any more lenient. "For us, nothing is sacred," says Tony. "I don't know why this industry is so self-protective. In every other industry, people say whatever shit they want and they should be able to do that in fashion as well."
"And we're not being mean," adds Lindsey. "I hate saying, 'We're just being honest!' But, you know."
This article originally appeared on i-D UK.