why did the nigerian football kit become such an immediate cultural touchstone?
And what does it say about Britain today?
Image courtesy Nike
Friday 1 June 2018 was the day the British population became honorary Nigerians. In the midst of a much-hyped social campaign, the Nigerian national football team's vaunted and incredibly stylish kit for the forthcoming World Cup was released to the masses; cue urgent rushing to London's flagship Niketown store for the cultural shutdown of the year. The collection, first revealed in February, attracted punters from all walks of life, creeds and colours, who breezed west to secure home, away and training kits, and bucket hats, leading to a staggering three million pre-orders leading to the big day, according to Nike. It sold out within minutes.

In the lead up to the 2018 World Cup, football and fashion have become inextricably linked. Luxury fashion house Acne Studios released a football theme capsule collection earlier this year, and Gosha Rubchinskiy has released four collaborations with Adidas in the last 18 months. But the hype engulfing Nigeria's kit launch was wholly different, greatly transcending its original purpose on the pitch. It was covered by streetwear blogs, worn by the likes of Skepta, and led to a social and financial traffic for Nike that a Supreme drop would pat its own back for.
The hype was justified; Nike had pulled several rabbits out of the hat with its kit design. Then putting Arsenal footballer Alex Iwobi, singer-rapper Not3s and Beats 1 host Julie Adenuga – each with their own imprint on current black British culture – among others, front and centre, was a masterstroke, heightening its appeal. The day after the kit dropped, the England and Nigeria national teams faced off at Wembley Stadium, the perfect climate for a legion of loyalists (wearing the new kit of course) to transform the affair into a carnival, with traditional singing, chanting and dancing that any Nigerian raised in the church would recognise. The message was clear: the kit had become fashion.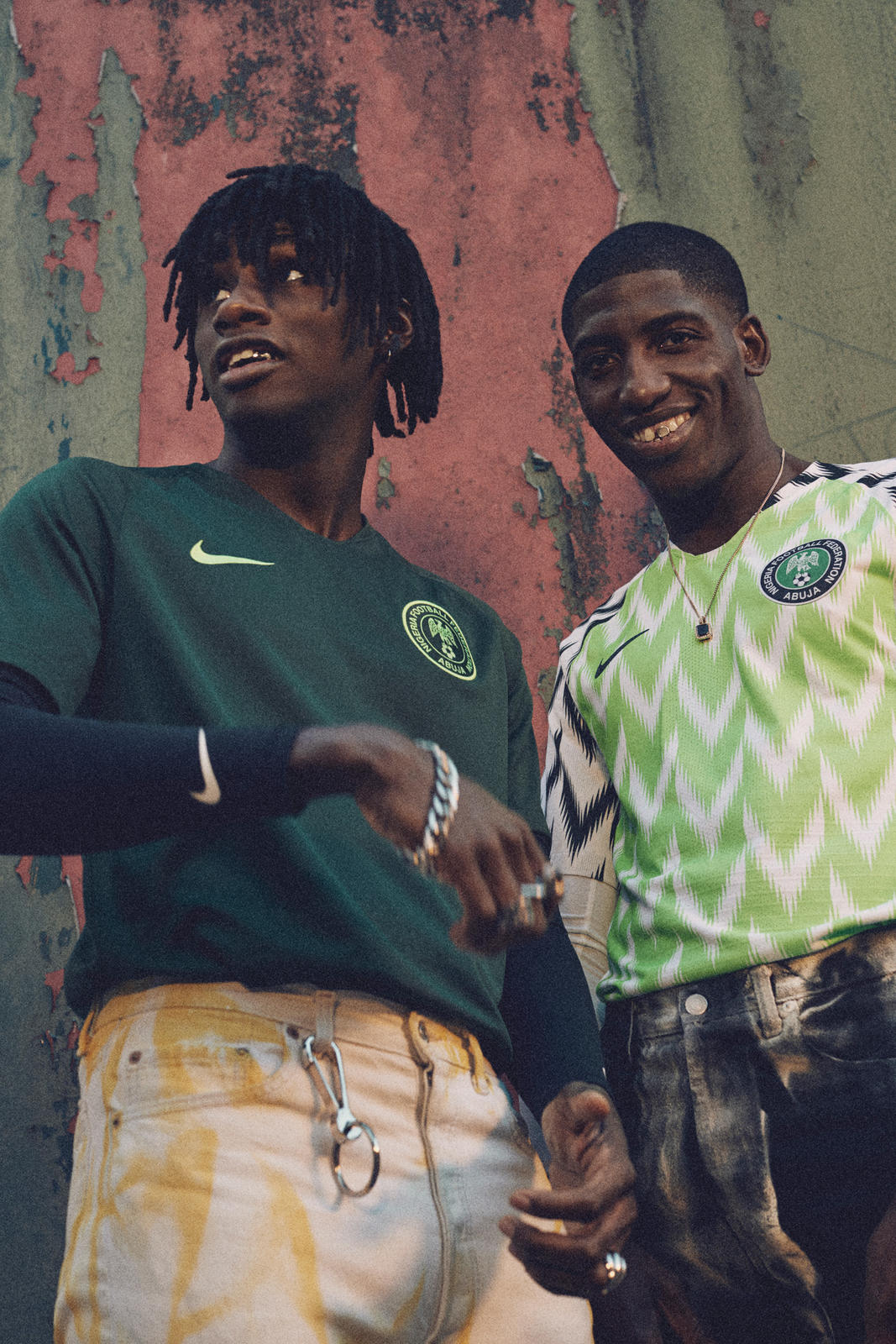 As a Nigerian born and raised in London, I couldn't help but laugh at the whole ordeal, but my chuckles were laced, somewhat, with an acute sense of pride. Growing up, being African gained not one iota of cool, as the black British landscape, particularly in so-called 'urban' areas, was still heavily influenced by Caribbean culture; the music, the language, the style. I almost pined not to be from the country of our parents' birth if it meant more legitimacy among friends and in society. Skepta summed up this feeling of alienation for a generation perfectly on Nigerian superstar Wizkid's 2016 Ojuelegba remix: "When I was in school being African was a diss, sounds like you need help saying my surname, miss".
Indeed Skeppy -- or Chief Amuludun Of Odo Aje as he is now known in Ogun State, Nigeria, where a chieftaincy title is an incredible mark of social ranking -- has done much to elevate his people with the world watching. He has always worn his origins on his sleeve, even when it wasn't popular, and has put together a number of 'homecoming' concerts in Nigeria, where the likes of Not3s, J Hus and Wizkid have performed. Meanwhile, in recent years, afrobeats has made the leap from local to global recognition, and Wizkid, Mr. Eazi and more, based in and out of the UK, have injected the infectious genre into world consciousness. More broadly in the arts, Peckham born John Boyega has been a constant presence in Hollywood since becoming an integral of the Star Wars franchise, and even local heroes like Don't Jealous Me, Kayode 'Roll Safe' Ewumi and Tom Moutchi -- previously Tommy Expensive -- have played into the many colourful aspects of Nigerian life to comedic and uplifting effect. This is important in the context of the kit's launch, a moment of symbolism legitimising Nigerians in the eyes of the British public. Or, it almost feels that way.
Despite this distinctive moment of cultural harmony, I can't help but feel torn at this sudden flock towards Nigerian cultural capital. Particularly when I see memes of burly white men in the kit with captions reading: "Fack me John this Supermalt is fackin spicy mate. Goes banging with that Egoosey stuff though". Funny, but telling. The misspelled 'Egoosey' -- it's actually Egusi -- speaks a lot more to the current mode of things, of an out of touch British population hopping on to the cultural and fashion bandwagon when it best suits them. Relevancy, unfortunately, seems to trump logic in this new age of clout chasing, especially among the youth, and that Nike has been astute enough to engineer such a significant instance, leading to a universal acceptance of the kit, may say more about its design, and the idea of being fashionable, than a sudden shift in psyche towards a nation. In the same way Gosha made being Russian, briefly, aesthetically exotic and culturally interesting.
The kit, at the crux of it, is the latest product from a corporation in tune with its audience. But what will happen in Britain once the World Cup is over? Will more white people rush to South London's East Street Market on a Saturday morning to pick up yams? Will Yoruba, Igbo or Hausa become state-instituted languages to teach in schools? Will a Nigerian become Prime Minister? These would go further in showing how valued and respected our culture is in the UK than a kit with nice designs ever could. While a truly amazing moment that Nigerians old and young will no doubt hold on to, the popularity of Nigeria's kit, as a lot of things are in this age of instant gratification, is fleeting in a wider sense; an exception rather than the rule in the game of cultural assimilation. A chance for non-Nigerians to follow the herd and rep the colours of another nation because the climate obliges them to. Fashion has always been defined by trends, and it just so happens that Nigeria is the latest. But, its impact can be much greater extracted from those to which the kit truly matters – Nigerians – as the scenes at Wembley the day after the kit's launch so raucously, but elegantly, demonstrated.