Anthony Vaccarello presents his debut standalone menswear collection for Saint Laurent on Empire State Island, New York.
Menswear has appeared in Anthony Vaccarello's womenswear collections for Saint Laurent since he took over the helm as Creative Director in 2016. But last night he took the plunge and presented his debut standalone menswear collection for the house on the banks of the Hudson River in New York.
Guests were transported by ferry from Manhattan to Liberty Park Island, where a liquid black catwalk skimmed the water's edge. As the sun set, New York's twinkling skyscrapers provided the backdrop to an urban cowboy inspired collection of 70s tailoring, embroidered jackets and slim slim silhouettes. If New York is the city of dreams, these were the dreamers.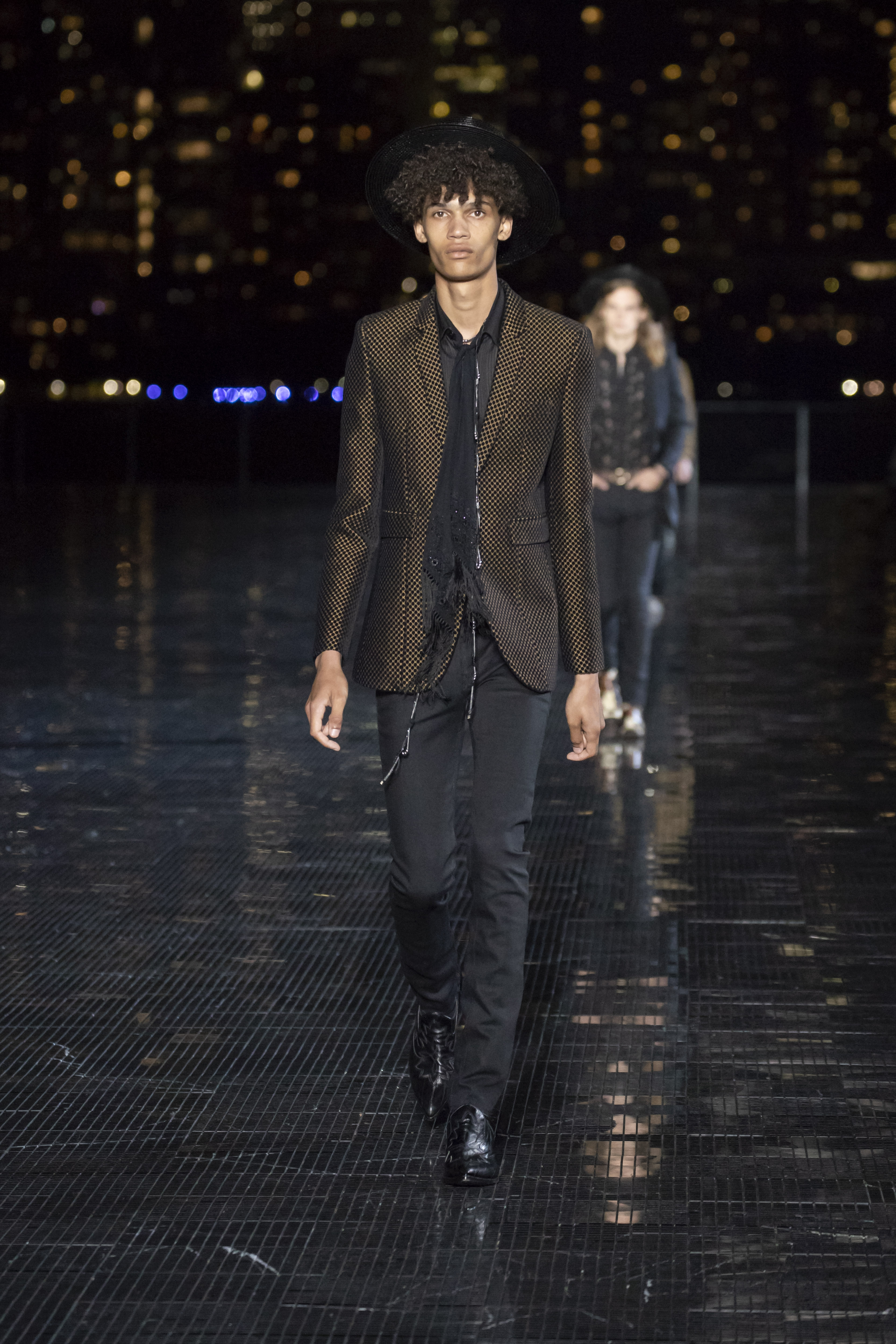 "I want him to be a bit feminine," Anthony said of his male customer, in an interview with i-D late last year, "because Saint Laurent has always been a feminine house. I see him as very sensitive. He can borrow things from the women's wardrobe." And women can borrow from his wardrobe too, as this show demonstrated. Thirteen girls walked in the 62 look collection -- including models of the moment Kaia Gerber, Adut Akech and Mica Argañaraz -- all wearing men's looks, proving that there were enough shirts, jackets and blouses for all genders.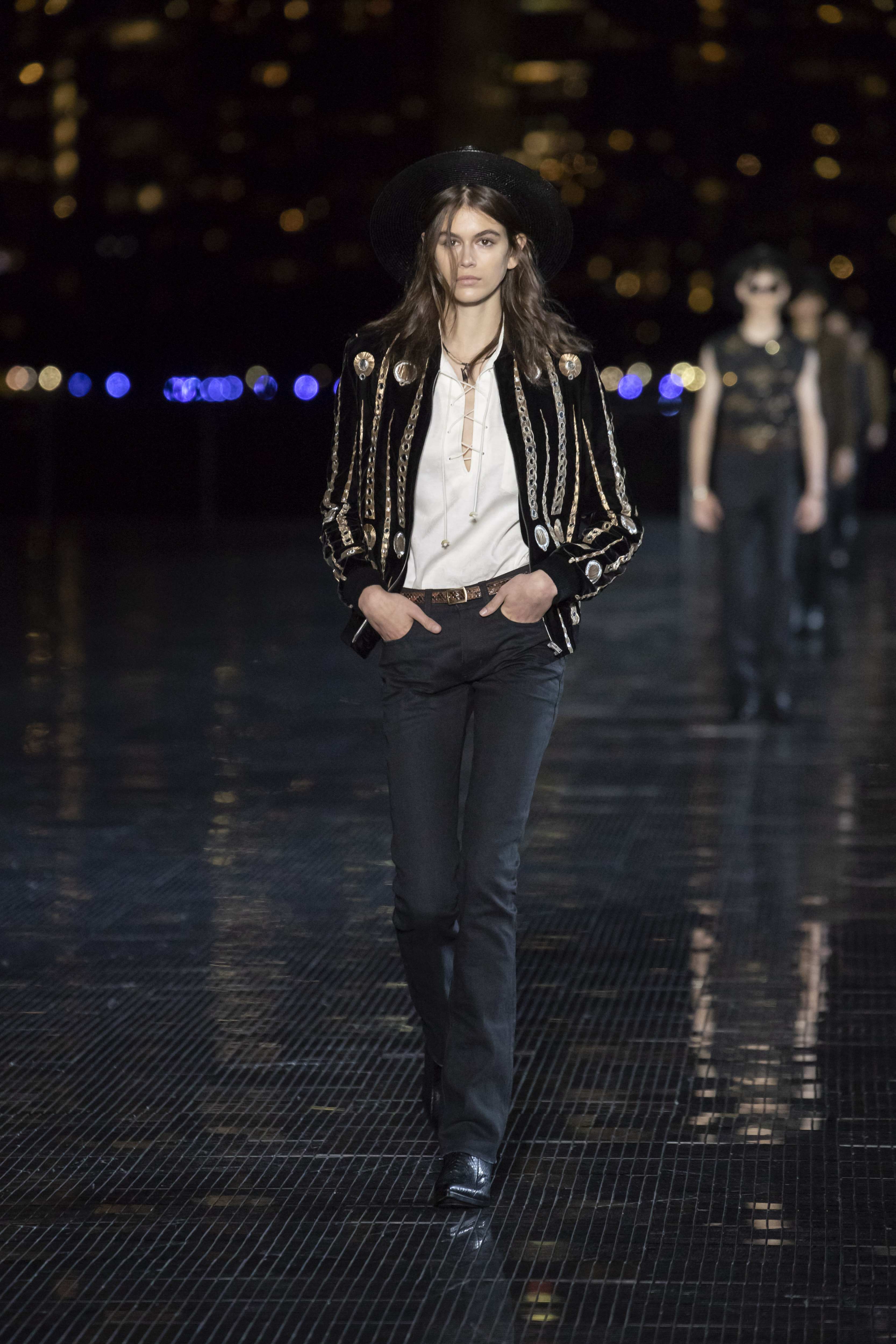 From louche, skinny silhouettes, to pin-sharp tailoring; stand out pieces included the opulent black and gold embroidered jackets, the feather and sequin encrusted boleros, sheer blouses worn unbuttoned from the chest, and tailored leather complete with raw stitching. "New York is freedom," Anthony told journalists backstage. "A city brimming with energy and possibility." And among the mostly black collection were plenty of pieces to keep the Saint Laurent retail machine rolling.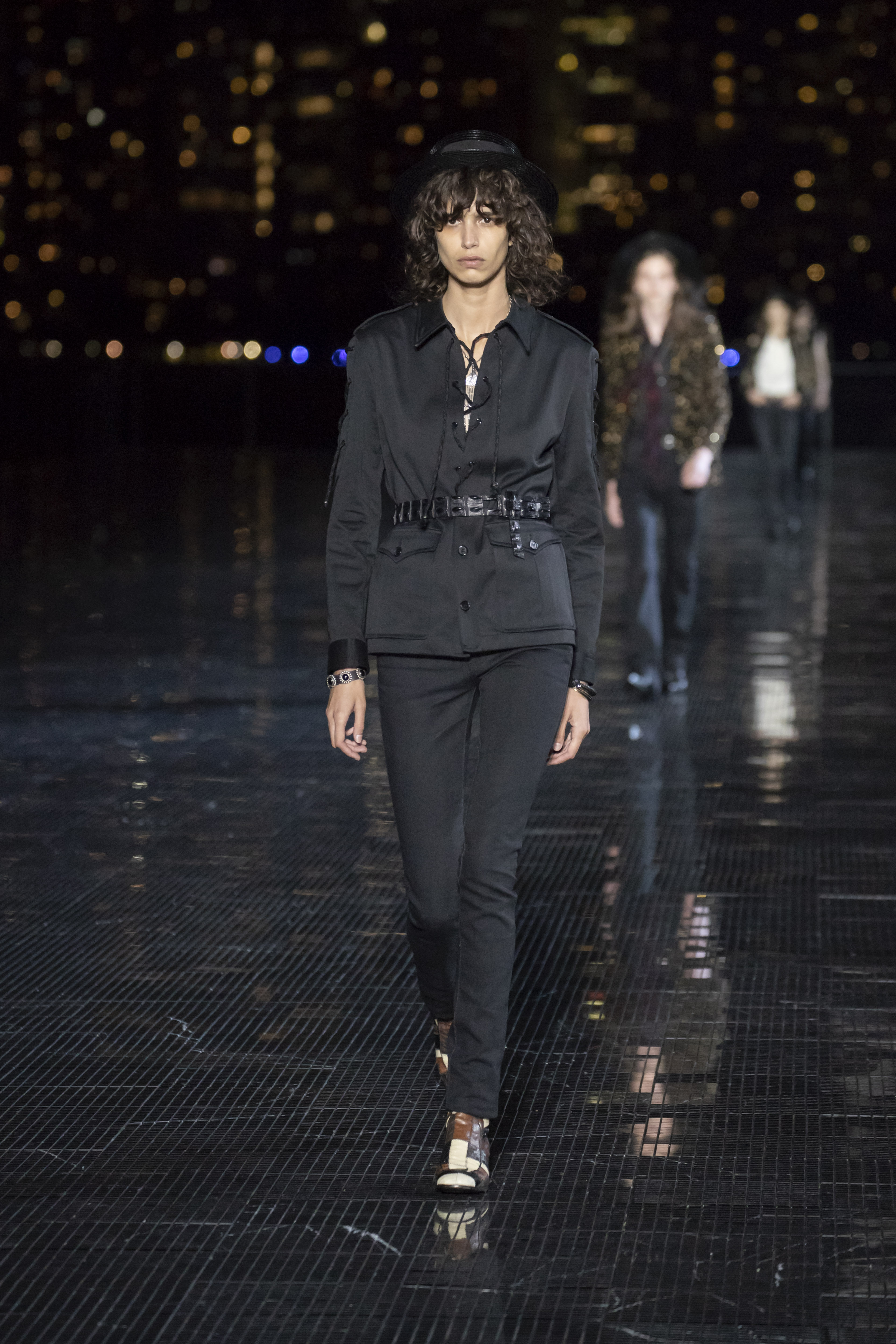 The French luxury house currently ranks as one of the best performing brands in the Kering roster, second only to Gucci, and it's easy to see why. Saint Laurent offers the whole package; from the Cuban-heeled cowboy boots and wide-brimmed hats and belts seen last night, to the spray on skinny black jeans and paisley bandanas. It's as much about covetable accessories as it is about fashion. And it's a huge success story. In two short years, Anthony has artfully carved out his own design vision for the house, that continues the rock 'n' roll kid aesthetic of Hedi Slimane, while championing the new generation of musicians, artists and actors who are buying Saint Laurent today.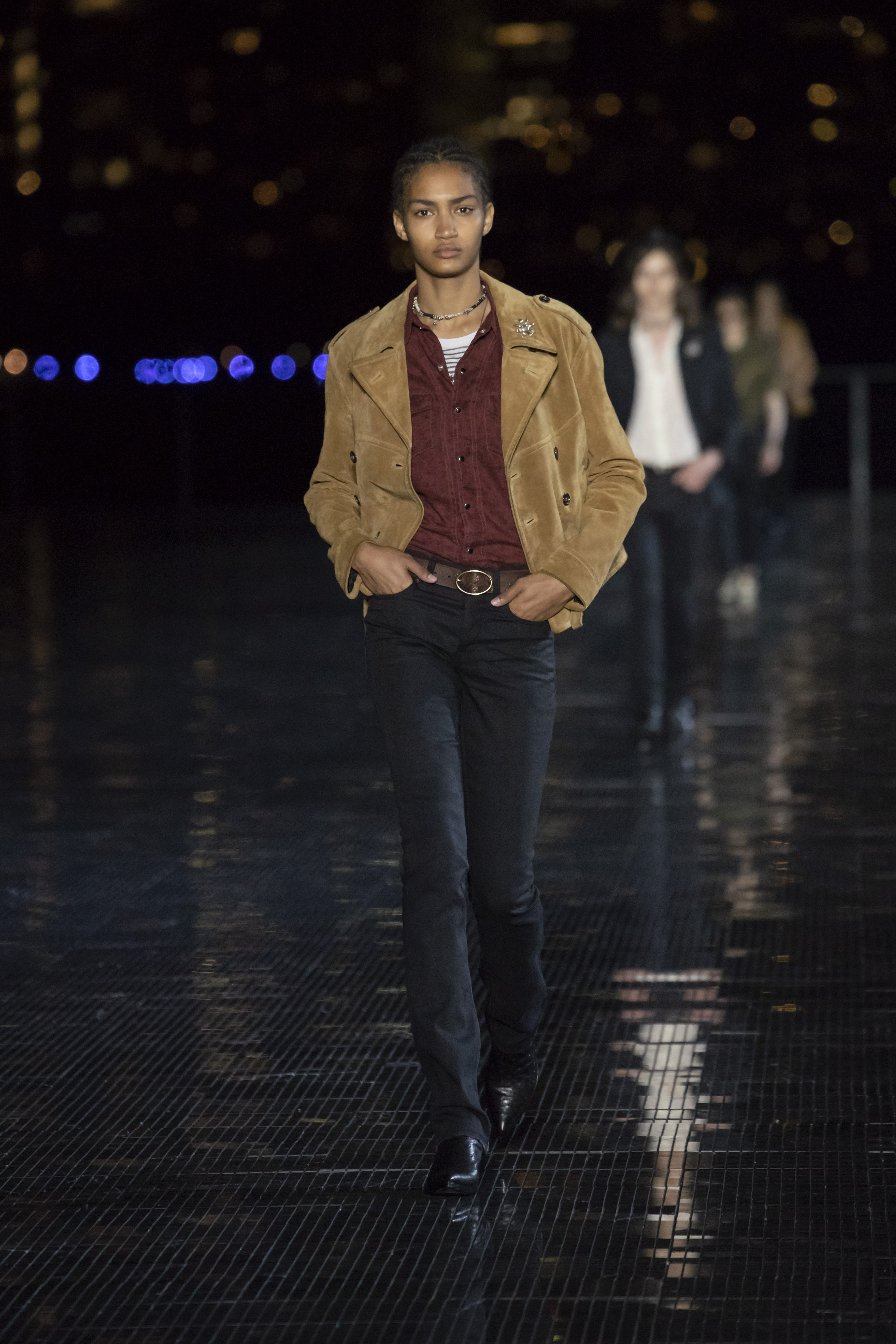 After the show, just some of those actors -- Vincent Gallo, Ezra Miller, Caleb Laundry Jones and Stranger Thing's Charlie Heaton -- boarded the Saint Laurent cocktail cruise down the Hudson River. Ed Banger's SebastiAn took to the decks as Paul Hameline and Mica swapped glitter on the dancefloor, and we sailed away from New Jersey, towards the Statue of Liberty and into Manhattan.
"Since the first day, I knew that Saint Laurent is a passionate house -- you love it or you hate it," Anthony told i-D in last year's interview. But after the magic of last night's event, and two years into his foray as Creative Director, it's clear that Saint Laurent isn't for the haters, at this house it's only lovers allowed.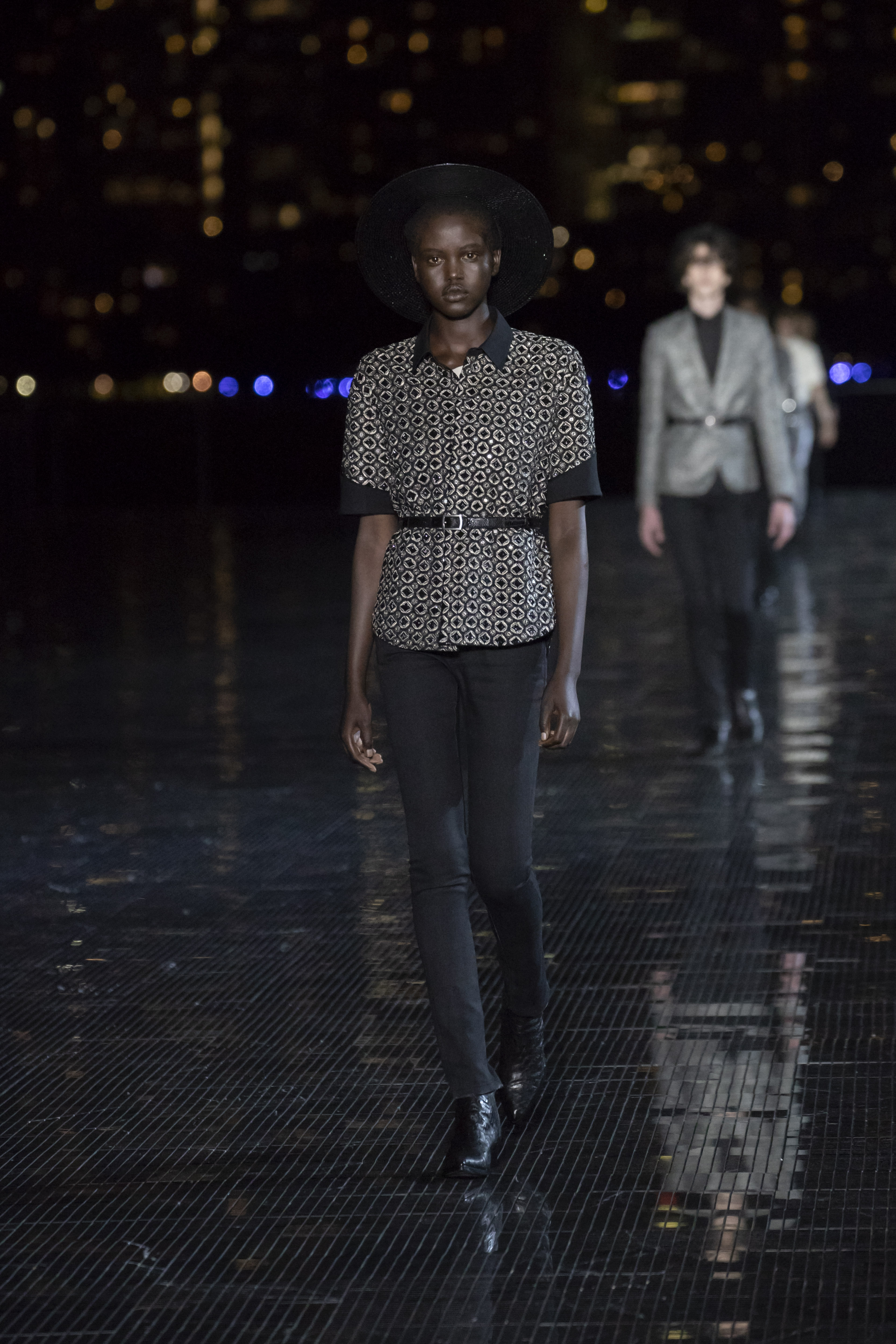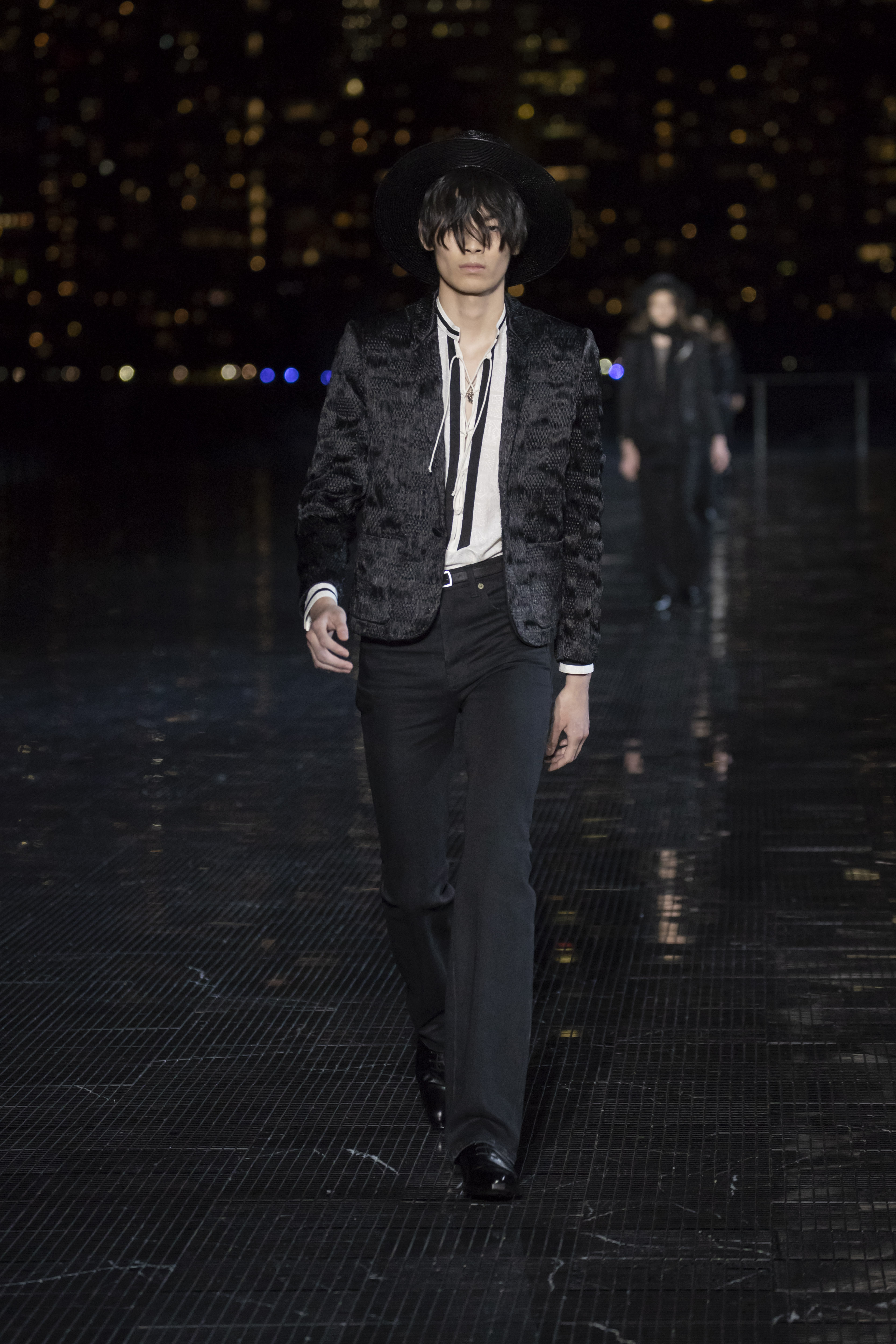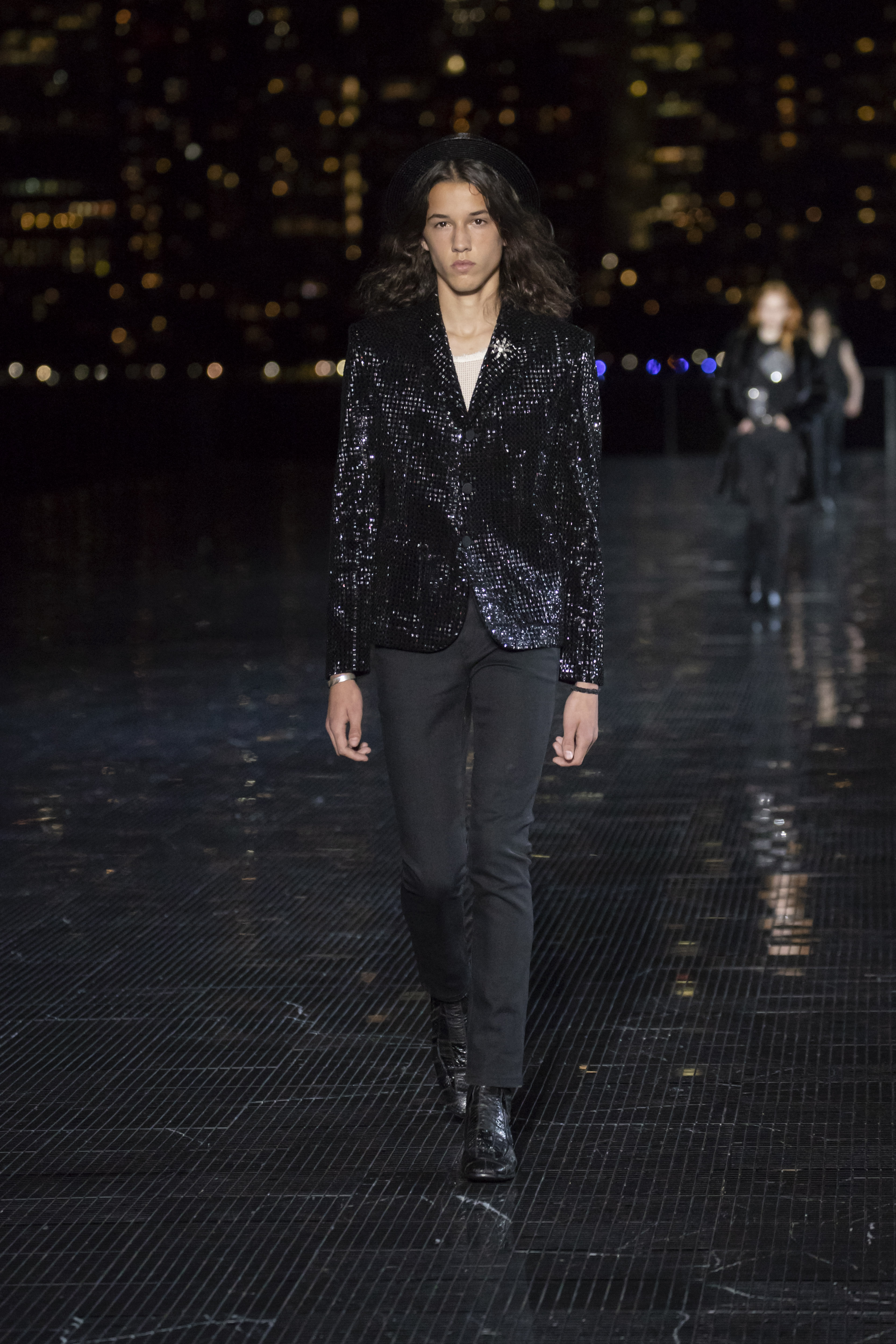 Read more: